2013 ARCHIVES
- Clean Harbors Announces Acquisition of Evergreen Oil
- Michigan Takes Action to Protect Car Owners From Bad Oil. Orders City Star/Star Petroleum Motor Oils and ATFs off the Shelves!
- More Prices Increases; Price Increase Summary
- Shell Announces Lubricant Price Increase
- Chevron Recognizes Glockner Oil Company for Strong Lubricant Sales Performance
- GH Berlin - Windward Acquires Industrial and Commercial Lubricants Business of the Sandri Companies
- Valvoline Partners with Badger Lubrication Technologies
- CITGO® Lubricants Receives GE Jenbacher Approval for Pacemaker® GEO LFG LA 40
Forward this e-mail to colleagues and friends so they can join the JobbersWorld Online News mailing list.
It's Free!
The Forward email button is at bottom of this page

JobbersWorld Reaches Out to Over 10,000 Professionals in the Lubricants Business
Click here to learn More or call 732-910-0017
JOBBERSWORLD...MARKET INTELLIGENCE FOR INTELLIGENT MARKETERS...
Michigan Orders Another Bad Motor Oil Off its Shelves!
Rick Snyder, Governor of Michigan, Attorney General Bill Schuette, and Jamie Clover Adams, Director MDARD take clear and decisive action to once again protect its citizens from engine damaging motor oils.
In what is starting to look like a crackdown to protect its citizens from lubricant manufacturers taking
advantage of the citizens of Michigan, the Michigan Department of Agriculture and Rural Development (MDARD) now issues a Stop-Use and Stop-Removal Order on all motor oils sold by Bullseye Automotive Lubricants, Inc. under the Bullseye brand.
This is the second Stop-Use and Stop-Removal Order the state of Michigan issued in the past 30 days. The first was a Stop-Use Stop Removal issued on City Petroleum (doing business as City Star) of Dearborn and Star Petroleum of Detroit after finding the products did not comply with the Michigan Weights and Measures Act, 1964 Public Act 283.

The MDARD says it has conducted a state-wide investigation over the past 12 months, including sampling and testing of motor oils from retail shelves, and found that products manufactured, packaged, and/or distributed by Bullseye Automotive Lubricants consistently contained less product than the label represents.

In addition, MDARD says laboratory tests of the Bullseye motor oils have consistently demonstrated that the product does not meet the labeled viscosity grade specifications as required in the current version of SAE J300. As such, the packaging of these products is misleading and does not conform to the packaging requirements in section 3.1 of the Uniform Packaging and Labeling Regulations contained in the National Institute of Standards and Technology (NIST) Handbook 130. Use of these products may damage vehicles and engines.

The MDARD actions mean these products should no longer be used, immediately be removed from store shelves or other product displays, and no longer offered for sale in the state of Michigan.
The Lubricant Model of the Future?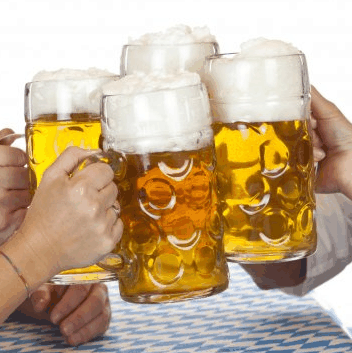 It seems like only yesterday lubricant marketers were talking about ExxonMobil's lubricant marketer model of the future. A model many said was built around that of Anheuser-Busch beer distribution. It was a model where marketers are single branded and look, talk, and think like the major they represent.
Although that model may have shaped what an ExxonMobil lubricant marketer and others look like today, there is one petroleum marketer that ExxonMobil may not have considered when it rolled out its distributor model of the future. That marketer is McMahan Oil Company in Maryland.
Whereas ExxonMobil was reportedly working to shape its lubricant marketers into performing like those selling beer for Anheuser-Busch, McMahan Oil decided it was time to exit the petroleum distribution business and give it a go at manufacturing and marketing craft beer.
Although McMahan Oil Company used to be a bustling fuel oil distributor, Tim Miller, Owner, Vice President at McMahan Oil Company had his vision set on something else and likely more profitable. And like the ExxonMobil distributor model of the future, Tim was thinking beer. That's when he purchased the National Premium trademark for what he described as "a bargain." With that, rather than selling petroleum products, Tim is now looking to convert the family petroleum distribution business into a brewery manufacturing and marketing a pilsner-style lager that has deep roots in the fabric of Baltimore and beyond.
God bless him. For those that may have missed it, it appears Tim Miller is well on his way to success. He was featured this weekend on
American Pickers
selling rare Esso and Amoco signs and other petroleum memorabilia that was gathering dust at his petroleum distribution business for generations. That exposure will go a long way to help build the new business.
Best of luck Tim! It's hard not to cheer you on after seeing that show.
CLASSIFIEDS

Cardlock Manager
Amber Resources is a leading distributor of fuels, lubricants and related petroleum products with locations in Van Nuys, Santa Paula, Long Beach, Colton and San Diego . Our diverse customer base includes construction and industrial companies, utilities, municipalities and private individuals.

We are seeking someone to manage our Cardlock operations including sales and pricing. This person will have full P&L responsibility and will generate and increase sales to new and existing customers. Our ideal candidate has experience running a multi-site Cardlock operation with proven and successful sales history.
For more information, please visit our website at www.amberresources.com or contact Kerry Cashman at kcashman@amberresources.com.
WHAT'S ON YOUR MIND?
Your needs, your concerns, your outlook. No bias, no fluff and no punches pulled. Whether it's buy backs or brand battles, allocation of co-op ads, operating costs or turf wars, JobbersWorld keeps you on top of the issues that matter to YOU: The Lubricant Marketers!

Let us know what's on your mind. We welcome your comments, concerns, and/or questions.


Contact JobbersWorld either by email at: tom_glenn@jobbersworld.com
or by phone at 732-494-0405 and let us know, WHAT'S ON YOUR MIND?
All contacts are treated
confidentially unless those contacting us choose otherwise.
Written and published by experts, Jobbers World is brought to you by
Petroleum Trends International, Inc.
Copyright ©
2013 Petroleum Trends International, Inc.