Forward this e-mail to colleagues and friends so they can join the JobbersWorld Online News mailing list.
It's Free!
The Forward email button is at bottom of this page

JobbersWorld Reaches Out to Over 10,000 Professionals in the Lubricants Business
Click here to learn More or call 732-910-0017
JOBBERSWORLD...MARKET INTELLIGENCE FOR INTELLIGENT MARKETERS...
Clean Harbors Announces Acquisition of Evergreen Oil
Clean Harbors Ac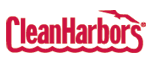 quires One of California's Largest Waste Oil Collectors and Environmental Services Operator with Only Re-refinery in the State
Clean Harbors, Inc., the leading provider of environmental, energy and industrial services throughout North America, announced that it has acquired Evergreen Oil, Inc. out of bankruptcy through the U.S. Bankruptcy Court for the Central District of California. Evergreen Oil is a California-based environmental services company that is one of the state's largest collectors of waste oil and runs the only re-refinery in the state. Clean Harbors is funding the $60 million transaction through available cash on its balance sheet.
The acquisition of Evergreen Oil is beneficial to Clean Harbors on a number of fronts:
Expands Clean Harbors' geographic footprint in re-refining to include coverage in the Western U.S. - complementing its Indiana facility in the Midwest and Breslau facility in Eastern Canada;

Provides Clean Harbors with the second-largest collector of waste oil in California; and

Provides Clean Harbors with a number of valuable ancillary waste assets, including a permitted Treatment, Storage and Disposal Facility (TSDF).
"Our acquisition of Evergreen aligns well with our Safety-Kleen re-refinery and environmental businesses, and creates multiple opportunities for profitable growth," said Alan S. McKim, Chairman and Chief Executive Officer. "California is an attractive market for us, and Evergreen has a strong presence in the state. Given the financial incentives available in California and that used oil is designated as hazardous, the addition of Evergreen will contribute to Safety-Kleen's ongoing initiative to lower its pay-for-oil (PFO) costs."
"We believe that we are purchasing this asset at a favorable price for our shareholders," McKim said. "While we plan to invest some capital into the re-refinery to enhance its layout and productivity, the plant is relatively new, with major portions of it having been rebuilt following a fire at the facility in 2011. In addition to the re-refinery, the purchase includes rolling stock and equipment, a diverse roster of West Coast customer accounts, an ancillary hazardous waste business and a TSDF in Carson, California - a state where stringent permitting requirements create barriers to entry."
We are excited about the overall potential for the Evergreen assets. Given our acquisition expertise and track record, we are confident that our integration teams can realize substantial upside potential from our combined company. We look forward to welcoming Evergreen's employees into the Clean Harbors and Safety-Kleen family," McKim concluded.
About Clean Harbors
Clean Harbors (NYSE: CLH) is the leading provider of environmental, energy and industrial services throughout North America. The Company serves a diverse customer base, including a majority of the Fortune 500 companies, thousands of smaller private entities and numerous federal, state, provincial and local governmental agencies. Through its Safety-Kleen subsidiary, Clean Harbors also is a premier provider of used oil recycling and re-refining, parts washers and environmental services for the small quantity generator market.
Headquartered in Massachusetts, Clean Harbors has waste disposal facilities and service locations throughout the United States and Canada, as well as Mexico and Puerto Rico. For more information, visit www.cleanharbors.com.
Michigan Takes Action to Protect Car Owners From Bad Oil. Orders City Star/Star Petroleum Motor Oils and ATFs off the Shelves!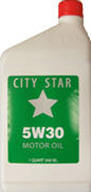 The Michigan Department of Agriculture and Rural Development (MDARD) issued Stop-Use and Stop-Removal Orders for motor oil and transmission fluid manufactured, packaged, and/or distributed by City Petroleum (dba City Star) of Dearborn and Star Petroleum of Detroit after finding the products did not comply with the Michigan Weights and Measures Act, 1964 Public Act 283.
The Stop-Use and Stop-Removal Orders prohibit the sale, offering for sale, or use of motor oils or transmission fluids manufactured, packaged, and/or distributed by City Petroleum (dba City Star) and/or Star Petroleum. These products should no longer be used, immediately be removed from store shelves or other product displays, and no longer be offered for sale. These products may cause damage to vehicle engines.
As part of an 11 month investigation, MDARD discovered that the motor oil and transmission fluids being sold by these companies do not contain the amount of product claimed. Additionally, the motor oil does not meet the viscosity labeled on the containers. For example, a container may say the product is an "SAE 5W30" motor oil, but does not meet that viscosity or other specifications for a motor oil.
"These two companies are selling sub-standard product and the Stop-Use and Stop-Removal Orders ensure Michigan consumers and business alike are getting what they pay for and protecting their vehicles," said Jamie Clover Adams, MDARD Director. "When products don't meet viscosity levels it can cause lasting damage to vehicles. So, it's vital that consumers and business stop using or selling these products immediately."
The Stop-Use and Stop-Removal orders mean no City Petroleum or Star Petroleum motor oil or transmission fluid may be sold or used in the State of Michigan. The products may be properly disposed of in accordance with local ordinances, taken to a facility that recycles oil, or consumers may contact the company directly. Information regarding the proper disposal of these products can be found at http://www.earth911.org
The City Petroleum and Star Petroleum products were primarily sold at small independent gas stations, discount and party stores. It is possible they were also sold in some oil change facilities across the state. Consumers can visit www.michigan.gov/mdard and look under the "Hot News" section for photos of the product labels as well as information on what to look for when buying motor oil.
Also... See www.pqia.org
Round 2 of Price Increases in 2013
We are now looking at the second round of price increases in 2013. The first round took place in April (click for details). A summary of some of the price increases announced in this second round follows below: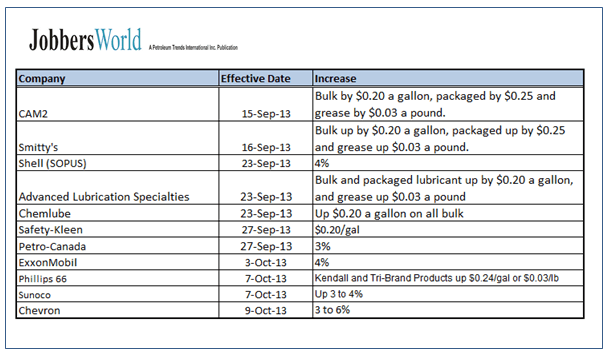 Susser Holdings Acquires Wholesale Fuel & Lubricants Distributor Serving Oilfield Clients in Texas and Oklahoma
Susser Holdings Corporation (SUSS) and Susser Petroleum Partners LP (SUSP) announced that SUSS has completed the acquisition of Gainesville Fuels Inc., which operates a wholesale fuel and lubricants distribution business selling approximately 60 million gallons of diesel annually to oil and gas producers in northern Texas and southern Oklahoma. SUSS will contribute the acquired company to SUSP.
"We would like to extend a warm welcome to the employees and customers of Gainesville Fuel. The Gainesville acquisition gives us access to new geographic wholesale markets in North Texas and Southern Oklahoma," said Sam L. Susser, president and chief executive officer of Susser Holdings.
"By combining the Gainesville business with our existing commercial fuels business serving customers in the Permian basin, we expect to realize operating and procurement synergies. We also have the opportunity to expand sales to existing customers in these new service areas," Susser said.
Management expects that the contribution of the company to SUSP will occur within the next few days. In connection with this value-for-value exchange, SUSP will assume Gainesville's existing indebtedness and certain other liabilities, and will issue $2.0 million in SUSP common units to SUSS. SUSS expects to immediately record a one-time non-cash deferred tax charge of approximately $3.6 million arising from the contribution of goodwill from a taxable entity (SUSS) to a non-taxable entity (SUSP) in connection with this transaction.
Beginning in 2014, the acquisition is expected to generate annual incremental distributable cash flow for SUSP of $0.05 to $0.10 per common unit, and approximately $0.03 to $0.07 of incremental earnings per common share for SUSS, excluding any synergies.
Raymond James & Associates, Inc. acted as advisor for Gainesville Fuels in this transaction.
CLASSIFIEDS
Seeking Applicants for a Wholesale Account Manager for GROWMARK Lubricants in Council Bluffs, IA. Responsible for the consistent profitable sales growth of goods and services to wholesale lubricant accounts as well as United Branded sales consistent with corporate guidelines. Normally requires a college degree or equivalent and 5 years of related experience. Apply at: www.growmark.com/ourcareers AA / EEO

Data Analyst - Analysts, Inc. - All US Laboratories
Analysts, Inc. is currently recruiting qualified Data Analysts. This position is responsible for the review and interpretation of laboratory test results for samples submitted from various industries. Component wear rates, lubricant condition and contamination are all considered in the evaluation process from the sample test results.
As the trusted experts in bringing advanced predictive maintenance solutions to a wide range of industries, we work closely with the engineering and maintenance departments of the country's leading producers.
Qualified candidates will:
Familiarize themselves with laboratory test methods and work procedures

Interpret laboratory test results and prepare lubricant condition and machine health reports for a wide base of clients testing multiple mechanical systems

Serve as the first point of contact for customers on technical issues regarding analysis and test reports

Obtain and maintain at least one industry recognized certification
Education or Experience
A minimum of two items are required
Four year degree in engineering, physics or chemistry

Knowledge of rotating or reciprocating machinery

Practical experience in lubrication or plant maintenance

Previous experience as a used oil analysis evaluator or analyst
For more information contact: personnelmanager@analystsinc.com
WHAT'S ON YOUR MIND?
Your needs, your concerns, your outlook. No bias, no fluff and no punches pulled. Whether it's buy backs or brand battles, allocation of co-op ads, operating costs or turf wars, JobbersWorld keeps you on top of the issues that matter to YOU: The Lubricant Marketers!

Let us know what's on your mind. We welcome your comments, concerns, and/or questions.


Contact JobbersWorld either by email at: tom_glenn@jobbersworld.com
or by phone at 732-494-0405 and let us know, WHAT'S ON YOUR MIND?
All contacts are treated
confidentially unless those contacting us choose otherwise.
Written and published by experts, Jobbers World is brought to you by
Petroleum Trends International, Inc.
Copyright ©
2013 Petroleum Trends International, Inc.