Forward this e-mail to colleagues and friends so they can join the JobbersWorld Online News mailing list.
It's Free!
The Forward email button is at bottom of this page

JobbersWorld Reaches Out to Over 10,000 Professionals in the Lubricants Business
Click here to learn More or call 732-910-0017
JOBBERSWORLD...MARKET INTELLIGENCE FOR INTELLIGENT MARKETERS...
Evergreen Oil Files for Chapter 11 Protection
Evergreen Oil Inc., along with its parent and sole shareholder Evergreen Environmental Holdings Inc., filed for Chapter 11 protection in California bankruptcy court on April 10, 2013.
As most in our industry know, Evergreen is one of several waste oil collectors and re-refiners in the US. The company operates a rerefinery in Newark, CA. This facility has the capacity to produce 0.8 TBD of Group II base oil.
Evergreen attributes the decision to file for Chapter 11 to a number of issues, including a fire that severely damaged some of its operating equipment in 2011. As a result of this, and other issues, the company's cash flow was unable to sustain its operation.

It should be noted that Evergreen Oil had also been under a good deal of scrutiny from environmental groups over the past few years. An example of some of this pressure can be seen at NewarkPatch.
Woodford Oil Expands Operations and Product Offerings with Acquisition
of Elite Petroleu
m
Woodford Oil Co., headquartered in Elkins, has acquired the lubricants business of Elite Petroleum, Inc. of Danville, KY. This acquisition represents another confident step toward Woodford's growth plan, which includes gaining new territory for marketing and distribution. The addition of Elite Petroleum's marketing area enables Woodford to expand its current distribution network and marketing capabilities into Central Kentucky and beyond.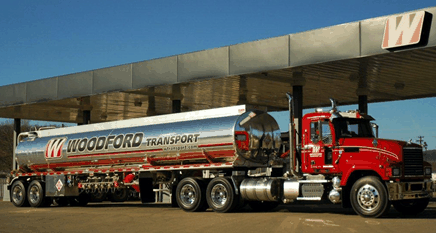 With a larger business territory, Woodford can extend its products and services to even more businesses and consumers. "With every new venture, Woodford has two essential criteria: quality and growth. By acquiring Elite's lubricants division, we get both. Our expanded operations and offerings help us maintain our position as leaders in the industry," said Woodford Oil's Vice President, Scott Kiser.
Strengthening the acquisition, Woodford says, is Elite Petroleum's longstanding, reputable history in petroleum marketing. The management and employees of Elite bring a vast knowledge of the lubricants industry and have top recognition within the industry, achieving Chevron Signature/ 1st Source Marketer status every year since the program's inception.
About Woodford: Woodford is a locally owned distributor of fuel and lubricant products. Headquartered in Elkins, WV, Woodford Oil serves West Virginia, Virginia, Maryland, North Carolina, Kentucky, Ohio and Pennsylvania. Click for more.
CLASSIFIED

Allied Washoe Petroleum is seeking applicants for a full-time Lubricant Sales Representative for our Northern Nevada territory. A minimum of two years lubricant sales experience is required. Responsibilities include establishing new customer accounts as well as maintaining existing customer accounts. Qualified applicants should have excellent communication skills, be able to work effectively without close supervision and have a good understanding of the sales process. Please send cover letter, resume and salary requirements to info@alliedwashoe.com.
CHS has an exciting opportunity in our Lubricants department for a National Account Representative at our corporate offices in Inver Grove Heights, MN.
We are looking for someone to;
Manage the

sales and marketing of lubricant products & programs for Branded & Private Label National Accounts and jobbers in the territory.

Drive the sales efforts to expand Private Label & National Accounts opportunities, achieving sales

objectives including volume, profit and budgeted expenses.

Collaborate with current and new key accounts to develop and execute sales growth plans, monitoring their progress consistently in support of long term strategies.
Please log into www.chsinc.com to see the complete posting - position #2722 - and apply online. CHS is an EEO employer.
WHAT'S ON YOUR MIND?
Your needs, your concerns, your outlook. No bias, no fluff and no punches pulled. Whether it's buy backs or brand battles, allocation of co-op ads, operating costs or turf wars, JobbersWorld keeps you on top of the issues that matter to YOU: The Lubricant Marketers!

Let us know what's on your mind. We welcome your comments, concerns, and/or questions.


Contact JobbersWorld either by email at: tom_glenn@jobbersworld.com
or by phone at 732-494-0405 and let us know, WHAT'S ON YOUR MIND?
All contacts are treated
confidentially unless those contacting us choose otherwise.
Written and published by experts, Jobbers World is brought to you by
Petroleum Trends International, Inc.
Copyright ©
2013 Petroleum Trends International, Inc.