Dear Funeral Professional,
As you look ahead to create goals and objectives for your funeral home in 2013, consider your funeral home's telephone activity in 2012. How certain are you that every call that was made to your funeral home last year was answered promptly and professionally? Do you have the ability to see how many times the phone rang before it was answered or hear the way your families are treated? What are the odds that a caller may have heard a busy signal, voicemail or dead air after calling your funeral home?
This year, resolve to safeguard your funeral home's crucial, time-sensitive telephone calls and ensure that you never miss an opportunity to serve a family. ASD - Answering Service for Directors has created a new class of answering service exclusively for funeral homes. With ASD's extensive 6-month training program, cutting-edge call monitoring tools and unmatched transparency, you'll never have to look back and question whether you may have lost business due to a mishandled call.
ASD's custom developed technology and mobile apps allow you to keep a finger on the pulse of your funeral home's telephone activity at all times, hear a recording of every call answered by ASD and see how many times the phone rang before it was answered. No other answering service offers so many options for funeral homes to monitor and control how their calls are handled. To learn more, contact us at 800-868-9950.
Don't forget to ask about our 30-day Free Trial and New Year Special!
Sometimes a simple message has the power to transform the course of your life. That was the case for John Alban, Funeral Director of E. Alvin Small Funeral Homes & Crematory located in Colonial Heights, VA. When ASD Call Specialist, Annette, answered his funeral home's phone line, she didn't know that the message she was about to take could have such a profound impact on this funeral director.
It may have been fate that Annette was working that morning. As one of ASD's bi-lingual Call Specialists, Annette is fluent in Spanish and also understands a great deal of Italian. So, when a woman called from Italy with an urgent message for John Alban, Annette was there to answer and could easily translate the call. It turns out the caller was John's biological mother who had given him up for adoption over 50 years ago. She was living in Italy, but had never stopped searching for John. Now, because of this call, John and his mother will be reunited after five decades apart!
John was able to schedule a flight for his mother to visit him before Christmas. She is currently staying with him and his family until after the new year. John describes his birth mother as "a spunky lady" and said that he can see a lot of himself in her. ASD is honored to have been able to play a part in such an inspirational story. Every day, over 12,000 calls are answered by an employee of ASD. Every one has the potential to change a life. Congratulations John, we are so happy to have helped you make this connection.
Click here to learn more about this story.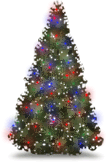 We hope you enjoyed a joyous holiday with your family and friends and rang in the new year surrounded by those you love. ASD understands that funeral directors work around the clock and aren't able to stop and take pause as often as others. That's why planning in advance for holidays is a crucial concern for our company. Before every major holiday, ASD makes adjustments to ensure our staffing levels are above average so that your calls are always protected.
Over the

holiday season

(12/24-1/2) ASD compassionately handled

11,145
First C
alls

and
answered
82%

of incoming calls on the first ring and

97%

by the fourth ring!


David and Debra Fry (aka Mr. and Mrs. Santa Claus) from Fry Funeral Home in Tipton, IA
Send us a photo of you engaged in your favorite hobby or activity for us to share and show others what you do when you're not doing outstanding work at your funeral home! Please email all photos or inquiries to
jess.fowler@myASD.com
.
On December 23rd and 24th, ASD employees dressed up in their best Ugly Christmas Sweaters and Vests to get into the spirit of the holidays. We are still deciding which one we like best--what is your favorite? Click here or below to see all of the crazy getups and leave a comment for your favorite!
In 2012, ASD Clients Received More Than $47,000 in Rewards Credits
Start sharing in the savings and
reduce your answering service cost by 50% or more!
As we look back at our 40th Anniversary year, it is hard to believe that so much has changed! From redesigning our logo to winning the NFDA Innovation Award, this year has certainly been eventful for ASD. Here are some of the events that made 2012 one of the most significant years in ASD's history. For a full timeline, check out our blog post.

January 19: ASD Hosts Continuing Education Class
More than 26 funeral professionals from Pennsylvania and Maryland visited ASD on January 19th to attend one or both of the 3-hour classes that were held in our conference room. We plan to offer more CE classes later this year.
May 1: ASD Celebrates 40th Anniversary & Retires Old Logo
May 2012 marked the official retirement of the ASD waiter and introduced a new logo featuring ASD employees to commemorate our 40th Anniversary. Click here to learn more about ASD's history.
July 6: ASD Mobile Nominated for NFDA Innovation Award
ASD received notification from the NFDA that ASD Mobile, our revolutionary Smartphone app, was selected as a finalist for the 2012 NFDA Innovation Award which recognizes creativity and innovation among funeral service vendors.
September 27:

Google Trusted Photographers Capture ASD Virtual Tour
Google Trusted Photographers visited ASD and took photographs to create ASD's Virtual Tour. The tour can be found on our Google page or blog and allows funeral professionals to see the technology and infrastructure in place here at ASD.
October 8: ASD Wins 2012 NFDA Innovation Award
ASD took home the 2012 NFDA Innovation Award at the Opening General Session of the NFDA convention. ASD Vice President and Family-Member Owner, Kevin Czachor, was on stage to accept the award on ASD's behalf.
October 29: ASD Camps Out Overnight During Hurricane Sandy
More than 40 ASD employees camped out overnight to ensure funeral homes were protected during Hurricane Sandy. In the coming days, ASD employees donated more than 7 boxes of supplies to funeral homes and friends who were affected by the storm.
November 16: ASD Mobile for Android Released
ASD released ASD Mobile for Android last November. The app was downloaded more than 1,000 times in less than one week. After a few days, ASD released another version with 4 new exciting features based on the incredible feedback received from funeral directors.

2012 By Numbers: Last Year, ASD....
Assisted with more than 10% of all deaths reported in the U.S.
Handled 15,057 calls--more calls than we've ever answered in a single day--on October 30, the day after Hurricane Sandy.
Attended 25 conventions
Survived 1 Hurricane
Hired over 20 Employees who have since graduated from our 6-Month Training Program
Provided more than $47,000 in Rewards Credits
Received more than 3,000 downloads of the ASD Mobile app
Received more than 70 5-Star Reviews for the ASD Mobile app
Shipped 12 boxes to military personnel serving overseas
Donated 50 gifts to the Children's Choice Adoption Program
Gave ASD clients affected by Hurricane Sandy over $5,700 in credits
Sent 7 boxes of supplies to Hurricane Sandy victims
Provided countless hours of family time to our clients as we help with answering their callers' needs.
Every week, ASD acknowledges one of our Call Specialists with the "Sensitive Save of the Week"Award for exhibiting sensitivity and intuition on a call which is likely to result in new business for the funeral home. Our Call Specialists are specifically trained to recognize when a caller is in need of immediate assistance. These calls represent the pinnacle of excellence at ASD because we understand how vital it is for you to be connected to families without delay during their time of need.
We've taken a look back at our "Sensitive Save of the Week" Winners this year to create this list of ASD's Top 5 Funeral Phone Calls:
1) Training Specialist, Karen, handled a call for a funeral home in New York whose phone lines were down because of Hurricane Sandy. The caller needed someone to pick up her niece, an 8-month old infant, and was calling funeral homes in the area trying to get through to one that had not lost power. Karen assured the caller that, while the funeral home's phone lines were down, she had a working number for the director and could connect her to him right away. This immediately relaxed the caller who had been trying to get in touch with a funeral home for a long time. After gathering vital information, Karen successfully transferred the caller to the on-call funeral director.
2) Occasionally, ASD will discover that someone passed away after being contacted by a nurse or medical professional who is gathering information for a family member. Our Training Specialist, Lorenzo, handled such a call from a hospital employee who was calling local funeral homes on behalf of a distraught family. The woman was looking for information on prearrangements, but wanted to go to the next number on her list when Lorenzo did not immediately answer her question. With a steadfast approach, Lorenzo was able to persuade the hospital worker to leave her call back number and then learned that she was calling about a patient who was very close to passing away.
Click here
to read more of ASD's
Top Funeral Calls
.

The organizations and associations listed below have endorsed ASD as their preferred answering service, supported our company as a business partner or selected ASD for a vendor membership:
ASD Supports the IFDA as a Provider of Preference
ASD is proud to be a Business Member of the OGR
This past Friday,our Training Specialist, Crystal, took a call from a woman who began the call with the statement, "Never mind, I'll just call on Monday." Crystal immediately let the caller know she could relay a message immediately. The caller responded by stating, "I'm just calling to get a price. No one has passed yet."
Knowing that the funeral director would prefer to receive advance notification of a near passing in order to gather information in advance, Crystal let the caller know the funeral home was available to be contacted. What could have been a quick hang-up turned into an opportunity for the funeral home to serve a new family. Crystal is the winner of our Sensitive Save of the Week Award!
Find Out Why ASD is America's #1 Funeral Home-Exclusive Answering Service
No extra cost for nights, weekends and holidays
Family Owned and Operated since 1972
90% of all calls are answered on the first ring
Extensive 6-month Training Program
All calls recorded for 100% accuracy
Award-winning mobile app for iPhone and Android users
One location in the USA - ASD NEVER outsources calls
Patent-pending mobile features
24/7 Business Protection
Contact ASD
Family Owned and Operated, ASD - Answering Service for Directors has been helping funeral homes manage their calls and their lives since 1972. With a visionary approach to business, ASD has redefined the way Funeral Directors serve families, combining unparalleled levels of training and advanced technology.
Find out why ASD is the most trusted answering service for funeral homes with a 30-Day FREE TRIAL of our service. Be sure to ask about our New Year Special.
1-800-868-9950
Take Our Virtual Tour:
Explore ASD's facility from the comfort of your chair!
For many years, we have wanted to show our clients the technology and infrastructure we have in place here at ASD. We're excited to share with you a high-definition, Virtual Tour of our facility. Use the arrow keys to move from room to room or zoom in on anything you would like to see in closer detail.
Click on any of the photos below to start your tour:
Click here to start tour from ASD's Operations Center
Click here to start tour from ASD's Reception Area
Click here
to start tour from ASD's Conference Room
Click here to start tour from outside of ASD's building
Eline Funeral Home Turns 150!
Now in its fifth generation, the Eline Funeral Home will be celebrating its 150th Anniversary this year. Eline Funeral Home is one of the oldest funeral homes in the country that is still owned and operated by the same family. In 1863, E.D. Selby made cabinets and furniture and occasionally made coffins. As the community grew, so did the responsibilities of the undertaker.
Mr. Selby would soon be too busy to continue as a carpenter. With the Civil War, the community found it needed someone to help with the transportation and disposition of it's fallen soldiers. This was the beginning of the professional funeral director. While traditions and ceremonies may have changed since 1863, Eline Funeral Home says that the principles that original owner E.D. Selby employed to start his business are still embraced today: compassion and professional service to the family.
Thank you to the Eline Funeral Home for sharing this story with ASD & Congratulations on this incredible milestone!
ASD Rewards Partners:
For more information, click on any of the Partners' logos below.
ASD is Proud To Sponsor
MKJ Marketing's Ski Seminar
February 11-14 in Vail, CO
"Preparing Your Business for Buying Or Selling"
&
"Improving Your Websites and Social Media"
Learn valuable tips to help you grow and manage your funeral home while staying at the #1 Ski Resort in North America!







(Click on images above for more info)
Photos from ASD's
ASD's Sales and Marketing Team
ASD Technology Partners
The following companies have developed software that can integrate with ASD.
For more information, click on any of our Technology Partners below.
ASD's Pledge to Clients
Our top-quality service maintains the highest degree of professionalism with extensive training, careful monitoring and cutting-edge technology that tracks and records every incoming call. We understand that our voice may be the first impression a family member has of your funeral home and continually review your calls so that every time your phone rings, an experienced and compassionate operator will be there to answer.
The Czachor Family
ASD Founders & Family-Member Owners