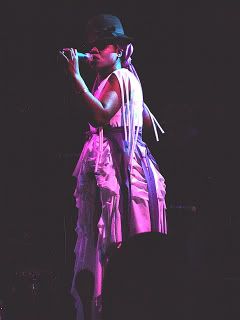 GEDE NIGHT (All saints day)

*Gede: spirit who governs the dead and cemeteries as well as fertility
On Monday Nov 3, 2008, Joe's Pub was the place to be. It was the hangout of the Rasin (Haitian Root) music buffs.
Manze Dayila & The Nago Nation
celebrated the dead with style--the intimate setting was perfect for music lovers searching for traditional culture in the middle of Manhattan. With an opening song paying homage to the dead,
Manze
's powerful voice, brimming with character, overflowed the room with a spiritual emotion.
Manze
's stage costume was impressive and appropriate for the moment and all the while respecting the colors of "GEDE"--black, white and purple.
Manze
's band,
The Nago Nation
, including percussion/vocalist
Evens "Zelebo" Seney
and rapper
Bennchoumy Elian
, kept the uptempo rhythm going non-stop for the entire set. Most of the songs are pure and simple dance music. There were no lengthy intros before getting into the groove. You found yourself singing hooks you have never heard before, like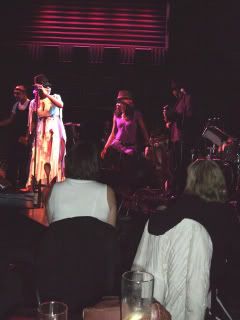 "Bling gin ding," and dancing to an Afro-Haitian back beat mixed with pop, reggae, salsa and even hip hop. Throughout the performance,
Manze
's fans kept requesting her song "
Change
" (OBAMA is my president). It is safe to say that
Manze Dayila and The Nago Nation
have found their anthem song for the next 4 years.
The next time you hear of
Manze Dayila and The Nago Nation
playing around town, check it out. You will be surprised how Manze Dayila will hook you in.
Cynthia Karaha
World Music Promotions
Debut CD "SoLe" now on itunes & cdbaby.com
Contact:
http://www.myspace.com/manzedayila
www.manzedayila.com
Booking & Management:
As Is Entertainment Inc.
Jamie Propp
jamie@asisentertainment.com
(212) 608-1570