"Spicy Music"




Dear Reader,

WMP was busy this month attending various events. We started April 12, 2008, at Roseland Ballroom NYC, "La Nuit des Jeunes", where we saw the Haitian Konpa bands Dola, Krezi, Carimi and T-Vice battling it out on stage for the most creative presentation, "Broadway Style".

Then we took a drive to the New Jersey Performing Art Center on April 18, 2008, to see David Rudder (Trinidad) and Lataye (Haiti). We must say this combo presentation made us feel like we were in the Caribbean on the beach sipping coconut juice. We wondered throughout the show if the dancer Nadia Dieudonne, performing with Lataye, had any bones left; for she shook every part of her body at an incredible speed. David Rudder's colorful lyrics and stories made us leave this event with a feeling of "Island Fever".

Finally, back to Harlem Stage at Aaron Davis Hall on April 26, 2008, to attend a performance by Juan Carlos Formell (Cuba) and Emeline Michel (Haiti). Beside the language difference between Cuba and Haiti it became apparent to us how both cultures resemble each other, especially when Juan Carlos and Emeline sang a duo. Added to Emeline Michel's performance was the talented violinist Daniel Bernard Roumain, who charmed his way into our hearts. It was an exquisite event.

Please see photo gallery below.




You are currently subscribed to World Music Promotions e-Newsletter. Please add karahac@worldmusicpromotions.com to your address book to avoid missing out on future newsletters. We respect your privacy. If you wish to no longer receive World Music Promotions' e-newsletters, please go to the bottom of the page and click SafeUnsubscribe.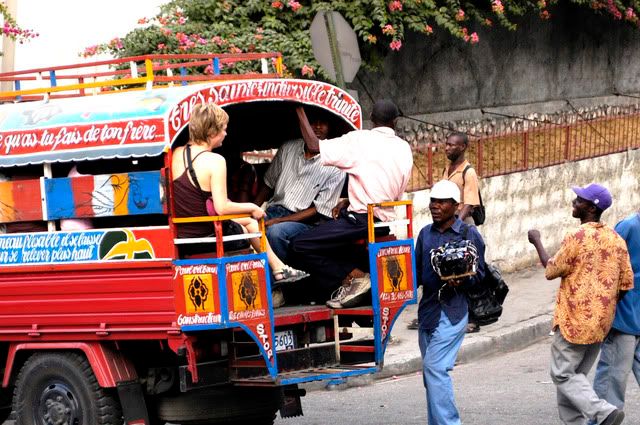 World Music Promotions e-Newsletter
Haitian Taxi "Tap Tap" Photo: Hervay Petion
May 2008- Vol 1, Issue 3



Please forward WMP e-news to a friend.

Word of Mouth is the best form of promotions. Make noise, and the world will hear you.

Information




WMP.com



-For more Information.


-News and advertisement.
-Submit artist for review.
-CD and press kit request.
-e-Marketing & promotions
-Booking inquiries.

Contact:


Cynthia Karaha




PO BOX 606


New York, NY 10018
karahac@worldmusicpromotions.com



HAITIAN KONPA CORNER

The Winner Of
the IRAWMA Best Compas Entertainer Of 2008.


IRAWMA.COM

CONGRATULATION!


Carimi

L

ook out for
CE Magazine's May issue later this week for a complete review on The

International Reggae and World Music Awards.

www.ceonlinemagazine.com

MUSIC STREET TALK


"NO WHERE ELSE BUT THE BIG APPLE"






TANTAN

recently released his new album


"Machadiz La".



Tantan will be starting his album tour in NYC where




he began his career.




WMP has it from inside sources that Tantan is preparing a solid showcase with topnotch

musicians


Friday May 30th, 2008 @SOB's





We all remember "Ole Ole" and "Pam Pam Pam"

the one number Hits of the HMI. So New York, are you ready for Tantan?

contact info:

gmritchie1@verizon.net

www.myspace.com/tantanole

PHOTO GALLERY



Event: "Alternative Routes" Series

@ New Jersey Performing Arts Center

Saturday April 19, 2008

-Lataye (Roots-Haiti)

-David Rudder (Calypso-Trinidad and Tobago)

-Nadia Dieudonne

Artistic Director/Dancer

www.sonicbids.com/feetofrhythm




WMP Photos: Hervay Petion

***Unfortunately, WMP doesn't have any photos of Juan Carlos/Emeline Michel, for the theater didn't allow photos to be taken.
REGGAE CARIFEST
Reggae Carifest
JULY 6TH, 2008
@
USTA Billie Jean King National Tennis Center. Flushing, NY 11368

5pm-11pm

Now in its 10th year, Reggae Carifest is the largest Reggae concert in the United States bringing together people from all walks of life to celebrate Reggae lifestyle and culture.
Launched in 1998 Reggae Carifest was initiated principally for uniting the West Indian/Caribbean Culture for one full day of cultural awareness, consciousness and celebration of the culture here in the United States. Reggae Carifest caters to all genuine cultural expressions and aesthetics and is received by an eclectic group of people hailing from all walks of life.
Reggae Carifest is also an exhibition of vision for the arts and the community in the presence of its festival. Reggae Carifest is more than an event it is a cultural celebration and explosion steadfastly keeping the West Indian/Caribbean Culture and its foundation ever present in today's rapid changing market.
Reggae Carifest a true festive occasion for all to enjoy. For more information on Reggae Carifest please visit our website www.reggaecarifest.com.

The Mission
CARIFEST C.A.R.E.S is a Reggae Benefit Concert that has joined forces with KEEP A CHILD ALIVE to help fight the war against AIDS in Africa.
KEEP A CHILD ALIVE is an urgent response to the AIDS pandemic ravaging Africa. With more than 28 million dead and 15 million orphaned, the disease continues, wiping out whole societies, threatening economic infrastructure and creating tragic family devastation. They provide life-saving medication, support, and orphan care, to keep these children and families alive. KEEP A CHILD ALIVE gives 100% of public donations to their cause. For more information on Keep A Child Alive please visit www.keepachildalive.org
www.myspace.com/carifestcares
MICHOU-

VOCALIST/COMPOSER/LYRIST/GUITAR PLAYER
"PsyCadeliCosmicSoul Musique"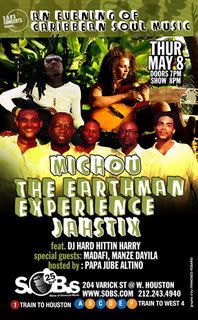 Michou always knew she wanted to sing, and at age four began her musical training on piano. As a natural progression, Michou took up guitar at age eight, inspired by her older cousin. Quickly understanding musical theory, she was able to work within and play with the concepts bringing about a sound of her own. Around the 80's, Michou composed a song "The look of Love", which the late great jazz and classical violinist, Noel Pointer, rearranged into Jazz. The Jazz version was number one for 4 months on CD 101.9 radio station (USA), and remained for another two years on the air.

Today Michou is still strapped to her guitar. She still handles the piano for composing, honoring her childhood foundation. Her Haitian cultural influences favor heavy in her music and in her mission. Michou's sound comes from the mystic spirit of life, love and its journeys. She describe her music as
"PsyCaDeICoSmicSoul" musique.
Michou's fans identify with her soulful lyrics and the innovative blending of sounds of traditional Haitian folklore and a fluid rock pulse
with a tribal percussive backbeat.

Michou has played various hot spots in NYC like Joe's Pub, Supper Club and Knitting Factory. She was featured in The Epoch Times for her show at Sutra. Genevieve Long (writer) said of Michou " ---
it's what comes out of the singer's mouth when she and her band "Mangus" are performing that really makes an impression on audiences. Her vibrant voice and soulful lyrics, backed by the smooth and skillful sounds of the band seem to energize Michou's fans and encourage a positive perspective on life and the world."


"NYC Rock Activist Supports Haitian Cause" The Epoch Times Feb 21, 2005
http://www.theepochtimes.com/news/5-2-21/26528.html

Michou has been the featured artist many times at Soul Village hosted by Eric Roeberson at SOB's. In 2004, Michou performed at the SOB's "Benefit concert in support of The Artist Relief Fund For Haiti". Annie Lennox came out that night, and Michou was proud to support her heritage as one of the featured artists along side fellow Haitian Wyclef Jean (formerly of the Fugees). This benefit raised funds for the victims of devastating hurricanes and natural disasters in Haiti.

Michou is now working on a new project, with an anticipated album to be release at the end 2008.

**A few Haitian artists Michou has performed with **
Loubert Chancey -featured vocalist on "Yaveh"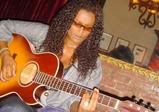 Tabou Combo
James Germain
Boukman Eksperyanse
Scandal
Boulo Valcourt
Sakaj-featured vocalist on "Melody Feeling"

Photo link:
S.O.B.'s and Artists Relief Fund for Haiti Present
"A Benefit Concert for Haiti" December 20, 2004 -
http://www.wireimage.com/SearchResults.aspx?igi=92622&s=michou&sfld=C&vwmd=e=92622&nbc1=1
Event Schedule
-MAY 7, 2008 - SPUTNIK -BROOKLYN
-MAY 8, 2008 - SOB'S -NYC
-MAY 16, 2007-SPUTNIK -BROOKLYN



Contact information:
"Kymberli & Michou" <thefishandthelion@gmail.com>

www.myspace.com/chouchoulala8
www.myspace.com/thefishandthelion
World Music Promotions Rhythmic Beat
WMP's rhythmic beat pick of the Month
"Mwen Bouke"
"Mwen Bouke" is from the conscious Haitian Singer/Composer BELO later album "Reference". If ever a song could be classified as world music "Mwen Bouke" is it, breaking the global sound and language barrier.
This song is a must hear. If you identify with Haiti's struggle, "Mwen Bouke" will bring tears to your eyes. "Mwen Bouke" has a majestic musical touch. The guitar line fills your lungs with oxygen of peace. The vocals gradually take you to a journey on a magic carpet while observing the blood shed. Stop the violence is the S.O.S message to all Haitians. You can hear the love and the desperation in BELO's voice looking for hope in Haiti's heart. In one word "Mwen Bouke" is just BREATHAKING.

Dear Belo
"Haitians all over the world hear you loud and clear"

Cynthia Karaha
World Music Promotions


-Event reschedule
Belo's release album concert due on April 12th, 2008, at Park Historique de la Canne-a-sucre, Haiti was reschedule for May 10th, 2008. The concert was cancelled due to food riots, which erupted in Haiti.

For more information:

www.myspace.com/belo123
www.belohaiti.com
www.sonicbids.com/belohaitireference
Promotion




For more Info:


Joey Hart / NOWGrafwear,LLC


www.nowgrafwear.com


hartofbklyn@aol.com




917-945-8256
EVENT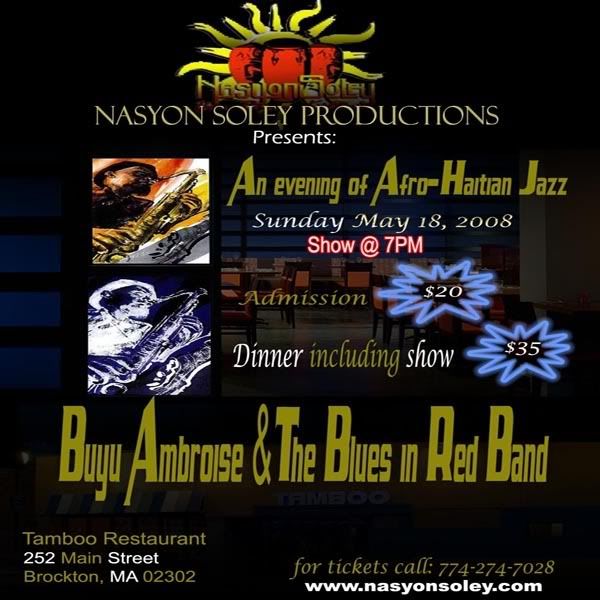 Nasyon Soley Productions
presents
An evening of Afro-Haitian Jazz
Sunday May 18, 2008
Show@7PM
Buyu Ambrose & The Blues in Red band
Tamboo Restaurant
252 Main Street
Brockton, MA 02302
www.nasyonsoley.com
WHO WE ARE
World Music Promotions is an e-Newsletter that caters to the International and Caribbean music market audience. WMP is an outlet where unexposed talents share their music with the world.
As an active member, WMP will keep you informed on music, dance, news, events, festivals and new releases pertaining to the Caribbean culture.
Sincerely,
World Music Promotions "Spicy Music" -Caribbean Style