Dial Global chooses NewsReady to launch NBC Radio News Network
If you are a Dial Global affiliate, you are likely now carrying NBC Radio News on your station. Beginning in April, Dial Global's Washington DC newsroom began using our NewsReady electronic newsroom system to air in-house produced hourly newscasts with NBC hosts. Using their NewsReady newsroom with our "Clip it" clip production system (with Adobe Audition), Dial Global publishes hundreds of actualities to the NBCAudio affiliate web site each day. Clip it provides the means to generate clips on breaking events without interrupting a recording in progress so clips can be made available to affiliates while news is still breaking. NewsReady newscasts are put together with embedded audio clips, recorded, and then aired using the NewsReady Onair screen. Clips and metadata are shot up to the NBC Audio website with our integrated web publishing feature, greatly minimizing the steps required to re-purpose content online. Clip it is FREE and included with our NewsReady newsroom Version 10.
Version 10 now available
Version 10.0 is now available
Version 10 is free for all customers subscribing to our Silver, Gold
and Platinum support plans. If you don't have a support plan and would like to get
version 10, give David Gerstmann a call at 800 833 4459 or email him at
davidg@wireready.com.
All of our products are Version 10 available, including ControlReady studio onair automation, NewsReady newsroom, SalesReady telesales, and our web interface products. For a summary of improvements, click here to read our last newsletter. Click here to read other past newsletters or visit our website.
Tip of the Month: How to run two WireReady users on ONE computer at same time
Ever want to run TWO or more WireReady screens on the SAME computer? Add /m to the shortcut you use to start the program and you can have more than one "user" running at the same time. No new licenses are required. It's free and easy to do with Version 9 and later. This can be very handy. A news person can constantly keep a copy of the wires open and in view and do everything else in the other window, or have two CLIP IT recordings running, or On-air users can voice track in one session while keeping their eyes on the running log in the other. And if your computer has two monitors attached, it's like getting a two for one with your computer.
National Latino Broadcasting and ControlReady adds TRIPLE overlapping, voice tracking & console remote control for SiriusXM channels 146 and 147
On SXM Channel 147 En Vivo,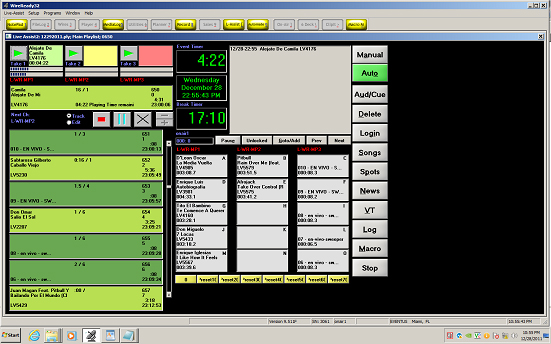 in AUTO walkaway mode, ControlReady cross-fades the elements according to the voice tracks. In MANUAL mode during live studio times, the host hits any of the three new TAKE buttons to manually control the exact timing of the airplay. It works naturally with their air console, letting them control which fader "takes" the next event. The system interfaces with NLB's SAS 32KD router and Rubicon console surfaces, so the host can also hit the ON button under each fader to take the next event. The TAKE buttons work with the mouse as well as a variety of audio consoles and also accept standard GPI, serial or TCP.
Put your billing and traffic system in COMPLETE control of your ControlReady automation system

With Version 10 it is now possible to configure your traffic system clocks to COMPLETELY control the times, frequency and duration of your spot breaks along with any switching schedules, without having to maintain separate daily automation clocks and playlists in the WireReady system. Our new Playlist Builder capability lets you define mini-macros in our software. Macros are simply small snippets of playlists that form clocks and logic blocks that are common to your schedules. Automation directives can be placed in the template of most traffic systems that correspond to these macros. In this fashion, instead of pulling in just spots, the traffic log controls switching, logic, and even comments you want your hosts to see on our screen. f you'd like to try out this new way to control your station, contact our support department. It can be done in parallel so you can try before committing. This new capability is free with your current support plan or free if you don't have support now and decide to renew a plan.
Make your Sync and Import button sync audio folders on your LAN 10 times faster !

Version 9 and version 10, we now allow sync speed settings up to 10 or more times faster than before. Many folks have used speed settings from 50 to 100 in the past. Version 9 customers can now safely set it up to as high as 400 and Version 10 customers as high as 1000! Depending on your current speed, sync speeds will get a lot lot faster. The speed setting is controlled with the synchdir32.dat file in your wire\system folder and can be changed with any text editor. Edit the speed settings, restart the program, and watch files sync a lot faster than ever before.
NewsReady V10 supports AP Webfeeds Agent Internet feed
AP plans to convert all broadcast subscribers to Internet delivery by year end. If you haven't been contacted by AP, you soon will be or you can call AP. No worries, the conversion is easy and quick and free for all WireReady customers who already use the Windows version of NewsReady and have a support plan.
Thank you for your loyalty and continued interest in our products.
Sincerely,
David Gerstmann
(800) 833 4459
davidg@wireready.com
See us at Broadcasters Clinic
October 9-10
Come see our radio automation, newsroom management and TV playout solutions at our booth this year in Middleton WI at the Madison Marriot West Hotel Tuesday afternoon and Weds morning.
If you would like a personal demo at your station immediately before or after the show, please contact David Gerstmann
davidg@wireready.com
We're happy to visit any station between Kansas City and Madison WI and surrounding cities.
PlayoutReady television upgrades
PlayoutReady, our line of Television playout and automation servers, has recently been upgraded to support a confirmation as-run log, secondary event queuing inside video files, optional mpeg capture recording and ingest segmenting, and an optional MOS module for workflow integration with ENPS, Inews and Octopus newsroom systems. PlayoutReady now supports Snell/Sirius routers. PlayoutReady servers are quickly finding their way into more and more commercial and non-commercial stations, and it isn't just for small markets. Time Warner recently went HD in their Kansas City Metro sports channels with 4 of our HD servers. www.playoutready.com
If you love your WireReady and love our service, PLEASE tell your friends
at other stations. And thank you for all the folks you've sent our way.


About WireReady
Since 1989, our mission has been to design innovative and easy to use products and support them 24/7/365 with one of the best help desk teams in the business.
In addition to serving more than 2000 radio broadcasters worldwide, our product line has expanded to include television automation and master control playout, video encoding and automatic recording, MOS integrated playout, and asset management. Our non-proprietary high-end ultra-fast multi-terabyte rackmount windows based servers and mpeg decoder and encoder cards match the features of leading vendor systems at a fraction of their prices.
If this email was forwarded to you by
a friend or colleague, please click on
the button below to continue
receiving news from WireReady!

Interested in a test drive?
If you are interested in trying our newsroom products, school closing, podcasting, web publishing, studio onair and automation, television or telesales products before you buy, give us a call.
We will remotely set you up with any of our products on your computers and let you take a 30 day test drive to experience the ease of use and excellent service and support we're known for. There is no obligation or cost.
If you decide to purchase, we'll give you the unlock key. You can use our software on your own windows computer(s), or we can provide industrial grade rack mount RAID redundant audio and/or video workstations and servers.