Version 10 will begin shipping March 1st 2012
Version 10.0 will ship in March 2012
WireReady is putting the finishing touches on Version 10, which has many new
exciting features as requested by customers.
Interested in getting a pre-release in January?
Sign up Here
Version 10 is free for all customers subscribing to our Silver, Gold
and Platinum support plans. If you don't have a plan and would like to get
version 10, give David Gerstmann a call at 800 833 4459 or email him at
davidg@wireready.com.

The many improvements to our ControlReady onair and automation system
and our NewsReady electronic newsroom are highlighted in the articles below.
ControlReady V10 playout automation adds TRIPLE overlapping & route control
with 3 new TAKE buttons for live-assist
Customers using our automation/onair solution for live assist have responded positively to our new Live Assist screen which combines a DJ-friendly view of a running playlist with arrays of quick play buttons, drag and drop, event and break timers. V10 makes the live-assist mode even easier and more powerful.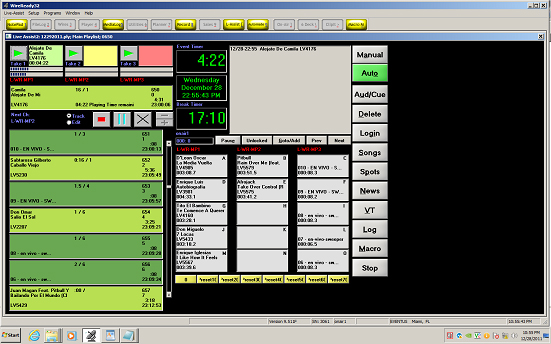 With V10, we've added a 3rd channel for triple overlapping, and added three new TAKE buttons. GUI cart decks with VUs now you see what is playing on EACH channel. In AUTO walkaway mode, you can watch the computer choose the next channel to auto overlap and cross-fade the elements based on intro and outro settings in your music and voice tracks. In MANUAL mode, DJ's can now hit any of the three new TAKE buttons to manually control the exact timing of the airplay and take each song on the fader THEY choose on their mixer. The TAKE buttons also work with your mixer's GPI or serial language for using remotes. Works with a mini keypad too. V10 also lets you scroll around in the playlist and jump/segue to any command in the playlist if you need to go out of order in your playlist. Voice Track from the same screen and roll the music under your voice with on screen VUs. Customize the screen and change the background colors of specific events and audio categories. The improved screen also lets you type in channel labels on the screen that match the labels on your studio console so everyone knows what plays where.
ControlReady Adds New Rotation Viewer/Editor and Replace Audio Functions
Do you use rotations at your station? You can now use an empty automation deck, to load, view, edit and update rotations. Instead of working rotations as text file lists in the Filelog, you can open a rotation in an unused automation deck, and see the immediate status, length, start/stop date and other information for all listed audio cuts in the rotation. You can audition them, roll them all, move the next up pointer, add/delete and, of course, save to update the rotation. The new choice to load and save rotations is in the File pull down menu of the automation deck screen.
Re-use the same spot or cut names and want to preserve the metadata descriptions? Now you can. In the Medialog, Click Replace/Overwrite. Like renaming, now you can choose the new file, choose the file you want to replace and preserve and use the original description and metadata. If you re-use the same cart names and numbers this will save you a ton of time in 2012. The Medialog now has a Check Rotations report feature that will find any rotations in that folder that have missing or out of date items that may need your attention.
NewsReady V10 newsroom software supports AP Webfeeds Agent Internet feed
Version 10 can now be configured to capture AP wires using AP's Webfeeds Agent software and our WINCAP wire capture utility, AP Internet sent information can now be automatically sorted in your WIRES and MediaLog screens.

NewsReady newsroom software V10 adds Drag/Drop, Vertical splits and Rundowns


Version 10 supports a new Dual screen mode where you can have two notepads, two filelogs, two medialogs, and split vertical. You can use this mode by clicking the Setup pulldown in the Filelog. In this mode, you can now create folders and subfolders and manage shows in their own folders. Each folder can be assigned a desired show length. DRAG AND DROP stories from any folder on the left into any show filelog on the right. You can drag and drop order the stories and read them from top to bottom during your newscast. Two new columns show total time and time left to fill your planned length. Newly modified stories show in red. In rundown mode, any changes made on any other machines automatically update your rundown while you are on the air and update everytime you read the next story in the list. Read each story individually or hit our Archive button and instantly make a copy of all those individual stories into a SINGLE script to read and have it archived, while saving the individual stories for re-use later in the day.
NewsReady newsroom software V10 adds new navigation bar to WIRES
By popular request, your custom searches in the WIRES screen are now shown as large single-click buttons at the top of the screen. Combine the search power of NewsReady with one click access to your favorite views.
Thank you for your loyalty and continued interest in our products.
Sincerely,
David Gerstmann
(800) 833 4459
davidg@wireready.com
PlayoutReady television upgrades
PlayoutReady, our line of Television playout and automation servers has recently been upgraded to support a confirmation as-run log, secondary event queuing inside video files, optional mpeg capture recording and ingest segmenting, and an optional MOS module for workflow integration with ENPS, Inews and Octopus newsroom systems. PlayoutReady now supports Snell/Sirius routers. PlayoutReady servers are quickly finding their way into more and more commercial and non-commercial stations and it isn't just for small markets. Time Warner recently went HD in their Kansas City Metro sports channels with 4 of our HD servers. www.playoutready.com
About WireReady
Since 1989, our mission has been to design innovative and easy to use products and support them 24/7/365 with one of the best help desk teams in the business.
In addition to serving more than 2000 radio broadcasters worldwide, our product line has expanded to include television automation and master control playout, video encoding and automatic recording, MOS integrated playout, and asset management. Our non-proprietary high-end ultra-fast multi-terabyte rackmount windows based servers and mpeg decoder and encoder cards match the features of leading vendor systems at a fraction of their prices.
If this email was forwarded to you by
a friend or colleague, please click on
the button below to continue
receiving news from WireReady!

Interested in a test drive?
If you are interested in trying our newsroom products, school closing, podcasting, web publishing, studio onair and automation, television or telesales products before you buy, give us a call.
We will remotely set you up with any of our products and let you take a 30 day test drive to experience the ease of use and excellent service and support we're known for. There is no obligation or cost.
If you decide to purchase, we'll give you the unlock key. You can use our software on your own windows computer(s), or we can provide industrial grade rack mount RAID audio workstations and servers for a fraction of what other automation vendors charge for custom built machines.