Quick Notes
"Gathering is more about sharing. The individual traditions that are created add to the larger tradition. There is a feeling of participation in the greater human experience."

~ John Sherry, University of Notre Dame



Hotlines!

Helpful Connections for Holiday Cooking Questions

Toll-free hotlines and consumer-oriented Websites with e-mail customer service are important sources for turkey crisis control, baking queries, and last-minute advice for holiday meal preparation. Print out this list and post it in or near your kitchen so you'll have it on hand should an emergency arise. Look for Butterball, Reynolds, and Ocean Spray on social networks for hints, tips, and speedy feedback to your holiday cooking questions.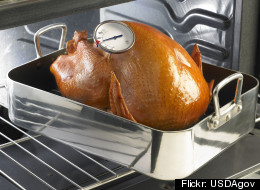 Butterball - Turkey Talk
1-800-BUTTERBALL (1-800-288-8372).
The Butterball® Turkey Talk-Line is open annually in November and December. Open to residents of the United States and Canada. Bilingual assistance is available (English and Spanish).
Over the years, the Butterball® Turkey Talk-Line experts have solved some puzzling turkey situations, like which pan to use, what to do when the turkey is on fire, and when to start roasting the turkey so it's ready by halftime. Read the answers to their most frequently asked questions.
Turkey Talk-Line Facts
When the Butterball Turkey Talk-Line opened twenty-nine years ago, six home economists responded to 11,000 phone calls in the first year alone.
These days, the Butterball Turkey Talk-Line employs more than 50 professionally trained, college-educated home economists and nutritionists, who respond to more than 100,000 questions each November and December. They've answered calls regarding how to cook for a whole firehouse, how to impress the in-laws, and how to serve international students their first American Thanksgiving dinner.
Toll-free hotlines and consumer-oriented Websites with e-mail customer service are important sources for turkey crisis control, baking queries, and last-minute advice for holiday meal preparation. Print out this list and post it in or near your kitchen so you'll have it on hand should an emergency arise. Look for Butterball, Reynolds, and Ocean Spray on social networks for hints, tips, and speedy feedback to your holiday cooking questions.
Useful Tool:

Let's Talk Turkey-A Consumer Guide to Safely Roasting a Turkey
Download Fact Sheet
USDA

888-674-6854
Answers questions on general food safety, from defrosting to roasting to storing leftovers. Hotline is open: Thanksgiving Day: 8 a.m. - 2 p.m. (ET). Year-round, weekdays: 10 a.m. - 4 p.m. (ET) to speak with a food-safety specialist or 24 hours a day for recorded food-safety messages
REYNOLDS

800-745-4000
Automated instant advice and solutions for defrosting turkeys, and step-by-step directions for three different methods for roasting a turkey. Year-round, 24 hours a day, 7 days a week.
OCEAN SPRAY

800-662-3263
Staffed by Ocean Spray's Consumer Affairs representatives to answer all your cranberry-related queries. Calls answered year-round, weekdays (open Thanksgiving Day but not Christmas Day, New Year's Day, and other major holidays), 9 a.m. - 4 p.m., EST.
5 Day Pouch Test:
Downloads are Working
Have you experienced a technical error trying to download our new 5 Day Pouch Test Journal forms? Sorry about that. The web guys have it fixed and it you can click the link and get the PDF of our all new 2012 5DPT form. The original form is still there as well, if you prefer. As always, all off our downloads are free for your personal use. Let me know if you like the old form or the new form. You Can Do This!!

This new and improved journal is a companion tool to the brand new 5 Day Pouch Test Owner's Manual - 2nd Edition published July 2012.
All New 2nd Edition- July 2012
5 Day Pouch Test Owner's Manual
The complete 5 Day Pouch Test plan including inspiration, instructions, and recipes in Kaye Bailey's classic empowering style. 180-page easy to read paperback with hints, tips and encouragement that enables you to take charge of your weight loss surgery tool. 2nd Edition includes new guidelines from the FDA, USDA, and the ASMBS. 16 new 5DPT recipes; more FAQ's; more inspiration from Kaye. Improved format. Same great plan shared with Kaye's encouragement and enthusiasm. Same low first edition price $22.95. Get back on track with Kaye! You Can Do This!
View
Table of Contents
#LAWLS-5DPT03
SALE! $22.95
Greetings!
Thank you for joining me for this Weekly Digest. As we are nearing Thanksgiving Day and the feasting season of the next several weeks today the Digest takes a look at the greater picture of our feasting traditions. I hope you will find our feature article insightful. As I researched the traditions and customs of food gatherings I came to understand that these big holiday meals symbolize community and human experience beyond the individual plate. While the feasting can feel overwhelming to us after bariatric surgery we can find ways to participate as part of the group while meeting our individual needs and restrictions.

Feature Article

. And while the feasting traditions continue, newer traditions present opportunities beyond the table. Take a look at the

Turkey Quest

article and tool to help us find charitable and volunteer opportunities in which to participate. And finally, in homage to the ubiquitous pumpkin I share a

cookie recipe

from Diabetic Living. Make and share these delicious cookies this week and feel good about contributing a healthy option to your holiday menu.

just in case

.

Thank you again for joining me, remember, We are ALL in this together. I wish you and the people you celebrate with a happy and healthy Thanksgiving.

Cheers!

Kaye Bailey

Holiday Weight Gain:

Are you worried about holiday weight gain? Be sure to check-out the November 5 Day Pouch Test Bulletin that is loaded with tips and techniques to avoid holiday bulge.




Recent Cooking with Kaye Newsletters:


November 8, 2012 - Classic Thanksgiving Recipes we Love
November 12, 2012 - New Thanksgiving Classics to Love


---
Available Tuesday - November 20!
We have other exciting things happening this month! On November 20, 2012 my new book, "Cooking with Kaye: Methods to Meals" will be published. This collection of 134 Protein First recipes has been many years in the making and I am thrilled with the result. You can reserve your copy today at the guaranteed lowest introductory price and it will be in the mail to you on November 20th. I know this will become a family favorite resource for great meals everyone can enjoy. Learn more.




Introductory Price: $23.95

Complimentary "Four Rules" magnet with each book. ($1.95 value)
Low Introductory Price Guaranteed through 12/31/2012
(Publishers Price: $27.95 - Save $4)
SKU #LAWLS-CWKM2M


You are our valued reader. We respect your rights and privacy by never sharing your information with a third party. Please respect our creative rights by honoring copyright laws and prevent plagiarism.
---
Featured Article:
Gathering for Food and Drink:
The universal customs of humanity
by Kaye Bailey
It is very common this time of year, in our WLS communities, to feel both a sense of joy in celebrating the holidays while also feeling frustrated by the constant distraction of holiday food and food-centered events. Of course we are frustrated! Here we are trying to use our surgical tool for weight management in the very world where we became obese. Nothing in our environment after surgery changes, in fact, food centered events seem polarized as if taunting us back to the eating behavior we now understand is so detrimental to our health. I have joined the conversation often where we collectively complain that the constant focus on food takes away from the greater meaning of our celebrations. "It gets worse every year," we moan to one another.
But recently a more historical perspective was offered to me when a friend made a compelling argument that gathering to partake of food is a custom as old as mankind and is universal across continent and culture. In fact, she noted, gathering to share food is a complex community-building exercise and traditions can be traced back to ancient harvest festivals. Gathering to share and partake of food and drink is not a trend of our the times: it is the very essence of humanity. Of course, different cultures evolve different traditions, such as the American Thanksgiving originating in 1621.
That gathering in Plymouth, Massachusetts took its cues from the English tradition of giving thanks and offering prayers at an autumnal harvest festival. The English tradition took hold during the Protestant Reformation where it began as a religious observation. It is interesting to note that almost all religions and cultures mark the conclusion of harvest with some form of religious gathering to offer thanks to a higher power and share food and drink with neighbors, families, and friends. While cultures have seen traditions come and go, the custom of gathering to break bread and partake of drink endures.
John Sherry, a University of Notre Dame cultural anthropologist, said, "The reason all the people come together is because there's something about building a tradition; a sense of home and comfort." He notes that within religions, geographic regions, and even families smaller traditions evolve as part of the whole. "Gathering is more about sharing. The individual traditions that are created add to the larger tradition. There is a feeling of participation in the greater human experience."
Understanding that the tradition of gathering for food and drink is greater than the individual is one step in reconciling our WLS-lifestyle with the traditions and customs that are familiar to our world and sanctify our relationships and heritage.
In other words, the 2,000 calorie plate of Thanksgiving food is not about us, about our weight, or an effort to sink our ship when we are struggling mightily to follow the rules that seemingly go against the tide. That plate is a declaration of custom, heritage, and abundance. The plate is a symbol of the community, a symbol of the greater human experience. The plate is not about the individual. When we understand that, we can eat from the plate as we chose, participating in the custom of gathering for food and drink. Eating smaller, carefully selected meals does not take from the collective experience of giving thanks and celebrating tradition. Eating a smaller meal simply honors the individual while participating as part of the group.
While we understand our smaller plate honors tradition just as well as a heaping plate, it may not be so easy for others to accept this. Navigating among food pushers certainly becomes a new, and perhaps frustrating, tradition for those with WLS. Because food gatherings are founded upon the inclusion of individuals into community we are well-served to participate by practicing acceptance, gratitude and kindness respecting our self, and those with whom we are gathered.
For strategies in coping with food pushers and food police take a look in our newsletter archive at the August 13, 2012 bulletin:
Weekly Digest Archive:
Food Pushers and Food Police
---
---
Beyond the Table:
TurkeyQuest Pinpoints Opportunities for Service
Thanksgiving is, of course, a celebration of harvest, a symbol of friendship and a time for families to come together. Unless you can't stand your family. Be that as it may, the holiday has an interesting history, one that has now developed into a three-state dispute over which one hosted the first Thanksgiving. The feast's origins are commonly traced to the Pilgrim gathering at Plymouth, Massachusetts, in 1621. But interestingly, some sources point to similar feasts held in places like Virginia or even Spanish Florida.

A couple of centuries later, in addition to family feasts, Thanksgiving is celebrated with parades (New York City, Detroit), cultural festivals (Milwaukee, New Mexico) and "Turkey Trot" road races (Nevada, Seattle). It's also recognized as the start of the overall holiday season, so there are plenty of light shows (Oklahoma, Phoenix), homages to Christmas (Mississippi, North Dakota) and Black Friday sales (Iowa, Pennsylvania).

MapQuest has compiled all of these events
-- two per state and per major metro area -- into TurkeyQuest. And we've also offered a third suggestion of where you and your family can volunteer in each of those places. Hopefully, in doing so, we will honor the spirit of that first Thanksgiving -- wherever it may have taken place.
Link to interactive
TurkeyQuest on Mapquest
Do Good! Our Map Of Thanksgiving Volunteering Opportunities

Click on map to go to Mapquest site. From there click a pinpoint to learn more about how and where you can volunteer this holiday -- and make Thanksgiving better for someone else. Also, learn more about what other fun activities are happening in your area. (Note: Most organizations prefer that you call in advance to officially register as a volunteer rather than just showing up.)
Direct Link:
Thanksgiving Volunteering Map
---
Featured Recipe:
Spiced Pumpkin Cookies
The deep flavors of molasses, cinnamon, ginger, allspice and nutmeg make these wholesome pumpkin cookies delicious without the addition of butter-and they lend themselves beautifully to the inclusion of whole-wheat flour.

From The EatingWell Diabetes Cookbook (2005)
Ingredients:

2/3 cup whole-wheat pastry flour
2/3 cup all-purpose flour

1 teaspoon baking powder

1/2 teaspoon baking soda

1/2 teaspoon salt

1 teaspoon ground cinnamon

1/2 teaspoon ground ginger

1/4 teaspoon ground allspice

1/4 teaspoon freshly grated nutmeg

2 large eggs

3/4 cup packed light brown sugar or 1/3 cup Splenda Sugar Blend for Baking

3/4 cup canned unseasoned pumpkin puree

1/4 cup canola oil

1/4 cup dark molasses

1 cup raisins


Directions: Preheat oven to 350°F. Coat 3 baking sheets with cooking spray. Whisk whole-wheat flour, all-purpose flour, baking powder, baking soda, salt, cinnamon, ginger, allspice and nutmeg in a large bowl. Whisk eggs, brown sugar (or Splenda), pumpkin, oil and molasses in a second bowl until well combined. Stir the wet ingredients and raisins into the dry ingredients until thoroughly combined.


Drop the batter by level tablespoonfuls onto the prepared baking sheets, spacing the cookies 1 1/2 inches apart.
Bake the cookies until firm to the touch and lightly golden on top, switching the pans back to front and top to bottom halfway through, 10 to 12 minutes. Transfer to a wire rack to cool.

Nutrition Per cookie: 72 calories; 2 g fat ( 0 g sat , 1 g mono ); 10 mg cholesterol; 13 g carbohydrates; 7 g added sugars; 1 g protein; 1 g fiber; 70 mg sodium; 87 mg potassium.
LivingAfterWLS:
Serving the WLS Community Since 2006

Don't trust your weight loss surgery life to anyplace else.

Spam-Free ~ Privacy Protected

Thank you for being a loyal Neighbor of LivingAfterWLS. We are proud to serve you in your weight loss surgery journey.


Sincerely,

Kaye Bailey

The health content in the LivingAfterWLS website is intended to inform, not prescribe, and is not meant to be a substitute for the advice and care of a qualified health-care professional.
LivingAfterWLS, LLC
Kaye Bailey, Founder
Evanston, Wyoming 82931