Kaye's Kitchen:
Greetings Neighbors!

Can you believe we are two weeks away from Thanksgiving? I have started planning the menu for our family dinner; my favorite holiday of the year. And I'm sure many of you are doing the same. This time of year I enjoy receiving emails from my LivingAfterWLS Neighbors who often ask,

"Kaye do you remember that one recipe you gave us, it had something like..."

and I get to look back at our growing collection to find an old favorite recipe. Today I'm proud to publish some these favorite classics again for you. Maybe they will be new and find a place on your table, maybe they are an old favorite and you are glad to be reminded of them. Either way I know you will enjoy them because they are delicious and reliable and have stood the test of time.

To those affected by recent weather disasters I send out my deepest care and concern with hopes that each day brings recovery, comfort, and security. I hope that despite this hardship and adversity we may all find something for which to be grateful.

I wish a blessed Thanksgiving to our LivingAfterWLS Neighbors. May your day be filled with gratitude as you embrace the people and traditions most important to you.

Sincerely,
Kaye
And remember, you can always find great LivingAfterWLS recipes online in our
Kitchen
!
Holiday Weight Gain:

Are you worried about holiday weight gain? Be sure to check-out the November 5 Day Pouch Test Bulletin that is loaded with tips and techniques to avoid holiday bulge.
---
We have other exciting things happening this month! On November 20, 2012 my new book, "
Cooking with Kaye: Methods to Meals
" will be published. This collection of 134 Protein First recipes has been many years in the making and I am thrilled with the result. You can reserve your copy today at the guaranteed lowest introductory price and it will be in the mail to you on November 20th. I know this will become a family favorite resource for great meals everyone can enjoy.
Learn more
.
Introductory Price: $23.95

Complimentary "Four Rules" magnet with each book. ($1.95 value)
Low Introductory Price Guaranteed through 12/31/2012
(Publishers Price: $27.95 - Save $4)SKU #LAWLS-CWKM2M


Creamy Butternut Squash Bake

Published October 15, 2006
This recipe was featured in the LivingAfterWLS Recipe of the Week on October 15, 2006. It's quickly become a Neighborhood favorite with great reviews from all who have made it. Give it a try tonight.
Ingredients:
1 large butternut squash
1/2 cup sour cream, light
2 Tablespoons margarine/butter blend
1/2 cup bread crumbs
1/2 cup parmesan cheese
1/4 teaspoon freshly grated nutmeg
Directions
Wash and dry butternut squash. Leave whole. Pierce skin with a carving fork in 4 or 5 places. Place squash on a baking sheet lined with foil and bake in a 350F degree oven for 40 minutes or until soft. Remove from oven and allow to cool.

When squash is cool enough to handle cut lengthwise in two pieces. Remove and discard seeds. Spoon out sqash into a casserole dish. Add sour cream and 1 tablespoon of the margarine/butter blend. Mash all ingredients together with a potato masher. Smooth mixture in casserole dish.

In a small bowl melt the remaining tablespoon of margarine/butter blend. Stir in breadcrumbs and parmesan mixing to moisten. Sprinkle crumb mixture atop squash and sprinkle with grated nutmeg. Bake in 350F degree oven for 25 minutes.

Serves 4. Per serving: 199 calories, 7 grams protein, 10 grams fat (5 saturated), 22 grams carbohydrate and 2 grams dietary fiber.

Other Vegetable Suggestions:
Oven Roasted Vegetables
Green Beans with Carmalized Onions
Nutty Perspective
Published November 24, 2006 - I just love the picture!
This is a picture from our Thanksgiving appetizer table - it clearly demonstrates the smallness of an "appropriate" 1-ounce serving of Chili-Toasted Pecans with Dried Cranberries from a recent Recipe of the Week. Notice the 1-ounce serving size. Even with WLS it is easy to over-eat the appropriate 1-ounce portion.
By the way, one ounce of dry roasted pecans contains 187 calories, 2 grams of protein, 18 grams fat (1 saturated), 6 grams carbohydrate and 2 grams dietary fiber. nuts are rich in monounsaturated fats, the healthy fats. However, a little goes a long way!
It's all about portion control! Make a visual image and honor your body with healthy foods in appropriate portion!
Chili Roasted Pecans with Dried Cherries
Published November 28, 2006
Adapted from Better Homes and Gardens "Appetizers"
This is a sweet-savory nut recipe sure to satisfy any hunger craving. It can be made in advance and kept in an airtight container at room temperature until time to serve.
Makes about 2 1/2 cups nuts.
Ingredients:
1 tablespoon cooking oil
1/4 teaspoon bottled hot pepper sauce
2 cups pecan halves
1 1/2 teaspoon chili powder
1 teaspoon ground black pepper
3/4 teaspoon salt
1/2 teaspoon ground cumin
1/4 teaspoon dried oregano, crushed
3/4 cup dried cherries
Directions:
Preheat oven to 325 degrees F. In a large bowl, combine cooking oil and hot pepper sauce. Add pecans; toss to coat evenly. Set aside.

In a small bowl, combine chili powder, black pepper, salt, cumin and oregano. Add to pecans; toss well to coat.

Arrange pecans in a single layer on a large baking sheet. Bake for 12-15 minutes or until toasted, stirring every 5 minutes. Keep a watchful eye as they can burn quickly. Remove from oven and stir in dried cherries. Serve warm or at room temperature.

One ounce of dry roasted pecans contains 187 calories, 2 grams of protein, 18 grams fat (1 saturated), 6 grams carbohydrate and 2 grams of dietary fiber. Nuts are rich in monounsaturated fats, the healthy fats.

Another Nutty Article
Speaking of Snacking: Advice about Popcorn
GeneralStore



Two Great Offers -


Our Thanks to You!






November is a month of gratitude and we are more grateful than ever for the support and loyalty we enjoy with our LivingAfterWLS General Store Customers and Neighbors. It pleases us to offer two different coupon codes this month, a token of our appreciation of you. Please use the coupon that gives you the best bargain and enter the code at checkout.

Happy Thanksgiving!

Coupon Code:

THANKSTWO2012

Save $2 off any order! No minimum purchase.





Coupon Code:

THANKSTEN2012

Save 10% off any order over $29.00


5DPT Bargain Bundle - Everything You Need to Get Back on Track!

Shhh - Don't tell anyone!
These Tasty Desserts Contain Tofu!
Published November 17, 2005
I know, I know! - These recipes include that "icky" thing - tofu. But before you move on consider this: tofu is a nutritional super-model with the remarkable ability to disguise itself as many things - in this case, Thanksgiving dessert. Silken tofu takes on a phenomenal life as a dessert and a healthy protein source. I encourage you to set these tofu desserts on your Thanksgiving dessert table. Shhhhh - - don't tell your guests these are "healthy" desserts - let them enjoy the decadence!

These cheesecake recipes are WLS friendly, but as with all things after WLS, proceed with caution in moderation.

Pumpkin Tofu Cheesecake
1 1/2 pounds silken tofu
1 cup canned or fresh, cooked pumpkin
1 1/4 cups Splenda
1 teaspoon ground cinnamon
1/2 teaspoon ground nutmeg
1/4 teaspoon ground cloves
12 ounces soy cream cheese
1 tablespoon vanilla extract
2 graham-cracker piecrusts (9 inches each)
Have all ingredients at room temperature. Preheat oven to 325 degrees.

In a food processor or blender, puree the tofu and pumpkin. Add the Splenda cinnamon, nutmeg, cloves, soy cream cheese and vanilla and process until smooth. Scrape down the sides as necessary. Pour the tofu mixture into prepared piecrusts and bake for 50 minutes, until firm. Turn off oven and leave the cheesecake in the oven for 1 hour. Remove and cool to room temperature. Refrigerate overnight. Serve cool.

16 servings (normal portions)

Nutrition: 210 calories, 14.5 g fat, 0 cholesterol, 4.5 g protein, 13 g carbohydrates, 1.2 g fiber, 138 mg sodium, 49 percent calories from fat.

Chocolate Hazelnut Cheesecake
Ingredients:
1/3 cup hazelnuts
1 cup graham cracker crumbs (5 ounces)
1 tablespoon vegetable oil
1/4 cup unsweetened cocoa powder
1 pound silken tofu
1 cup creamed (4%) cottage cheese
1 ounce semisweet chocolate, melted
1/2 cup granulated sugar or splenda
1/3 cup packed light brown sugar
2 tablespoons flour
1 egg
2 egg whites
1 teaspoon vanilla extract
Directions:
1. Preheat the oven to 367 degrees. Toast the hazelnuts on a baking sheet for 7 minutes, or until the skins begins to crinkle. (Leave the oven on). Transfer the hazelnuts to a kitchen towel and rub to remove as much of the skin as possible (some skin will remain). When the hazelnuts are cool enough to handle, coarsely chop them. Set aside.

2. In a small bowl, stir together the crumbs, oil, and 1 tablespoon of water. Press the mixture into the bottom and partway up the sides of a 9 1/2-inch spring-form pan. Bake for 8 minutes or until the crust is set. Cool on a wire rack. Reduce the oven temperature to 350 degrees.

3. In a small bowl, combine the cocoa and ¼ cup of water until well moistened. In a food processor, combine the tofu, cottage cheese, melted semisweet chocolate, granulated sugar, brown sugar, flour, whole egg, egg whites, vanilla and the cocoa mixture. Process until very smooth.

4. Pour the batter into the prepared crust and bake for 40 minutes. Reduce the oven temperature to 250 degrees. Sprinkle the nuts on top and bake for 10 minutes or until the cheesecake is just set. Cool to room temperature; refrigerate for 2 hours or until chilled. Serves 12 (normal portions).

Nutrition: Calories, 205; fiber, 1 gram; protein, 8 grams; fat 7 grams; cholesterol 20 mg; sodium 189 mg.
Don't Forget the Cranberries
It was an annual joke at my childhood Thanksgiving table that midway through the meal my mother would exclaim, "I forgot the cranberries!" and we would all laugh and the meal would continue without the ruby red gelatin being missed. The sad unwanted can of over-sugared jellied berries would then be pushed to the back of the pantry in hopes of discovery at the next turkey feast. Times have changed and the humble cranberry - a nutritional powerhouse - is no longer cloaked in sugar and shoved to the back of the dark pantry. Cranberries in all their glory are believed to be a potent cancer fighter, effective in slowing aging, contribute to dental health, reduce the risk of some heart disease and helpful in the prevention of peptic ulcers.

These recipes for cranberry condiments are guaranteed to make it to your holiday table. We present the recipes using traditional sweeteners: sugar, honey and maple syrup. Because they are consumed in such small quantities the sugar intake is minimal. However, if you are highly sugar sensitive use your favorite sugar, syrup or honey substitute in place of the traditional sweeteners. Just for fun we included "Maple-Cranberry Glaze" that uses canned jellied cranberries: admittedly it is a dressed-up darling from the bygone days of the wiggly-jiggly crazy odd guest out at the Thanksgiving table. An odd darling, maybe. Delicious? Absolutely!
Enjoy - and don't forget the cranberries!


Cranberry Cocktail Sauce
Quick to make in the food processor this is a great sauce and a refreshing change from traditional cocktail sauce. Serve with chilled shrimp and Enjoy!
Ingredients
:
1 1/2 cups fresh cranberries
1/4 cup tomato ketchup
1/4 cup raspberry preserves
1 1/2 teaspoons hot sauce (or to taste)
1 (1/4-inch thick) slice large onion
1 tablespoon prepared horseradish
2 tablespoons honey
Directions
:
Place all ingredients in a food processor; pulse until smooth, yet chunky. Pause several times to scrape down the sides of the processor. Makes 1 1/2 cups.
Serve in a bowl for dipping with chilled shrimp.
Per 3-tablespoon serving of sauce: 60 calories, 14 grams carbohydrate.
Maple-Cranberry Glaze
Because this sauce uses canned gelled cranberry sauce you can keep the ingredients on hand year round. Enjoy it as the finishing touch to grilled or broiled protein.
Ingredients
:
3/4 cup jellied cranberries sauce
1/2 cup pure maple syrup
1/4 cup cran-raspberry juice
2 tablespoons Dijon mustard
1 tablespoon triple sec or other orange liquor (optional)
1 1/2 teaspoons orange zest
1/4 teaspoon sea salt
1/4 teaspoon ground black pepper
Directions
:
Combine ingredients in a small saucepan. Bring to a boil over medium heat, whisking until smooth. Cool to room temperature.
Use to glaze turkey during the final minutes of cooking. This glaze may be used on broiled pork or chicken.
Try this:
New England Roast Turkey
I wish you the best health and happiness LivingAfterWLS!


Cheers!


Kaye Bailey
LivingAfterWLS, LLC
You Have Arrived

Whatever else you have on your mind,
Wherever else you think you're going,
Stop for a moment,
Look where you are:
You Have Arrived!

LivingAfterWLS Neighborhood


November Coupons:
$2 off any order: no minimum.
10% off $29 minimum Orders

Avoid Holiday Eater's Remorse

Published




Tuesday, November 29, 2005



Are you conflicted over enjoying the holidays by indulging in the bountiful foods set before you versus honoring your commitment to a healthier life by way of weight loss surgery? I know for me the abundance of food and Yuletide cheer seems at times overwhelming. Here are a few strategies to consider before noshing your way to eater's remorse:

- Forget the notion that holidays are for overindulging. Your WLS isn't taking a holiday vacation, neither should you.

- Assume that certain foods WILL make you sick (vomiting or dumping). Just because it hasn't made you sick before does not mean it will not make you sick today. Always assume the worst and avoid dangerous foods (sweets, high starch carbohydrates and dairy)

- Enjoy seasonal treats in moderation. Foods you can have anytime of year are not worth the holiday pouch space - indulge only in those once-a-year treats (low-fat sugar-free eggnog or mulled cider sound good right now).

- Avoid salty foods - they aren't good for you, they cause dehydration, they cause grazing and over-consumption. Why bother?

It sounds trite and we've said it all our dieting lives: "Nothing Tastes as Good As Thin Feels" - - This time, with WLS, the "thin" is for real. Give yourself the chance to enjoy your weight loss without the eater's remorse.
Cream of Turkey Soup
Published November 26, 2007
From Low Carb Recipes this is a quick and healthy way to use some of your left over Thanksgiving Turkey. Use for Days 1 & 2 of the 5 Day Pouch Test.

Ingredients:
1/2 stick unsalted butter
1 large onion, chopped
10 ounces cooked turkey, finely shredded (discard skin)
2 1/2 cups chicken stock
1 Tablespoon fresh tarragon
1/2 cup heavy cream
Croutons (optional)

Directions:
Melt the butter in a large, heavy bottom pan, then add the onion and cook for 3 minutes. Add the turkey to the pan with 1 1/2 cups of the stock.

Bring to a boil, then let simmer for 20 minutes. Remove the pan from the heat and let cool, then transfer the soup to a food processor or blender and process until smooth.

Add the remainder of the stock and season to taste with salt and pepper. Add the tarragon, then pour the soup into a tureen or individual bowls and add a swirl of cream.

Garnish with croutons if desired.

Serves 4. Per serving: 420 calories, 24 grams protein, 33 grams fat (20 saturated) and 6 grams carbohydrate.

More Soup Recipes

Chocolate-Espresso Cups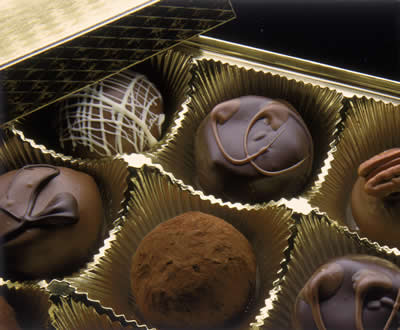 Published November 30, 2005
8 Servings
Prep time: 15 minutes
Cook time: 12 minutes
Chill time: 2 hours

Ingredients:
1 12-ounce can lowfat (2%) evaporated milk, divided
1/3 cup granulated sugar
3 teaspoons granulated instant espresso powder (or 3 teaspoons instant coffee)
1/8 teaspoon coarse salt
1/4 cup mini chocolate chips
2 tablespoons cornstarch
1 1/2 tablespoons water
1/4 cup unsweetened cocoa powder
Lowfat whipped topping
8 chocolate covered coffee beans

Directions:
Combine 1 cup of milk with sugar, instant espresso powder and salt in a medium saucepan. Bring the mixture just to a boil, whisk in mini chocolate chips and turn off heat.

In a medium bowl, stir together cornstarch and water until completely smooth. Blend in remaining ½ cup of milk. Sift cocoa powder over bowl and whisk mixture until free of lumps.

Vigorously whisk hot-milk mixture to blend melted chocolate chips. Transfer to cocoa mixture and whisk to combine. Transfer mixture back to saucepan and cook over low heat until pudding has thickened, about 2 minutes.

Ladle pudding into 8 espresso or pudding cups. Lay a small piece of plastic wrap over the surface of each pudding to prevent a skin from forming. Refrigerate for 2 hours or until set.

Just before serving, top each pudding with whipped topping and garnish with a chocolate-covered coffee bean.

Nutrition per 1/4 cup serving (that is an appropriate WLS size serving): 155 calories; 4grams protein, 5grams fat, 24grams carbs.

Sugar Free Chocolate Pie
Sour Cream Chocolate Cake
Pecan Crusted Chicken Tenders with Dried Cherry Salsa
Prepare the salsa a day or two in advance, cover and chill. The chicken takes about 30 minutes to prepare and 30 minutes to bake. It holds well on an appetizer buffet table in a warming tray, a casserole or a chaffing dish.



Pecan Crusted Chicken Tenders


Ingredients:
2 cups ground pecans
1/2 cup all-purpose flour
2 tablespoons yellow cornmeal
1/2 teaspoon salt
1/2 teaspoon ground black pepper
3 pounds chicken tenders
butter flavored cooking spray

Directions:
Preheat oven to 400 degrees F. Spray a shallow baking pan with non-stick cooking spray. In a large zip-top bag combine pecans, flour, cornmeal, salt and pepper.

Working with a few at a time place the chicken tenders in the bag and shake to coat. Arrange in a single layer on the prepared baking pan. Spray tops of pecan coated chicken tenders with butter flavored cooking spray. Bake for 20-25 minutes until chicken is no longer pink when pierced with a fork. Serve warm with the Dried cherry Salsa.

Dried Cherry Salsa
Ingredients:
1/2 cup dried cherries
1/2 cup sugar free cherry jam
2 tablespoons red wine vinegar
1 green onion
1/2 jalapeno chile pepper, stemmed, seeded and chopped
1 teaspoon lime zest

Directions:
Place all ingredients in a food processor and pulse to create a smooth salsa. Allow to stand 30 minutes at room temperature for flavors to develop. Serve or cover and refrigerate. If refrigerated bring to room temperature before serving.

Neighborhood Kitchen