With our white Zentangle tiles, we introduced tangling in black with shades of gray.
With our black Zentangle tiles, we introduced tangling with white and shades of white and we added layering black on top of white (on top of black, etc).
With our Zentangle Renaissance tiles, we bring all these techniques together!
This opportunity is masterfully demonstrated in this chalk portrait by Peter Paul Rubens:
In this drawing, Rubens demonstrates a drawing technique called Chiaroscuro that emerged in the fine art world during the Renaissance. These types of drawings were done on subtly colored or toned paper, usually gray or tan. Using the paper as a neutral starting point, the artist would then use white pencil or paint to work towards light or to create highlights and then use black ink and graphite to work towards dark or create shading. This technique opened up opportunity to exemplify the juxtoposition of light and dark. You will also find drawings from this period subtly incorporating the use of earthy colors such as brown, sepia, terra cotta, warm gray and cool gray.
That's why we call these tiles, "Renaissance Tiles." These centuries old techniques lend themselves wonderfully to the Zentangle Method.
Here is an early (2008) example of Maria's explorations of this technique. This example is on lokta paper:
Notice that all these examples use brown tones. So, we have added to our store a brown Sakura® Pigma® Micron 01.
Its earthy toned ink absolutely "sings" on this lush tan 100% cotton print making paper that we use to create these tiles. "Tan" however is such an inadequate word to describe the rich complex coloring of this paper. You really have to hold it, see it and tangle on it to fully appreciate it.
To give you an idea of what you can do on this surface, here are some images of Renaissance Tiles that we've recently tangled: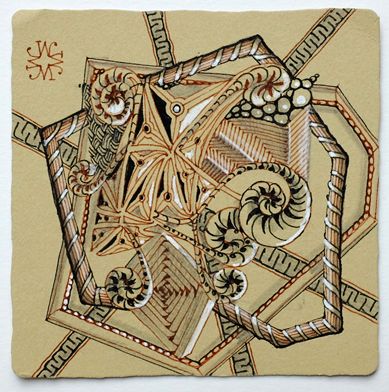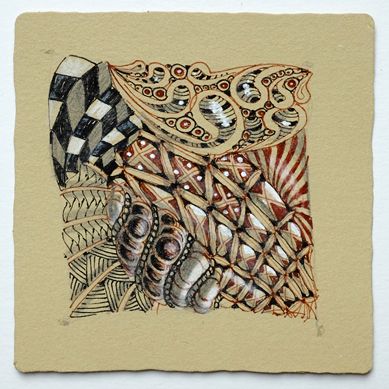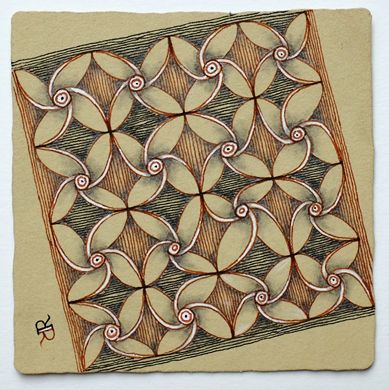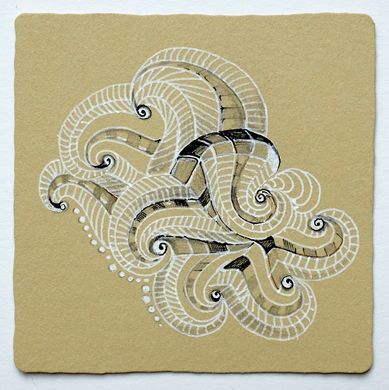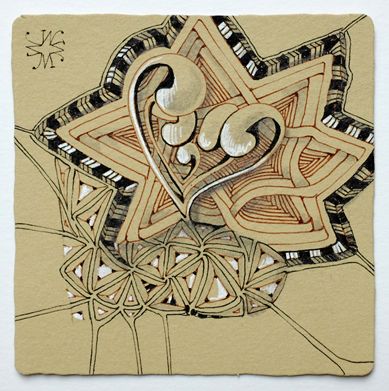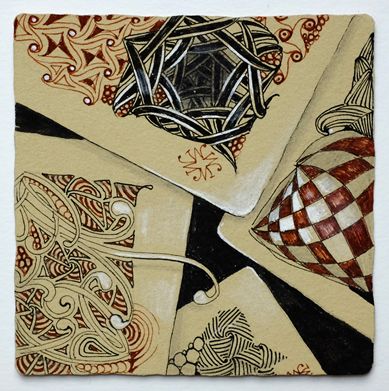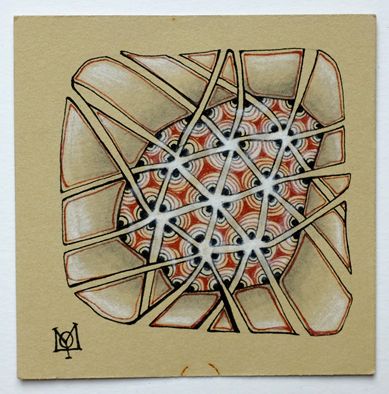 We are thrilled to share our new Zentangle Renaissance Tiles with you!
Zentangle Renaissance Tiles
Pack of 21 Die-cut 3.5 inch (89 mm) square tiles,
100% cotton: $13.00
and,
Sakura Pigma® Micron01 Brown Pen:
$2.89
In addition to a graphite pencil, we also use these tools for tangling and shading Zentangle Renaissance Tiles:
Pigma® Micron01 Black Pen: $2.89
White Charcoal Pencil: $1.59
Gelly Roll® White Pen: $1.49
-----+-----
We encourage you to take a class with a Certified Zentangle Teacher (CZT List) to fully enjoy the many possibilities of Zentangle Renaissance tiles.
We look forward to seeing what you create.
Enjoy!