Greetings!
Finally . . .
For all of you who have been emailing us and patiently waiting . . .
We are pleased to announce that registration is now open for our 2014
Certified Zentangle Teacher (CZT)
training seminars.
We will offer two summer and two fall seminars in 2014.

These seminars fill quickly, so please register promptly to secure your spot.
2014 CZT Seminar Registration is Now Open
At seminar, we deeply explore the ideas, techniques and principles of the Zentangle Method and art form. You will get to know us and understand who we are and how we run our company; you will meet and get to know your soon-to-be fellow CZTs; and most importantly, you will learn how to teach the Zentangle Method.
All seminars are held at the Hotel Providence in Providence, Rhode Island, (US). Each seminar begins on a Sunday evening and continues through the following Wednesday afternoon.
We (Rick, Maria and Molly) teach the seminar.

You will come to understand how wonderful this growing global Zentangle family and community is and how enjoyable and valuable attending seminar is.

The joy and value of being a CZT continues after seminar as you experience the gratitude of your students.
Click the following links for the price, schedule, information, and registration application for each date:
This page gives a bit of insight into our CZT program and the CZT seminar experience.


We look forward to meeting you and working with you soon.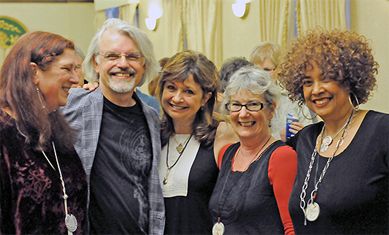 Rick and Maria with seminar students during a class break.
A Letter to a CZT



Elizabeth Smith, CZT, recently wrote us:

I gave a Zentangle 101 workshop this afternoon, and one of the participants sent me this email a few minutes ago. This is what it's all about for me - when people realize there's so much more to the Zentangle Method than they supposed. Sure makes my day!



"Elizabeth, Thank you so much for today's class. I loved the Zentangle concept from the first time I heard about it but have been discouraged because I just couldn't get the feel for it.

"I have many books, DVDs, the great kit, etc., but was not satisfied with my efforts. You are so right - watching a video, looking at YouTube, reading a book just does not equal a class from a wonderful teacher like you!

"I was really nervous about today's class, but I realized I CAN do great, creative things, too. Today was one of those eye opening experiences that takes one to another level. I am so fortunate that you entered my life at this time - thank you so much.

"Take good care of yourself and keep me informed of future classes." -- D.W.

Comments from CZTs about Seminar



For the first time in many years I felt like I was among kindred spirits. Everyone made me feel like I had "come home". Becoming a CZT has been the best thing that has happened to me in a very long time. I have been looking for something like this for myself and also for a means to earn income for several years and finally found it by accident when i was surfing the internet. My belief is that I was meant to find the Zentangle art form.

I am very new to the whole Zentangle concept. It has been the first thing i have tried in years that has helped me to relax and calm my mind. I have been sharing that with everyone and my friends and family cannot believe the change on my face when i start talking about Zentangle. Apparently I beam from ear to ear.

Again, thank you for everything; for the privilege of taking your class and for the wonderful opportunity to meet you and your family. I think of both of you often and how "real" you all are, as well as being so kind and sharing.




-----+-----

I thoroughly enjoyed the Providence experience and all of the sharing and caring that went on there.




-----+-----


I was so afraid before coming and at the beginning knowing that there would be many more advanced artists than I. But immediately I was put at ease by you, your staff and everyone involved.

You ran a very professional seminar and from my participant point of view, I felt it went flawlessly. You truly have a wonderful, nurturing nature and I just can't thank you and all involved for everything you have done.

I will be proud to tell everyone what a truly honorable business Zentangle is.




-----+-----





Thank you for a wonderful learning experience in Providence last week. I had looked forward to attending a seminar for a long time and was excited to be there.

You two are so pleasant and gracious, I can see why you have made so many friends in this great community you have created. I feel blessed to be part of it.

Being with a large group, sharing in the same interest and loving Zentangle made the time together all the more special. The sharing of idea's and seeing what others have created with the Zentangle Method is amazing, promising and joyful.

-----+-----



Your attention to detail was impeccable including [. . .], [. . .], [. . .] (we have to have some surprises! :-), the fabulous meals and snacks, and the charming hotel. In an age when attention to details often gets lost I wanted to compliment you on all of your efforts to create an interesting, informative, and pleasurable experience.

I'm so very proud and honored to carry on the unique Zentangle technique. Thank you for sharing your knowledge and passion.


We are grateful to share this wonderful adventure with you.

We look forward to meeting you!



Best,

Rick and Maria