Harness Your Energy:

Pursue Your Goal
I don't care how much power, brilliance or energy you have, if you don't harness it and focus it on a specific target, and hold it there you're never going to accomplish as much as your ability warrants.
~~Zig Ziglar

Whatever else you have on your mind,
Wherever else you think you're going,
Stop for a moment and
look where you are:

You Have Arrived!
---
I believe in you.
You deserve to be healthy.
You deserve to be kind to yourself.
You deserve to achieve your greatest level of success with weight loss surgery when you harness your inner resources.
--

Kaye Bailey
5 Day Pouch Test Owner's Manual
LivingAfterWLS General Store

Tax Days Savings:

Code: TAXBREAK

Save 10% off Order

$20 Minimum Purchase

Expires April 18

April

FREEBIE

Four Rules Magnet

Free with Every Order!



2011 Refresher Course
Weekly Digest Archive:
The Four Rules


Rule #1 - Protein First:
LivingAfterWLS Weekly Digest January 20, 2011
Rule #2 - Lots of Water
Rule #3 - No Snacking
LivingAfterWLS Weekly Digest February 9, 2011
Rule #4 - Daily Exercise
LivingAfterWLS Weekly Digest February 18, 2011
The Four Rules: Before surgery most of us were taught the Four Rules we must follow in order to achieve the best results with weight loss surgery - any procedure. Those rules (with minor variations from one bariatric surgeon to the next) are:
Protein First
Lots of Water
No Snacking
Daily Exercise
In order to maintain weight loss and keep the obesity from which we suffer in remission we must follow these rules for life. If it has been a while since you have given consideration to the Four Rules I invite you today to spend a little time refreshing your knowledge and enthusiasm about the rules.
Understand the Four Rules of WLS Before Going Under the Knife
Weight loss surgery is frequently perceived as an easy means to weight loss that requires little or no effort by the patient. However, patients who undergo bariatric surgery are prescribed Four Rules of dietary and lifestyle management that they will follow for the rest of their life if they wish to lose weight and maintain a healthy weight. Here is what you need to know about the Four Rules of weight loss surgery before going under the knife.
Social Connections
Go beyond the LivingAfterWLS Neighborhood and connect with Kaye Bailey in these popular social media destinations:





How to Increase Activities of Daily Living After WLS
Of the four lifestyle changes prescribed to bariatric patients following weight loss surgery Rule #4, Daily Exercise, is the most difficult for patients to incorporate in their weight loss program. Patients who undergo weight loss surgery are morbidly obese at the time of surgery and most often have been living a sedentary lifestyle due to mobility complications caused by their weight. The surgeon's advice to include daily exercise as part of a weight loss program can feel as daunting as the challenge to climb Mt. Everest. In addition to daily exercise weight loss surgery patients are prescribed a high protein diet, and they must drink lots of water and avoid snacking.

Patients are more likely to become physically active when they gently increase their Activities of Daily Living (ADLs) rather than a attempt a full-steam-ahead boot camp-style cardio and strength training regimen from the get-go. The well-known Duke Diet for healthy and lasting weight loss suggests that the first element of fitness is the ADLs which include everything from "waking up, getting out of bed, combing your hair, putting on your robe, stepping out to get the newspaper to doing household chores, taking care of the yard, and walking the dog." According to the Duke Diet program ADLs accumulate throughout the day and burn calories with little or no conscious effort.

During the early days and weeks of recovering from bariatric surgeries, including gastric bypass, adjustable gastric banding (lap-band), and gastric sleeve, patients are encouraged to walk short distances several times a day as part of their recovery program. As a person heals from surgery they can mindfully seek opportunities throughout the day to increase their ADLs in ways that morbid obesity had limited them before surgery and the resulting weight loss. Patients should avoid the mistake many have fallen to, that is "waiting until I lose the weight before I start exercising." Patients who wait to include exercise in their day or fail to increase their ADLs seldom achieve the desired goal weight or sustain the weight loss full term.

Consider these opportunities to increase Activities of Daily Living while recovering from gastric weight loss surgery:

Do moderate housework like vacuuming and sweeping more frequently and more energetically
During TV commercial breaks stand and walk in place, do stretches, knee bends, or arm circles
Take the dog for longer, more frequent walks
Play actively with children and include brisk walking, bending, tossing or climbing movements at the park or playground
Enthusiastically work in the garden mowing the lawn or raking leaves
Use stairs instead of elevators or escalators going both up and down
Take stretching breaks to loosen tight muscles during long working days at a desk or office job
Stand for routine office tasks like sorting paperwork or filing and talking on the phone
Do calf raises while standing on line or waiting for the bus
Plan hometown walking tours for a leisurely afternoon and explore your neighborhood
Bring groceries from the car into the house one bag at a time increasing steps, do arm curls with heavier items like canned goods before putting away
Hand wash the car with a bucket of sudsy water and rinse with the garden hose instead of going to a drive through car wash to increase activity and save money

The benefits of increased Activities of Daily Living are twofold for weight loss surgery patients: the first benefit is that of increased physical mobility and stamina; the second benefit is enjoying activities which morbid obesity had prevented. As patients become stronger physically through increased ADLs and weight loss they can then, quite effectively, begin to add fitness-building activities to their healthy weight management routine.

Article Source: How to Increase Activities of Daily Living After Weight Loss Surgery
The Nurse Warned Me,
But I Gained Some Weight Back Anyway


"Dear Kaye,
Thank you for the Day 6 book. I guess I am one of "those people" - had the surgery and lost and then it came back, the weight. My WLS nurse warned me I could regain the weight and I didn't take her serious or maybe I thought I was more determined than everybody else or smarter or something. I wish I had asked her what would cause me to gain the weight back. I'm not sure that back in 2007 I ever heard of slider foods or liquid rules or anything like that. I just knew WLS was the answer for me. So now I'm up 48 pounds and want to stop it before it gets to 50 pounds and all of the sudden another 50 and I'll be back where I started. Thanks for explaining so many things in the Day 6 book. I wish I read this book before I even had the surgery, maybe I wouldn't be one of "those people" or at least not a 48-pound-regain one of those people.

This is the first time I have hope since the re-gain started.

Kelly MarcaNorthern Ohio
"
Printed with Permission.

Because we are all "One of those people" who have or could regain our weight.

Day 6 by Kaye Bailey


LivingAfterWLS Digest
Spring Renewal: Refresh Your Menu
April 13, 2011
LivingAfterWLS, LLC - All Rights Reserved
Greetings!
One of my favorite things about spring is the variety of fresh berries and vegetables that come to the markets. After a long winter of cooking from the pantry I welcome the light freshness of asparagus and strawberries and baby lettuce and such. There is just something about this time of year that renews my interest in cooking. Today in the digest we spend a few moments refreshing our memory on how to find a good Day 6 recipe that supports our healthy weight management goals. The more we work toward being masters over what we cook and how we cook the more successful we can become at managing our weight and hopefully improve the health and nourishment of those we love.
Happy Spring - We are all in this together!
Kaye
KayeBailey@LivingAfterWLS.com
Be sure to look at last week's Cooking with Kaye Newsletter - We talked all about carbs and there are some great recipes too.
Find the newsletter here: Cooking with Kaye
"A major area of concern and sometimes confusion for us after weight loss surgery is how many grams of carbohydrates should we eat in a day. Have you been perplexed over the carbohydrate question? Today in Cooking with Kaye we take a look at carbs and the role they play our diet after weight loss surgery."
Tax Time Savings!
Coupon Code: TAXBREAK - Save 10% at Checkout
Minimum Order $20 - Offer expires April 18.
Books - Soup Mixes - Seasoning Blends
5 Day Pouch Test Support
Be a Recipe Sleuth:

How to spot a good Day 6 Recipe
Protein & Fruit High Protein Breakfast

Have you been bit by the Spring Fever bug? I know after a long cold dark winter I'm just itching to get outside and feel warm sunshine on my face and a watch the earth come alive after a long winter's nap. I hope you are finding the time and good health to enjoy living during spring's awakening glory!

Lately I've been asked questions about Day 6 eating as people are getting back on track with the 5 Day Pouch Test and wishing to stay in line with their weight loss surgery goals with the "Day 6" concept. Many are seeking a specific caloric formula, the magic answer if you will to weight maintenance with our surgical tool. I know I would LOVE a magic formula! But even the experts in the bariatric field will not give us nutritional numerical cheat sheet for our post WLS diet as they play the "everyone is different" card when asked for specifics. The best cheat sheet I can find based on a 2008 study suggests we post WLSers should average a 1,200 calorie day diet of 60-105 grams protein and 27 to 47g fat. No carbohydrate guidelines are offered except to reference the National Academies' Institute of Medicine of 113g daily carbohydrate consumption for a 1,200 calorie diet for a non-WLS adult. Confused or frustrated? I am! (See pages 97-122 of my book Day 6: Beyond the 5 Day Pouch Test where I discuss this in greater detail with references.)

So, in over ten years of trying to figure this out for myself and working with others trying to figure out their own "magic formula" here are a few things I've learned along the way that in the LivingAfterWLS community we now know as the Day 6 way of eating. We call it "Day 6" because at some point we've gone off track, we've used the 5 Day Pouch Test (our airbag) to get back to basics, and we are marching along one day at a time doing our best to work our weight loss surgery tool.

· IT is not as important to count the protein grams as it is to count the protein bites. If we practice the 2B/1B Rhythm (2 Bites Protein to 1 Bite Complex Carbohydrate) our pouch will signal fullness and we will stop eating with the appropriate serving size.

· THE very nature of a restrictive gastric surgery is to cause discomfort when the pouch is full which results in the cessation of eating. This discomfort results when the liquid restrictions are observed and slider foods are avoided. The discomfort of restriction is our signal to stop eating and when respected is a powerful mental and physical tool in our quest for weight loss and weight control. (I discuss pouch discomfort in this YouTube Video)

· ALL weight loss surgery patients experience setbacks on a daily basis. Setbacks are not catastrophic, they are the consequence of living. An active effort to accept setbacks and move forward saves patients the agony of self-loathing and downward spiral that often leads to weight gain. Read the "Broken Egg Theory" page 26 of Day 6 Book".

· Embracing the I <love> DIET concept "Daily Intelligent Eating Triumphs" allows us to have a plan and celebrate making choices that will nourish good health of the body mind and soul.


And remember, you can always find great LivingAfterWLS recipes online in our Kitchen!

LivingAfterWLS Free Downloads

5 Day Pouch Test Bargain Bundle
The Works! Everything you need to get back on Track!
-5 Day Pouch Test Owner's Manual by Kaye Bailey
-Feed the Carb Monster Soup Mixes (16 Servings - 2 Mixes)
-Emergen-C Bundle pack (7 Servings)
-FREE Goody Bag ($1.95 Value)
$45.50 Value --- for $38.50
SHIPPED USPS PRIORITY MAIL
SAVE 15% when you purchase the Bundle!!!
Our Price:
$38.50
List Price:
$45.50
The Neighborhood
Your Safe Haven Circle of Friends
9,837 Neighbors - 162,016 Posts
The LivingAfterWLS Neighborhood: an online compassion driven social space evoking feelings of comfort, understanding, knowledge, warmth, acceptance, trust and happiness for those who have undergone gastric bypass, lap-band or any type of weight loss surgery or those struggling with weight control.
LivingAfterWLS Neighborhood:
Advertising-Free ~ Spam-Free ~ Privacy Protected
Don't trust your weight loss surgery life to anyplace else.
Come in and tell us about yourself! We love meeting new Neighbors and everyone is welcome here in our little community.
Want to join the Neighborhood, but not sure where to start? Tell us in this Volume 4: What brought YOU to the Neighborhood? Everyone is welcome - Can't wait to meet you!
All things weight loss surgery. Find your procedure peer in our gastric banding, gastric sleeve forums. Or talk to veterans of weight loss surgery. Learn about diet, nutrition, exercise and more after weight loss surgery.
Spring Sunshine Accountability Challenge
Spring sunshine... is there anything better? Granted, the old saying goes "April showers bring May flowers". What to we most look forward to though? Sunshine. Warmer temperatures. Flowers and fresh vegetables growing in our gardens. The thought of it makes me smile. If we emulate the spring, the season of rebirth and growth, then we will indeed glow like the sun. Let's all eat, breathe, and live like the spring sunshine; let the warmth and happiness that we have shine through. Let's cast off the cares of winter, those dark, cold and gloomy days that weighed us down and embrace the light. Join Us for this Challenge! You set your goals and participate at your pace in your way - empowered by the Neighborhood.
Always a popular destination the 5 Day Pouch Test Forum is your place to connect with others who are using this popular plan to get back on track with their weight loss surgery tool.
Day 6: Beyond the 5 Day Pouch Test
Harness the momentum of your 5 Day Pouch Test and continue forward with a positive effort at Day 6 Living. Great support from others, like you, who are trying their best to live healthy happy lives with weight loss surgery.
The You Have Arrived Alumni Club
Connect with others who had weight loss surgery the same year you did and share the journey! From the Pioneers of the 1980s to our newbies of 2010, everyone has a place in the Alumni Club to call home.
A place to stop and share the things in our daily lives beyond weight loss surgery. A neighborly place of support and friendship.
Fun Friday
Community Kitchen
Neighborhood Cookbook
Warm Soup: Always a Good Choice
I found this recipe in Prevention magazine and was intrigued by the addition of two eggs at the end of cooking. This method is similar to egg drop soup but I had never considered adding an egg to a more hearty soup. The result was a fresh and light chicken soup with a creamy texture thanks to the addition of eggs. Each 2-cup standard serving has 49g protein so a WLS portion of 1-cup has about 25g protein. Not too shabby when you balance that against the 16g of complex carbs you will enjoy when eating this hearty soup. Give the recipe a try - I think you will find it has everything you need for a best-nutrition meal and a comfort meal in one lovely warm bowl of soup.
Lemony Chicken Soup
Serves 4 (2-cup) Servings
Ingredients:
1 teaspoon olive oil
1 small clove garlic, minced
6 cups chicken broth, reduced sodium
1 rib celery, chopped
1 cup shredded carrots
1/2 teaspoon ground black pepper
1/4 teaspoon salt
1/2 cup orzo
2-1/2 cups frozen green peas or beans
3 cups chopped cooked chicken
2 large eggs
3-4 Tablespoons freshly squeezed lemon juice (1 large lemon)
Directions:
Heat olive oil in a Dutch oven over medium heat. Add garlic and cook until light brown, about 1 minute. Add broth, celery, carrots, pepper, and salt and bring to a boil over high heat. Add orzo and reduce heat to a simmer. Cook until orzo is tender, about 8 minutes. Add peas and chicken and simmer 2 minutes. Meanwhile whick eggs and 3 tablespoons of the lemon juice in medium bowl. Temper egg mixutre by whisking in about 1 cup hot broth in a thin stream. Whisk egg mixture into soup and warm briefly over low heat, 2 minutes. Do not boil or eggs will curdle. Adjust seasoning as needed with more lemon juice, salt, or pepper and serve.
4 (2-cup) servings. Per serving: 424 calories, 49g protein, 10g fat, 32g carbohydrate and 4g dietary fiber. Remember, weight loss surgery patients should carefully measure a 1-cup serving, half of the normal suggested serving size, and avoid drinking liquids when eating meals. This helps us feel full longer and gives our body more time to digest and absorb nutrients.
Your online destination for support is:
Q&A:
What's so bad about fried food?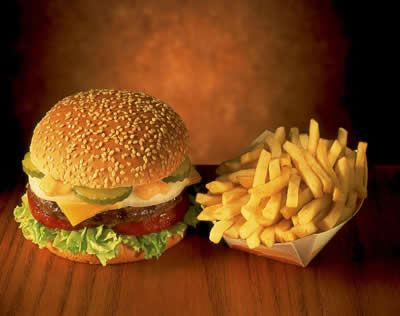 Here's an interesting discussion from the
Neighborhood
about fried food after Weight Loss surgery - take a look and link to the Neighborhood to add your thoughts and ideas!
Question from deb728:
"Now I know fried food is bad for you in general. But is there a specific reason that we as weight loss people can't eat it? I would never eat a cheesteak or anything super greasy again, but sometimes I'm like holy cow I want chicken nuggets. So I was just wondering why can't it be like everything else-a couple french fries or chicken nuggets like once every two months?"
Kaye's Answer:
"Hi Deb -- Thanks for asking this question! As you mentioned, in general fried food is bad for us from a general health standpoint. A 6-piece serving of fried chicken tenders contains 401 Calories; 16g Protein; 8g Fat; 57g Carbohydrate. The FDA calculates this at 3 1/2 starch/bread servings and 1 lean meat serving -- clearly not something fitting a "Protein First" meal. Its easy to figure out how we have become "obese nation" when you consider many children are weened from the bottle right to the fast food fried chicken pieces.
Now, since you had RNY you are dealing with not just the nutritional facts above, but a malabsorptive procedure. That means you no longer have an abundant supply of gastric enzymes needed to digest foods high in fat. Because fried chicken pieces are high in fat and carbohydrate you are at risk of dumping syndrome when eating them. In fact, many people are baffled when they experience classic dumping symptoms after eating fried fatty food. So that's the second reason to avoid fried foods, including fried chicken pieces or my personal favorite, fried cheese! Yeah, I've tried that and not had good results.
But there is a rainbow here in this cloud of bad news!!
You can cook at home a reasonable "mock" chicken nugget and be quite happy in your pouch, your mouth, and your brain (no guilt!) Take this recipe for
Parmesan Crusted Chicken
and make a great meal. Once you get familiar with the method you can experiment with herbs or coatings to keep things fresh. Instead of serving it with the classic fries or onion rings add some salad or fresh fruit and berries. I think you will be quite happy with your effort!"
Read the Full Discussion
Thank you for being a loyal Neighbor of LivingAfterWLS. We are proud to serve you in your weight loss surgery journey.
Sincerely,
Kaye Bailey
LivingAfterWLS, LLC
The health content in the LivingAfterWLS website is intended to inform, not prescribe, and is not meant to be a substitute for the advice and care of a qualified health-care professional.