New Name for the WIB

As of July 1st, the Workforce Investment Board (WIB) of Ventura County will become the Workforce Development Board (WDB) of Ventura County. The change is to align with national re-branding requirements under the new federal Workforce Innovation and Opportunity Act (WIOA).
Under WIOA, the WIB/WDB will continue to provide high-quality workforce development programs and services to employers, job seekers, and youth. WIB/WDB members and committees are from business, education, labor, economic development, government, and community-based organizations. All are committed to regional collaboration and the development of a skilled local workforce that supports business needs and the economic vitality of Ventura County.
2015 WIB Awards on June 18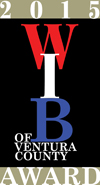 Thank you for the nominations! At this month's annual meeting, we will recognize nine Ventura County leaders who are helping to grow a strong local workforce. Whether providing youth internships and work opportunities, collaborating on programs to meet workforce needs, or supporting business expansion, job creation or job retention, these 2015 WIB Award winners are making a real difference. Please join us for the presentation of awards at the WIB meeting on June 18th at 8AM, at the Ventura County Office of Education, 5100 Adolfo Road, Camarillo.