Zentangle Sharing


A quick hello from Amsterdam. My family is on holiday and I have the house to myself. I really enjoyed playing with zenith* . . . fabulous tangle.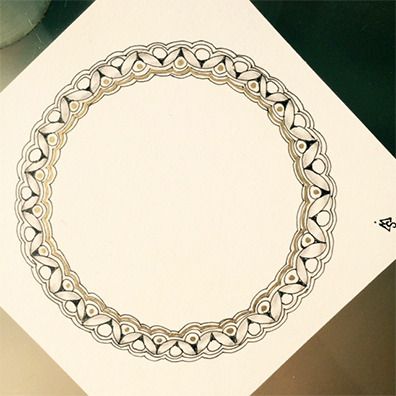 Groetjes! Marguerite CZT16
-----+-----


Dear Rick and Maria,


I am so grateful for Zentangle! And your wonderful guidance in sharing this drawing method. I attended the 20th CZT seminar and have a workshop scheduled for this coming Sunday. This is my display to share (my tiles from the seminar) with my tai chi students, friends and tanglers.
I
t will be a "warm up" class; as we all have had an intro to Zentangle with a CZT (June of 2014); and they are my students of tai chi. We have a wonderful location. Everyone is excited. I am nervous
Thank you again.
xie, xie,
Connie
PS: I bought the multi-picture frame at a rummage sale, but it will allow anyone to take the tile, turn it, and replace it without it being only one orientation. I have had fun just arranging the tiles.
hello rick and maria...and the wonderful staff at zentangle!

THANK YOU SO MUCH for the latest newsletter which highlights, last but not the least, the czt 21 seminar, of which i was part of.

words cannot define what a 'transformative' time i had while spending each and every moment with everyone...

i will cherish this one-of-kind experience i was so lucky to be immersed in. i am so grateful to everyone at zentangle for your care and dedication!!!

wishing all of you the very best in life.

warmest regards, midori


Zentangle has become a vital part of my life over the past two years both as a healer, and anxiety reducer. (Better than any acid reducer on the market!) --CC
Hello Rick and Maria,
I just wanted to express my gratitude for the wonderful seminar I attended in June. I was at Seminar 21 and thoroughly enjoyed the entire session.
I have taken many classes and attended countless of seminars but never one as pleasant and organized as this one. Your entire team is to be commended on how smoothly the sessions flowed. I thank-you and am grateful for the opportunity to attend such an inspiring event.
I hope to attend another one in the future.
Thanks again,
Yoli Cantu CZT21
-----+-----
I recently became a CZT at Seminar #21 and I am still feeling euphoric about the entire experience.
Before leaving Rhode Island to drive back home to Toronto, my daughter and I decided to do some last minute shopping at a Target store in Warwick where I found this adorable bisque bear standing all by himself. When I brought him home, I was inspired to cover him with examples of my love for Zentangle using some of the patterns you taught us.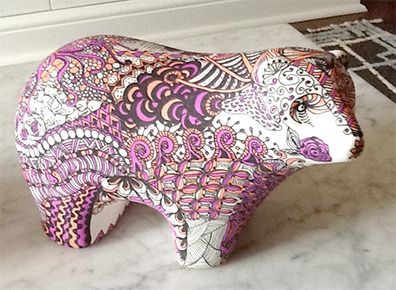 My daughter thought he looked a little sad so I added colour with the two Sakura Koi Brush pens that I found in my cloth bag. The pens are fabulous and I have ordered a set of 12 to use in place of regular watercolour paints.
Thank you so much for your inspiration, knowledge, and generosity during the seminar. This little bear will always remind me of my Zentangle experience.
Sincerely, Janet Patrick ( CZT)

Army veteran Charlotte Carpentier poses with examples of Zentangle, a meditative drawing art form.

She is offering classes in Zentangle at her art studio in Temecula.
TEMECULA - After retiring from the Army, Charlotte Carpentier had to deal with chronic pain and depression from her years of military service. Medications made her loopy and caused her to lose interest in many of her favorite forms of art, but she discovered a new form of therapeutic meditation that changed all that.
"I was looking at books on Amazon and I found a book on Zentangle. After reading the description, I ordered it. I gathered all the materials, drew my first tile and I have been hooked ever since," Carpentier said.
She has opened Charkat's Creative Insanity Art Studio on Jefferson Avenue in Temecula where the public can learn to Zentangle. [. . .]