Greetings!
In this issue:
We have a song! Jason Poole, CZT, came back to a teacher training to share his Zentangle adventures and brought the gift of "Zentangle Hula" . . . listen below.

We have a new tangle for you called, zenith.

And, some more great comments and sharings.
Zentangle Hula
Jason Poole puts the Zentangle Method to music in this delightful video . . .
Jason first sang this song as a gift to us when he came back to share his Zentangle adventures at a Certified Zentangle Teacher training seminar last year.
He just sent us this version he recorded in Hawai'i.
We smile every time we watch it.
Thank you so much, Jason!
(It's also close captioned.)
New Tangle: zenith
Here is the tangle we introduced at recent CZT seminars: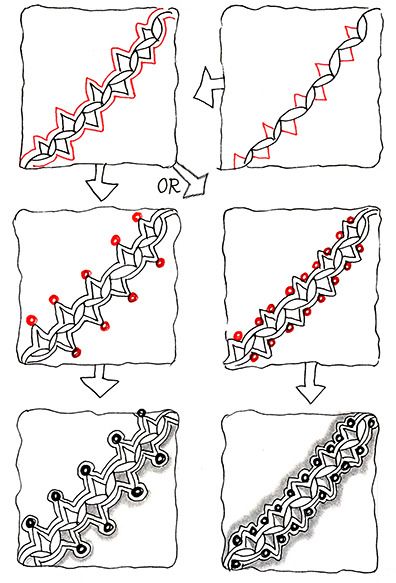 This tangle's elemental strokes are a curved line and a straight line with a touch of
aura
.
Even though the strokes on this tangle are simple, we encourage you to tangle it a few times. You will discover how gently it flows as you feel its rhythm.
Here are some explorations of where you might take this tangle: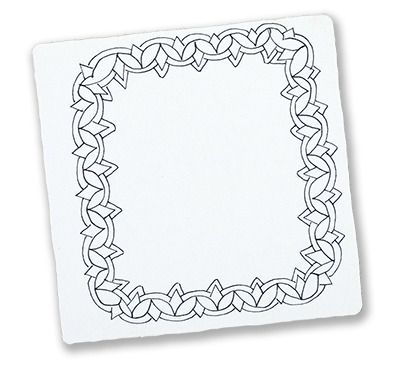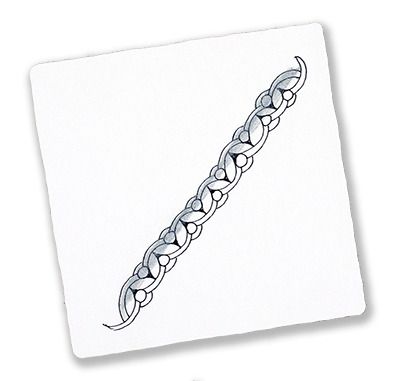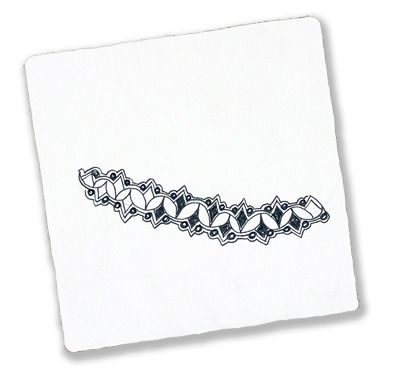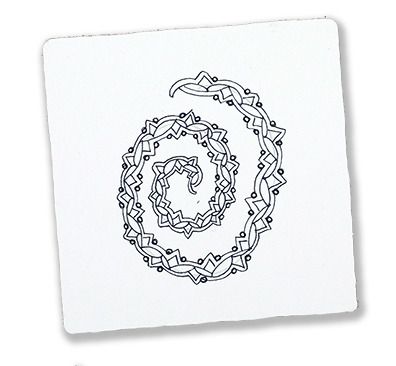 And, here are a few of Maria's finished ones: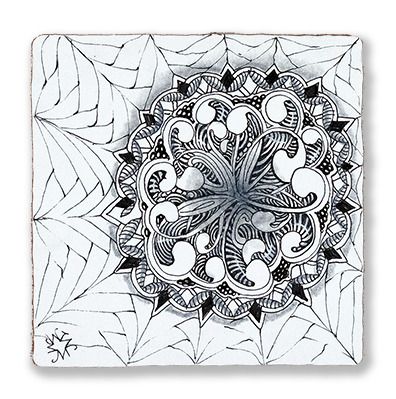 We look forward to seeing where
you
go with
zenith
.
Enjoy!
Zentangle Sharings
Dearest Rick and Maria,
I am down here at TAO Wellness Center in the Riviera Maya below Cancun, Mexico at an event with HeartMath and people from around the world shifting to the heart.

I would love to acknowledge both of you for bringing this Zentangle artform into being. They have observed that new artforms are associated with historical shifts of awareness.
I have attached a picture of my ZIA shells (done with micron, apprentice, moonlight, shadow, glitter, jellyroll pens - they light up!). M

y shells are in the Gift Shop and people are asking me about Zentangle art which I will be teaching here at Tao in the near future.




Thank you from the depth of my heart,
Sinda Wood, CZT
P.S.
We recently visited the Mayan Village of Yaxche where I taught kids the Zentangle Method . . . both on Apprentice and Bijou tiles.
We had one boy in the class who was almost deaf but understood the class. When we put the tiles together I noticed one was missing That boy stood behind the others with his tile in his hand. I invited him to place his tile with the others. When he put it down the whole mosaic came alive. He is part of the whole as are we all. It was so evident and he was so proud!!!
-----+-----
"I have been enjoying Zentangle for a couple of years now; have recently gotten my sister hooked and turned my nephew's wife, (an accomplished artist), onto it. She is a teacher at a local school and she thought Zentangle might be something the kids would like to do and would calm them and help encourage creativity. So, I bought for her and her class the Zentangle Apprentice Classroom Pack. She related to me how much not only she and her students have enjoyed it, but also some of the other teachers have become interested. Yesterday, my nephew and

his wife dropped by to say "hi" and she presented me with a wonderful Thank You card her class made for me.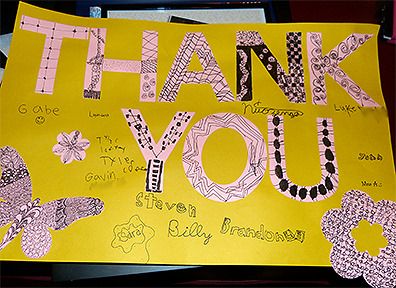 I wanted to share with you so you can see how far this method of yours has spread and how it has helped at least one little batch of folks Keep Calm And Zentangle On...."
-----+-----
Hi Rick and Maria,
A group a Architects, Landscape Architects, Educators and other planners met in New Zealand in March to design Early Childhood spaces for projects who were in great need.
As part of the conference we placed tables at the back of the conference room which delegates could choose to go to while the speakers were presenting or at other times of the day.
They tangled on wooden cutout forms to produce ZIA pieces for the projects from Cambodia, Africa and Australia to take back to their communities.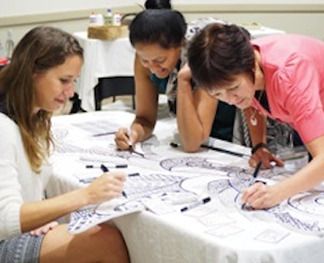 I think there was a lot of people who have discovered the Zentangle Method from this experience and have taken out back with hem to heir homes from all over the world.
Such a gift your thoughtful process brings to so many.
Gillian Mcauliffe, CZT
-----+-----
For the last couple of years I have been meaning to write and say a big thank you. I now love the work I am doing, and have expanded my art horizons! I have wanted to be an artist since I was 16 years old and now at the age of almost 62 I feel like one.
I have enjoyed my journey, especially since finding Zentangle art. Everyday is filled with joy and excitement, teaching classes, creating art, selling my creations, and all the wonderful people I have met along the way.

I also wanted to share a project that I have been doing for a couple of years now, selling these at art festivals, and various boutiques, I call them ZIA Pets. I draw 8x10 sheets of various tangles, most black and white and some color, then decoupage them with my drawings.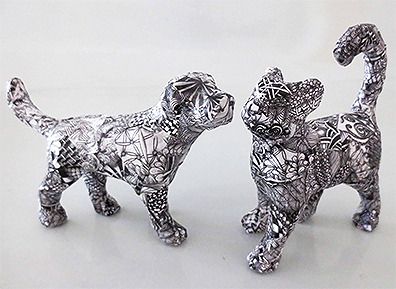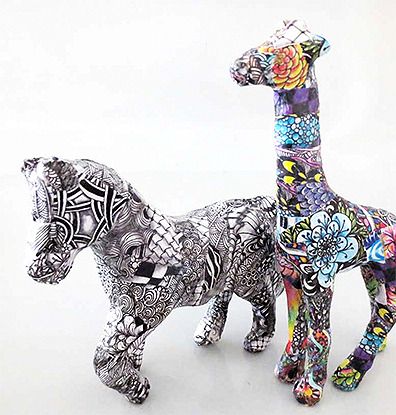 Thank you again.
Marta Drennon, CZT
-----+-----
Esther Piszczek, CZT, recently sent us some comments and pictures from her Zentangle workshops. These comments give a good sense of why we encourage people who want to learn about the Zentangle Method to take classes with a Certified Zentangle Teacher (CZT):
"The past year Zentangle has been in my life I have made my creative pursuits a daily priority and have renewed a sense of hope and peace with my work. I was for a long time out of touch with this part of myself and my life became unbalanced. The simplicity and beauty within Zentangle has allowed my perspective to shift from discarding my efforts because I wasn't perfect to appreciating the uniqueness of my work because of it's variations." --Janice M.
"I'm so grateful you were o.k. having my children attend your class. They've enjoyed it so much and so have I! I'm most grateful for being able to attend a drawing class and not having my children and I feel it is a struggle. There's absolutely no stress/no pressure and it's just delightful and freeing. Thank you for sharing your talent with others." -- Patty W.
She later wrote back:
"I'm sorry the children and I will not be able to thank you in person for introducing to us the Zentangle art. It's been such a joy. The other day, my son was talking to my daughter about a "mistake" she made in art (
between 8 and 10 years old
). My son stated, "No. Remember in Zentangle class . . . there are no mistakes; only possibilities?!" Wow! I was so touched that you influenced my children in such a positive way. There are no words that express enough my gratitude." --
Patty W.
"I thought I would share the card I made for my son and his soon-to-be wife. Orange and blue are their wedding colors. I would never have been brave enough to attempt a homemade wedding card, before the Zentangle classes. Thanks for giving me the courage and also moving me along the path of letting go of the angst about imperfections." -- Liz. (Liz also took a 8.5x11 ZIA she worked on and decoupaged it onto a wooden tissue box cover)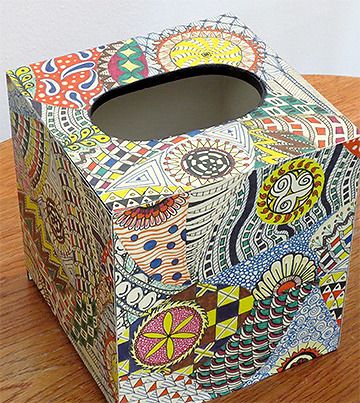 "It is such a blessing to have this class. We learn about drawing, and that's great. But even more, we get a chance to try things, decide what we like but still appreciate all the others. Learning the Zentangle Method gives me courage and peace to try new things in my life and be okay with the result - even if I choose to do it differently the next time. -- Edith
-----+-----
Thanks again to all for taking your time to share these wonderful treats with us all!
(P.S. "ZIA" is short for Zentangle Inspired Art.)
Check out our latest blog post about our recent visit to the Victoria and Albert Museum in London, UK.
Please visit and comment. We'll choose someone at random from the commenters and send that person something special.


"Thank you for such an inspiring post and sharing all of these beautiful photos. I live within blocks of a lovely museum and though I've been there dozens of times, I recently went with a similar purpose. It was like seeing it for the first time." [emphasis added]

Through a Zentangle practice you notice patterns so much more and a whole new world becomes visible.
-----+-----
Thank you again for sharing and being part of this wonderful unfolding adventure.
Stay tuned!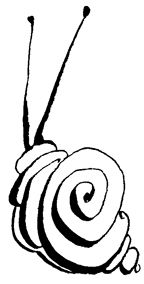 Best always,
Rick, Maria, Bijou and all of us at Zentangle