Zentangle Sharings
We continue to receive so many wonderful images and letters. Here are just a few more. Enjoy!
In reply to your question, "What have you tangled recently" in your recent blog post that included your beautiful tray, I am sending a photo of a lamp I recently tangled for my niece.
I also strung and glued on beads and a ruffle to the shade. I used Permapaque markers and paint. Mimi Topping CZT, IX
Good day!
A while ago you had a
blog post
about tangling on a silver tray and you asked what kinds of unusual things others tangle on. Well, I personally love trash. A couple of favorite things I have tangled on are the stays that you find inside a pair of new shoes. (sketchers has the best). The kind of things that just get thrown on the floor for others to pick up . . . well I pick them up! The one in Renaissance colors I did while sitting in on my friends Launie McDevitt and Lisa Ruschman's Zentangle 101 class (both wonderful teachers (CZTs) and tanglers).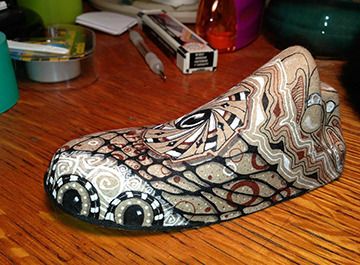 But mostly my days are filled with strips and strips of paper tape. I work in a hospital and when i have downtime I grab small rolls of 3M papertape and I tangle. It has become an important ritual to my day. It keeps me sane in a very stressful setting and people are always bringing me bits of "trash" to tangle for them.
I can't begin to thank you for the great medium you bring to people. It has me being creative everyday.
I just wanted to say I have now received my second order and both times there was just as much care put into the packaging of the item ordered (this time the Bijou tiles - so excited) as the item inside. Thanks for making the simple process of opening a package like Christmas! I will be ordering more in the very near future! --D.D.
-----+-----
I am new to Zentangle, and like so many others, I'm instantly addicted. I purchased your kit with two goals in mind. 1) Rekindle my creative side. 2) And have easy, mobile, mental, creative distraction for the post operative period of my impending knee replacement.

Well I got my kit, read the book, watched the video and was hooked, I've been doing it daily, I took it to hospital as a form of distraction to the pain. I take it to appointments to help pass time. I do it after therapy to take my mind off the pain. Like most, I doodled as a teen, and any time I found myself idle with a pen in my hand. I've always been like a bumble bee, but now I sit with a polar ice machine attached to my leg. So thank you for this wonderful gift. -- T.H.