Lots of fun and info in this newsletter!
Thanks for reading.
Enjoy!
Does it have coastlines, borders, time zones, latitude/longtitude lines, rivers, highways . . .?
If it does, you have a prestrung surface ready to tangle!
We just received this email from Jeanne Mahood and Joan Payton, CZTs in the Atlanta, Georgia (USA) area:
Jean writes:
Hello Rick and Maria!
Joan and I taught a really fun class of tangling on maps - we called it Tangling Travelers.
Here are a few photos of some of the final projects.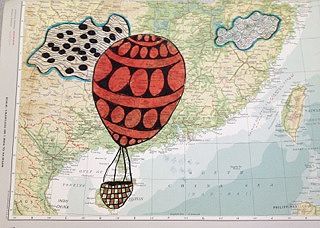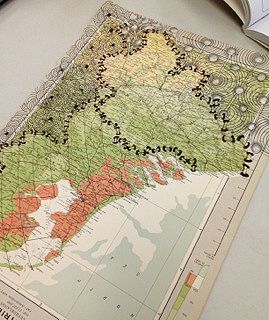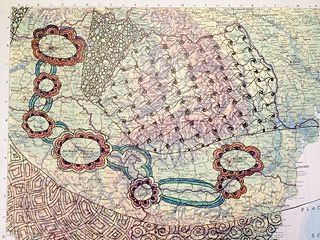 Joan bought some old world atlases at a thrift shop and we let students choose the pages they wanted - which led to great conversation while tangling!
Jeannie Mahood (CZT2)
Valley Bag Toss
Zentangle is sponsoring a fundraiser at Alternatives, a local non-profit organization and you are invited. It will be on Saturday, October 11, 2014 at high noon.
T
his fundraiser is based on the "
corn hole
" game and we expect it to be a lot of fun.
We will have teams with Maria, Rick, Molly and other folks from Zentangle HQ.
Molly's husband Nick (Hollibaugh - who created the hollibaugh tangle) is crafting some world-class corn-hole game boards for this tournament . . . one set each to each winner.
Come for entertainment, refreshments, light-hearted fun, as Nick and Molly put the "fun" back in "FUNdraiser" and we'll hang out together and raise money for a great cause.
Competition begins at 1 pm (check-in at 12 noon)
October 11, 2014, Saturday

Alternatives' Whitin Mill
50 Douglas Road, Whitinsville, MA
The Alternatives Valley Bag Toss invites people of all abilities, young and old (16+) for an afternoon on Alternatives Community Plaza filled with music, food, drinks, cornhole boards and flying bags!
Teams of 2 compete against each other for some great prizes in this fun-filled bag tossing event. Bring your friends!

All proceeds to benefit the individuals with psychiatric or developmental disabilities served by Alternatives programs in Central Massachusetts.
Even if you don't register or want to play, you're welcome to stop by and say, "Hi," and enjoy the day, the fun and the food. It's a beautiful location overlooking the river and falls.
This is a great organization that we have been supporting personally and professionally for over 30 years.
See you there!
CZT Scholarship Offer from Sakura

When we first designed the Zentangle Method, we selected the Sakura® Pigma® Micron Black 01 pen as our ideal drawing instrument. Over the years we have become good friends with the folks at Sakura. Several of their staff have become Certified Zentangle Teachers (CZT). They "get" what we are about and we value the business and personal relationships that we share.
With that introduction, we turn this article over to Leslie Crumpler, CZT and Sakura employee . . .
Summer 2015
Certified Zentangle Teacher Training
Seminar Scholarship
for an Art Educator in the United States
We at Sakura of America are excited to announce a special opportunity for K-12 art educators in the United States.
In 2015, one lucky art educator will receive a scholarship to attend the Zentangle TeacherTraining Seminar and become a Certified Zentangle Teacher (CZT).
We have seen how art educators throughout the United States have used Zentangle in classrooms to encourage and foster focus, self-confidence, hand-eye coordination, creativity, problem solving, and more. We also know that many of you who utilize Zentangle in your classrooms learned about it through videos on YouTube or by reading Zentangle activity books. While searching online can be a great introduction to Zentangle, the best way to fully understand and benefit from Zentangle is to learn the Zentangle Method. To do that we recommend that you either learn from a CZT or that you attend the Zentangle Teacher Training Seminar and become a CZT yourself.
It is for this reason that we are offering a scholarship for one art educator from the United States to attend the Certified Zentangle Teacher TrainingSeminar in Providence, RI during the summer of 2015.
This scholarship covers tuition, all seminar supplies, a shared room, and meals. No travel expenses will be provided.
To apply, visit . . .
www.SakuraofAmerica.com/Zentangle-Scholarship
. . . to read the full details and download the application.
Once you've completed the application, return it to me, [email protected] no later than Thursday, January 15, 2015 for consideration.
This scholarship is open to active, credentialed K-12 art educators who are legal residents of the United States and District of Columbia.
The summer 2015 Zentangle Teacher Training Seminar dates will be announced later this fall of 2014.
Our intention is that this scholarship gives an enthusiastic teacher the tools to use the Zentangle Method in his or her classroom to its fullest potential. We want to see where the Zentangle Method takes you and your students, and watch as young artists discover that indeed . . .
Anything is possible, one stroke at a time.™
Our Weekend at Kripalu


We had the best time!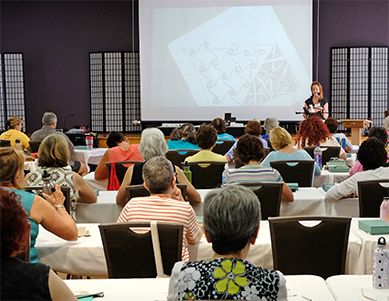 Eighty-four people joined in tangling the basics. We just used our white square Zentangle tiles, black Micron® 01s and a graphite pencil. We explored tangles and techniques and enjoyed the simple essence of putting pen to paper in a Zentangle way.
Kripalu is a beautiful setting and the weather was delightful.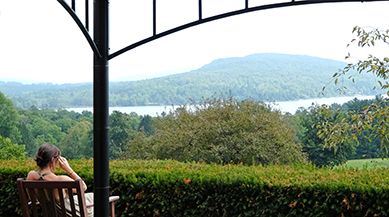 After three days of relaxed tangling we were surrounded by the most beautiful mosaics of Zentangle tiles.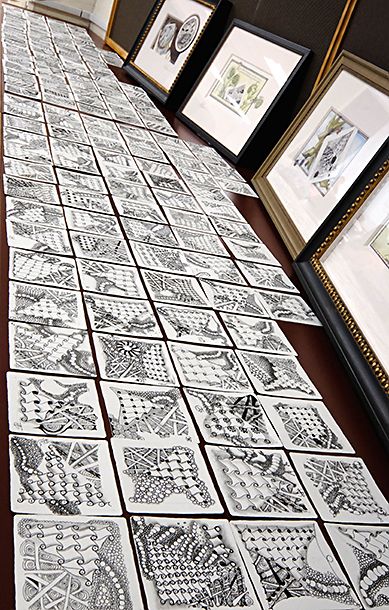 This event was so much fun and such a success, that we've been invited to do it again on February 6-8, 2015.




We hope to see you there. People are already signing up and this last one filled sooner than expected. So, if you'd like to attend, please sign up at

this link

now.


See you there!




A Request for Advice
Maria writes:
It's a beautiful day here in Whitinsville. The early fall sun pleasantly warms our days and our evenings are ever so slightly cool . . . and, of course, we are eagerly awaiting the magical appearance of colors where green leaves used to be.
Even though it is fleeting, we marvel at it every year, that somehow it gets better. Or, perhaps that is what Zentangle does for us. We appreciate everything more, and more often.
Speaking of appreciation, Rick and I were so fortunate to visit a special garden. We often joke that you can create Zentangle art with a stick on the beach at low tide. So we both tangled on this sand surface designed for just that!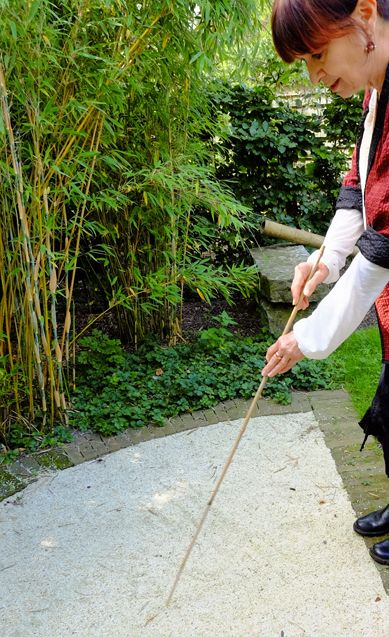 And now, once again, we ask for your help, dear Tanglers!
Some of our CZTs have asked us for research, studies or stories about the effects that creating Zentangle art has on all of us, whether big or small.
If any of you have stories to share (names can be removed)
or know of any research being done, please let us know.
If you know anyone who might consider doing formal research about the results of practicing the Zentangle Method, we would love to talk with them and work with them. (Perhaps a PhD candidate in search of a thesis topic?)
You can send your stories and ideas to me (Maria) at
[email protected]
or call me for other arrangements at
508-234-6843 (Eastern Standard Time) in Massachusetts, USA.
Of course, you always encouraged to send samples of your creations with letters, we NEVER tire of seeing the works of art that come to us from the beyond.
Many thanks in advance.
We are always humbled by the passion of our tanglers and grateful for their friendship.
Maria (and Rick)
Thank you again for playing with us on this marvelous adventure.
Bijou also sends his best regards and is thankful for all the mail he's receiving. He shared his most recent response to a delightful letter on this blog post.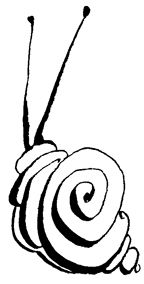 Best,
Rick and Maria (et Bijou)