CBS "Sunday Morning" Show Basking
In our previous newsletters we invited you to send letters and Zentangle art to CBS' "Sunday Morning" show.
Many of you sent us copies and links of what you sent and we have been basking in the their beauty of art and sentiment for these past few days.
Now it's your turn to enjoy. After you finish reading this newsletter, please take a trip over to this blog entry at BLOG Zentangle to see examples of what tanglers from all over this world created and wrote. (We just added a bunch more!)
It is truly a wonderful experience.
Whatever comes of this, it has already been an enjoyable and rewarding success.
Thank you to all who participated and a special thank you to CZTs
Linda Cobb and Linda Halvorsen for inspiring this fun project!
Our Thank You
We will randomly select one person from among those who linked to our blog entry or who sent us a copy of what they sent in to CBS and give
that person: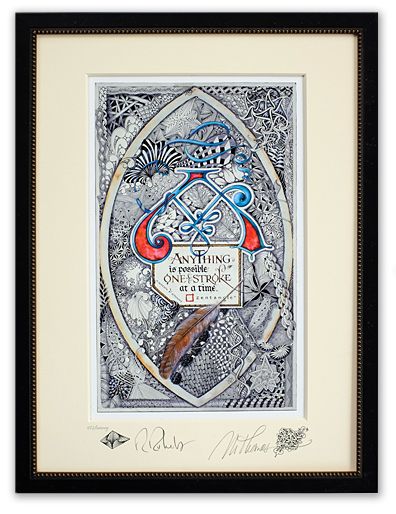 This is the very first test print of an original we recently created. We won't be doing a limited edition, but this one is numbered "001/many" and is signed and remarked by us both.
We have a larger image of this at the bottom of our blog entry which is linked below.
Thank you all ever so much for playing.
Rixty Step Out
In this recent newsletter, we introduced rixty without a step-out. We wanted to encourage you to begin your exploration of deconstructing patterns.
Here is our step-out of rixty: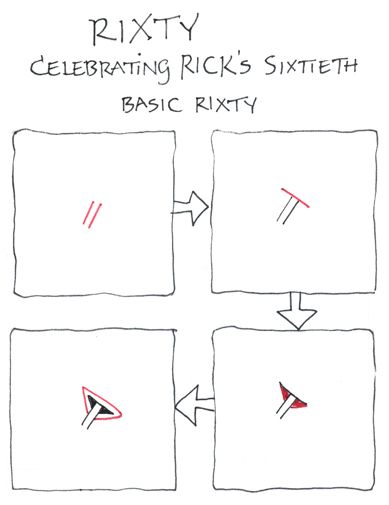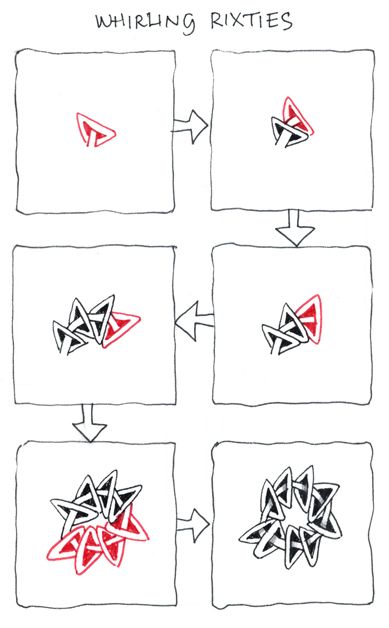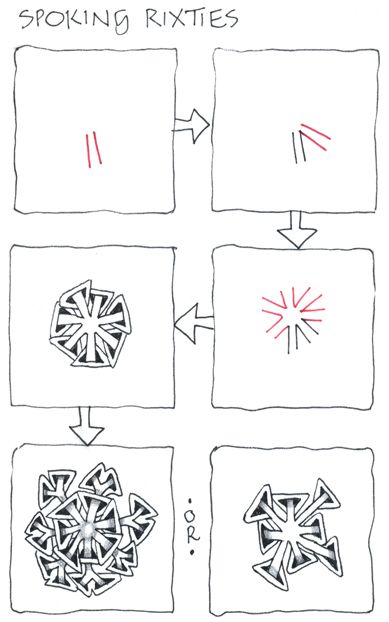 How did you do with your deconstruction?
You may have done it differently and that's fine. Our objective in creating any tangle is to use just a few elemental strokes in an easily repeatable pattern.
Rixty is a great tangle to add to your portfolio. It builds deliberately on the basic understandings of aura and hollibaugh. It is simple and easy to learn. Yet rixty also offers a design principle to explore with different shapes and it easily integrates with other tangles.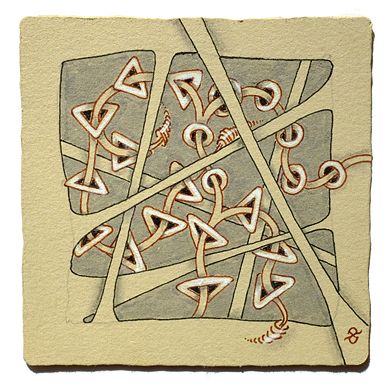 We've developed a fun assortment of rixty tangleations for our CZTs:
mooking rixty
cremini rixties
chainging rixties
renegade rixty
line-dancing rixty
trixty
and several more.
Contact a CZT in your area to explore more of rixty's potential.
We look forward to seeing what you create with this tangle!
Enjoy!

Thanks again for enjoying this fascinating Zentangle adventure with us and with everyone.

Enjoy exploring rixty, and remember to check out the beautiful Zentangle art, links and sentiments available on our CBS Sunday Morning blog entry.




Best from us both,