Messy
Jesus said to go and make disciples. He is asking us to go about our every day lives listening to and doing what Jesus says. As we do, we will come into contact with those who don't know Jesus; and thus, we should "always be prepared to give an answer to everyone who asks you to give the reason for the hope that you have." (1 Peter 3:15)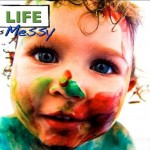 This can be very messy, though. Jesus prayed for the disciples in John 17 that the Father would not "take them out of the world" but rather that the Father would "protect them from the evil one" while they lived in the world. We are not to live like those around us, but we are to be a light while being in the midst of them. We are not to hole up in our buildings, hoping people will come to church. We are to enter the buildings of those who need Jesus and then invite them to come to Jesus.

This means we will be around people that among other things don't look, act, or think like us. It also means we will come across evil, which is why Jesus is still praying for our protection today. This is why living with our biblically-based truth filter in the "On" position is so important. We must also be ready for any and all opportunities to share our Jesus stories, the reason for your hope!
-Chris Suitt
CMA APEST Team
(from his book in process
More Than a Sunday Faith
)

Upcoming Trainings- Organic Greenhouse
Sydney, Australia
July 20-22
Canberra, Australia July 23-24
Bellarine
, Australia
July 27-29


with Neil Cole & Ed Waken
Links & Details

Springdale, Arkansas // Story 1

August 24-26 with Neil Cole
Registration Open
Cluj, Romania // Story 2 Aug 31-Sept 2
Timosara, Romania // Story 1 Sept 3-4
Vienna, Austria // Story 1 Sept 6-10
Harrisonburg, VA // Story 1
Fall 2012
Other Organic Church Learning Opportunities
Sentralized Conference
Check out the Great Speakers, Schedule and MORE

Featured Resources
Spanish Translation of Cultivating A Life For God - Cómo Cultivar una Vida para Dios - E-Book

by Neil Cole


Just Released! Cole's best selling book is now fully translated into Spanish! The E-Book version is sporting a new cover designed by Neil Cole himself. We now have it posted in EPUB and KINDLE versions on our site for only $6.99 for a limited time!
Spanish Translation of Life Transformation Group Cards
The translation and layout of our Spanish LTG cards - Grupos qu Transforman Vidas is completed. We are excited to offer this resource soon!
Cultivating A Life For God - E-Book Only $6.99

by Neil Cole

This best selling book is a clarion call to the work of disciplemaking and provides profound and practical help to any who would step up to the task of making disciples.
This classic work was recently released in an E-Book form on Kindle and Nook. The E-Book version is sporting a new cover designed by Neil Cole himself. We now have it posted in EPUB and KINDLE versions on our site for only $6.99 for a limited time!
MP3 DOWNLOADS
Insightful presentations by some of the finest leaders in our movement including:
Neil Cole, Alan Hirsch, Deb Hirsch, Tony Dale, Felicity Dale, Reggie McNeal, Jaeson Ma, Dezi Baker, Ed Waken, Steve Sjogren, Dave Gibbons and many more!
Your $.99 investment goes a LONG way with these great teachings!
>> See the Whole List of MP3 Downloads

Featured Article
The Importance of Hospitality


by Katie Driver
I can't emphasize enough the importance of hospitality as an element of simple church life. If you have come from traditional church paradigms, your used to thinking of "the gift of hospitality" as referring to those women who laid out the coffee and donuts after a service, or put together a meal after a funeral.
Possibly, your experience might have included "home groups" that met for fellowship and possibly a Bible study where the host/hostess provided some snacks and drinks using her "gift of hospitality" on you. That is NOT what I'm talking about!
That's a western, and completely water-downed version of what Biblical hospitality really is. The Scriptures are clear that hospitality is far more than what we usually think it is, and it's not just the gift of a few women. In fact, it has as much to do with men as with women - but that's another blog post for the future...
The real practice of hospitality makes...