How Academic Success Can Support You
At
Academic Success
we take great pride in finding the right coach to support the unique needs of each student we help. Please check out the areas where we work on our
web site
and let us know how we can support you.
Academic Success Partner of the Month
One of our fantastic partners is Sandy Eiges, the founder of
L.A. School Scout.
L.A. School Scout was created to take the anxiety out of the process of finding the right Los Angeles private school, preschool or public school for your child and your family. Sandy will help you navigate though your school options, from the decision-making to the application process. Whether it's a private school in Los Angeles, a public, parochial, charter or magnet school, there is a school out there for your child. Services include referrals to "best match" schools. Based on your needs, services provided may include:
Research into appropriate placements

Information on different educational approaches

Customized school list

Tour and/or open house dates and application fee requirements

Scheduling of all school tours, as needed

Brochures and school materials

Assistance in crafting a compelling application

Application deadline reminders

Tour/application status tracking

Consultation during the decision-making process
Check Out 826LA
Academic Success'
favorite
charity,
826LA
, offers writing workshops in local public schools and free after-school tutoring in its Venice and Echo Park facilities. To see how this dynamic organization is making a real difference in our community, check out their
blog
or go to one of their free
events
.
Looking for a College Counselor or Ed Therapist?
We partner with excellent Educational Therapists and College Counselors throughout the L.A. area. Give us a call and we can recommend the right fit for your child.
Looking
for a Student Community Service Opportunity?

Surfrider is a responsible and passionate organization dedicated to environmental education, clean-up, and progress. Read about the
West L.A.Chapter's
Teach & Test program at Santa Monica High, which empowers students, using lab equipment to test the water in Santa Monica Bay for contaminants. Surfrider then studies and posts the results, and educates the community about the possibility of changing the effectiveness of water treatment facilities.
Check Out Our YouTube Video!!
Academic Succes
is very proud of the
two-minute video
we recently produced to give you a feel for who we are, our philosophy and the way we approach our work.
Greetings!
Happy February! The winter weather provides a nice change of pace, as well as a good environment to make a cup of tea, sit by the fire, and get all school work finished without the distractions of sunnier days.
Last month J.D. Salinger passed away. Salinger's iconic
The Catcher in the Rye
remains a staple of high school English curricula.
As we highlighted in our newsletter several months ago
, the protagonist of the book, Holden Caulfield, affects today's teenagers quite differently than he did to young readers 20 and 30 years ago. Talking about these differences is a great conversation starter for parents and their high school children, and opens the door to discuss many cultural changes of our times.
Academic Success can assist you with all of your school related needs. Please call us at (310) 823-4398.
Fondly,
Jamie and Eric
CHECK OUT OUR NEW WEBSITE!!
We have completely redesigned
our website
, please check it out! We updated the look and features. You will find helpful links for students, parents and teachers, including study tips, reading and math exercises. We hope that everyone will be able to use
our website
as an academic resource!
A New Study Could Revolutionize Ideas about What Makes a Great Teacher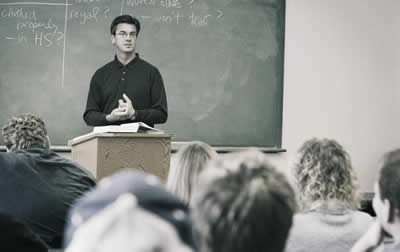 For decades, policymakers have been trying to figure out how to get the most out of our education dollars. As a nation, over the past decade we have spent billions of dollars introducing standardized testing, early education programs, wiring classrooms with high tech equipment, and other non-personnel investments.
A new study
that was just released and
summarized in the current edition of The Atlantic
could revolutionize this effort. The analysis concludes that the best classroom results come from having the best teachers. This may sound obvious, but it begs a larger question - what makes a great teacher?
This new analysis was created by
Teach for America
, an organization that recruits recent college graduates to teach in public school. Teach for America looked at the results for over 500,000 students taught by 7,100 of its teachers, and found that teachers who boosted their students performance by more than two grade levels had some interesting shared characteristics:
High "life satisfaction." The best results were achieved by teachers who enjoy their lives in school and outside of it. Teachers who complained about resources, parent involvement, or major aspects of their non-teaching life were poor classroom leaders.
Perseverance was another critical quality. Teachers who have overcome obstacles in their own lives got outstanding results from their students. Teachers who as students struggled and then improved in their academic life wound up being better teachers than those got straight A's throughout their academic careers.
Preparation. Teachers who spent a lot of time preparing for each class, thought ahead about preparing for the next month and the next semester, made big differences in their students' lives and overall performance.
Other qualities like whether the teacher had a Masters or a BA in Education or whether the teacher shared the same ethnicity or economic background as their students had almost no impact on their performance. Also, big personalities who entertain their class did not, as a rule, get better results than teachers who were more quiet or subtle in their approach.
University of California to Institute Its First Waiting List
The California budget crisis has hit the UC system hard, and admissions officers at those schools are so uncertain about their funding and enrollment that they will introduce a waiting list for the very first time. As
The New York Times
reports, the rising cost of attending a UC school and the uncertain of economic environment means that the normally predictable admissions process has been thrown into turmoil. Additionally, because of the budget chaos in Sacramento, some UC schools may have to cut enrollment for next fall. Rather than accept students they can no longer afford, about 1,000 students will be placed on a waiting list while the budget gets finalized.
Study Tip - Review and Organize Your Class Notes Every Night
Whether taken on paper or on a laptop, most students take class notes in a shorthand style that is far from the Queen's English. While that short hand makes sense in the day or two after the class, a month or two later when the notes are needed to study for finals, it can all looks like gibberish.
One of the most effictive habits for any student to adopt is to retype those notes every night into their computer in complete sentences, making sure that they use all the keywords from that lesson. Not only will the retyping help burn that lesson into their memory; by using the keywords, it makes it easy to track down critical concepts using a search function later in the semester.
Meet Tracy Hepler
Coach Profile of the Month
Tracy remembers the first time that she had an academic coach help her out with her math homework in the 3rd grade. Having someone there who could not only explain the material, but also encouraged her to do better and helped her achieve and A in the class. Tracy began her own teaching career in Barcelona where she taught children, teens and adults how to speak English at Esculea de Idiomas Ser y Estar. Upon returning to the US, Tracy discovered another passion: promoting environmental awareness. At 24 she co-founded a green living magazine in Los Angeles called Your Daily Thread for the eco-curious whose motto is One Click Away to a Greener Day.

The magazine is one of the fastest growing green living websites in Los Angeles. Tracy and her team have their eyes on spreading it to other cities across the United States. In addition to Your Daily Thread, Tracy has been published on the Huffington Post, Cause Cast and has been featured on Discovery Channel's Planet Green. She has spoken on the importance of green technology for various organizations.
When not trying to better the planet, or help her students learn better study habits, Tracy enjoys hiking in the Hollywood Hills, traveling, writing fiction, volunteering, cooking fresh food from the farmer's market and curling up with a good book.
:



We consider it a privilege and an honor to support students and their families throughout the Los Angeles area. Please call us at any time; we welcome your thoughts and input. We are available at 310-823-4398.