How Academic Success Can Support You
At
Academic Success
we take great pride in finding the right coach to support the unique needs of each student we help. Please check out the areas where we work on our
web site
and let us know how we can support you.
Academic Success Partner of the Month
Each month,
Academic Success
highlights one of our referral partners in our community of professionals helping students succeed. This month's partner is
Child Success Center
in Santa Monica. Their goal is to enrich the lives of children and those around them. The highly trained, multidisciplinary team at the
Child Success Center
assesses and provides services to kids ages 1-16 to understand why a child may be struggling in the areas of development and learning. They help to create a lifetime of independent learning success through their range of enrichment, assessment, remediation and therapeutic programs including occupational therapy, speech and language therapy, educational therapy, parent/teacher workshops, toddler groups, and kindergarten readiness classes.
Check Out 826LA
Academic Success'
favorite
charity,
826LA
, offers writing workshops in local public schools and free after-school tutoring in its Venice and Echo Park facilities. To see how this dynamic organization is making a real difference in our community, check out their
blog
or go to one of their free
events
.
Looking for a good College Counselor or Ed Therapist?
We work and partner with Educational Therapists and College Counselors throughout the L.A. area. Give us a call and we can recommend the right fit for your child.
Looking
for a Student Community Service Opportunity?

Surfrider is a responsible and passionate organization dedicated to environmental education, clean-up, and progress. Read about the
West L.A.Chapter's
Teach & Test program at Santa Monica High, which empowers students, using real lab equipment to test the water in Santa Monica Bay for contaminants. Surfrider then studies and posts the results, and educates about the possibility of changing the effectiveness of water treatment facilities.

Finding the Right Coach with
Academic Success


With our team of coaches, there is one perfect fit for every student who needs support. Check out our
web site
to learn more about our coaching team.
Greetings!
With summer well underway,
Academic Success
is hoping that you are finding time for the three "R's" the school year rarely allows - relaxation, rejuvenation, and reading for pleasure. Today's students lead demanding lives, and they need downtime to both unwind and prepare for the upcoming school year.
The weather in July has been beautiful, perfect for ocean swimming and still cool enough for early morning hikes. Taking advantage of the the late-setting sun and time with friends, will keep us all in balance and ready to start with renewed vigor in the fall.

As always, we are available to help students looking to add academic enrichment to their summer program. Call us with any question or concern at 310-823-4398.

Sincerely,

Jamie and Eric


Does Holden Caulfield Still Matter to Today's Teens?
For several generations of teenagers,
The Catcher in the Rye
's Holden Caulfield was literature's archetype of anxiety-ridden youth, and captured the unique voice of a sensitive adolescent. Holden's frustration with his prescribed life and his disdain for all the "phonies" he encountered seemed to precisely reflect the turmoil that was teen life.
However, as the New York Times reported last month
, today's teens do not have the same affinity for Holden as previous generations did. Today's kids find him unfocused, undisciplined and more than a little whiny. As many students spend this summer reading for pleasure rather than obligation, this evolution of the way
Catcher
is perceived could spark a great discussion between children, their parents, and even their grandparents.
Use the Web to Work on Reading Skills!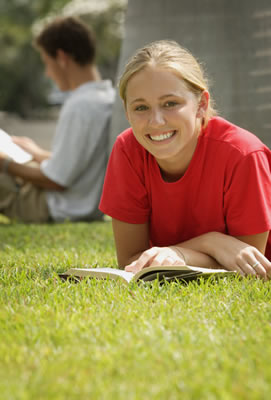 Today, many young students have mastered the Internet before they learn how to ride a bike. Although many children love
Club Penguin
and
Miniclip
, parents may want to sprinkle in some more educational websites. There are a myriad of free websites to help children with their reading skills, and
Academic Success
has a
page
on its website with links to dozens of exercises dedicated to improving reading skills and literacy. We are adding more links every month, so bookmark the
page
to keep up with all the updates.
Meet Meirav Haber
Coach Profile of the Month
As a student, Meirav had to overcome the difficulties inherent in moving from a foreign country, Israel. With hard work, Meirav met the challenges and found great success in school. The experience has helped Meirav relate to her own students and the difficulty and challenges that school presents. Meirav found her enthusiasm for academic coaching in her high school years, specializing in math, language, and writing. Art therapy is another passion for Meirav, and she has started workshops for children of all ages at the Los Angeles Children's hospital, and worked with the elderly through Hospice Care. These experiences helped her develop a deep sensitivity and understanding of the different needs of each student. "The most gratifying aspect of coaching is helping students find their voice, whether through a passion for a subject or through expression in writing." Meirav helps students discover what learning and studying techniques are most fitting for them and builds their confidence by working in a framework truly suited to their needs. She is well-versed in the strategies of acing standardized tests, applying to college, and mastering the college essay. Meirav graduated with a bachelor's degree in Fine Arts from UCLA, and will begin a Master's degree in Art Therapy in the fall.
:



We consider it a privilege and an honor to support students and their families throughout the Los Angeles area. Please call us at any time; we welcome your thoughts and input. We are available at 310-823-4398.


Jamie Altshule & Eric Altshule
Academic Success, Inc.