February's Theme: BYOD
T
his month we are featuring articles on
BYOD. The authors tackle such questions as: How are districts handling the BYOD initiatives? What steps are necessary to create sustainable programs? What about equity? What about professional development? What do students think about BYOD and their personal learning?
Read the articles and let us know what you are thinking about BYOD!
1:1 Spring Events,
Trainings, & Conferencing
San Diego County Schools
San Marcos, CA
Coronado, CA

Albuquerque

, AZ

NSBA Conference - panel
ATT - Webinars
Leadership Training
Project RED 2
Project RED II Has Been Launched!!
A series of activities are planned to "bring research to results" across the nation. Get involved!!
Stay tuned and visit:
1:1 Institute Board
Vice President
James Eck
-
Treasurer
Eileen Lento -
Secretary
Camille Jones -
Trustee
Become a Member
of One-to-One
Institute:
The benefits of one-to-one learning are enormous - for those who participate in the program, as well as for those who are helping transform education through their contributions.
Learn more about joining OTO and the benefits by visiting our
website.
BYOL - Student Quotes
I

n a survey of seventh graders in Forest Hills School District, students had a great deal to say about their own productivity following the BYOL initiative:
"I can keep all my work in one place without the hassle of taking around multiple papers."
"It's much easier to remember my homework."
"I can organize better."
"The best part about bringing my device to school is that I finish my homework a lot easier now that I can get it done with my device."
"I like typing better than writing and it makes my handwriting neat and readable."
"Schoology allows me to communicate with teachers and students. I can figure out my homework and turn my homework in electronically. I can check my grades more easily and OneNote can help me be more organized."
"My files stay with me wherever I go."
"There is no more clutter."
"Learning the tools can be challenging."
"Making sure the file is in the right format can be hard."
"I find it annoying that I still have to carry 4 binders around to every class."
To read more from the Forest Hills White Paper, click here.
Tell us about
your program:
We would love to hear from you and highlight your comments in our next issue. Tell us about exciting products, software, technology tools or instructional strategies that you would like to share with other teachers.
Please email us with your response
Technology for Learning: A Guidebook for Change
Tech & Learning recently produced a new guide for school
districts, administrators,
teachers, and community members interested in implementing
change in education by integrating technologies in all aspects of a student's
learning. Written by Leslie Wilson and Mike Gielniak from the One-to-One Institute, the book is a comprehensive narrative of the steps necessary
for successful planning, designing and implementing one to one teaching and
learning programs.
This FREE online book can be found on the Digital Learning Environments
The mission of One-to-One Institute is to transform education by personalizing learning through universal access to technology.
Bring Your Own Technologies Issue
By Leslie Wilson, CEO, One-to-One Institute
The practice known as "Bring Your Own Technologies" (BYOT also known as BYOD - D=Devices) to school has gained much traction. This newsletter is designed to offer a foundation to guide BYOT drivers, goals, knowledge, and practices. The experts who graciously accepted our invitation to write articles have provided sound insights based on research and practitioners' experiences.
There is great hope for real school transformation when the BYOT approach is driven by an overarching vision, aligned goals and strategic action plans. At One-to-One Institute our mission is to facilitate the personalization of learning through effective implementation of technologies with curriculum, instruction, teaching, and learning. The lofty ideal of reshaping education to a student-centered, directed, technology-powered ecosystem is the heart of our work.
Is BYOD Your 1:1 Solution?
By Nick Sauers, Leadership Training Coordinator of the Center for the Advanced Study of Technology Leadership in Education (CASTLE) at the University of Kentucky
As I listened to and visited with numerous successful 1:1 educators at the Great Lakes Computing Conference, it once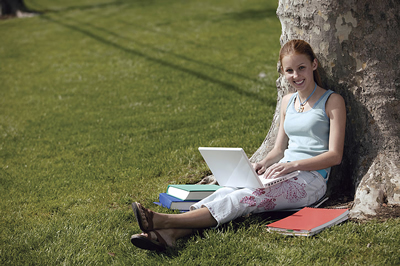 again became clear to me how different 1:1 programs can look. Those conference attendees who weren't yet 1:1 may even have been a bit confused because they heard so many different ways to implement 1:1. Some attendees and presenters described their successes with a Mac laptop platform while others highlighted their success with a PC or Linux laptop program. Others explained that they had implemented 1:1 using tablets or small mobile devices. A smaller number of conference attendees talked about their Bring Your Own Device (BYOD) programs; BYOD is another 1:1 solution and it is certainly gaining popularity.
Partnership for Powerful Learning:
A BYOL Pilot Project at Forest Hills School District
By Cary Harrod, Curriculum Integration Specialist at Forest Hills School District in Ohio
In January 2011, Forest Hills School District in Ohio launched a Partnership for Powerful Learning which permitted all seventh grade students to use their personally owned netbook, notebook, or tablet pc throughout the school day. This BYOL (Bring Your Own Laptop) pilot project provided research to verify that the district's core beliefs in the value of learning environments where students are actively engaged in a cohesively integrated curriculum that fosters innovation and creativity. High tech tools serve as an extension to the student's thinking--a place to explore ideas, research questions, test hypotheses, compose thoughts, collaborate with other students
and increase understanding through authentic, highly engaging learning differentiators--resulting in deeper learning.
In the white paper, "Partnership for Powerful Learning: A BYOL Pilot Project at Forest Hills School District", Cary Harrod outlines the steps the district took in initiating this BYOL program, what they learned, and the documents they used. Perhaps most interesting is that we "hear" from the stakeholders- teachers, students, and parents - in quotes from their post survey and learn the value of this initiative.
Below are the important points Forest Hills reported:
A partnership between students, parents and teachers is critical to the success of a BYOL program.
A strong professional development model is the most important piece of a BYOL program.
A BYOL program is more than the technology; it is a shift in our understanding of what it means to learn.
Creating an ecosystem of multiple platforms encourages teachers to look for multiple ways of delivering curriculum versus the one-size-fits-all.
Putting technology into the hands of students 24/7 increases fluency with the technology itself promotes better management and organization skills and encourages multiple ways of interacting, collaborating and communicating. It also promotes student ownership of their learning.
Perhaps one of the most important skills we can teach our students is how to select the most appropriate tools based on individual skills and capabilities, as well as the task at hand. Helping them develop a personalized tool belt is essential for success in the 21st Century.
Read the documents from Forest Hills, click on each document:
1 to 1 Initiative. A Continuing Journey
By Matt Anderson, Instructional Technology Coordinator-Ashwaubenon School District
Ashwaubenon is a suburban district located in northeast Wisconsin abutting Green Bay. Two years ago the Ashwaubenon School District embarked on a journey to transform how teaching and learning happens in classrooms.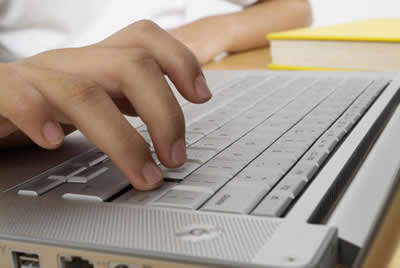 Today that journey is leading to students bringing their own personal digital devices into our buildings. We currently have a blended "1 to 1 Initiative" which includes half of our high school with district issued netbooks and a Bring Your Own Device (BYOD) that began with selected seniors. The power of students having a device in class to use to access information is sometimes difficult to measure through traditional quantitative assessment. However, the change in engagement of students is amazing!
From Banning to Embracing:
The Rise of BYOD in K12
By Kyle Berger, Executive Director of Technology,
Cedar Hill ISD
Let's admit something before we tackle the issue of
Bring Your Own Device (BYOD). In almost every district, BYOD has been taking place for years; we just did not want to admit it was happening in our schools.
The path to the accepted BYOD is one that has been developing quickly over the past few years. As many districts followed the traditional one-to-one computing environment, the paths of the emerging BYOD and the traditional format were destined to cross. Districts across the country are experiencing the adverse effects of the global economy on their funding and at the same time being given more mandates and expectations that do not come with additional funding. So what is the answer to bringing technology into the classroom?
BYOD: 1:1 Solution? Response to Tough Economy? Or Both?
By Dr. Michael Gielniak, Director of Programs and Development, One-to-One Institute
On the first day of school this year, my oldest daughter, Julia, was
told that she needed a calculator for her math class and a camera for her photo and film class. I told her that it shouldn't be an issue because her smartphone has a great HD camera and a calculator. I was dismayed to find out that she is not allowed to use either because of the district's strict "No Cell Phone" policy. At that moment I felt the frustration that millions of American students must feel every day. I became an instant advocate for BYOD. As I investigated BYOD programs and technology policies in other districts, however, I uncovered some disturbing trends.
Many schools still have a "No Cell Phone" policy. The primary reasons are that teachers and district leaders are concerned that students will use them inappropriately, that they will be distracted by texting, or that ringing phones will interrupt teacher lectures. I think it is better to allow students to bring cell phones and other devices, but to have guidelines that help teach students how to use them appropriately. The pedagogical issues underpinning many of the teachers' concerns, however, are a topic for another article.
Intel Schools of Distinction
Every year, Intel honors U.S. schools that implement innovative, replicable programs that inspire their students and lead to a positive educational outcomes in the areas of math and science
Up to three schools at each level-elementary, middle, and high school-will be named as finalists in the math and science categories. The 18 schools will receive a cash grant of $5,000 from the Intel Foundation and a trip to Washington, D.C., for a four-member team from their school and district. Six winners will be selected from the finalists and will receive an additional $5,000 cash grant for a total of $10,000. One of these winners will be selected as the "Star Innovator" and will receive an additional $15,000 grant for a total of $25,000. All five winning schools and the Star Innovator will also receive products and services from program sponsors.
Don't miss this opportunity to apply at www.schoolsofdistinction.com- the application deadline is Feb. 23, 2012.

One-to-One Institute Announces
Are you considering or implementing a one-to-one teaching and learning program with iPads?
Do you need to know how and where to begin?
Or have you begun the process of implementing and discovered you've hit the wall or many roadblocks?
One-to-One Institute announces new professional learning opportunities to support educators in harnessing the power of iPad technologies to create successful one-to-one programs.
The Institute will customize professional learning experiences to meet a school's or a district's unique needs as it plans, designs and implements iPad one-to-one scenarios.
Whether iPad, or any other device or platform, One-to-One Institute provides expert, personalized services around all aspects of implementing a one-to-one program. OTO's Leadership Consultants and Digital Coaches have deep levels of expertise in areas crucial for successful programming.
Contact us at www.one-to-oneinstitute.org to learn more about how we can assist you.
On February 1, 2012, at the first-ever Digital Learning Day Town Hall in Washington, DC, FCC Chairman Genachowski and Secretary of Education Duncan challenged states and the
education and technology industries to get digital textbooks into the hands of all students in five years (see USA Today, Associated Press stories). Barriers to adoption of digital textbooks include: antiquated state procurement rules, lack of device and content interoperability, and connectivity costs. Six months ago, Genachowski and Duncan launched an effort with business and education leaders to help schools make the transition to digital textbooks. At the event, this collaborative presented them with the "Digital Textbook Playbook," a resource for schools making the move to digital learning. As a next step, Genachowski and Duncan announced a meeting in March 2012 with education CEOs, state officials, and nonprofit leaders to advance the national adoption of digital textbooks.
The FCC and USDOE acknowledged and thanked the contributors
who developed this document including Leslie Wilson, CEO of OTO.
See 1:1 Learning in Action in Alabama
Cullman City Schools, Alabama will be showcased by the National School Boards Association's Technology Leadership Network February 29 - March 2. This 2011 CoSN Team Winner proves 1:1 learning works...and they have the data prove it! Join colleagues across the nation as the administrators, tech staff, educators, and board members of Cullman share their insights about what it takes to launch and support a successful 1:1 learning initiative. The district overview, classroom observations, mini-briefings, and ample time for networking make this a unique learning experience. To learn more, visit http://www.nsba.org/tlnsitevisits/.
In addition to Cullman, NSBA is hosting Spring visits in Texas, Arizona
2011 GL 1:1 Computing Conference
a Success!
The 2011 Great Lakes1:1 Computing Conference was held on December 1-2, 2011 at the Grand Geneva Resort and Spa in Wisconsin. This third annual conference provided hands-on practical experiences for over 200 administrators, technology
directors, and teachers throughout the Great Lakes area and beyond. Whether participants were investigating the possibilities of 1:1 mobile technology or looking to continue to grow and improve their existing program, there were two days of sessions for them and their district teams to attend, to learn, and to participate.
A special thanks to our keynote speakers Cathleen Norris, Regents Professor, University of North Texas and Elliot Soloway, Arthur F. Thurnau professor, The University of Michigan for their first day presentation on Education in the Age of Mobilism. On the second day, Christian Long presented on Design Thinking: An Agile Teaching and Learning Methodology for A Complex Future.
Once again we wish to thank our sponsors for their continued support: Lenovo, CloudBlue, SMART, HP, Wisconsin Department of Public Instruction, and Intel.
Iowa 1to1 Institute
On April 11, 2012, the Iowa 1to1 Institute (i11i) will be held in Des Moines, Iowa, from 9 am-4 pm at the Iowa Events Center. This will be the third year of the conference which has grown from 600 participants in year one to 1300 last year.
The purposes of the conference have remained the same since the initial conference: