FOR IMMEDIATE RELEASE

COMMUNITY ALERT and A CALL TO ACTION:
LEGENDARY MULTI-CULTURAL DANCE SCHOOL CLOSING!




Press Contact: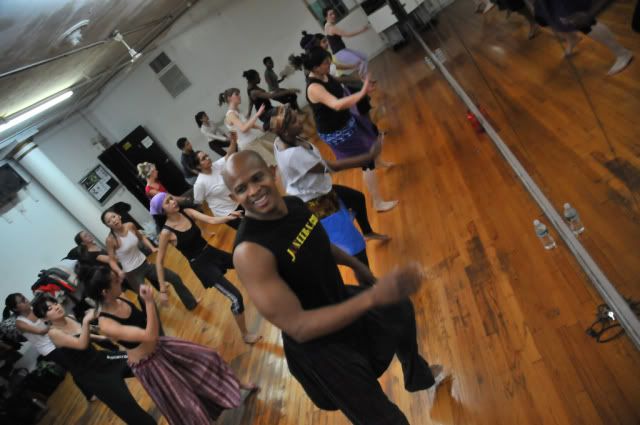 Maia Claire Garrisson
Djoniba Dance and Drum Centre
37 East 18th Street 7th Floor
New York, NY 10003
Tel: 212 477-3464
www.djoniba.com



December 19th, 2008, Manhattan, NY

.-

Djoniba Dance & Drum Centre,

the legendary New York City multi-ethnic dance school and not-for-profit organization, is closing its doors on December 31st 2008 after 15 years of "exceptional contributions to our city", (the council of NYC). Hit by the economic crisis -- with fewer students attending classes -- and a major rent increase, DDDC has no other option but to sadly shut down. The immediate result would be 55 teachers and drummers losing their jobs.





Hundreds of children from lower income families losing the opportunity to receive free dance scholarships, along with thousands of adult students losing their community workout, a place to release stress and convene "Since its establishment, Djoniba Dance & Drum Centre-one of New York City's largest minority-owned cultural centers- has dedicated itself to connecting men and women of all ages and ethnicities through the arts. In a letter of June 2007, Mayor Bloomberg wrote, "As we look back on the incredible accomplishments of DDDC's 15 years, we also look forward to

even greater achievements on the horizon." "I am confident that the New York community and government officials, who understand the profound impact that our philosophy and ethnic dance

taught in our institution has on so many lives, will rally up and help us continue our mission of providing health, fitness, and harmony amongst New Yorkers" says the founder Djoniba Mouflet.



DDDC needs funds for a new home and is urgently seeking aid. You can make donations on line at www.djoniba.com or by mail. Contributions will allow for construction, fundraising, architectural design, web design, building materials, office furniture and equipment, Who knows how long this economic climate will last -but what kind of city will be left when it's over, if we allow our community owned cultural institutions to close?





About Djoniba Dance & Drum Centre





Since its inception in 1992, as a not-for-profit cultural and charitable

organization, The Djoniba Dance and Drum Centre has strived to celebrate

our global diversity through world dance and music and is dedicated to

bridging the gap between all ages, ethnic groups,

and cultures through dance and music. The Centre is one of New York




City's largest minority-owned dance studio, and the only cultural center in the

world specializing in multi-ethnic dance and drum. The Centre serves thousands of

adults and children annually, has a roster of 35 master teachers dancers and

drummers, who teach more than 100 dance classes per week in more than 30

different styles of movement and music from around the world.

Founded and directed by Djoniba Mouflet, the internationally-acclaimed

drummer, dancer, teacher, performer and choreographer, the Centre

houses three dance studios, a children's program and

an adult evening program. DDDC has become a popular cultural and

fitness spot, attended by celebrities like Tyra Banks, Julia Roberts, Brook

Shields and featured in several magazines, newspapers and major TV shows.

Awarded "Best New York Dance School" several years in a row by The

Village Voice, New York Magazine, New York Press and AM New York,

DDDC has also been recognized by city officials-including Mayor Bloomberg,

The City Council, Manhattan Borough president Scott M. Stringer, as well

as NY State Assembly N. Godfrey for its outstanding service to the NY community.

"I applaud Djoniba Dance & Drum Centre for your strong commitment to

the culture and community." Richard N. Godfrey / New York State Assembly

"It is the tradition and custom of the New York City Council to honor its most

distinguished citizens, and today we are pleased to recognize Djoniba Dance &

Drum Centre, Inc for its exceptional contributions to our City. Today, we honor

Djoniba Dance & Drum Centre, Inc an organization that has distinguished itself




in service to the community: is has enriched us with its presence and achievements

and is worthy of the esteem of all New Yorkers"

Proclamation by The Council of the City of New York.