Quick Links
Donate




Featured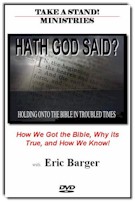 Hath God Said?

Holding Onto The Bible in Troubled Times
- How We Got the Bible, Why it's True, and How We Know!
- The Authenticating Work of Bible Prophecy
- When it Comes to the Scriptures, It Is Finished!
(* Recorded live at the Olive Tree Ministries Conference, April, 2010.)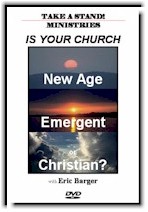 Is Your Church New Age, Emergent, or Christian?
This comparison of New Age and Emergent beliefs against the backdrop of biblical Christianity will not only expose the many likenesses shared by New Age and Emergent philosophies but it will also help equip viewers with discernment in understanding and recognizing real, authentic Christianity.
Watch clip From DVD
CLICK HERE for More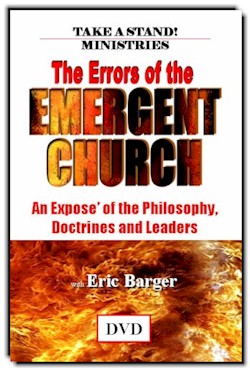 Emergent philosophy has invaded nearly every once-safe denomination. In this seminar DVD, Eric defines Emergent thinking and terms, concisely exposing the leaders and errors of the Emergent Church.
See All Products
Visit Our Channel



Greetings!

Just a quick update and some information for you.

First, thank you so much for the dozens of emails, phone calls, and texts concerning my email requesting prayer for our family sent earlier this week. You will never know how much we've been blessed and touched by your thoughts and prayers. "Thanks" cannot adequately say how much we appreciate you.

As of tonight, Melanie's mother, Berneice, is continuing to slip ever closer to Heaven. We continue to trust the Father on her behalf and are asking for wisdom concerning ministering to our family, many of whom do not know the Lord Jesus at this time. I ask that you pray especially for Melanie's dad, Dale, and for all of us to experience a real heaven-sent peace in the midst of this difficult time. (See "Important Prayer Need")

Today, I hosted for Jan Markell on "Understanding the Times" Radio. It was a terrific program. My guest was Bill Muehlenberg from "Culture Watch" in Melbourne, Australia, who joined me in discussing the continually disturbing topic of "Chrislam." Bill made some terrific points that you need to hear. During both the interview segment with Bill Muehlenberg and the clips I played from my live teaching "The Deception of Chrislam," the program content stressed the need to operate with understanding and not simply emotions and to test everything against the Bible. We also shared some thoughts concerning the fact that in falling for Chrislam, many of our allegedly evangelical Christian leaders are walking into what amounts to be nothing less than a Satanic trap. I ended the program on a really positive note by recounting a surprise-filled event that will remind each listener to always be ready to be a witness for the Lord. I hope you'll take time and listen to this broadcast.

You can listen online or download the MP3 audio file of the "Understanding the Times" program here.

If I may say so, today's "Take A Stand! Radio" broadcast was really good too. One of the best thus far. In today's program I began exposing the five core beliefs of the New Age Movement, during which I felt led to tell the story of how my Mom came to know Jesus and was herself set free of New Age ideology.

Listen to all "Take A Stand! Radio" programming here.
God bless you and thanks for standing with us. Your gifts of support and your orders for ministry products are absolutely critical as we come through December and into January.

I'll be in touch here via email in the coming days - unless we hear a trumpet blast above!













Just in case you didn't see Eric's recent article on Chrislam, here it is.




By Eric Barger

Chrislam, which purports to join Islam and Christianity into one harmonious, synthesized religion, is fast becoming a rallying point in some American church circles. Under the leadership of something called "Faith Shared," two organizations, Interfaith Alliance and Human Rights First, spearheaded an event loosely called "Chrislam Sunday" on June 26, 2011. It was celebrated by dozens of churches nationwide as joint Christian-Muslim services were held in various Methodist, Episcopal, Presbyterian, Church of Christ, Unitarian Universalist, Catholic, Lutheran, Congregational, Baptist and other denominations and groups.

Make note that we know of no mosques used for a Chrislam service. The fact is that no imam is about to bring a Bible into a mosque and suggest that our God is their god. For the Muslim cleric, the only acceptable agreement that both religions are somehow equals is if doing so presents the perceived image of a kinder, gentler, politically correct Islam and if doing so furthers the cause of Islam. It isn't peculiar that Muslim leaders would endorse Chrislam Sunday, claim that both religions are on equal footing, or partake in the charade of dialog indulged in by the Yale Divinity School and assorted foolish Christians over the past four years. The Muslim practice of deception of the infidel (that's everyone outside of Islam) knows no boundaries. This is called "Kitman" and "Taqiyya." Kitman, or half truths meant to mislead an infidel, and Taqiyya, which is complete deception of unbelievers, are acceptable tactics - as long as Islam is the winner in the end.

Read more of "The Decption of Chrislam" here...

For an in-depth look at Chrislam and to understand the failure of many Church leaders to see the peril it represents, request Eric Barger's new DVD "The Deception of Chrislam" recorded at Jan Markell's "Understanding The Times" Conference this October.

_______________________




Eric is heard each Saturday across America and around the world on the Christian Satellite Network and selected local stations.
To listen "live," download programs, or listen on demand anytime Click Here.
For a complete list of times and stations Click Here.

This Week: "New Age Truth or...Old Age Deception?" Part 4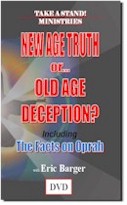 New Age Truth or...Old Age Deception?
Eric's Seminar Teaching DVD
(or call 214-289-5244)
_______________________
Special Radio Offer
Take A Stand! Journals
Bring Eric to Your Church or Community in 2012!




If you or your church are interested in hosting Eric's cutting-edge "Take A Stand! Conference" please contact us immediately. Email here or call 214-289-5244.

-------------------------

"I believe Eric is one of the premier Christian Apologists traveling the country today."

- Rev. Bob Fort, Chairman, United Evangelical Churches

"Eric Barger is one of the most knowledgeable defenders of the faith on the Christian scene today. Equally important, he is a down-to-earth effective communicator who is able to make complex ideas understandable to the average person. But even more important is the fact that everything he has to offer is thoroughly grounded in the Word of God."

- Dr. David R. Reagan, "Christ in Prophecy" program

"We have invited Eric to speak 17 times since 1987. I highly recommend his ministry."
- Pastor Milton Hubbard

"Eric's articulate presentation of carefully researched information is solidly based in Scripture and life-changing in its impact."
- Rev. Jim Keys

"Over the years we have had Eric at our church many times. We have always found his ministry to be balanced and to the point. He has helped our church stay focused and walk in the will of God."
- Pastor Sam Buckingham
SPECIAL OFFER!




Want an assortment of Eric's teachings to share with others or enjoy again and again?

Order our
One of Everything Special!




Includes:



- 20 of Eric's full-length seminar DVDs
- 10 CD messages by Eric
- 5 Books

$250

(a $449 value)

Great for home use, Christian and home school study, Bible studies, small groups, Sunday School, church libraries and anyone just wanting a collection of Eric's DVDs, his most current Books plus others and an assortment of his teaching CDs.

Order online

or call 214-289-5244

You may also mail your request to:

Take A Stand! Ministries

PO Box 1485 - Rowlett, TX 75030