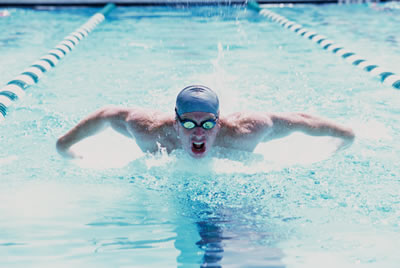 The Power of Sports
by Patrick Allen
While a few "blue chip" athletes in your graduating class weigh scholarship offers from one or two high profile schools, as a scholar athlete, you are left to wonder how all your years of training might benefit you.
Two year varsity letterman, varsity team captain, MVP, most improved, all league, even most inspirational, are accolades that speak to the level of your commitment and character, and are certain to peak a coaches interest. And these coaches, quite literally, represent hundreds of athletic programs, in excellent schools, that would benefit from having you represent them.
Many of these colleges and universities are geared to high academic achievers and do not have the resources to seek out and identify scholar athletes with the necessary academic resume. These schools need your help. You need to seek them out, and make them aware of what you have to offer. At this point you will begin to understand the power of sports.

Before we explore this new found power, there are a few questions you must ask yourself. What are my motives? Do I truly understand the value of my athletic experience? Am I prepared to do what it takes to realize my dreams?

If your answer to the first question is, "I am looking for a scholarship to pay for my college education", you will, most likely, be disappointed. A surprisingly small percentage of college athletes receive "Full Rides", somewhere in the neighborhood of 1%, and most of these athletes were identified by the time they were high school sophomores.

With odds like these, you're left wondering, where is the value in all those years of athletic training? I like to answer this question by quoting the principal from our local high school. At a meeting with parents of juniors to discuss the college admissions process, she said, flat out, "when it comes to sports and college admissions, you can pretty much throw out the rulebook."
Lesson: sports can be a very useful weapon in the battle for a spot at a top school, and, in an effort to answer our second question I have often shared that wisdom with scholar athletes.

Athletic prowess, combined with a healthy dose of academic achievement, can be a potent formula for greasing the wheels of admissions and financial aid. Schools that were once banished to a wish list have suddenly become viable options. Tagged as a recruited athlete, your application is measured by a favorably skewed set of standards, which can vary from year to year depending on the philosophy and needs of the school.

To address these fickle standards, you will also have the advantage of an "inside" advocate (your coach) who can, and should, personally walk your application through the admissions process, thus giving you a voice and a decided advantage. And though the vast majority of schools offer only partial athletic scholarships or none at all, financial aid considerations can be just as unpredictable, fluid and potentially rewarding as the admissions process.

Many schools are mandated to inform you that they do not offer athletic scholarships, and only provide financial assistance based on demonstrated need. Who's need? In the world of college admissions, "need" is an ambiguous word, and is often more about the needs of the school than it is about the needs of the student.

Oddly enough, if a coach is able to convince the admissions office of the schools need for a power hitter, suddenly that recruit just became a lot needier. And even though the term "athletic scholarship" might be off the table, aid for an athlete, cleverly disguised as a form of merit award, institutional grant, or both, could suddenly become available. Combined with low interest, subsidized loans, this financial aid package could make the most expensive school quite affordable.
So after wielding the double edged sword of academics/ athletics, the school of your dreams, at an affordable price, just became a real possibility. Witness the power of sports.

To answer our final question requires reflection, time and effort.

Finding a school with a team roster that needs your skills and, at the same time, meets your academic and financial requirements, can be a frustrating and labor intensive task. To start, you need to pack your bags and be ready to travel. Separation from home, friends and family is almost a given.
If that is acceptable, it's time to begin a nationwide search for schools with exceptional academics, and where you can put your academic/athletic resume to work as leverage in negotiations with admissions and financial aid.

Once selected, you will find that each school has needs unique to that institution, and it is nearly impossible to determine whether your resume is the right fit for that college at that moment in time. Therefore, it is imperative that you identify a minimum of twenty-five schools that meet your academic and athletic requirements.
Do not hesitate to consider schools that are seemingly beyond your academic and financial reach because, as we have discovered, the value that your training brings to the table can certainly tip the scales in your favor.

Once you have identified, contacted and begun a dialogue with the coach from your chosen school, it's time for the game to begin. You now have a seat at the table and a solid hand to play. Your chances of being admitted, and obtaining a generous financial aid package, just got a whole lot better.

As a high school and college athlete, youth coach in multiple sports and father of three sons, all of whom participated in Div. 1 athletics, I have a fairly unique perspective on the daunting task you are about to undertake. Having personally navigated these waters and assisted many others, I have a solid working knowledge of the pitfalls and potential of athletics in the admissions and financial aid process.
For my family, the "power of sports" opened doors to schools at the highest academic level, and, with the proper resume and a strong "marketing" plan, you will find that colleges and universities you only dared to dream about are prepared to open those doors for you.

Patrick Allen is a college consultant for scholar athletes, and can be reached at Yalie05@hotmail.com.