Shawnee County Transition to Recycling in January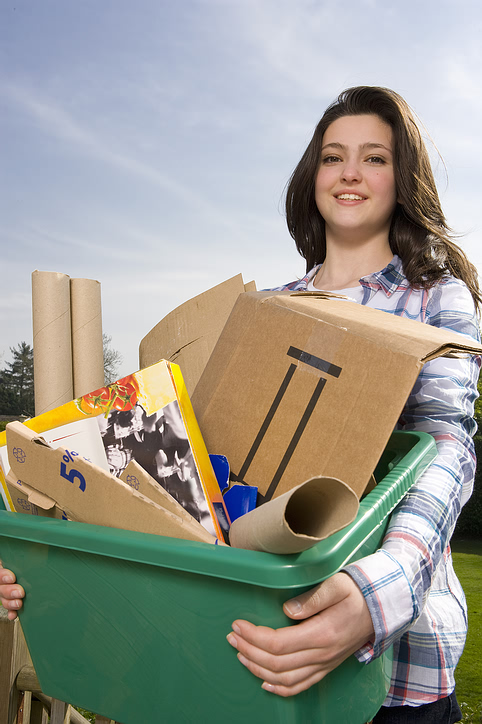 Earlier this year, Shawnee County announced that curb-side recycling would be offered customers of Waste Management, Inc. starting in 2013.
Residents who opt to participate in the curb-side recycling program will need to make some adjustments to how they set out trash and recycling.
Customers
will not
have to
separate
recyclables (glass, aluminum, tin, etc.) into separate bins. Instead, Waste Management, Inc. will separate recyclables at the material recovery facility. Customers will have one bin for all their recyclables.
Materials that are acceptable for the county-issued bins are:
cereal and cracker boxes,
plastic bottles and buckets,
aluminum cans and clean aluminum foil,
glass bottles and jars,
tin cans,
corrugated cardboard,
newspapers and magazines,
junk mail,
phone books,
office paper
and brown paper sacks.
Non-recyclables should be placed in the trash bin, the County said that if there are too many non-recyclables in the recycling truck the entire load would be sent to the landfill.
Non-recyclables include:
plastic grocery bags,

newspaper bags,

food-contaminated aluminum foil,

food-contaminated pizza boxes,

paper plates,

Styrofoam of any kind,

wax coated cartons, boxes and dishes,

light bulbs,

windows

and food waste.
Recycling bins will be collected every other week on the same day as customer's trash pick up. Bins need to have three (3) feet of space on any side so the automated arm can lift the bin and dump the contents in the truck.
Bin distribution began Monday and is expected to be completed around December 21. Recycling is set to being mid- to late January 2013.
Community Members Learn Effective
Facilitation
Heartland Visioning collaborated with our vision partners United Way of Greater Topeka and the Topeka and Shawnee County Public Library to bring The Effective Facilitator class to Topeka. Fourteen Shawnee County residents attended the four-day training to improve facilitation skills.
Offering a training like this in our community will help build leadership capacity, one of Heartland Visioning's priorities. The facilitation training will help improve the effectiveness of meetings in our community. The ability to conduct an effective meeting with a purpose and to have products and assigning tasks and actions to attendees is important to moving the work of our community forward.
The Effective Facilitator class is offered by Leadership Strategies, the facilitation company. The four-day class objectives are to:
Define the role of the facilitator,
Identify the key facilitation principles,
Describe the best practices related to each principle,
Provide students with facilitation practice and feedback.
Those who attended the training gained skills to:
Get groups to develop and agree upon working realistic plans or solutions to issues;

Gain tools and techniques to create a

vision

that

motivates

people to action, engages groups in

developing

solutions and generates ownership that leads to results;

A comprehensive approach to facilitation.
The course was offered at a reduced rate thanks to a grant Heartland Visioning received from the Kansas Health Foundation for community building.
Heartland Visioning will bring Leadership Strategies back to the community host the two-day Masterful Meetings Class on December 18 and 19. If you're interested in attending Masterful Meetings or another Effective Facilitator class please contact Heartland Visioning at 785.231.6006 or email
bholmes@heartlandvisioning.com
For more information regarding The Effective Facilitator course please visit, www.leaderstrat.com
Dia de los Muertos Celebrated Throughout the City!
The first ever, city-wide celebration of Dia de los Muertos too place in Topeka October 26 -- November 3. Dia de los Muertos events happened throughout the city over mulitple days.
Dia de los Muertos is a Latin American holiday celebrated in Mexico and other parts of the world. The holiday is a time for families and friends to come together to remember those who have died. Dia de los Muertos is a celebration of life.
The multi-day celebration held a host of activities from the Aztec Dance Group Huitzilopochtli to the concert reading of "Bones of Butterflies" by Marcia Cebulska and a street festival.
Many community members were able to honor the lives of family members who have passed on with Ofrendas. An Ofrenda is a place where families or individuals to honor the deceased with offerings which may consist of photographs, bread (Pan de muertos), candles, flowers and other symbolic offerings.
The Ofrenda (Altar) Exhibit is on display at Ballet Folkorico/Justicia, Inc., 814 North Kansas Avenue, honors loved ones. The Ofrendas will be on display until November 25.
On October 27, over one thousand people attended the Family Street Fair in the NOTO Arts District, along North Kansas Avenue. The Family Street Fair offered a variety of food, entertainment and Dia de los Muertos traditions.
Dia de los Muertos Topeka event was organized by the Tonantzin Society of Topeka. The society is comprised of mostly women and youth who are committed to maintaining, educating the public about and promoting the Latino heritage, often Mexican Culture.
For more information about Dia de los Muertos or the Tonantzin Society please visit www.diadelosmuertostopeka.com
Fire Safety Tips from Topeka Fire Department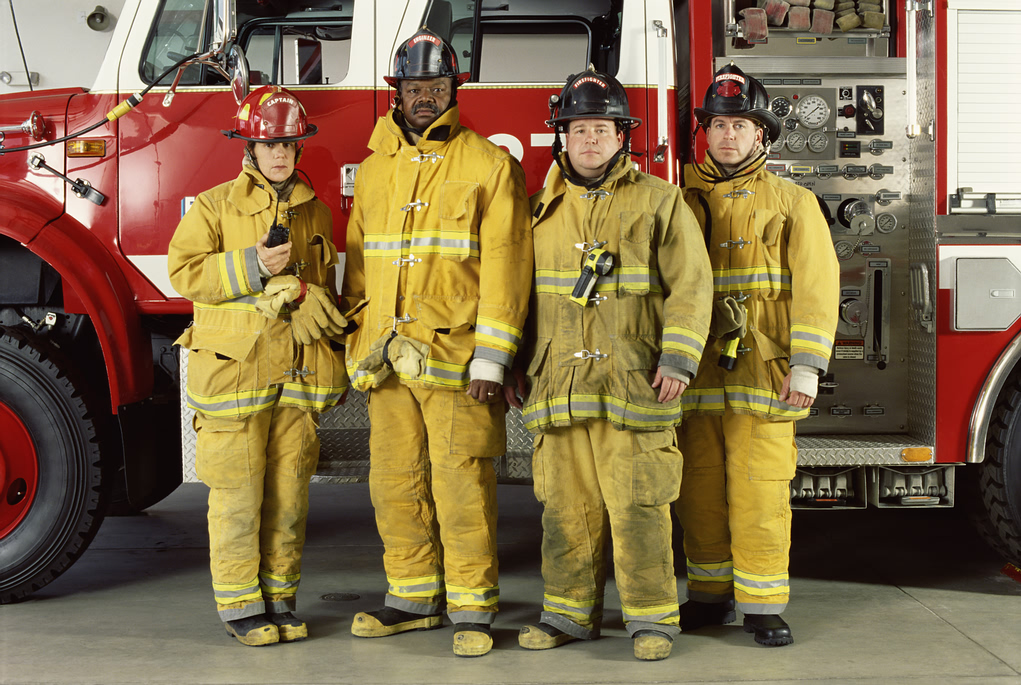 Topeka Fire Department Officials want you to be safe if you ever face a fire.
Last month, the fire department visited local elementary schools and encouraged the public to prepare their home to escape from a home fire.

Fire Prevention Week was October 7 to the 13, this year's theme was "Develop a Home Fire Escape Plan: Have Two Ways Out." The Topeka Fire Department encourages residents to:
Draw a floor plan of your home and discuss at least two exit points for each room in the house. Identify landmarks that will assist in finding exits in dark or smoky conditions.

Identify

individuals

who may need assistance in evacuation, especially elderly or young children. Consider family pets in your

evacuation

plan IF they can be reached quickly.

Choose a meeting place outside the structure. Stay at the meeting place until emergency personnel arrive on scene. Report to first responders that everyone is visually accounted for.
NEVER return to a structure for any reason. Alert emergency responders of any persons or pets that remain in the structure and where they may be located.
Call 9-1-1 from outside of your home. Use a cell phone or request a neighbor's assistance to contact emergency responders.
Practice your escape plan. Review the plan with everyone in your household. Hold a fire drill twice a year and time how long it takes. In a real fire, you must react without hesitation as your escape routes may be quickly blocked with smoke or flames.
Awards Honor Those Making Community Great
On October 22, the third annual Community Resource Council's (CRC) Awards of Excellence Luncheon celebrated
initiatives
and
organizations who work to improve our
community.
The CRC Award Luncheon, with an Olympic theme, honored non-profits, businesses, government agencies and
individuals
working in coalitions to make Shawnee County a better place to live, work and play.
The luncheon honored those positively impacting our community while mixing in comedy and laughter.
The entertainment for the luncheon revolved around Shawnee County-style Olympic themed parodies. The video began with a torch run and lightening ceremony. The torch
bearers
featured winners from past CRC Awards of Excellence.
Other sketches included pre-race interviews, parodies of Olympic events including cycling, gymnastics and track. Competitors were well-known members of the Shawnee County community.
This year's award recipients were:
Nominations for the awards came from the community and winners were chosen by impartial judges in Wichita. Winners were picked based solely on the merit of their application, as no names were shared with the judges.
Fourth Annual Kanza Bowl Returns to Topeka
On November 25, post season football will return to Topeka's Hummer Sports Park, 2751 Southwest East Circle Drive. The Kanza Bowl is a Division II game that features a postseason match
up between teams from the Mid-American Intercollegiate Athletic Association
conference
(MIAA) and the Lone Star conferences.
This year Emporia State will face Texas A&M Kingsville in the fourth annual Kanza Bowl. ESU is ranked number 24 in the latest coaches poll and will enter the game with a 9-2 record while Texas A&M Kingsville has a 6-5 record.
Previous teams who have played in the Kanza Bowl include:
2009, West Texas (31) v. University of Nebraska-Omaha (25)
2010, Washburn University (45) v. Midwestern State (14)
2011, West Texas A&M (26) v. Central Missouri (7)
For 2012, Parrish Hotels and the Northeast Kansas Football League have added a junior football tournament to the 2012 Kanza Bowl. The Junior Kanza Bowl youth tournament hopes to feature 20 youth football teams from Kansas, Nebraska, Missouri and Oklahoma. The tournament will consists of
second through eight grade teams and take place in various locations in Topeka.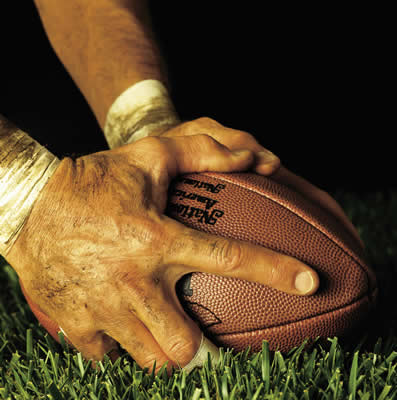 The tournament will last three days November 23 -- November 25 prior to the Kanza Bowl kick off at 1:30 p.m. at Hummer Sports Park.
This year's games and activities are designed to complement other events and activities happening in Topeka on that weekend, including: TARC's Winter Wonderland, the Miracle on Kansas Avenue, Thanksgiving Weekend, Black Friday and the 6A High School State Football Championship Game.
This year the Kanza Bowl will feature:
The Junior Kanza Bowl,
Tailgate Blues & BBQ,
a Weekend Guide highlighting the events in our community,
and a Pre-game Fan Fest.
For more information about the K
anza Bowl and upcoming events please visit
www.kanzabowl.com
Local Youth Impacted by Man School
Three years ago, Keith Tatum and Robert Soria envisioned helping at-risk young men find their visions and identify their purposes for their lives.
The solution Tatum, chair of the Man School and co-founder of Community Advocates for Social Enrichment, Inc. (CASE) and Soria, executive director of CASE, Inc. was a program called Man School.
Man School is a program that teaches youths ages 14-17 years old how to be productive community members though skill-building leadership development, empowerment and volunteerism.
Man School meets weekly over a 10--12 week period. The curriculum revolves around a series of topic-specific modules which range from personal goal setting to professional development and management of finances.
In June 2011, a pilot program began at Highland Park High School with nine Topeka participants. In the spring of 2012 the Boys & Girls Club of Topeka offered the Man School. Both Boys & Girls Club of Topeka and Highland Park High School offered the program again last summer. Each program graduated 15 youth from the area.
The Man School is offered through CASE, Inc., a Topeka-based non-profit organization. The non-profit provides mentoring, tutoring and community empowerment to youths and their families, focusing on those of African-American or Latino origin.
Man School is currently being offered at The Villages, 7240 Southwest Tenth Avenue, classes began November 2 and is also being offered at The Boys & Girls Club of Topeka during the same time.
Urban Core Conference helps to Build the Deal
On October 10, over 70 community members attended the Urban Core Conference: Building the Deal.
The conference focused on the development of the downtown core and other areas in the city. Attendees were able to connect the dots of how to finance projects and the process of working with government officials, developers, architects, engine

ers, investors and historical
preservationists
.
The conference included keynote speaker, Stephanie A. Dugan, director of the Central Team of the National Development Council, lead the group through a step-by-step process to redevelop the city's inner core as well as other segments of the community.
The National Development Council is a non-profit community and economic development organization that works
to increase the flow of
capital
for investment,
jobs
and community
development
to under served urban or rural areas across the country. NDC has worked with thousands of communities in the 50 states and Puerto Rico. The organization provides technical assistance, professional training, investment in affordable housing, small business financing and direct development
service
.
For more information about NDC, please visit their
website.
Sessions at the Urban Core Conference included:
"What's Perking?" -- an overview of what's happening in Topeka

Development Tools, Education & Lecture

Case Study and Presentation "Building the Deal"

Networking Lunch

Individual Assessments made by Appointment Only
Topics covered in the sessions included:
Real Estate Finance Fundatmentals,
Tax Credits:

Historic
Housing
New Markets

Local Tools:

CID
TIF
Facade Improvement Grant
Ground and Building Leases

Loans,
Loan Gaurantees,
Bonds,
Grants:
The conference was intended to facilitate urban business, retail and mixed-use development through education on redevelopment.
Please click here to view the presentation from the
Topeka Metro Teams with Google Maps
T
he Topeka Metropolitan Transit Authority and Google Maps have collaborated to develop an online trip planning tool.
Users can enter a starting point and a destination as well as their desired departure and arrival time.
They will then be directed to Google Maps, where the trip will be mapped and provide information about the route to take, estimated time and show cost saving related to vehicle use.
ARTSConnect Awards Thousands in Grants
A
RTSConnect Topeka distributed $20,000 in performing arts grants to a dozen local nonprofit organizations.
The grants were funded through a grant awarded to ARTSConnect by the Topeka Community Foundation.
The nonprofits who received funding are:
Aaron Douglas Art Fair,
Ad Astra Theatre Ensemble,
Grace Cathedral's Great Spaces Music & Art Series,
Kansas Children's Discovery Center,
Performing Arts for Children,
Sunflower Music Festival,
TARC Inc.,
Topeka Civic Theatre & Academy,
Topeka Community Concert Association,
Topeka Festival Singers,
Topeka Performing Arts Center
and Topeka Symphony Society.
Each entity received funding to support the performing arts activities in the community which are innovative, unique and offer benefit to the entire community.
Topeka Rescue Mission will Expand
In a response to accommodate the increasing homeless population in the Topeka Area, the Topeka Rescue Mission plans to expand their facilities to add 170 new beds.
The Rescue Mission recently purchased the former Bailey Moving and Storage building, which will add beds to help relieve the overcrowding at the mission's main location.
The new intake building at 608 Northeast Quincy is directly across the street from the Mission's main facilities, 600 North Kansas Avenue. Originally, the Mission had planned to expand to the old warehouse building on Northwest Norris. The Topeka Rescue Mission purchased the Bailey Moving and Storage building in April 2012.
By expanding to the former Bailey Moving and Storage building, the mission eliminated guests having to cross railroad tracks to have access to meals and other services. The Norris warehouse will be utilized by the Mission for food storage and distribution.
The new intake center will have about 90 beds for women and children as well as laundry and shower facilities. The new intake center will also provide basic emergency care.
The renovation of the former Bailey Moving and Storage building is estimated at $3 million.
Safe Streets coalition is working to make Topeka the safest capital city.
Topeka's All-Inclusive Community Calendar visit:
@ Topeka Preforming Arts Center
November 14
7:30 p.m. to 9:00 p.m.
@ Mulvane Art Museum
Ends November 17
Hours Vary
@ Serendipity
November 15
7:00 p.m.
9:00 a.m. to 5:00 p.m.
@ Kansas Expocentre
November 16 & 17
Times Vary
@ Washburn University
November 17
@ 9:00 a.m.
Central Park Community Center
November 17
10:00 a.m. to 2:00 p.m.
@ Helping Hands Humane Society
November 17
12:00 p.m. to 3:00 p.m.
@ Ritchie House Historic Site
November 18
2:00 p.m. to 4:00 p.m.
@ Yager Stadium at Moore Bowl
November 24
1:00 p.m. to 4:00 p.m.
@ Downtown Topeka
November 24
3:00 p.m.
@ Kansas Expocentre
November 24
12:30 p.m. & 9:45 p.m.
12:00 p.m. to 6:00 p.m.
@ Ritchie House Historic Site
November 25
2:00 pm. to 4:00 p.m.
@ Kansas Expocentre
November 29 to Dec. 2
Times Vary
@ Auburn Community Theatre
November 30
7:00 p.m.
@ Topeka Performing Arts Center
December 1 & 2
Times Vary
@ Unitarian Universalist Fellowship of Topeka
December 1
7:30 p.m.
@ Great Overland Station
December 2
Noon
@ Kansas Expocentre
December 5 - 9
Times Vary
@ Topeka Zoo
December 7
6:00 p.m. to 8:00 p.m.
@ Grace Cathedral
December 7
7:00 p.m. to 9:00 p.m.

@ Topeka Civic Theatre
December 7 - 16
Times Vary
@ Auburn Community Center
December 8
9:00 a.m.
December 8 - 22
Times Vary
@ Kansas Children's Discovery Center
December 9
11:00 a.m. to 1:00 p.m.