Greetings!
This issue of TESL Ontario's Membership Minute newsletter will provide you with updates on:

Post TESL Certificate Training Program and fee reimbursement system

LearnIT2Teach

Tutela.ca national repository

TESL Ontario recognition awards recipients

Local TESL Ontario affiliate news

and much more
This is your newsletter and we encourage you to contact us with any ideas you may have for the Practitioners' Corner, the Member Spotlight or TESL Tidbits sections by emailing me at membership@teslontario.org.
TESL Ontario wishes you a happy holiday and a safe and healthy new year!
Best Regards,


Allison Keown
Member Services Manager
TESL Ontario Member Spotlight
Dedicated Instructor Nurtures
Self Confidence in her Students
Suma Balagopal with 3 of her students
who won in the 2012 ESL Week Contest.
Left: Madlin Eisho, Suma Balagopal, Assunta Strianese, Mirna Rodriguez
Suma Balagopal has been teaching full day LINC classes at Caledon Community Services since 2007. This passionate and gifted instructor has been seamlessly teaching language learners from CLB levels 1-6 since April of this year. Not only is Suma extremely effective and efficient with teaching a multi level class room, she embodies motivation, dedication to and excellence in teaching. This did not go unnoticed by CIC, whom after a visit in 2008, concluded that her class hours be augmented to full time, transitioning from 13 to 25 hours a week, just seven months after the start of her teaching career.
Right from the get-go, Suma immersed herself into her work and was determined to give it her all, as two of her former students would tell you. The young Middle Eastern brothers (18 and 22) still hold a special place in their heart, for their beloved English teacher, whom still after 5 years, keep in touch with her, never missing a birthday visit at the agency. It was a difficult road for the young men, as Suma recalls. However Suma was every bit as determined as the gentlemen were, using every teaching method she could think of, to help wrap their heads around the English language and culture, such as turning the pages of a book from right to left (and not the other way around), the days of the week, the months of the year and more. Just two years later, everyone was extremely thrilled to learn that after "persistent phone calls, enquiries, tests, determination, heart breaks and assurances" the younger brother attained his first goal of becoming a grade 12 student, and continued to pursue his dream of joining the police force. Suma fondly recalls that "It was (these two young gentlemen) who helped me find the meaning of this noble profession. I had changed careers from 'marketing' to ESL teaching because I was tired of always having an agenda while meeting people. Now I have a different agenda; to be able to make that difference".
One of Suma's many fortes in building a supportive classroom environment is that she is able to take the most introverted of students and bring about their true strengths, by empowering and building self-confidence in all of her students. One example is of a student who was very hesitant to take her G1 test, but Suma insisted that obtaining her G1 would give her greater independence
and freedom to become better integrated into her new community. Aside from volunteering her time after-hours to assist several students with studying for and attaining their G1; and assisting
another with becoming a Canadian Citizen. Suma was very instrumental in these students' success at attaining their personal goals. In fact, one of these students has even gone on to another program that teaches employment related skills to youth, and is now looking forward to getting her first job.
I'm sure that it's safe to say that perhaps, one of Suma's most proud moments, and ours, is that this is the second year in a row, that several of her students have won first prize at the ESL Week Contest. This year was particularly formidable in that out of the six first prize contest winners, three were from our Caledon Community Services LINC class! As a matter of fact, this year's grand prize winner was one of our level two students, who through Suma's determination coaxed this very shy and introverted student, to create an exceptional 3D photo collage. What this student discovered, is more than anyone had imagined. This once down cast young woman, found that she had an exceptionally creative flare and a love for the arts. Through this student's new found love and connection to her new community, she has begun to exude confidence in herself and has started to participate in class discussion. She even offers to assist fellow students, when they are "stuck".
One of Suma's former students recently stopped by to visit her. She told us that because of Suma's encouragement, she was able to achieve her dream of becoming a music teacher. She explained with great passion and enthusiasm, that she is now teaching young children to play the violin and piano and is extremely thrilled about it. The young woman hugged her teacher, and with tears in her eyes said "Suma, when I came to Canada, you were my whole life! You encouraged me and pushed me to do my best and to want better for myself. I will never forget what you did for me".
Not only is Suma a dynamic woman and a very successful, enthusiastic teacher, she is also up to speed on the latest teaching methods and classroom technologies. She has contributed to several academic publications, to TESL North York newsletter, presented at the "Spring PD Workshops for LINC and ESL Teachers", developed and implemented a curriculum for the International Languages program that was introduced in 2006 at the York Catholic District School Board. Suma's innate ability to relate to her peers and students on both a professional and personal level is second to none. No matter if Suma is in class or at home, she is readily available to her students to answer any questions she can, such as filling applications, letters from their children's teachers, writing a letter, getting information on driving test centres, the meaning of words or even how to organize their child's birthday parties.
Suma is extremely successful at providing a positive, nurturing, successful and supportive learning environment to her students. I'm sure I speak on behalf of all of our students, when I say that if it weren't for Suma's enthusiasm and love of teaching, our students wouldn't be the motivated high achievers that they've proven to be. The respect, trust and rapport that she naturally builds with students is a gift! She truly is an exceptional instructor who is cherished by all of her students and the agency she works for, Caledon Community Services.
Written By: Francesca Bernadowitsch
Photo Credit: Francesca Bernadowitsch
Organization offers help for Newcomers with children by providing Mulitilingual tip sheets about Ontario's Education system
People for Education is an independent organization working to support public education in Ontario's English, French and Catholic schools. One of our key roles is to provide clear, accessible information to parents about Ontario's education system. We do that by publishing multilingual parent tip sheets, offering direct parent support through our toll-free help line, providing speakers and workshops for events, and conducting parent-friendly research and policy analysis on current education issues.


Research has shown that children whose parents are involved in their education are more successful in school, but many parents, especially newcomers, may face barriers to their involvement.


The two main barriers for newcomer parents are language and a lack of understanding as to how the school system works in Canada. In some countries, parents are not expected to take an active role in their children's schooling, so they may be surprised to discover that they are welcome and valued partners here. There are also vast differences between countries in matters of discipline, assessment, and parent/teacher relationships. In order to be effectively involved in their children's education, parents need information about how the school system works in Canada, and how they are expected to support their children's learning.


For many newcomers, English-language teachers are their first contact for information and support. Here at People for Education, we want to support these teachers in making our newest Canadians feel welcome and confident in dealing with the education system.


One of our most popular resources is a series of multilingual tip sheets for parents. These tip sheets answer parents' most common questions, and include information on topics such as Special Education, Homework, Parent-Teacher Interviews, EQAO testing, and High School Courses and Choices. All of these are available free on our website at www.peopleforeducation.ca under the 'How Does Education Work' tab. Many English-language teachers have reported using these tip sheets in their classes - students can compare the English version to their home language, while also learning about the school system.


Another way that we can help is by providing answers to newcomers' questions through our parent support line. English-language teachers may get questions from their students about the education system. When that happens, a quick email or call to our phone line (1-888-534-3944 or 416-534-3944 in the GTA) will provide the answers you are looking for.


For more information about People for Education and how we can help English-language teachers in their important work, send us an email to info@peopleforeducation.ca.
Tutela.ca National Repository for ESL Professionals
TESL Ontario encourages all members to join Tutela.ca. By registering for your free account, you will have access to Canada's largest online repository and community for language training professionals.

Tutela.ca is funded by Citizenship and Immigration Canada and contains a wide array of language training resources and a customizable online professional community to help you connect with your peers and colleagues from across Canada.

Tutela.ca offers many interactive features including:

Community Forum: Join the Public forum if you have a question or want community input on a topic that is important to you and participate in discussions that others have started. Learning together and sharing knowledge generates greater outcomes!

Groups: Join existing interest groups or create your own to discuss, collaborate and network with peers and colleagues, as well as to see posted job opportunities and upcoming events.

Live Conferencing: Use the online conference rooms to get together with your group members to discuss, learn and network.
Webinars: Make a suggestion for an online webinar topic, volunteer to conduct a webinar or register to participate in a webinar. Tutela.ca offers help and training to those interested in conducting a webinar.

Repository: Search learning activities, worksheets, templates, teacher training resources, curriculum guidelines, policy and management documents, research papers and more.

Join us in the TESL Ontario member group and connect with fellow members.
Do You Have Content?
Contributions are welcome from any organization or individual. Content can be submitted directly through the Tutela.ca website, or contact Tutela.ca directly at info@tutela.ca for assistance with the contribution process.
Get Started
Visit www.tutela.ca and Sign up today!
Create an account by clicking on the 'Sign Up' button on the top right side of the screen
Once you have created your account check your emails to verify your account
Once you have verified your account you will have access to all of Tutela.ca's features.
Don't Miss Your Chance to Participate in a Post TESL Certificate (PTCT) Course!
What is PTCT? Post TESL Certificate Training (PTCT) is specialized training that enables instructors to further their knowledge and skills in high priority content areas such as materials development, technology in the classroom, language for the workplace, and higher level language training.
Who is PTCT for? PTCT is for all instructors who teach English as a second language to adults; however, each PTCT course may have certain pre-requisites. Please contact course providers directly or check their websites for information about their course entry requirements. To access course providers' contact information, please click on http://www.teslontario.net/accreditation/PTCT-courses.

What PTCT Courses are available? For course names, upcoming session dates, delivery modes, training fees, and reimbursable amounts (if applicable), please click on http://www.teslontario.net/accreditation/PTCT-courses.

Will I get reimbursed? You are eligible for reimbursement if you are currently teaching full time or part time in a CIC-funded program (LINC, ELT, or OSLT) in Ontario. Also, if you are currently on maternity leave but will be returning to your teaching position in a CIC-funded program in Ontario, you are eligible for reimbursement.

How can I apply for training fee reimbursement? Please go to http://ptct.teslontario.org/, and follow the instructions on the Home page. You will be asked to create an account and book a reimbursable seat in the PTCT course of your interest. It's an easy process that may take only 10-15 minutes to complete.

Questions? If you have any questions about application for PTCT fee reimbursement, please contact Carolina Zuza, the TESL Ontario Accreditation Coordinator, at ptct@teslontario.ca or at 416-593-4243 x 201. If you come across any technical issues while using the PTCT website, please contact Kevin O'Brien, the TESL Ontario Webmaster, at webmaster@teslontario.ca.
Member Benefits & Savings Programs
Play and Learn - Parent and Teacher stores
TESL Ontario members are entitled to a 10% discount at Play and Learn parent and teacher stores. Please present your valid TESL Ontario membership card to the cashier at the time of purchase.
Play and Learn has two locations; Kingston and Peterborough. For more information about Play and Learn visit their website at: http://www.playandlearn.ca/
Toronto Raptors
TESL Ontario Members will receive discounted prices to select Toronto Raptor games throughout the season once again this year. Visit the Member Savings Section of the TESL Ontario website at: http://www.teslontario.net/members/benefits/savings for details of promo code, available game dates and ticket purchasing information.
Click here for complete details of all TESL Ontario member benefits and savings programs.
TESL Ontario Website Spotlight
TESL Ontario Webcast System
All TESL Ontario members have access to our extensive library of free webcast videos of past conference presentations.
There are close to 200 hours of recorded conference sessions from the past four annual conferences to choose from.
All members accessing the webcast system will use this password: 27carlton. You will also be asked to enter your unique member number.
To Access the webcast system click on the link below:
Select the year (2009, 2010, 2011 or 2012), then select the category, choose a session, and click on "Watch Now".
Complete the Registration Form and click on "Submit"

Your member number as it appears on your membership card

After viewing the session, click on "Yes" and "Submit" to indicate you have completed the session.
Click on "Download PD Certificate" to receive your PD certificate and print it.
If you cannot register or log in, have any issues with downloading your PD certificate, or if you encounter any other technical issues, please email Kevin O'Brien, the TESL Ontario Webmaster, at webmaster@teslontario.org.
If you have any questions about TESL Ontario professional development (PD) requirements for accreditation renewal, please email the TESL Ontario Accreditation Coordinator, at accreditation@teslontario.org.
TESL Ontario Affiliate Updates
TESL Hamilton - Wentworth
ESL Week Contest 2012: TESL Hamilton-Wentworth had its first ever ESL Week Contest this year and it was embraced enthusiastically by both students and teachers! There were over 30 entries for the contest and the judges worked diligently to identify the winning submissions. You can find out about the Contest, the Awards Celebration and see pictures of the winners and judge their winning submissions for yourself in the Special Newsletter Celebrating our First ESL Contest 2012: Please check out the following site:
http://www.teslhw.org/news-and-events.html
Community Partners Resource Information Fair: On Oct.19, 2012, right after our AGM, TESL H-W had its first Community Partners Resource Information Fair at The Courtyard by Marriott in Hamilton. The Fair brought together representatives of various Community Partners, such as the banks, the Red Cross, SACHA, the Hamilton Public Library, Community Dental Health. Each Partner had a display booth where printed and other materials were available for our members. The representative were also able to explain how they could offer a classroom presentation on their community area within the curriculum of the ESL instructors present, or work with the instructor to tailor one for a particular need or subarea. Each instructor also had the opportunity on site of booking a classroom presentation with any of the Community Partners for an upcoming class.

The feedback from both the Community Partners and the members who participated was positive: the instructors thought it was an excellent way of highlighting the resources that were or could be available to them and the Community Partners were able to identify potential contacts for their presentations. It was felt that the buffet style dinner that was available also helped to make the atmosphere a relaxed and enjoyable one.
Executive Openings: We currently have three (3) openings for Member at Large and one (1) opening for a parliamentarian. If you are interested, please contact us at teslhamilton@yahoo.ca
Spring Conference - April 20, 2013:
Call for Submissions: If you are interested in presenting at our Spring Conference or if you know someone who would be a good presenter for our Conference, please contact Maria Crapsi or Brett Basbaum at teslhamilton@yahoo.ca
Please respond to the Survey on what you would like to see at the Spring Conference by accessing the Survey Form at: http://www.teslhw.org/news-and-events.html
TESL Toronto
2013 Upcoming Events:
TESL Toronto has three special events planned this winter/spring:
January 12, 2013 - Computer Workshops (various levels)
February 7, 2013 - Corrective Feedback Workshop with Professor Nina Spada
March 27, 2013- Resume and Interview Workshop by Joan Bartel
TESL Toronto Executive Openings:
The TESL Toronto Executive Board is seeking applications for new Board members, especially from settlement and private language school sectors.

Please visit www.tesltoronto.org for more information.
TESL Peel Halton Etobicoke
Fall AGM and PD Event Update: On October 26, 2012 the Peel Halton Etobicoke Executive held its AGM and PD Event at the Mississauga Convention Centre. The Annual General Meeting began the evening's agenda and was followed by networking and an evening dinner punctuated by speakers Marijke Wertheim and Hedy M. McGarrell. Both speakers delivered excellent thought-provoking speeches to an attentive audience. Thank you to all who made this event such a success!
LearnIT2Teach Celebrates Third Birthday
Happy Third Birthday to us!
The LearnIT2teach Project is a year older on January 1, 2013. This is a good opportunity to review what has been accomplished in our efforts to provide web-based courseware to Ontario LINC and ESL learners, and train teachers to use the courseware in blended learning.

Three major milestones have been passed during the last few months:
More than a thousand Ontario teachers have now completed the Stage 1 face-to-face training.
A small but growing group of teachers has now passed Stage 4 of the training, enabling them to create and share their own e-learning materials, and achieving a Post-TESL training certificate from TESL Ontario.
This year's TESL Ontario Conference in early November in Toronto included our biggest presence yet; Almost 600 people registered for eleven different presentations by team members and our instructor training participants.
LearnIT2teach Project Manager for Distributed Learning, Jim Edgar, reports that, "The Annual Conference is our most important training event of the year and 2012 was our best and busiest one yet. This year was another great opportunity to meet colleagues from across Ontario and help them develop new ways of teaching with technology. Many thanks to the conference organizers for helping us reach out to so many teachers."
** Please note: the PDF of the Administrator's Manual can be downloaded at http://learnit2teach.ca/wpnew/Admin_Manual.pdf

Among the training events at the conference were:
Stage 1 training, face-to-face introductions to Stages 2 & 3 and a face-to-face overview of Stage 4
The launch of new training resources for program administrators:

The 85-page LearnIT2teach Administrator's Manual: Integrating and Managing Blended Learning
The LINC Administrator web resource will provide administrators with access to media that enable them to enhance their knowledge and skills as blended learning administrators. The web resource will also provide a virtual meeting space for all LINC administrators to share problems and collaborate to build their knowledge and skills.

Sessions on course editing in Moodle, Authoring online activities with Hot Potatoes, Creating webquests for OSLT & ELT classes
A session on the introduction of Speaking Activities in the LINC courseware over the past year (It's now four-skill courseware!).
What's New with LearnIT2teach? Gave the team an opportunity to share news from the project with TESL professionals.
From the large collection of learning objects originally created with CIC funding by the Toronto Catholic District School Board and Algonquin College, the LINC learning courseware we provide has been continually growing over the past three years. As noted, speaking has been added to the LINC 2-4 courseware and we have added these activities to Tutela.ca for wider access. LINC 2 courseware was rolled out to complement the LINC 2 Classroom Activities books earlier this year, and 90 learning objects for LINC 2 were added to Tutela.ca. Currently, we are working on courseware and learning objects for Ch. 3 Interacting with Others in the LINC 5-7 Classroom Activities books (Vol. 1).

The reception for the team's approach to blended learning has been overwhelmingly positive. A recent evaluation we completed [available at www.learnit2teach.ca] provides clear evidence that the project is having an impact on teaching and learning.

The LearnIT project's philosophy is grounded in the free sharing of educational resources, open-source software solutions and the building of a community of practice on blended learning among Ontario and Canadian TESL professionals. Good results so far point to the sustainability of these best practices and a future where more and more teachers are enabled to create and share curriculum and courseware solutions freely.
Written by: Rob McBride, Project Manager, Communications & Administration, for The LearnIT2teach Project, and Executive Director, New Media Language Training.

TESL Ontario Member Q & A
Q: I attended the TESL Ontario conference how do I obtain my proof of Professional Development (PD)?
A: Your proof of PD for your attendance at the TESL Ontario conference is the receipt you would have received at the time of registration. If you are audited for PD and you are not able to locate the receipt please contact the TESL Ontario office and we will arrange to have another one emailed to you.
TESL Ontario Recognition Awards
TESL Ontario wishes to congratulate the recipients of two TESL Ontario recognition awards designed to celebrate the excellence, commitment, dedication and compassion of individuals involved in the field of English language training.

Four commendable individuals were honoured at the TESL Ontario conference this year with these prestigious awards:

TESL Ontario Silver Pin Award:
John Sivell, Brock University
Sheila McMullen, Citizenship and Immigration Canada (Retired)
The TESL Ontario Silver Pin Award is designed to recognize and honour the significant long-term achievements and contributions made to the advancement of English Language educators, the English Language training sector and/or TESL Ontario.

TESL Ontario Sparks of Excellence Award:
Ninia Sotto, New Canadians' Centre of Excellence Inc.
Shabnam Assadollahi, Ottawa Catholic School Board

The TESL Ontario Sparks of Excellence Award is designed to recognize and acknowledge the excellence and commitment of TESL Ontario members who provide outstanding educational experiences to their students or who demonstrate exceptional leadership/mentoring expertise towards their colleagues and student teachers in a manner that goes above and beyond the day to day duties of their job.
Career Corner
The Career Corner, will bring you hints and tips on career related topics such as:
Resume writing
Job interview skills
Job search techniques
Career advancement
using social media in your job search
and much more!
~~~~~~~~~~~~~~~~~~
Twitter for Job Search 101
Twitter is an online community that connects users to each other in real time. Capitalize on this social media function by building a network and forming relations with potential employers and industry contacts. Remember, decision makers prefer to hire people they already know, have had some sort of contact with, or who come recommended by someone they know.
Twitter Handle - Use your real name. Keep it consistent with other online profiles.

Twitter Bio - Focus on keywords that describe YOU. Think about the kind of followers you want to attract. Add your niche keywords.

Tweet - This is a 140-character burst of information. Think of it as a newspaper headline. Provide information about your latest projects. Share photos and useful articles about your industry. Retweet (RT) and mention others in your field as much as you can.

Hashtags - Track hashtags that are useful for your job search (e.g. #esljobs, #jobs #career). Of course keep up with scheduled Twitter chats such as #ELTChat or #HireFriday.

Follow - Due to the popularity of the "Twitterverse" (and because it's free) most firms and organizations list jobs on Twitter. From companies, to municipalities, to post secondary educational institutions - human resource (HR) staff and recruiters post opportunities on Twitter. Of course you'll want to follow @TESLOntario and career professionals such as me (@AudreyPrenzel) to learn about job search tips and employment news.
Good luck.

Audrey Prenzel

Practitioners' Corner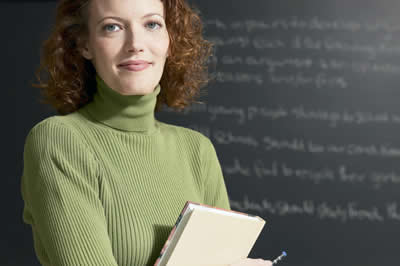 Celebrity 20 Questions
A great questioning game
This is a pretty simple variation of the parlor game '20-Questions'.

Place a label on the back of each student with the name of a well known celebrity and ask them to circulate the room asking their classmates questions that will help them determine the identity of the name on their back.

Click here to view the complete details from Dave's ESL Café website.
SHARE YOUR IDEAS
Click here to submit your ideas, questions or responses for the Practitioners Corner.
TESL Ontario Job Board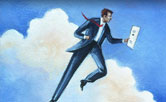 Looking for a job?
The TESL Ontario Job Board is updated regularly with new positions.
Click here to view recent posted positions.
Have a position available?
Post your openings on TESL Ontario's Job Board.
Click here for more details.
Fall 2012
Issue of Contact
FALL ISSUE SUMMARY
The Fall issue of Contact, was released at the end of November.
This issue focuses on Cognition in Language Learning, with two articles that detail how teachers use memory and imagery.
The issue also feature an article "Copy Right or Wrong" that explains the recent changes in copyright legislation and and how that affects what you can copy and show in the classroom.
Also the article entitled "Punctuality in the Real World" offers practical tips about helping your students understand punctuality at work, along with many other ideas.
You will also find book reviews, activities, news, and miscellany in the Fall 2012 issue.
Click here to access this issue of Contact.
The next issue of Contact will be the Conference issue and will be released in February 2013.
Send an email to the Contact editor, Brett Reynolds with your article ideas, proposals and letters to the editor for upcoming issues of Contact at: editor@teslontario.org
Upcoming Professional Development Events
TESL Ontario Affiliate Events
TESL Toronto
Technology Event
January 12, 2013
Corrective Feedback Workshop with Nina Spada
February 7, 2013
Tips for Resume and Interviews for ESL Teachers with Joan Bartel
March 27, 2013
Spring Conference
May 25, 2013
TESL Ottawa
Winter Conference
February 2, 2013
Plenary and AGM
May 4, 2013
TESL Hamilton - Wentworth
Spring Conference
April 20, 2013
TESL London
Spring Conference
April 6, 2013
For details of these Affiliate events click here
Online Events
Free Webinars
Tutela.ca Webinars
Tutela.ca has on going scheduled webinars on various topics related to language training instruction.
Click here for details.
American TESOL Webinars
Shelly Terrel presents free webinars every Friday for American TESOL.
Click here for details of upcoming webinar dates and times.
Scheduled Twitter Chats
#ELTChat
Wednesday's 4:00-5:00 PM
Join a weekly Twitter Chat using the hashtag #ELTchat.
The scheduled discussion has a chosen topic each week and is attended by language teachers, administrators and directors world-wide.
#EAPChat
Every other Monday 1:00 - 2:00 PM join a scheduled twitter discussion using the hashtag #EAPchat and chat about topics important to instructors in English for Academic Purposes (EAP).

Click here for complete details and chat schedule.
TESL Tidbits
Changes to the Reinstatement Application process in effect January 1st
In an effort to further streamline the Language Instructor Accreditation Reinstatement process and to enhance the fairness and transperancy of its requirements, TESL Ontario has reviewed and updated this service, as described.
The updated reinstatement process will be in effect as of January 1, 2013.
Click here for details.
~~~~~~~~~~~~~~~
TESL Ontario on site payment system updated
TESL Ontario is now able to process Master Card payments in the office, in addition to the VISA system we currently have.
Our online payment system takes all forms of credit cards as well as debit.
~~~~~~~~~~~~~~~
TESL Hamilton
Fall Newsletter
Check out TESL Hamilton's Fall Newsletter! Click here for access.
~~~~~~~~~~~~~~~
TESL Ontario Holiday Closure
The TESL Ontario office will be closed from
December 21 to January 2.
~~~~~~~~~~~~~~~
TESL Canada Journal
Special issue available click here for access.
~~~~~~~~~~~~~~~
New Affiliate Executive Appointments:
TESL Durham
Sarah Sinclair
President
Diane Christie
Membership Secretary
Sajida Aaron
Treasurer
TESL PHE
Ana Perez
President
Nusrat Ahmad
Membership Secretary
Anjum Karimi
Affiliate Representative
TESL Niagara
Laura Vilk
Membership Secretary
Adrianna Semerjian
Affiliate Representative
TESL Kingston
Ellen Turcotte
Treasurer
~~~~~~~~~~~~~~~
TESL Canada Conference Handouts
Handouts from the TESL Canada Conference are available online.
Click here to access.
~~~~~~~~~~~~~~~
TESL Ontario News Brief
Click here to view the latest issue of TESL Ontario's Bi-Weekly News Brief.