Second CRPD Hearing in the U.S. Senate
9:30 am
Dirksen Senate Office Building, Room G-50
YOU MADE A DIFFERENCE!
Panel One:
The Honorable John F. Kerry
Secretary of State
Panel Two
:
Ms. Frances W. West
Worldwide Director, Human Ability & Accessibility Center,
IBM
The Honorable C. Boyden Gray
Former White House Counsel and Ambassador
Mr. Jeremy A. Rabkin
Professor of Law,
George Mason University School of Law
Mr. Curtis A. Bradley
William Van Alstyne Professor of Law,
Duke University School of Law School
Thank you to everyone who attended the November 5th hearing! Based on YOUR incredible show of support,

Chairman Menendez has scheduled the second hearing on November 21st in a larger room to ensure that advocates can be present and show the Committee their support in person!

You can RSVP for the November 21st hearing

here!

This will help us tell the Committee that the disability community is behind this treaty.
WE NEED YOUR HELP!
WE CANNOT STOP NOW!
Senators Menendez and Corker and others on the Foreign Relations Committee need to continue to hear from YOU and know that you support the CRPD!
Your actions
show the committee members that the community is behind this treaty and that we want the process to KEEP MOVING FORWARD!
Visit our new citizen action portal, www.disabilitytreaty.org for helpful tools to make those calls. Or simply click

the "We Support CRPD" icon above! Share the icon everywhere! Post it on your website, Facebook, and Twitter! They need to hear from our movement now or we will not succeed.
You can also contact Senator Corker at 202-224-3344 and Senator Menendez at 202-224-4744.
YiD Applications Now Being Accepted!
The summer 2014 Youth in Development (YiD) internship program is now open for applications from November 11, 2013 through January 29, 2014.
The YiD program focuses on youth with disabilities from across the U.S. who are interested in international development and foreign affairs careers. The summer 2014 YiD internship program will bring a group of talented graduate students, recent graduates, and rising college juniors and seniors with disabilities to Washington, DC, for nine weeks. This will include a one-week training and orientation program followed by an eight-week internship at an international organization in the Washington, DC, metropolitan area. USICD will cover the cost of fully-accessible housing during the YiD progam, reimburse travel expenses to and from DC, and provide a limited stipend.
It is anticipated that the program will run from May 25 to July 25, 2014. These dates may be subject to change. To learn more about the YiD program, eligibility criteria, and the application process, please visit http://usicd.org/template/page.cfm?id=257. This website answers Frequently Asked Questions for applicants. You can also download a printable handout about the YiD internship program.
USICD thanks the Mitsubishi Electric America Foundation for their support for this initiative.
Senate Foreign Relations Committee Holds First Heating on CRPD in 2013

On Tuesday, November 5, 2013, the U.S. Senate Foreign Relations Committee held the first of two hearings on the Convention on the Rights of Persons with Disabilities, an international disability treaty that was inspired by U.S. leadership in recognizing the rights of people with disabilities worldwide.
Activists representing the broad coalition in favor of the treaty were present at the hearing to show their support. In addition to filling up the hearing room with supporters of the treaty, advocates also filled two additional overflow rooms.
LiveAtState Virtual Town Hall - Disability Treaty
Please join the U.S. Department of State on
Tuesday, November 19, 2013 at 1:00 P.M.
ET

,

for a LiveAtState Virtual Town Hall on theConvention on the Rights of Persons with Disabilities (Disabilities Treaty).
Judy Woodruff,
Co-Anchor and Managing Editor for PBS NewsHour
,
will host a discussion with
Judith Heumann
,
Special Advisor for International Disability Rights
and
Patrick Murphy
, Partner at Fox Rothschild, Philadelphia and a
retired Army captain and Iraq War veteran
about the Disabilities Treaty and its connection to people with disabilities at home and abroad. The audience will be able to follow the conversation live via webcast at
https://liveatstate.connectsolutions.com/DisabilitiesTreaty
and also join the discussion by submitting questions through webchat, email
(Live@state.gov)
, and Twitter
(@StateDept using the hashtag #AskState
).
To log into the LiveAtState event click or paste this link into your browser:
https://liveatstate.connectsolutions.com/DisabilitiesTreaty
Log in by selecting "Guest" on the form. Please enter your name, organizational affiliation and state in the "Name" box.
During the LiveAtState event, please enter your questions into the Q&A box at the bottom of your screen in the "Questions" window. You may submit your questions during the program via email to Live@state.gov or via Twitter to @StateDept using the hashtag #AskState.
USICD's David Morrissey Speaks at the
Dole Institute of Politics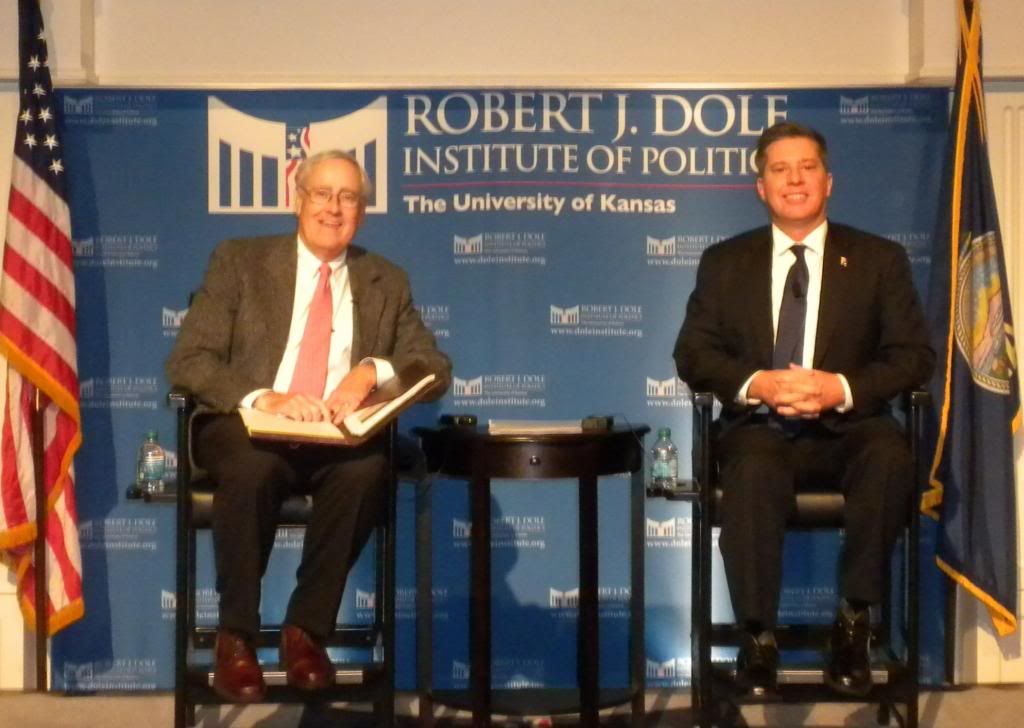 On October 22, 2013 at the Robert J. Dole Institute of Politics at the University of Kansas, USICD Executive Director David Morrissey spoke on the evolution of the disability rights movement and the push for ratification by the U.S. Senate of the CRPD, a cause that Senator Dole has worked so tirelessly to support.
PLAY VIDEO
Campus and Student Leaders for CRPD Advocacy

Campus and student leaders at colleges and universities are a key source of idealism, energy and spirit. You or your student organization can help mobilize others to take action to support the CRPD! USICD wants to help campus leaders like YOU connect with each other. Exchange ideas for how you can help engage YOUR campus community with the campaign for U.S. ratification of the CRPD!
The next national teleconference call for campus/student leaders will be on November 21, 2013 at 4pm EST (3pm Central Time, 1pm Pacific Time). Please communicate with Andrea Shettle at ashettle@usicd.org to obtain details about this call. She can also add you to our mailing list for campus leaders to ensure you receive notice about other calls in the future.
Campus and student leaders also can organize themselves via Facebook at https://www.facebook.com/Students4crpd. Or, sign and disseminate the CRPD support petition for students and youth at http://bit.ly/Youth4CRPD.
USICD Hosts Visitor for Uganda

Richard Mukaga, who works at Cheshire Services Uganda, visited the USICD office in late October to meet with USICD Program Manager Andrea Shettle. He is currently in the United States to participate in the 2013 Human Rights Advocacy Program at Columbia University in New York.
Cheshire Services Uganda is one of the deployment sites for the Global Disability Rights Library (GDRL). Richard Mukaga stated that his organization had provided training in basic computer skills to people from various organizations and schools in their local community. They also provided training in how to use the off-line eGranary Digital Library which contains the full GDRL collection of digital materials on disability rights topics. Their eGranary is being actively used by students at various universities for school work and also by members of the disability community, who use it to educate themselves about disability rights issues.
Richard Mukaga stated that Cheshire Services Uganda hopes to someday forge a partnership with an international organization to provide more training in CRPD implementation to the local disability community in Uganda.
International Disability News
Global Summit on Disability Inclusion in Washington, D.C.: Fifty-seven disability and civil society organizations from 20 countries around the world came together from October 29th to November 2nd, 2013 in Washington, D.C. All organizations involved were united through the U.S. Department of State sponsored Empower Partnerships for Inclusive Communities Program. This two-way exchange program, administered by Mobility International USA, places disability rights at the core of U.S. public diplomacy efforts, and aims to expand the capacity of organization in the U.S. and overseas to promote inclusive communities and advance disability rights around the world. READ MORE
Offer Deaf Children Education in Sign Language:Human Rights Watch released a video on October 18, 2013, in conjunction with a global conference in Sydney on equality for deaf people, which shows some of the challenges that deaf children and young people are facing, and the opportunities sign language education offers them."Sign language is critical for deaf people to be able to communicate, express themselves, and learn," said Shantha Rau Barriga, disability rights director at Human Rights Watch. "Depriving deaf people of the opportunity to learn sign language can condemn them to devastating isolation." READ MORE
Where hyenas are used to treat mental illness:

Somalia has one of the highest rates of mental illness in the world and with a healthcare system devastated by years of war, most sufferers receive no medical help. Many are kept at home, or even chained up to trees. Some are even locked in cages with hyenas. However, one man is trying to change all that. Dr Hab is not a licensed psychiatrist but rather a nurse who, after three months of specialist training from the World Health Organization (WHO), has made it his mission to rescue Somalia's mentally ill. He claims he is able to treat everything from post-natal depression to schizophrenia. READ MORE
Organization seeks creation of disability affairs ministry

:

The African Youth with Disability Zambian network has written to President Michael Sata, seeking the creation of a Ministry of Disability Affairs. According to a letter dated October 1, 2013, interim national coordinator Frankson Musukwa stated that under the Ministry of Community Development, Mother and Child Health, people with disability had been underestimated and were being deprived of their dignity and potential.
Connect with USICD!





And don't miss the U.S. Department of State's
Special Advisor for International Disability Rights
Judy Heumann's Facebook Page
Member News and Opportunities
International Day of Persons with Disabilities 2013
Tuesday, December 3, 2013 - Tuesday, December 3, 2013
Development Officer
Posted: Monday, September 16, 2013
opportunity
W

ORLD HEADLINES AND OPPORTUNITIES
Proposed taxi rules would transform Toronto cab experience
November 15, 2013
Source: The Star
The entrepreneurs of outrage
November 14, 2013
Source: The Washington Post
Senate Hearing Packed: Convention on the Rights of Persons with Disabilities
November 13, 2013
Source: New Mobility
Why we need to pass the Convention on the Rights of Persons with Disabilities
November 13, 2013
Source: The Hill
Disabilities Treaty Is a Journey, Not a Destination
November 12, 2013
Source: Huff Post
Veterans Groups Urge Congress To Approve Disabilities Treaty
November 11, 2013
Source: Think Progress
Local View: Time to ratify the disability treaty By Mike Schafer
November 10, 2013
Source: Journal-Star
Cooperative Progress on Disability Rights is Needed
November 8, 2013
Source: Huff Post
TREATY: TIME TO RATIFY! (actually it should already have happened!)
November 8, 2013
Source: Fox News Insider
US Senate revives UN disability treaty, fate uncertain
November 7, 2013
Source: Agence France-Presse
GOP Gets Another Chance to Back Disabilities Treaty
November 5, 2013
Source: Roll Call
GOP Senators Urge Colleagues To Adopt Disabilities Treaty
November 5, 2013
Source: Think Progress
Kirk, Duckworth promote treaty on rights of disabled
November 5, 2013
Source: Chicago Tribune
The Great Debate
November 5, 2013
Source: Reuters
Let's Be a Voice With People Who Have Disabilities
November 5, 2013
Source: Sojourners
U.S. senators revive bid to ratify U.N. disabilities treaty
November 5, 2013
Source: Reuters
Senate revives UN disabilities treaty
November 5, 2013
Source: The Hill
Shaheen: Senate Should Pass Convention on the Rights of Persons with Disabilities
November 5, 2013
Source: Sen. Jeanne Shaheen (Press Release)
Senator Kirk Testifies at Foreign Relations Committee: Our Soldiers Are Victors, Not Victims
November 5, 2013
Source: kirk.senate.gov
Kuwait backs efforts to implement ICESCR locally, internationally
November 5, 2013
Sen. Menendez: Treaty would promote the rights of Americans with disabilities
November 5, 2013
Source: PBS News Hour
CRPD Ratification Watch
As of November 2013
CRPD:
158

Signatories

138

Ratifications
Optional Protocol:
92 Signatories

78 Ratifications
Recent Ratifications:
Kiribati Ratified the Convention on September 27, 2013



Papua New Guinea Ratified the Convention on September 26, 2013

Bahamas Signed the Convention on September 24, 2013

Guinea-Bissau Signed the Convention on September 24, 2013

Zimbabwe Ratified the Convention on September 23, 2013


Kuwait Ratified the Convention on August 22, 2013


Singapore Ratified the Convention on July 18, 2013


DPR Korea Ratified the Convention on July 3, 2013


Palau Ratified the Convention on June 11, 2013

Norway Ratified the Convention on June 3, 2013

Iraq Ratified the Convention on March 20, 2013

Barbados Ratified the Convention on February 27, 2013

Albania Ratified the Convention on February 11, 2013

USICD
Board of Directors

Marca Bristo - President
Lex Frieden- Vice President
David Hutt - Treasurer
Glen White - Secretary
John Lancaster - Past President
Anita Aaron
Ann Cody
Tony Coelho
Jill Houghton
Axel Leblois
Barbara LeRoy
Susan Mazrui
Patricia Morrissey
David Oaks
Stephanie Ortoleva
Jeff Rosen
Eric Rosenthal
Randy Rutta
Diana Samarasan
Betsy Valnes
Aubrey Webson
Tom Zampieri
Government Members
David Baquis
Joan Durocher
Meredith DeDonna
MarcieRoth
Sue Swenson