Are You Ready to Push the Disability Treaty Through to Success in the
U.S. Senate?
Our opponents are sure ready! They continue to mislead about the treaty and its impact on parental rights and national sovereignty-- the very same scare tactics they used last year to defeat it by a very close 5 votes. We must --and we will-- win this next time around. Our chance is coming soon--and it could be our last chance for a long time. Last week, Chairman Robert Menendez of the Senate Foreign Relations Committee told a small group of community representatives that a hearing in Committee will occur soon!
We must be ready to push for the U.S. to ratify the treaty and everyone must help.
The Senate has previously passed a resolution for ratification that was clear: our national sovereignty and parental rights are not threatened by the treaty. But our opponents refuse to accept the reality. This is not only an insult to the bipartisan supporters for the treaty --including veterans Bob Dole and Tammy Duckworth-- but a disservice to the one billion people with disabilities in the world who look to the United States to lead global progress toward equality, dignity, and opportunity.

Together, amplifying our voices on the Hill and around the country, we are a powerful national movement for the Disability Treaty. Now we must prepare for the next push. So here is what I ask you to do now:
Prepare your organization's letter of support to the Senate

Foreign Relations Committee. Start fresh, or simply brush up the letter you sent last year. As soon as we know a hearing date, we will announce a Letter Blitz in support of the Disability Treaty. You must be ready to send!
Examples of letters other groups have sent can be found on our website for your convenience that you can use to work from. You can also be contact one of the members of CRPD Ratification Coordination Team to support you in this effort. Eventually, all letters will be sent to the Senate Foreign Relations committee and can later be used in a 50-state action for the floor vote. We will send these letters when they will have the greatest impact.
Sign and distribute the petition for ratification.

Every individuals should sign this and share the link with your friends, colleagues and communities. If everyone sends this link, we can build an overwhelming number of signatures that cannot be ignored.

www.handicap-international.us/support_the_disability_treaty
Increase and spread your social media.

TWEET DAILY! Address your Tweets to Senators by starting your tweet message with an "at" sign (@) with their Twitter handle. Check this

list of Twitter handles for all Senators

. EXAMPLE: if you want to address Senator Bob Corker, start your Tweet with @SenBobCorker . Use the following hashtags: #isupportcrpd, #crpd, #disabilitiestreaty. Consider following other great advocates like @USICD, @ashettle @RhondaNeuhaus @IntDisability @auntpip.
If every organization will start with these three steps now, we will be positioned to make a big impression when the treaty process begins again in the Senate. Thank you for your continued support on this effort. More information will be sent as soon as we have it. Together, we WILL succeed!
USICD ED to Speak at Dole Institute
National Council on Disability Hosts Educational Forum on the CRPD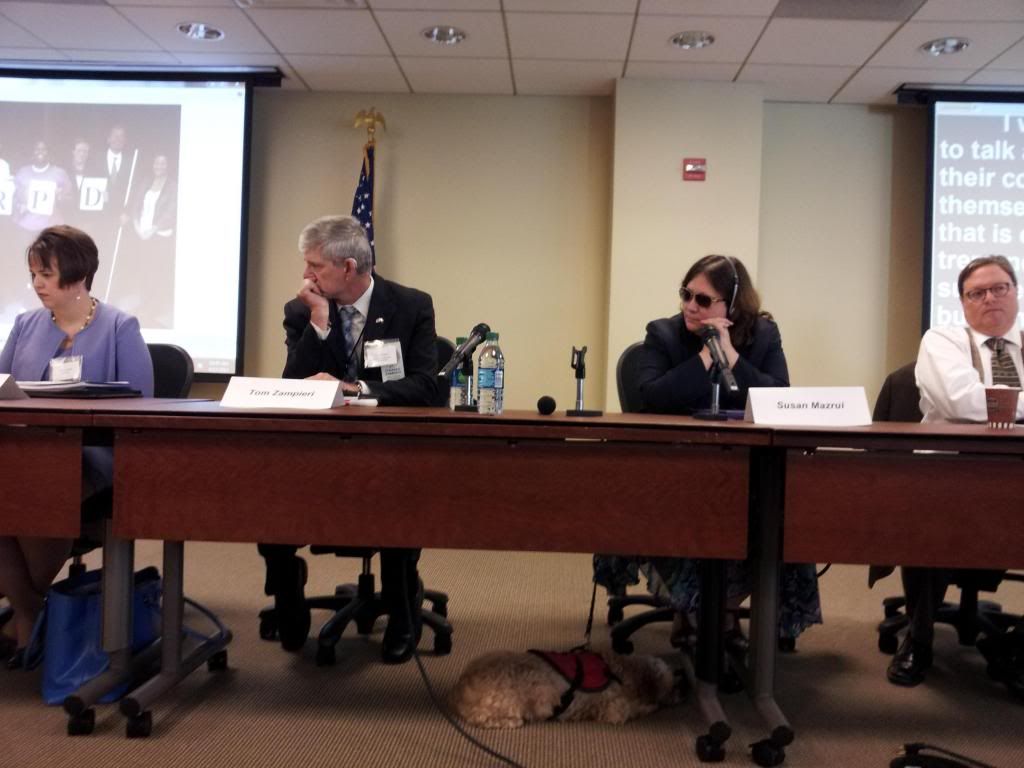 On September 17, NCD convened community members from around the country and Washington, D.C., to learn about the disability treaty. In partnership with NCD, USICD provided the treaty training and facilitated dialogue among the participants. The Honorable Tony Coelho and NCD chair Jeff Rosen kicked off the meeting, followed by an overview of the treaty, led by USICD Executive Director David Morrissey and Disability Rights Program Manager Esme Grant. U.S. Department of State representative Judy Heumann, U.S. Department of Justice representative Eve Hill and John Wodatch (Retired, U.S. Department of Justice) presented on the ratification package submitted to the U.S. Senate by the Obama Administration. After a short break, VetsFirst representative Heather Ansley, Blind Veterans of America representative Tom Zampieri , Disability Rights International representative Eric Rosenthal, AT&T executive Susan Mazrui, Leadership Conference representative Ellen Buchman and Jewish Federations of North America representative David Feinman shared why ratification was important from their perspectives, as well as what their organizations are doing to support the effort. It was an energetic program that spread awareness of the CRPD.
Deaf Awareness Week and the CRPD

The global deaf community recently celebrated the International Week of the Deaf from September 23 to 27. The National Association of the Deaf (NAD), USICD, and other organizations collaborated to use the week as an opportunity to raise awareness about the Convention on the Rights of Persons with Disabilities (CRPD) within the U.S. deaf and hard-of-hearing community. The CRPD is the only international human rights treaty that recognizes the inclusion of sign language and deaf culture in society. The CRPD promotes the importance of access to information and communication for all deaf people, and people with disabilities generally, regardless of their preferred method of communication.
The U.S. has not yet ratified the CRPD: but, USICD, NAD, and more than 700 other organizations want to change that. The involvement of deaf and hard-of-hearing individuals and other members of the disability, veterans, faith, business communities is crucial in pushing for U.S. ratification of the CRPD.
NAD, USICD, and the Student Body Government at Gallaudet University in Washington, D.C., held a rally on campus in support of the CRPD on September 24, 2013. USICD is currently in the process of formatting video clips to be posted to its website. The deaf and hard-of-hearing communities are now able to turn to a new web page designed to demonstrate their support for U.S. ratification of the CRPD. The Deaf Community CRPD Support page (including resource links in American Sign Language and international sign language) guides users to resources for learning about the treaty and urging senators to support U.S. ratification. The page links to letters and other communication from U.S. deaf and hard-of-hearing organizations that call for U.S. ratification. These resources complement USICD's materials for CRPD advocates.
Representatives from Challenge Your Disability Initiative (CYDI) in Nigeria Visit USICD

Two visitors representing a Global Disability Rights Library (GDRL) deployment site, Challenge Your Disability Initiative (CYDI) in Bauchi State, Nigeria, came to USICD's office in late September to exchange news on their recent activities. Doctors Balogun Israel Adekunkle and Abiodun Hauwa Isa Yuguda first attended the United Nations High Level Meeting on disability, then came to Washington, D.C., in part to visit USICD.
They reported that CYDI has been using their eGranary Digital Library as a tool for teaching students at a local inclusive school. They also have made their eGranary open to members of the general public, including students at various local universities. They had intended to organize a regional workshop for people with disabilities on leadership and capacity building. However, local security challenges have forced them to temporarily postpone the workshop.This workshop would have used materials from the GDRL collection in their eGranary. Now that calm has returned to their country, Doctors Adekunkle and Yuguda plan to provide the workshop soon.
In other news, CYDI representatives reported that they have succeeded in developing a bill to promote the rights of people with disabilities and creating an agency for them. The bill has been passed into law; the agency has been inaugurated and is now operational. The visitors stated that the law has led to a paradigm shift in the attitudes of people with disabilities, their families and general society toward the community's issues. This cohort is now included in state development programs. Some have now received scholarships to study abroad toward undergraduate degrees for the first time in the history of the state. CYDI also helped secure a four percent quota on jobs in the state-level government for people with disabilities. The CYDI representatives also told USICD that they were the first organization to organize a regional conference raising awareness about HIV/AIDS among people with disabilities in Nigeria.
The View from Georgia
My name is Giorgi Akhmeteli from the Republic of Georgia, and I am the founder of the Georgian organization "Accessible Environment for Everyone" that advocates for the interests of persons with disabilities and aims to contribute to their social integration and to the realization of their fundamental rights to be engaged at each level of social and civil life.

I would like to share my journey, and the path I have chosen to fulfill my personal and civic goals that have eventually merged and become the same. Due to a spinal cord injury in 2003,

I am now a wheelchair user. Si

nce then I have had to overcome the same obstacles others with disabilities have to face in their everyday lives, difficulties I could only have imagined before.

READ MORE

USICD Welcomes New Chief Development and Communications Officer

Kevin R. Locke is a development and a communications executive who has worked in the nonprofit business sector for many years. He is a native of Boston and graduated from Boston College with a B.A. in English Literature and Communications. He has also done graduate work at Fordham University and Pontificia Universita' Gregoriana (Rome).
Locke loves the critical intersection of fund development and communications. Holding the portfolio for both gives him the opportunity to create strategic messaging that generates both impact and revenue. He is anxious to see the Treaty passed so that advances may be made globally for the disabled community.
Locke began his career in Washington at National Association of College and University Business Officers. Among other organizations, he has worked in public broadcasting, most notably at WGBH NPR/PBS in Boston, MA. He worked at WXEL NPR/PBS in Palm Beach, FL, and as the public relations director at the 46 language radio station in the Vatican. He has held both communications and development positions in organizations.
Mr. Locke has worked in the disability community in several capacities. He worked in Kingston, Jamaica, with disabled elders, and with a retired Army general in establishing a start-up company to provide rehabilitation, employment, reasonable accommodation and care resources for the vision impairment community, their caregivers, employers and families. His older brother had polio and used an iron lung and wheelchair for the 54 years of his life.
Locke is active in the preservation community in DC where he has held board positions. He also performs with the Washington Men's Camerata and has served on its board. His rescue dog Bruno keeps him on his toes and responds to commands in Italian!
International Disability News
Russia: Barriers Everywhere: Human Rights Watch published the report "Barriers Everywhere: Lack of Accessibility for People with Disabilities in Russia". The 118-page report is based on 123 interviews with people with disabilities and their families in six cities across Russia. It documents everyday hurdles people with disabilities meet when going to government offices, shops, healthcare centers, employment settings, and accessing public transportation. READ MORE
NEW DATA FROM THE 2013 CRPD ICT ACCESSIBILITY PROGRESS REPORT SHOWS URGENCY FOR THE UNITED NATIONS TO PROMOTE A DISABILITY INCLUSIVE DEVELOPMENT AGENDA

Underlining the urgency for the United Nations to adopt a post-2015 development agenda inclusive of persons with disabilities, the

CRPD 2013 ICT Accessibility Progress Report

includes the latest data measuring the degree to which 72 States Parties are implementing the accessibility provisions of the Convention on the Rights of Persons with Disabilities (CRPD). While noting some progress in implementing core principles of the CRPD, the report documents significant deficits in promoting policies and programs to make essential services accessible to persons with disabilities around the world.

READ MORE
YiD Sign-up Approaches!
2014 applications for our Youth in Development internship program will be available online starting November 11. Visit our
YiD Pages
to find out how to apply and more about YiD.
Connect with USICD!





And don't miss the U.S. Department of State's
Special Advisor for International Disability Rights
Judy Heumann's Facebook Page
W

ORLD HEADLINES AND OPPORTUNITIES
Presidential Proclamation -- Blind Americans Equality Day, 2013
October 11, 2013
Source: The White House
Video on Sign Language Education for Children
October 18, 2013
Source: World Federation of the Deaf
Organization seeks creation of disability affairs ministry
October 8, 2013
Source: Global Alliance on Accessible Technologies and Environments
"When I Walk" Premiere in NY & LA
October 2, 2013
Wheelchair Diaries: One Step Up is an official Utopia 2013 selection
October 1, 2013
UN: Put Human Rights at Heart of New Development Agenda
September 30, 2013
Source: Human Rights Watch
Service Innovation Fund awarded to YPSA
September 28, 2013
Source: YSPA
Malawi Union for the Blind calls for support ahead of tripartite elections
September 27, 2013
Source: Newstime Africa
90 Seconds of Your Time Can Change the World -- Click the "Take Action!" Link
September 25, 2013
Source: Source America
Senate should ratify U.N. treaty on the disabled
September 25, 2013
Source: Los Angeles Times
CRPD 2013 ICT Accessibility Progress Report Press Release 23 September 2013 (NAC)
September 23, 2013
Source: DPI
Key to Post-2015: Hold Donors to Account
September 23, 2013
Source: Disability Rights Fund
Statement from the World Bank Group at the UN High-Level Meeting of the General Assembly on Disability
September 23, 2013
Source: The World Bank


RID Celebrates International Week of the Deaf
September 23, 2013
Source: RID
Secretary of State John Kerry At a High-Level Meeting of the United Nations General Assembly On Disability and Development
September 23, 2013
Source: US State Department
NEW DATA FROM THE 2013 CRPD ICT ACCESSIBILITY PROGRESS REPORT SHOWS URGENCY FOR THE UNITED NATIONS TO PROMOTE A DISABILITY INCLUSIVE DEVELOPMENT AGENDA
September 23, 2013
Source: G3ict
IDA Statment on the United Nations High-Level Meeting on Disability and Development
September 23, 2013
Source: International Disability Alliance
Left Behind: The Case for Disability-Inclusive Development
September 21, 2013
Source: Huffington Post
Michelle Kwan Calls for Ratification of the Disability Treaty
September 18, 2013
Source: US International Council on Disabilities
2nd International Conference of the WFD
Wednesday, October 16, 2013 - Friday, October 18, 2013
The Next Chapter Book Club and Beyond
Friday, October 18, 2013 - Saturday, October 19, 2013
Wheelchair Diaries screening
Saturday, October 19, 2013 - Saturday, October 19, 2013
Fourth International Conference on Information and Communication Technology and Accessibilit
Thursday, October 24, 2013 - Saturday, October 26, 2013
Reel Abilities Disability Film Festival
Saturday, October 26, 2013 - Tuesday, October 29, 2013
The Disability Experience: State of the Arts, Research and Scholarship
Thursday, October 31, 2013 - Friday, November 1, 2013
International Day of Persons with Disabilities 2013
Tuesday, December 3, 2013 - Tuesday, December 3, 2013
CRPD Ratification Watch
As of June 2013
CRPD:
158

Signatories

137

Ratifications
Optional Protocol:
92 Signatories

78 Ratifications
Recent Ratifications:
Kiribati Ratified the Convention on September 27, 2013



Papua New Guinea Ratified the Convention on September 26, 2013

Bahamas Signed the Convention on September 24, 2013

Guinea-Bissau Signed the Convention on September 24, 2013

Zimbabwe Ratified the Convention on September 23, 2013


Kuwait Ratified the Convention on August 22, 2013


Singapore Ratified the Convention on July 18, 2013


DPR Korea Ratified the Convention on July 3, 2013


Palau Ratified the Convention on June 11, 2013

Norway Ratified the Convention on June 3, 2013

Iraq Ratified the Convention on March 20, 2013

Barbados Ratified the Convention on February 27, 2013

Albania Ratified the Convention on February 11, 2013

Board of Directors

Marca Bristo - President
Lex Frieden- Vice President
David Hutt - Treasurer
Glen White - Secretary
John Lancaster - Past President
Anita Aaron
Ann Cody
Tony Coelho
Jill Houghton
Axel Leblois
Barbara LeRoy
Susan Mazrui
Patricia Morrissey
David Oaks
Stephanie Ortoleva
Jeff Rosen
Eric Rosenthal
Randy Rutta
Diana Samarasan
Betsy Valnes
Aubrey Webson
Tom Zampieri
Governemnt Members
David Baquis
Joan Durocher
Meredith DeDonna
MarcieRoth
Sue Swenson