Master Miller Bob Singletary hand selects Limited Reserve each year to represent the best pressings from the first few weeks of harvest.
Sign up now for our VIP List
to be among the first to receive notification once it's available, typically in late November. VIP List members will also receive an exclusive discount.
Sign Up for Our VIP List
HOLIDAY CLASSICS SWEEPSTAKES

David Magana plays a key role in our fall harvest. David is the Field Supervisor at our Corning Ranch, in northern California. And he's among the team that pilots our harvesters and gathers olives during harvest.

Rancher Brian Mori talks about this year's olive crop and how we decide when to begin our harvest.
Read the Ranch Update
REINVENTING HOLIDAY CLASSICS WITH OLIVE OIL

At long last we're gathering olives and making extra virgin olive oil! This is our most exciting time of year at California Olive Ranch. Our field crews are working around the clock harvesting olives from close to 15,000 acres of trees throughout northern California. The amazing smell of fresh olive oil fills the mill.

It's also a special time of year because we make a very special extra virgin olive oil: Limited Reserve. Limited, as we call it, is the freshest oil we make. It goes straight into the bottle, without spending any time in a tank where fruit particles can settle and be removed.

We bottle Limited just once a year - so it's availability is fleeting. When you put a spoonful of Limited Reserve in your mouth, you taste a "burst" of fresh olive fruitiness, followed by a pleasant peppery tickle in your throat.

This holiday season we're reinventing our traditional classic dishes using olive oil instead of butter.

So rather than rub our turkey with butter, we'll rub it with a combo of our Everyday Fresh oil, fresh herbs, and robust garlic. We'll bake our cakes and breads with extra virgin olive oil, adding moistness where it may be lacking when using traditional butter. We'll also drizzle our roasted vegetables with Limited Reserve.

We've assembled a variety of recipes to help you reinvent your holiday meal - from turkey and stuffing to mashed sweet potatoes and roasted cauliflower. All use extra virgin olive oil. We've also interviewed a culinary power couple who specialize in helping people prepare healthy meals: Marge Perry and David Bonom.

Marge and David develop recipes for magazines, corporate clients and cookbooks. They are contributing editors to Cooking Light magazine and - both together and separately - write for many other publications.



In the meantime, grab the extra virgin olive oil and let's get cooking! What better way to celebrate Thanksgiving than with an all-American extra virgin olive oil.
Herb Rubbed Roasted Turkey
This succulent bird - developed by our featured chefs
Marge Perry and David Bonom
for
Anolon Gourmet Cookware
- is rubbed with fresh sage, thyme, garlic, and olive oil before going into the oven. The olive oil and herb rub goes under the skin, helping infuse the meat with flavor. Use our
Everyday Fresh
oil to make the rub and keep the turkey moist.
Get recipe
Caramelized Onion and Sage Mashed Sweet Potatoes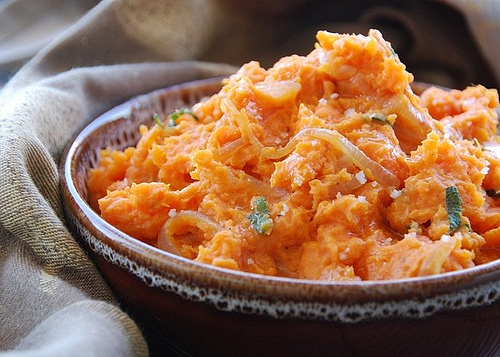 Caramelized onions and robust sage enhance the sweetness of the potatoes. With this dish, from
Food52.com
, try our robust
Limited Reserve or Miller's Blend
to add still more flavor.
Get recipe
Oven-roasting cauliflower with extra virgin olive oil brings out and intensifies its natural sugars. Roast this dish - created by our featured chefs for
Anolon Gourmet Cookware
- with our
Everyday Fresh
. And give the cauliflower a finishing drizzle of our medium robust
Arbosana
.
Sourdough, Cranberry and Chorizo Stuffing

"Smokey and slightly spicy chorizo and tangy cranberries prove that opposites not only attract, they can form a perfect union," note
Marge Perry and David Bonom
, who created this recipe for
Anolon Gourmet Cookware
. Prepare the stuffing with our
Everyday Fresh
.
Get recipe
We find that lemon desserts go well after a big meal. This moist, flavorful cake - from our featured chefs - uses lemon in both the batter and the glaze. For added fruity flavor, bake it with our
Arbequina
.
Get recipe
Marge Perry and David Bonom
Marge Perry and David Bonom are a culinary power duo. The married couple develop recipes for magazines, corporate clients and cookbooks. And, when they're not in the kitchen whipping up new dishes, they're contributing editors to Cooking Light magazine and - both together and separately - write for many other publications, including Newsday, Fine Cooking, Every Day with Rachael Ray, Self, The New York Times and more.


What's your best advice for home cooks who don't have time to create elaborate meals daily, but want a healthy balanced meal for their family?

It doesn't have to take a lot of time to prepare fresh, healthful food. Searing a piece of salmon in good olive oil and topping it with a colorful mango and sweet pepper salsa, for example, can be on the table in about 20 minutes - and it's packed with all kinds of healthful nutrients. Having good, simple ingredients on hand is really the key.

Who gets to do the cooking at home - and what do you like to prepare?

We both cook! Our home is also our test kitchen, photography studio and offices. Depending on what we're working on that day, we might have several dinners to choose from - or sometimes none. If David happens to be working on a dessert story and Marge is researching or writing an article, then in the afternoon we might realize there isn't anything for dinner and we sort of look at each other like, "How can this be?" Those are the days we figure it out at the last minute like most people.

But since we always have a well stocked pantry, we can put a meal together at a moment's notice. One of our favorite last-minute meals is David's frisée salad with a poached egg and shallot vinaigrette.

How do you like to use California Olive Ranch extra virgin olive oil in your cooking?

The list is endless, but off the top of our heads: salad dressings, roasting vegetables (tossing cauliflower with olive oil and plenty of ground black pepper and putting it in a single, uncrowded layer on a shallow baking sheet pan and roasting until it is just tender and lightly browned), grilling of course, all kinds of marinades (for steak, pork, chicken and vegetables), quick sautées, in mayonnaises, to drizzle on a dish as a finish.

Tell us about the new cookbook you're working on?


This is our first cookbook together, and we're having a blast. It is for people who love to cook. Some of the recipes are the kinds of things you've always thought you really want to try - cooking that allows you to immerse yourself in the pleasures of being in your kitchen: focaccia with caramelized onion and rosemary, slow-roasted lamb shanks, tart tatin, olive oil pound cake. Other recipes are for ingredients and techniques that we just love, like our shaved raw artichoke salad with Parmesan (one of Marge's favorites) and smoked pulled pork (which David would happily eat at least once a week).

We hope that anyone who loves to cook, whether they are fairly new to it, or have spent years in their kitchen, will find new and interesting dishes to make and love. Oh - and because it is the way we like to eat, the food is healthful. So much so, actually, that Cooking Light magazine is even putting their name on it.

What's in your home fridge?

Oh dear, it is an embarrassment of riches at the moment. Let's see, there is red wine beef stew, chopped salad with avocado and blue cheese dressing, baked apples with maple walnut filling, marinated pork chops, grav lax - plus our basic ingredients (yogurt, berries, condiments, eggs, Kerrygold cheese and butter, nitrate free bacon, hoisin, soy sauce, sriracha, milk ...). In truth, we have three fridges, so our list is terribly long!

What is your favorite holiday menu item transformed using olive oil?


We both love olive oil mashed potatoes made with plenty of roasted garlic and roasted root vegetables.

What is your fondest food memory around the holidays?

Our love of food and cooking is what brought us together. And, for both of us, food is much more than simple physical nourishment - it also nourishes our hearts and souls. Most holidays are as much a celebration of sharing wonderful meals with people we love as they are about anything else.

Preparing food on the holidays is also about nurturing and pleasing people. And for Marge there is no better example than the gravlax her mother made for us two Thanksgivings ago, which Marge wrote about in the article reprinted here.