Greetings OPPAL writers & readers!
We became a military family in early December 2011 when our son joined the Marines. Now, the American Flag and the Marine Corps Flag proudly fly high from the flag pole in the front yard and a small Blue Star Service Flag hangs prominently in the window near the front door to our home. The single blue star represents our son, a member of the Armed Forces, serving on active duty. Our family is just one of many throughout the United States in similar situations.
There is another exclusive group that no family ever asks or wants to become a part of--Gold Star family members. Their Service Flag is adorned with a gold star to represent a family member who made the ultimate sacrifice and gave his or her life while serving our country.
Gold Star Mother's Day is observed annually in the United States on the last Sunday of September. It is a day set aside to recognize and honor those who have lost a son or a daughter while serving in the United States Armed Forces. Luminary ceremonies will take place at dusk on September 29, 2013 in homes, neighborhoods, and parks throughout the United States and my community, Columbia, Missouri, is no different.
We hope that you will light a luminary on Gold Star Mother's Day. Please encourage your community, your family, and your friends to honor and support for the mothers and families of all of our Fallen Heroes.
Thank you and God Bless.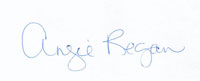 Angie Regan
Operation PAL Manager
Marineparents.com, Inc.