Greetings OPPAL writers & readers!
Have you ever planned an important party and become extremely nervous on the day of the event because you imagined that not a single person would show up? Well, whether your answer is yes or no, I want you to know that I have NEVER had to worry about going to the post office and turning the key to open that big ol' mailbox only to find it empty! Every single week, without fail, there is mail from so many of you, each letter written with love, kindness, and encouragement for the wounded heroes of the Operation Prayers and Letters Program.
I believe one of our young writers from St. Frances Cabrini Church said it best in a handwritten card sent this month.
"Dear Hero, To start off, I would like to say thank you for absolutely EVERYTHING. There is no way we can ever thank you more than sending our thoughts and prayers toward you and your fellow soldiers. We deeply appreciate you for fighting for our country."
Thank you for your continued support. Believe me when I tell you that all of the participants are very touched you take the time to show how much you care with a hand written note of encouragement or a soft spoken prayer.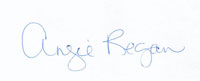 Angie Regan, Manager
Operation PAL™
MarineParents.com, Inc.