Added: none
Removed: LCpl Jed 1/7
Card Writer Focus
Victoria & K-la sent 4th of July greetings to the OPPAL participants this month. Girls, your wonderful hand made cards with its special treat placed inside are certain to bring lots of smiles and enjoy"mint"!
Send your cards & letters
HERE:
P.O. Box 758
Columbia, Missouri 65205
If you have a specific participant you are writing, please feel free to address cards or letters to them.

For example:
Cpl Todd
1st Recon
c/o OperationPAL™
P.O. Box 758
Columbia, Missouri 65205



Learn More About
MarineParents.com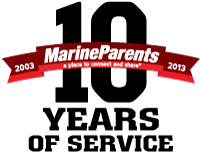 Greetings!

Hello!
I'm not sure about your home state, but the phrase "hotter than a firecracker" certainly applies to the month of July here in Columbia, Missouri!
I hope each of you were able to spend your Independence Day enjoying time with family, good friends, delicious food, laughter and fun activities. We are so blessed to be able to celebrate this wonderful holiday. Of course, you don't have to wait for a holiday to be proud and let your patriotism shine through! Any day is an appropriate day to show your love for our country, whether it means raising an American flag, wearing red white and blue, or saying "Thank You" to a veteran of our armed forces.
We are so grateful to all the volunteer writers who participate in Operation Prayers and Letters™. Thank you for caring so very much about our troops and keeping them in your prayers and sending special notes of encouragement. Please know that even the smallest of gestures can make a large impact.
Enjoy your summer!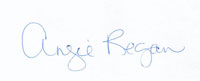 Angie Regan, Manager
Operation PAL™
MarineParents.com, Inc.
Thank you Michelle, for your patriotic drawing of the Statue of Liberty
Participant Highlight:
Sgt. Eddie
We received an email from Eddie's mom, Angela, recently and wanted very much to share it with all of you. Here is just a segment of the correspondence. For the full details, please visit Sgt. Eddie's profile..
"I would like to first thank you and all our dear OPPAL writers. The cards and letters we receive are WONDERFUL! The Sgt. looks forward to them and is able to read them aloud to us. As the packets come in, we put aside a special time in the evening to 'read the mail' and I can't begin to tell you how really nice it is. It warms my heart so because I think back to the time when the doctors said that 'if Eddie lived, he would not remember who he was or who his parents were and pretty much not be able to do anything....and, so, when we see the amazing will and determination he has and all that he has gone through and still goes through...we are so inspired and blessed. All the wonderful friends that write (and a lot of them we've come to know very well) help Eddie to stay strong and motivated and he is driven by that connection....it's so fantastic. We feel so much joy for him. Please let all our writers know how much we appreciate the lovely cards, letters and drawings...each is read, enjoyed and SAVED!"
It's heartwarming to hear about Eddie's progress and the enjoyment your cards and letters bring. Thank you for continuing to keep Sgt. Eddie in your prayers and keep those cards and letters coming!!!
To listen to a thank you voicemail from Sgt. Eddie, click here...
Writer Question
Another question we hear quite often from OPPAL
™
volunteer writers is: "I want to make sure I do not make a mistake. What do you mean by Company?"

Below is a screen shot of LCpl. Josh's profile. Under his name it says 2/5 Echo - that is the company information. Each participant's profile lists a company number and/or name under their name. Some are just numbers and some just say "US Army" but that additional information is helpful to us to determine which participant you are writing to, especially when there are duplicate first names. If you are writing to Eddie, for instance, the company name is not as critical because we only have one Eddie at this time.
Hopefully this helps clear up any confusion.
Do you have a specific question you need help with? Please ask! Email: OpPAL@MarineParents.com
Mission Statement &Thank You
OperationPAL
™
provides support -- through prayers and letters from the general public -- to military members who have been injured or become ill while serving in combat zones. This outreach program encourages support of our wounded heroes in communities throughout the United States.
Thank you so very much for remembering our wounded and ill when you write and pray. Your kindness is most appreciated!