Recent Changes

In the Spotlight:
Thank you to Military Mom, Kathy, from Weaverville, NC! She and her fellow Arvato coworkers got together to create handmade notecards with message of prayers tucked lovingly in
Send your cards & letters
HERE:
P.O. Box 758
Columbia, Missouri 65205
If you have a specific participant you are writing, please feel free to address cards or letters
to them.


For example:


PVT Mike
c/o OperationPAL™
P.O. Box 758
Columbia, Missouri 65205
Greetings!
The Month of May is filled with numerous holidays and observances! When I arrived at work on May 1st there was a small potted geranium on my desk in celebration of May Day. Our family enjoyed a Mexican fiesta lunch on Cinco de Mayo. The second Sunday in May, I received a text from across the globe from my Marine who took the time to wish his momma a Happy Mother's Day.
The entire Month of May is recognized as Military Appreciation Month and the Friday before Mother's Day is set aside to acknowledge Military Spouses. The third Saturday of the month is marked as Armed Forces Day to honor all branches of the military. There are many occupations observed during the month of May as well; National Teacher Appreciation Day, National Nurses Day and a general search of the Internet will give you a host of other wacky holidays if you need more reasons to celebrate.
The last Monday in May is Memorial Day, or, as my Grandparents often called it, Decoration Day. The cemetery in my hometown is a beautiful sight to behold on this day. The narrow asphalt drive that winds its way throughout the grounds will be lined on both sides with American flags in honor and remembrance of all military men and women who died defending our freedoms and way of life.
Please take the opportunity this month to show your appreciation for our military and on May 27th be especially mindful of the brave troops whom we have lost throughout the years.
Thank you!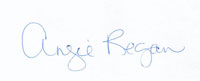 Angie Regan, Manager
Operation PAL™
MarineParents.com, Inc.
There were a tremendous amount of wonderful cards and letters this month, but once this one caught my eye, I knew I had to share it with you!
"Dear Soldier I Thank you for serving our country. I hope you get well soon, and you are the Best Team Ever"
I received two full boxes from Tom Krewson, the Chapter Co-Chair of the St. Louis Military Support & Assistance Group, Bank of America. This is Bank of America's third year of showing support of Operation Pal. Their 978 cards, letters, and artwork were a combined effort between Bank of America employees and their families, as well as Discovery Elementary School in St. Charles, MO and Main Street Elementary in Troy, MO.
Thank you Mr. Krewson and all those who participated in this wonderful show of patriotism and thoughtfulness for our troops. We look forward to your continued support!
Mission Statement & Thank You
OperationPAL
™
provides support -- through prayers and letters from the general public -- to military members who have been wounded, injured, or become ill while serving in combat zones. This outreach program encourages support of our wounded heroes in communities throughout the United States.
Thank you so very much for remembering our wounded and ill when you write and pray. Your kindness is most appreciated!