Green House Homes
"In the News"
Upcoming Events
The Green House Project recently joined 250 of our closest friends from around the
country at the 7th Annual Green House Meeting and Celebration in Memphis, Tennessee! Together, with Green House model adopters, we brushed up on our Elvis impersonation, moved to some funky blues music and chowed down on some of the country's best BBQ! The Robert Wood Johnson Foundation welcomed the attendees to the meeting. As their generous grant funding nears its end, it was a powerful time to reflect with gratitude at all that has been accomplished, and our future momentum. The theme of the conference was Leading with Heart and Soul, and with the passion and energy in the room, it was a befitting frame for our time together.

This year's conference took place at the historic and beautiful Peabody Memphis hotel, with a true Memphis welcome from elder, and owner of the Peabody, Jack Belz.
The administration at John Knox Village, decided that their excellent nursing home was getting old, and needed to be updated. The residents of John Knox insisted that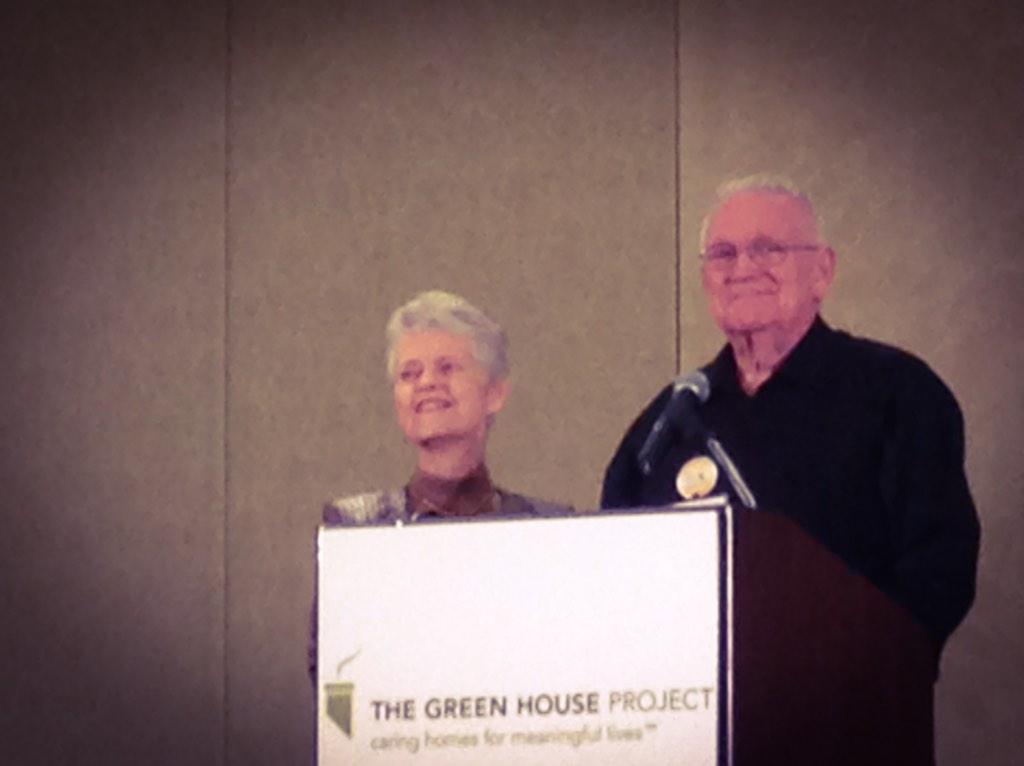 whatever was built had to have a private room with private bath for each person. When David first heard about The Green House model, he was skeptical. He thought it just seemed too good to be true. He feared our local staff wouldn't accept the concept, and he questioned the quality and efficiency of preparing meals in each home. Finally he wondered how wise it was to pay outside Green House "experts" who might dictate plans and organization for John Knox.
In 2011, David suggested a visit some existing Green House homes to learn more. He felt it wasn't fair to condemn the concept in ignorance. The possibility of what could be discovered was exciting.
During the holidays we like to feature a recipe from an Elder in a Green House
home. This year we are featuring a Cranberry Jell-O salad that was a favorite of Millicent Stutzman who lives in the Showalter House at the Virginia Mennonite Retirement Community in Harrisonburg, VA. Her daughter, Marliese Poskitt, shares the story below concerning this special salad. There is no recipe because Millicent didn't use recipes...so her daughter made the salad this Thanksgiving from the memory of watching and helping her mother over the years.
Thanksgiving at our house always involved getting out the metal food grinder that attached to the end of our kitchen counter like a vise. Mom washed the cranberries, peeled the apples, and Dad put them through the old hand-cranked grinder. Along with chopped pecans and Jell-O, it made a delicious and colorful salad...
Continue reading.

The journey to build Green House homes in Rhode Island officially got underway this week with The Green House Project team delivering the first educational session to create a coaching culture with Saint Elizabeth Home leadership.

While a moratorium on building or adding skilled nursing rooms has been in place for years in Rhode Island-Saint Elizabeth Home was one of three applications approved by the Department of Health to deliver a new model of care for skilled nursing.

Matt Trimble, Administrator of Saint Elizabeth Home says "We are thrilled with this approval and look forward to expand our ability to care for RI seniors in a new and creative way on our Saint Elizabeth Home campus.
The American Society on Aging's bi-monthly newsletter, Aging Today, interviewed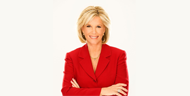 Joan Lunden about her work with A Place for Mom and the need for having a plan in place for your aging parents. Lunden uses her platform as former Good Morning America host to advocate for senior care.
Aging Today asked Lunden about her mother and the obstacles she faced while caring for her:
I was so unprepared, and had no plan in place. I'm sorry to say that I think [that's] typical. It's just part of human nature-we want to think of ourselves as kids and our parents as in charge, impenetrable decision makers. But there comes a time when they're not. ... The day you have to become a parent to your parent is unnatural, and uncomfortable. You don't want to burden your parents by asking what their plans are for later life, you don't want to be presumptive or make them feel awkward, but if we don't ask, [their care] might financially devastate our own family. And our parents are reluctant to answer, which is also part of human nature because it represents their mortality.
The President and CEO of The American Health Care Association (AHCA), Mark Parkinson, recently released a statement to AHCA members regarding President Obama's Executive Action on October 6th to improve the Five-Star Rating Program.
As a result of the President's Executive Action, the Five-Star Program, created by CMS six years ago, will change in two key ways. First, payroll data will be collected in order to improve accuracy of staffing information. Second, the administration has developed three new quality measures that will be added to the nine existing measures: rehospitalizations, discharge back to community and antipsychotic use.
Mary Hopfner-Thomas
Co-Editor
Rachel Scher McLean
Tara Cugelman-McMahon
Co-Editor
THE GREEN HOUSE Newsletter
Published monthly to share information with providers, elders and others about THE GREEN HOUSE
®
Project, a new and innovative approach to long-term, skilled nursing care. To learn more, visit
www.thegreenhouseproject.org
.
Join the Conversation
Working in a Green House home or organization? Join the Green House Forum! For more information visit our Web site or email greenhouse@capitalimpact.org.