Receive MFSA updates


Volume IX
Issue 20

5 December 2014
Greetings!


Anger. Frustration. Fear. Discomfort. Apprehension.
All of these emotions have coursed through my veins this past week and a half. From Ferguson to Staten Island to the streets of DC and beyond, never in my short 37 years have I witnessed blatant racism and rampant white privilege.
My understanding of white privilege started when I was 15 years old. I was getting off the bus from summer camp - the same summer camp where I recognized my sexuality - and was given a big hug by Tangela, an African-American camper with whom I became friends that week. The look on my father's face said it all - I'd be better off bringing a white man home to meet my parents than a black woman. That moment taught me a lot, and still I wrestle with how it shaped my understandings of race, racism, and sexuality.
This week I've seen gay, white men take to social media with incendiary statements like "Why should we care? Black pastors are all anti-gay," and subtle privilege: "Section 8 family moving next door. Time to move?" It's as if members of the LGBTQ community have
forgotten our history of oppression and resistance.
Last night, as I marched through downtown Washington, DC, I couldn't help but be reminded of the concepts of
ubuntu
and
unhu
. Simply put, "a person is only a person through other people." Or to put it in Pauline words, "if one part of the body suffers, all parts suffer with it (1 Cor 12:26)." As we meandered through the streets of DC, there were passionate activists and inquiring allies; there were Black, White, Filipino/a, Latino/a people of many hues; folks of varying sexual orientations and physical abilities were present - all of us were clear: "If you can't breathe, I can't breathe."
I hope - no, I expect - that you'll be part of this movement for justice. Because black lives matter. Because mass incarceration matters. Because militarized policing matters. Because recognizing privilege matters. Because following the Gospel matters.
Not Waiting This Advent,
Chett Pritchett

Executive Director
chett@mfsaweb.org
Advent Blog: Incarnation, Race, Power, and Privilege

When you hear the word "Advent," what other words or images come to mind? For some it might be "waiting," or "preparation." For others it might be "journey," or "wandering." But if you read the lectionary readings during Advent, we think you'll come across one common theme: JUSTICE.

From christmasstockimages.com.


Indeed, the season of Advent heightens out awareness of God's call for justice for the poor and the oppressed. During this season, MFSA will host a blog series on incarnation, race, power, and privilege. Events in Ferguson, Missouri simply scratch the surface on conversations about race and privilege in America. It is our hope that these short blogs from young adult theologians will provide reflection and spark further conversations around dinner tables, Sunday school rooms, and classrooms during this seasons of waiting.

You can view all of our blogs by going to www.mfsaweb.org and looking at the blog feed. Social media links will also be provided on our Facebook and Twitter accounts.


At The White House: War, Rape, and Reproductive Health
Around the world, women and girls who survive rape in conflict are unable to access the care that they need because of U.S. political barriers to safe abortion.

Join MFSA and leaders from women's rights, human rights, reproductive rights, peace and security, faith-based organizations, and more in Washington, D.C. for a rally at the White House on the eve of International Human Rights Day. Tell President Obama: break barriers to comprehensive post-rape care, including safe abortion, for survivors of sexual violence in conflict!




If you're in DC or close by, meet other United Methodists and progressive people of faith at 12Noon in the North East Corner of Lafayette Square (near McPherson Square metro stop) so we might congregate before the rally.

To better assist in planning for the event, please RSVP here AND here.
#GivingTuesday Thank You!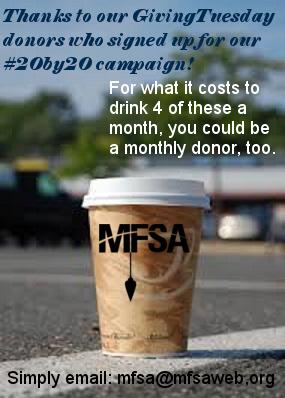 For the third year, MFSA particpated in Giving Tuesday, a day set aside from shopping to highlight philanthropy and giving. This year we're tried something a little different.

Monthly giving spreads generosity throughout the year - and it's super easy! MFSA is seeking 20 new monthly donors at a level of $20 or more per month.

We didn't reach our goal - BUT, you can sign up any time to be a monthly donor at any level, simply by emailing us!

Many thanks to our new monthly donors: Shirley Drake Byers, Darlene DiDomineck, Barbara Drake, Barbara Lynch, Jan Nelson, Chett Pritchett, Mary Kay Totty, and Beth Velazquez!


Tuesday, December 9: Witness at The White House (see above article)
MFSA staff attending
Saturday, December 13 and Sunday, December 15:
RootsCamp
,
Washington, DC
Chett Pritchett, Executive Director, participating
Joey Lopez, Board Member, participating


Sunday, January 25:
First UMC
, Evanston, IL
Chett Pritchett, Executive Director, preaching