Private Eyes February Newsletter


2010 Trends

February, 2010

Quick Links

Applicant Tracking Systems

INDUSTRY SPECIFIC SERVICES

TransportationHealthcareFood & BeverageRetail & GroceryOther Industries

Letter From the President




Even though we have entered a new decade, there are lessons that we can learn from the last. This issue will take a look at some of the predominant trends in our industry so that you can equip your company's pre-employment screening program for 2010.

Speaking of trends, it is not a bad idea for companies to track and analyze various trends in their background screening programs. This way, they can identify existing problems and move into the new year knowing where improvements need to be made. We will take a look at some background screening metrics that will improve your recruiting and hiring processes.

Finally, I would like to continue acknowledging my high quality employees, and Frank Santa Elena is no exception. Join me in taking a look at Frank's career at Private Eyes and how he views the trends in our industry.

Private Eyes will continue to make your screening experience systematic and seamless as we focus on the priorities of your HR teams, security teams, as well as your recruiters. We value your feedback as we set the Private Eyes' trends of the next decade.


2010 Trends in Pre-Employment Screening

It is no surprise that social networking and technology will play significant roles in 2010 background screening. Let's take a look at some of the major trends that the industry sees in the next year:

1.

Lawsuits for Use of Social Networking Sites for Background Checks -

Employers should be cognizant of the drawbacks of using social networking sites such as Facebook, Linkedin, and Twitter for screening purposes. Discrimination lawsuits may be prevalent if applicants suspect a potential employer gained information from a social networking site about their race, ethnicity, nationality age, etc. The use of Linkedin professional recommendations may also be risky in that an employee who is terminated for performance reasons may charge that a positive Linkedin recommendation proves that their performance was not below standard. To avoid some of these pitfalls, companies should have an Internet Search Policy in place, and extensively train supervisors as well. To learn more,

click here.

2.

Databases, "Do it yourself websites, and Iphone apps" -

Employers must be aware of instant database reports that do not provide up to date or accurate information. Companies that utilize these reports only run the risk of getting "false negatives" or "false positives" on their prospective employees' criminal checks. Private Eyes uses these reports as secondary information only. We also warn against database searches that are offered via "smart phones".


3.

E-Verify and other Government Background Check Requirements will Increase -

E-Verify, an Internet-based system that allows an employer, using information reported on an employee's Form I-9, Employment Eligibility Verification, to determine the eligibility of that employee to work in the United States. For most employers, the use of E-Verify is voluntary and limited to determining the employment eligibility of new hires only. Private Eyes is an authorized agent for E-Verify. For more information, click here.

4.

Degree and

Resume Fraud Will Continue to be Prevalent

Employers will need to continue doing their due diligence when it comes to pre-employment screening. The recession has increased the likelihood of applicant fraud. False education claims and worthless diplomas have become commonplace, and resume fraud was a concern in 2009. Your background screening firm should be verifying first that a school is legitimate. If the school does not appear on accepted lists of accredited institutions, then the firm should review the list of diploma mills and scams. Reputable screening firms will have processes in place to verify that each past employer is legitimate.

5.

The need for International Screening will Increase -

International corporations will find that they will not be doing their due diligence without international screening. Despite the complexities of this screening, it is necessary due to the large number of workers crossing international borders. Give us a call to learn more about how Private Eyes can help you with your International Screening.

Background Screening Metrics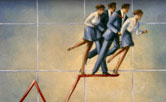 In order to manage, we must be able to measure. To ensure that your pre-employment screening program is measuring up, try utilizing the following background screening metrics:
Cost
Track how much your company is spending on screening. Take a look at costs per region, job type, department, etc. By taking a realistic look at current costs, you can budget for next year and use this tool to forecast for future head count.
Quality
Take a look at the number of "hits" that come back on your prospective candidates. Is there a pattern to the adverse record uncovered by a background check? For example, if there are excessive "hits" on candidates that are lying on their resumes, recruiters can go to different applicant sources, or they can adjust their pre-screening process in order to probe more deeply into candidates' backgrounds.
Time
Tracking "time-to-hire" metrics is essential. This involves taking a look at time lapsed between when a job requisition is opened until the day the candidate starts. Create standards that your company would like to follow, and communicate these to your background screening company. This way, you can communicate "turnaround times" to your candidates so that they know what to expect, and there will be a lower risk that they will be hired elsewhere.
Standard Policy Implementation
By comparing screening metrics company-wide, you will be able to uncover patterns and inconsistencies that can help you better manage your pre-employment screening program. For example, is your California office is spending significantly more on screening than your Chicago office? If you have a standard policy in place, you should be able to uncover the reasons pretty quickly. Is one office recruiting sub-par candidates that don't pass the background checks? Is one office not screening all of the applicants or are they not consistent with your company's screening policy? Metrics are invaluable tools that give insight into current processes that drive recruiting and hiring procedures.
For more information on HR Metrics,
click here.
PEI Featured Employee - Frank Santa Elena

Frank Santa Elena, our National Account Manager, has been with Private Eyes since May of 2004. Frank has seen many changes in the industry, but the one that stands out the most is that Private Eyes has become a one stop shop for all HR needs. "When I started, we concentrated just on the background checks and verifications. Today, Private Eyes provides all services for safe hiring practices from I-9 verifications and social network searches, to data storage and online applicant tracking systems. We have evolved with the changes in the industry."

Frank's favorite aspect of his job is talking to clients and educating them on common practices for hiring. He also enjoys the research. Frank notes, "Since Sept. 11th, the industry itself has evolved and has become a standard in every company's hiring practice and corporate safety policy. Pre-employment screening will only get bigger as systems are integrated."

Our staff as well as our clients appreciate Frank's thoroughness. His dedication embodies our values at Private Eyes. Frank teaches his staff to dig deeper. With the clients' permission, he encourages verifiers to contact the applicants if it means improving turnaround time. He often coaches applicants on how important it is to fill out applications properly, "Time is the most precious commodity in the hiring process. It is our goal at Private Eyes to partner with our clients so that the hiring managers can make the offer to high quality candidates without delay."


Sandra James
Private Eyes, Inc.
877-292-3331
www.privateeyesinc.com