Featured Article
Spotlight on Desiree Nudo, our Vendor Relations Manager
Industry Specific Services
HOLIDAY HOURS:

Christmas Eve
5am to 3pm, PST

Closed Christmas Day

Closed New Years Day

Private Eyes December 2009 Newsletter
Letter from the President:
Season's Greetings! After a haze of turkey and Black Friday shopping, we leave one holiday behind, only to enter the season of another. With the holiday season officially upon us, I want to extend my appreciation to all of our clients, both large and small, for allowing Private Eyes to aid you in finding the right employee for all of your employment needs. I know that finding your employees quickly and easily can ease any stress related to holiday hirings, allowing you to spend more time with family and friends.

The entire staff here at Private Eyes would like to acknowledge one of our key players this month. We will be highlighting Desiree Nudo. In the first of a series of staff interviews, I will give you a sneak-peak into the internal world of Private Eyes. Since our primary goal is to provide pre-employment screening with a human touch, it is only appropriate that you get to know the team leaders.

As always, our Newsletter will delve into some timely issues and events. President Obama's upcoming Job Summit, the U.S. Dept. of Labor's investment in grants for "Green Job" training, and the pros and cons of allowing social networking in the workplace are all topics that we feel are at the forefront this month.

Happy Holidays!

Sandra James
President

President's Job Summit: The Changing State of Employment

The Changing State of Employment
During these rough economic times, employment is on everyone's mind. While prospective employees aim at finding a job that suits their needs, for employers, the goal is to find the right employee.
In the upcoming Job Summit, President Barack Obama plans to summon "130 leading experts ranging from Fortune 500 CEOs to professors of highly regarded education institutions to discuss ways to create jobs and stimulate hiring" (
TPG
). Even though the national economy is recovering, both job seekers and firms are still dealing with daily on the ground fears of low employment.
Politico
argues that, while positive benefits may be achieved by the Job Summit, the summit still does not provide the public a "magic bullet" in solving America's joblessness. In fact, Politico points out that there are some steep challenges that the President must face.
Just days away, the job summit looks to provide Americans with the right steps towards a recovery that will benefit labor, firms, and communities by finding answers for maintaining a productive labor-management relationship.
Getting Serious about Green

Getting Serious about Green

While most sectors of the economy are losing jobs, there may be signs of hope through the push at both the state and national level towards increasing 'green' jobs. Many states have begun to provide grants for companies that can hire more workers while, at the same time, produce a sustainable product.

An example of increased interest in green jobs at a state level is the North Carolina Employment Security Commission. The commission has just received a pair of federal grants for the purposes of analyzing the green jobs market. The grants will focus on analyzing job creation mechanisms for the energy sector at the state level. (TBJ.com).

Companies in Rhode Island are also receiving grants, this time from the Governor's Workforce Board (PBN.com). This consortium of businesses ranges from wind farmers and waste management to even academic institutions. You can find more information about the consortium here. While these efforts may not relieve immediate employment problems, funding for these projects will lead to an increase in sustainable jobs in the long-term.

For more immediate relief, the "U.S. Department of Labor doled out nearly $5.5 million in grants for green-jobs training [...] with more than a dozen awards scattered throughout California" (LAT). The money is provided though the American Recovery and Reinvestment Act of 2009. Unlike the grants give to North Carolina and Rhode Island, this investment is aimed squarely at training people for green jobs and enabling companies to find those quality workers.

The Pit Falls and Benefits of Social Networking

Social Networking or Social Not-Working?


With the penetration of social networking in all facets of our digital lives, curbing the constant use of such portals as Facebook, myspace, and Twitter in the workplace can be a daunting task for your IT staff.

However, the question of whether social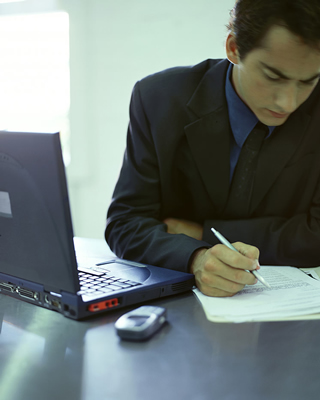 networking provides gains or losses in productivity has not been fully determined. Because there are both positives and negatives related to social networking, it has been difficult to quantify changes in productivity. For example, businesses can use these portals as an "excellent way [...] to 'network' with customers, colleagues and partners."

Wavecrest Computing attempts to narrow down major pros and cons of social networking in the workplace.

Two of the major pros are an increase in "worker morale" and increase in ease of communication for the business. Unfortunately, social networking also may have severe disadvantages, one being a decrease in productivity:


In July, one survey indicated that "employee productivity drops 1.5 percent in companies that allow full access to Facebook in the workplace. That survey of 237 corporate employees also showed that 77 percent of workers who have a Facebook account use it during work hours. It also found that some employees use the social networking site as much as two hours a day at work, and that one in 33 workers surveyed use Facebook only while at work. And of those using Facebook at work, 87 percent said they had no clear business reason for accessing the network."

However, a middle ground can be found in this controversial issue. With the help of sophisticated software, employees can have limited access to these social networking tools, while businesses can monitor and track any loss in productivity, allowing them to act accordingly.

Social networking is inescapable part of our Web 2.0 lives. Thus, allowing businesses the flexibility to deal with this 'problem' leaves room for moderation. Simply put, we can have our cake and eat it too.


Find out more on this article here.
Spotlight on Desiree Nudo
Featured Article
Desiree is our first featured employee because of the consistent positive customer feedback that we have received about her in the last quarter. She came to Private Eyes with a background in recruiting, so Desiree understands our clients' needs and the expediency required. She is currently our
Vendor Relations Manager.
When asked about what her favorite part of her job is, she laughs and struggles with narrowing it down to one aspect. "I love the challenge of my job. It has given me the opportunity to understand how the court system really works. Seeing justice prevail is the best part. It always amazes me when applicants omit or falsify information on their applications. What they don't know is that my team of researchers will uncover the truth. We always do, and the satisfaction of helping our clients keep their workplace safe is huge. I love what I do. I know that I'm extremely good at it and I know what we do here makes a difference."

HealthcareSource
Private Eyes has a commitment to client satisfaction that includes not only the human touch, but also a simplification of the screening process through the use of technological partnerships. Our company has many partnerships with various venders who can service our clients in numerous industries. In particular, our partnership with HealthcareSource provides those in the healthcare industry with the tools for seamless and secure transfer of applicant information, allowing a simplified recruiting process with a fast transition from candidate to hire. Thus, with partnerships like HealthcareSource, you have both ease of tracking and the care of the human element.