Corporate and Foundation Sponsors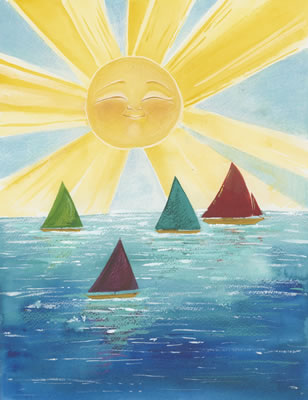 It has been a really hot summer. But we have some really cool things planned for the 2013-2014 school year! While we hope you are enjoying some family and vacation time, it's never too soon to start thinking about the upcoming year. We have some sports updates, as well as info on after-school clubs and more.

So put your feet up, turn on the A/C and read on...!
Tree Care Workshop at Renaissance
On Saturday, June 27th, the NYC Parks Dept. held a tree care
workshop at TRCS.
This was organized as part of our commitment to care for 21 trees around the perimeter of our school, for which we received a $1,000 grant. Fresh soil and mulch were added to help keep the trees hydrated through the hot weather, and flowers were added to beautify our space. The trees were also marked with signs showing that Renaissance is caring for them, letting our neighbors know we are committed to helping make Jackson Heights a greener, prettier place to live!
We also premiered some of our rooftop garden crop, including tomatoes, cucumbers and peppers. Hopefully by summer's end we will have a large enough harvest to have a farmers' market, as well as supplement our salad bar!

Many thanks to Riaad, Peggy and all the

students who helped out!
(Photos courtesy of Luc Papineau, 7th grader!)

Parent Workshops

We will again be holding special workshops for our families this school year. Loo

k for special email reminders and updates on our website calendar to learn more about the different topics we will be offering. Some of the possible choices so far are a nutrition/cooking workshop offered by Whole Foods and a GED/Continuing Education Workshop for Adults. We hope to see you there.
What's On Your Mind?....A message from the Principal
We know that many of you are probably concerned with the news of the standardized test scores for ELA, Math and Science, grades 3-8, which were recently released. If you have been following the news, you know that scores in ELA & Math dropped dramatically for most schools - charter and district, and Renaissance is no exception. Our scores can be found on the NYC Charter Center's website
http://www.nyccharterschools.org/blog/nyc-charter-schools-among-bright-spots-state-sets-new-baseline
(click Download Charter School Scores)
These scores should be considered a new baseline from which to move our children forward. Clearly, we have our collective work cut-out for us, but I believe with the curriculum and professional development initiatives we
have
put in place and are putting in place, we are on the right path to meeting these new and more rigorous common core standards.
Parents will receive their child's scores at the start of the new school year. Individual detailed student reports, created by NYSED, will not be ready until October. We will be sending out a special newsletter discussing the results and their implications in more detail, as well as addressing the common core learning initiatives and college readiness benchmarks on curriculum night and at future PTA meetings to keep you up-to-date. Once school begins, you can call the office if you want to speak with someone personally about your child's results.
Again, please be assured that we are planning to meet this challenge head on and that I am confident that we have the talent and creativity to accomplish this. I look forward to making year 21 at Renaissance one of the best ever, as we work together to support our students in reaching these new learning goals.
Stacey Gauthier

Renaissance Rocks!

Even with a bus strike which lasted for weeks, and the destruction of Hurricane Sandy
,
Renaissance was able to end the school year with over a 95% attendance record. This is a very important part of our charter requirements, so we are very appreciative of the extra effort made by those who were affected by these events. We look forward to another successful record for the coming school year.
Spotlight On... 82nd Street Academics

T
he after-school program run by 82nd Street Academics will be making some big changes this year, with the implementation of their
TRCS College Bound Mountain Experience.
It is a multi-year program for students in 6th-10th grades, meant to further support our students in preparation for college. Please go to our website to download applications and watch the awesome video prepared by 82SA especially for Renaissance.
http://www.renaissancecharter.org/parents.html/afterschool_5-12.html
This Semester
In an effort to offer our students more nutritious and delicious food choices, we are happy to announce that we have found a wonderful new food vendor to work with this coming school year.
Butter Beans
will offer a wide selection of freshly prepared foods for our school cafeteria. We hope you can join us on Curriculum Night to find out more about this great service!
TRCS Sports Desk
2013-2014 Sports Teams
Our Middle School and High School students have the opportunity to participate in many team sports and play in the NYC Public School Athletic League and the Charter School Athletic League. While many of these games are schedule off-site of Renaissance due to space constraints, we hope you will be able to come out watch some of the teams play and cheer them on. We will keep you posted during the year on upcoming dates, as well as results.
2012- 2013 was, once again, a good year for our sports' teams:
We were the CSAA Boys and Girls Division Champs
We saw the return of MS Boys Basketball
We tied for Third in the MSBL Queens Division
We were the CSAA Region 1 Runner-UP ( Since 2007 we have finished in 1st or 2nd place in this division)
We were the PSAL B Queens B East Division Champ
(It was a tie - 1st time in school history!)
MS Co-ED Baseball Team had best record in school history
Elementary Girls basketball finished in Second Place
Three Renaissance Players were selected for the MSBL All-Borough Team!
Caitlin DeJesus and Raheen Traille at the NYC MSBL end-of-year luncheon.
TRCS Sports would like to congratulate Coach Vinny for surpassing over 70 career wins with Renaissance Knights Sports Teams, coaching baseball and basketball.
We will be starting off the fall sports program with the following:
High School Boys Soccer
High School Girls Soccer
High School Girls Volleyball
We would like to remind any student-athletes that this would be good time to get your medical consent form done. Here's the link http://www.psal.org/psalsports/pdf/athlete/2011_2nd_InterscholasticSportsExaminationform.pdf to download the form.
Please don't forget to fill out the PTA forms that are part of the Summer Packet you have received via email from Renaissance. If you were unable to access them, please stop by Renaissance to pick up a packet. We look forward to having a fun & busy school year with lots of family participation. We will see you all the first day of school, as well as on Curriculum Night Wednesday, September
18th. Enjoy the rest of the summer!
Alumni Corner

Doris Avila, class of 2003, has kindly stepped forward to help organize a more cohesive TRCS Alumni Association. One of the things Renaissance would like to do is to be able to offer more opportunities for alumni, such as job fairs, resume assistance, etc. We would also like our alumni to stay involved with TRCS, through volunteering, mentoring and career day representation.


Doris is also the point person for the big "All Classes Reunion" to be held on Friday, October 18th aboard Empire Cruises' ship "LUCILLE". Check out the Alum Facebook page or contact Doris at trcsalumniassociation@gmail.com for details and to update her with your contact information so we can get all the details of upcoming events sent your way!


On Sunday, July 28th the band Once Again played a set at the play street at Travers Park as part of the Summer Sundays in the Park, sponsored by Jackson Heights Beautification Group, Friends of Travers Park committee. The band is made up of Renaissance 2011 Class alumni Dylan Maida, Dana Shepherd and Kadin Wisniewski. Dylan and Kadin attend City College as music majors and are playing with various ensembles on a regular basis. Dana is working and and playing drums with several groups--most recently on the stage of Lincoln Center behind Sinead O'Connor! They've all been busy with work and college and so have not played together in a while, but you would never know it ~ they were awesome!

Upcoming Events:
Wednesday September 11th 1st day of school K-12
Wednesday September 18th 6PM Curriculum Night
Wednesday October 2nd Board of Trustees Meeting
Monday October 14th Columbus Day

No School
Helpful Hints and Cool Links
Check out the new link on the Parents page of our website called "Supporting Your Child."
(http://www.renaissancecharter.org/parents.html/support_child.com)
This page includes many helpful documents and resources to support your child both academically and emotionally, from experts in the field and our own staff. Currently, there are several documents that will help you help your child, by understanding our discipline code, our commitment to an anti-bullying culture, and by understanding what our communication protocols and our philosophy of student counseling. Here are some additional resources:
http://www.psychologytoday.com/blog/people-skills/201008/cyber-bullying-defenses
Read the following document for tips on internet safety:
Elementary Math:
Make an investment in children, education and the future of our world. Safer, better-educated communities are great for business; they improve the quality of life for everyone. Renaissance's hard-working, high-achieving students strive to make that happen and with your help that goal is closer to being a reality: Please visit our website for more information, and lick on the red DONATE button on the bottom of each page: http://www.renaissancecharter.org/. Thank you!
Sincerely,
The Renaissance Charter School