Here we are, at the end of another wonderful school year at TRCS. It was so jam-packed with classes and enrichment activities, that it flew by. Record numbers of 4th-6th graders attended Nature's Classroom, the Middle School attended Camp Quinipet for the second year and our Seniors had their prom. Coming up are Funsizzle, K-3 Trips, Graduation Day and MS Stepping Up ceremony. Get all the info and photos here!

Nature's Classroom Update

This year we had one of the largest groups of students in years who attended Nature's Classroom at Silver Bay. For a full school week, 94 4th-6th graders spent their time using the environment around them as a way of learning.
For many of the children, it was their first time aw
ay from home without a family member. But thanks to the teachers, parents and school aides who accompanied the students, everyone agreed they had a wonderful time. The weather cooperated and a lot of time was spent outdoors
.
Some of the activities they participated in were hiking, basketball and outdoor grilling. They also took science classes where they dissected a pigeon and learned about different kinds of clouds and how animals build shelters. They even tried their hand at building one. A favorite activity was "TNL" Thursday Night Live, with the kids putting on the show!
If your child will be eligible to attend next year (4th-6th grade), start thinking about Nature's Classroom now and how you might help to fund raise to keep costs down for this great program. Activities that help support it are the Mardi Gras party and the Angel Fund, so please think about how you can do your part.

Middle School Year-End Trip
From May 28th-30th, a group of 24 students from the 7th and 8th grade participated in this end-of-the year trip at Camp Quinipet in Shelter Island, Long Island, NY. The combination of both structured and unstructured experiences made it unique and unforgettable.
Camp facilitators took
charge of such fun and
experiential learning activities as team building exercises, rock climbing, marine archeology, primitive to
ols, kayaking, aquac

ulture, orienteering, and direct contact with some birds of prey.
Aside from all the activities, students will never forget all the bonding experiences such as riding the minibus on the ferry, taking responsibility in the cafeteria, bunking up together with peers in the cabins, morning exercises, campfire and s'mores, the group and individual talent show, tether-ball competition (
shout out to the undefeated Brennan R
.), group jigsaw puzzle, sports free time with Dan, photography session and sea shell collection with Megan, karaoke sing along
(thanks to Ram's karaoke machine)
, and the production of a "Harlem Shake" video.
These comments, overheard from the students, summed it up: "I wish this camp was for a week" and " I wish the others were also here to experience this". Sounds like an amazing experience so parents, start planning now for next year!
6th Grade Production
On Tuesday, May 21st, students of classes 601 and 602 gave an afternoon and evening
performance of three musical offerings they wrote themselves ov
er the course of this school year. The stories were based on a self-reflection project the children did earlier in the year, writing a poem entitled "Where I'm From". The plays gave us a chance to look inside the
world of these students and to better understand what they think about the issues kids are facing in today's society.
The students wrote the scripts and music, as we
ll as re-writing the lyrics to some popular songs
. They were often accom
panied by 6th-grade ELA and Humanities teacher Christine, who
we all know is a great singer herself and a real Broadway fan. No wonder the kids did such a great job!
Advisory Trips - Community Service Fair

During the week of May 20th, advisory classes attended
various fun and educational
venues such as:
Bide-A-Wee Animal Shelter

Picture of the Homeless - a grassroots organization fighting for social justice

Travers Park - to help clean up the environment

LGBT Center - Rally for March Against Hate, in response to recent attacks on the gay community

HANAC Senior Citizen Center in Astoria

The New York Historical Society

A NYC Soup Kitchen - to volunteer as servers
Armed with their new knowledge, the middle school classes organized a Community Service Fair. On Friday morning, May 24th, the MS students set up various stations around the common area and gymnasium in order to share what they had learned about the environment, animal rights and more. Students took turns to speak out about their topic as other students moved from station to station.
These types of trips are so important to our educational model of experiential learning, so that our kids can see what is happening outside of the classroom and how they might effect change in our city and their lives.
We thank our staff for their thoughtfully arranged trips and Pat for arranging for all of our transportation needs!
Elementary Science in a Natural Setting
Janet's Third Grade Science class has been busy raising "insect friends", and teamed up with Riaad's agriculture class as they were watering and tending their rooftop crops to release butterflies and ladybugs out into the world. The ladybugs were released directly onto the lettuce, herbs, onions, squash and other veggies that are growing beautifully in our rooftop garden.
Ladybugs get to work eating those pesky aphids!
Riaad will be leading a small group of dedicated high-school agriculture students this summer as they care for the current crops so the food does not go to waste, and will be planting a fall crop that will be ready for harvest when we come back to school in September.
Renaissance Students in Chess Tournament
On April 27th, 2013, the Garden School held its first chess tournament. This was an amazing opportunity for The Renaissance Charter School students to showcase their professionalism and skill in the art of the chess. This was also the first tournament for most of our students which also demonstrated bravery. The contenders from our school ranged from kindergarten through middle school. The tournament was a success. Everyone won trophies and the support of the parents was excellent.
The tournament took place inside a big basketball court. The chess tables were setup in the middle of the court. All the students had to play silently because chess requires a huge amount of concentration and this is simply an important chess rule. A comfortable parents' and students' lounge was setup in the library with refreshments available. This space was also the waiting room for any students who finished their games prior to the next round starting. Renaissance students were accompanied by Krzysztof Redziniak, pictured above, our chess club teacher.
If your child enjoys the chess they are learning in the the classroom and would like to progress further in the game, make sure to sign them up for Miguel's Chess Club next year!
Student Artwork Around the Neighborhood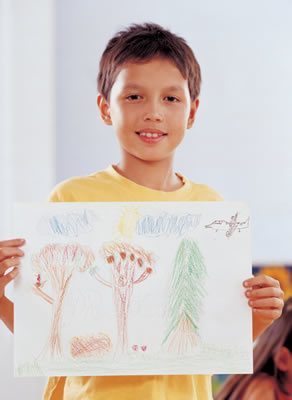 Some of our students' artwork has been chosen to be exhibited at various businesses around the neighborhood, by the Jackson Heights Beautification Group
Student Art Contest
. We are so proud of all of our student artists, and are particularly happy to have TRCS so well represented in the neighborhood. The artists chosen, along with the location of their display, are:
Thomas Leahy, Grade 1 - Jahn's Ice Cream Parlor

Abrar Kazi, Grade 2 - Lety's Bakery

Nina Ossio, Grade 2 - Jahn's Ice Cream Parlor

Brian Bedoya, Grade 2 - Ultima Florals

Jayden Rodriguez, Grade 2 - Lety's Bakery

There will be a reception to honor the artists on
Friday, June 14th at 7:00 PM
, at the Community United Methodist Church Library at 81-10 35th Avenue. Congratulations to all!
On
Saturday, May 18th Renaissance hosted its annual Flea Market. Open to the public, anyone can rent a table to sell their goods and classes can get a free space to sell, as well. Monies raised by the class can be used towards year-end trips or carried forward to be used the following year. The 4th-6th grade classes raised $510 to help offset Nature's Classroom expenses, the Sports Program raised $780 and the 8th grade raised a total of $800 towards year-end trips and expenses!
If your child's class did not participate this year, please consider doing so next year. This is a fun and easy way to get those great extras for the class, such as the middle school trip, high school trip and prom, so remember the Flea Market next year when you are doing your spring cleaning. And a big thank you to Fran Smith for organizing it all!

What's On Your Mind? College Bound!

Most everyone knows what a great college resource our College Bound Office is. They are instrumental in helping our students find the best college options as they pursue a higher education. They also help students to find the internships that they are required to fill during high school.
However a quick glance at their website will show what a wide range of information is available on the blogspot. Students can find not just academic help, but scholarships, internships (sometimes paid positions!) and special interest groups they can join. There is information about photography, music, computer sciences, museums and more. So check out their
site
and read a copy of their latest
newsletter
. You can also access their Facebook & Twitter pages on the TRCS website
Parent
page.
College Bound, so much more than applications!
Renaissance Rocks!

Odyssey Initiative Posts Rave Review of Rebekah Slotnick's Creative Movement curriculum!
Odyssey Initiative is a team of three experienced educators crossing the country learning best practices from schools of every kind - district, private, charter - to design and open a model 21st century public school.
The review of Rebekah Slotnick's class is
here
and Dan Fanelli, Danielle Randone and Rebekah's video-interviews are posted on the site at
Odyssey Initiative
, on page 5. They were very impressed with our teachers' dedication and innovation, and we are very proud of them!
Featured Article -
Re-Imaging and Re-Designing our Common Spaces
One of the most unique aspects of our school is our building, which was a focal point of the vision our founders insisted on. Our founders had a very unusual degree of input with the School Construction Authority, insisting on windows looking out onto common spaces, in order to create the village-like, collaborative atmosphere that is central to our mission. Now, 20 years later, we are ready to look again at our common spaces. In May our K-5 population was asked to think about the 3rd floor elementary common space, and to draw their dreams and wishes for the perfect use of that space.
The architecture and design group of Gruzen
Samton - IBI Group has been in conversation with the management team about renovating that space. They sent two of their architects to talk with our K-5 students, fielding questions and soliciting ideas from our youngest constituents.
The sky was the limit for imagining the best uses, and ideas like an art gallery, an acting space, a place for rescued animals and for growing things, a library stocked with "books we like", had equal time for more challenging ideas, like changing the space into a beach, or a gym with an indoor pool!
Ideas from K-5 Students
Next fall, a group of our HS students will be working with the Isamu Noguchi Museum and a design and architecture teaching artist in order to come up with a proposal for the common space on the HS side of the third floor as part of the "Learning 2 Look" art elective. We look forward to a brand new look up there!
Spotlight On...HS Arts Exhibitions

The High S
chool had their annual arts festival on May 30 and 31. Robert's Art students had a lovely exhibition of their work on the newly installed boards in the art room, complete with canapes and finger foods from Joe Ford's Culinary Arts students.
Upstairs in the Auditorium, the Theater and Music students performed small-group and solo pieces from the year's work, that demonstrates techniques that will serve them in auditioning for music and theater conservatory programs in college.
The theater presentations included scenes from Shakespeare's "Much Ado About Nothing" from the 10th graders. Their 10th grade ELA class supported this work by a residency from Theatre for a New Audience focusing on the same play, and the work really showed an advanced understanding and appreciation for Shakespeare's characters and language. The 11th graders presented contemporary monologues that will serve them well in the theatrical audition world ahead. Well done all!!
Cluster Updates
Middle School

8th Grade Prom Night -

June 20th

, Bruno's, Astoria Blvd.,

6PM


8th Grade Stepping Up Ceremony -

June 21st

, Auditorium,

9:30AM


Report Cards -

June 26th



Special Shout out to our 8th grade parents, headed by James Stonebraker and Hilary Rogan, for spearheading fund raisers for the 8th grade end-of-year expenses.

High School

As part of the 7th-11th grade Advisory Community Service Initiative, on Tuesday, May 28, Ali's 11th grade Girls' Advisory along with Pierina went to th
e Holy Apostles Soup Kitchen on 9th ave and 28th St. in Manhattan to feed those in need of a warm lunch. Holy Apostles serves the most meals of any Soup Kitchen in NYC (800-1,200 meals per day), and feeds the largest amount of lunches in the United States . They have a 2 million dollar budget per year which comes from small contributions, grants, contributions from corporations, and some government funding. The only full time workers are cooks and security. Anyone can volunteer M-F, at

9:30am

, with no prior notice (except for groups). In addition to feeding people, Holy Apostles also provides counseling, referrals, and clothing to those in need. The girls found it to be an extremely rewarding experience. They were surprised at the amount of working people in need of a warm meal.
TRCS Sports Desk
Here's an update on some year-end action
happening with our sports teams:
On Monday, 6/3 the Middle School Co-Ed Baseball Team played I.S. 10 (Make-Up Game) @ Whitey Ford Field and finished their season 3-4. This tied their all-time record wins.

On Wednesday, 6/5 the 6th and 5th grades Girls Basketball team played Promise 2 @ Promise 2 in a Championship Game. They finished in 2nd place for the season.
Also on Wednesday, 21
5th-12th graders attended
a year-end trip to a WNBA
game.
On Friday, 6/7
Chase Reinhardt, Brennan Rogan, Damian Mendoza
and
Michael Fellin
represented our school in the Middle School Baseball League Queens All-Star Game.
On Saturday, 6/8
Joseph Hur and Christian Gallego
represented TRCS in the 2013 Middle School Baseball League City All-Star Game @ Bakers Field @ Columbia University.
Joseph Hur
received the Student-Athlete Award and
Christian Gallego
received the Team MVP Award.
Congratulations to all for a great year of sports at Renaissance!!
Hi All!
As the 2012-2013 school year comes to an end, we want to take this opportunity to express our genuine and heartfelt appreciation to the wonderful families & staff members at TRCS.
Stacey, the School Management Team, teachers and staff have worked diligently to provide our children with an excellent education, to create a support system to meet their needs and to provide the tools necessary to meet the challenges of the Common Core Standards. Communications between the school and the parents remain at the forefront of their efforts and for that, we, as parents and PTA Co-Presidents, are truly grateful for ALL of their hard work and dedication.
Special thanks to Pierina Arias, Marlen Castro, Peggy Heeney, Kalliope Radman, Fran Smith and Mary Sugrue for assisting with all of our events.
Many parents stepped up to volunteer their time supporting the needs of the students and staff. We would like to take this opportunity to thank them:
PTA EVENT VOLUNTEERS
Scholastic BOGO Book Fair
The Scholastic BOGO Book Fair gave parents an opportunity to purchase books for summer reading and allowed teachers to purchase books for their classroom. Marta Kowalska and Lillian Chen would like to thank all of the parents who volunteered for the Scholastic BOGO Book Fair: Alex Auvers, Kelly Goodwin, Chester Hicks, Mahmuda Hoq, Elyse Lau, Lisa Liropoulos, Niza Martin, Gardenia Orlando, Chimie Pemba, Carina Salvi, Julie Shea, Tracy Spellman and Shaheen Syed.
Staff Appreciation Lunch
Our annual Staff Appreciation Lunch was a huge success thanks to the monetary donations and food donations from TRCS families. Thank you to all who volunteered to setup, serve and clean up. For the first time, thanks to Ram's support, we had our 7th graders help serve the food. Thank you to Andres Aguirre, Caitlin DeJesus, Bo and Mariano Garcia, Erick Herrera, Ana Llorens, Yui Maehara, and Tara Pemba for giving up class and lunch time to participate. We will be sure to include our students in future events.
We would also like to extend our appreciation to our Executive Board members:
Chester Hicks, Treasurer, BOT Parent Rep, CSG Parent-at-large, Member of the Hiring Committees for a new Math teacher and 4th & 5th grade teachers
Lisa Liropoulos, Cluter 1 Rep (K-3)
Chimie Pemba/Madhureema Gupta, Cluster 1 Rep (4-5)
Marta Kowalska, Cluster 2 Rep (6-8), CSG Technology Group Chair
Christine Francione, Cluster 3 Rep (9-10)
Noreen Wortman, Cluster 3 Rep (11-12)
Kelly Goodwin, Corresponding Secretary
Kathy Corona, Recording Secretary
Thank you to all of the Executive Board members who have given so much of their time (when not at their day jobs) and worked so hard to help coordinate our fundraising efforts (including your endless hours of brainstorming) which raised much needed money to supplement many of the wonderful programs offered to our children. With the funds that were raised this year, we were able to help fund the Nature's Classroom as well as Quinipet year end trips, the Middle School Peace Patrol hats, Staff Appreciation Gifts, Senior Gifts, the 8th Grade Stepping Up Ceremony, as well as Teacher's Choice. We hope to see everyone at the June 19th Year End Party where a vote will be taken to fund the K-5 non-fiction library which will advance the Common Core curriculum as well as funding for the Sports Program.
We want to send a shout-out to our babysitters: Anthony Hazoury, Melvin Smith, Alec Stachnik and Eric Wortman; and welcome our new sitters: Gavriella Arias, Kimberly Fuentes, Joshua Hazoury and Emily Sugrue.
To those families who were not able to join us and volunteer, not to worry, there will be plenty of opportunities to show your children how much you care in the 2013-2014 school year. The PTA needs, wants & welcomes fresh ideas & faces, so please make it a priority in the coming school year to attend PTA meetings, volunteer for events and bring your fresh ideas. Get involved - your children will appreciate it and so will we.
Congratulations to the:
2013-2014 PTA Executive Board
Kelly Goodwin, PTA Co-President K-6
Lillian Chen, PTA Co-President 7-12
Chester Hicks, Treasurer
Lisa Liropoulos, Cluster Rep K-3
Kathy Corona, Cluster Rep 4-5
Marta Kowalska, Cluster Rep 6-8
Hilary Rogan, Cluster Rep 9-10
Madhureema Gupta, Cluster Rep 11-12
Niza Martin, Recording Secretary
James Stonebraker, Corresponding Secretary
The new Executive Board will be working hard during the summer to prepare for the new school year. We would appreciate your continued support. Our summer mailing will include a membership form as well as a form to volunteer for the many events and fundraisers that we are planning. We would love to see every family participate next year in these activities. If every family donates a minimum of $25 we will be able to plan more fun events, such as movie night and game night, and less fundraisers.
As always, we welcome your comments and feedback. Please feel free to contact Lillian Chen at chenlil@nyc.rr.com. Have a healthy and happy summer break and we will see you on September 11th (First Day of School)!
Lillian Chen & Niza Martin
PTA Co-Presidents
Alumni Corner

We have lots of updates on many alumni this month. 2006 Alum Samantha Aaron (at left) just received her Masters Degree from University of North Carolina at Chapel Hill. She is now on her way to medical school.

Patricia Paredes, class of 2010, is graduating with honors from City Tech (NY College of Technology). She finished her degree in just three years!

We had a visit from Jonathan Garcia, class of 2010, and Francois Nicolas, class of 2009, who have been busy since graduation! Francois graduated from Brooklyn College this May, and has been interning at the ABC network, working in production.
He has also been working at Madison Square Garden as part of the Entertainment/Interactive Squad, and is about to shoot a commercial (with Jonathan) for Puma! Jonathan, an actor, just shot an episode of "What Would You Do?" for ABC. It aired on

Friday, June 7th at 9:00 PM

, and it was great! Congratulations guys, it was great to see you!


We also had a 'gang' visit from Stephen Ruck, Kamrul Hossain, Mohammad Jawwad and Jerry Anastasakos, who have all just completed their first year of college. Stephen is an International Business Major at Brockport, Kamrul is at City Tech studying Computer Science, Mohammad is at Queens College studying biology and Jerry is at Queens College studying Mechanical Engineering. Don't be strangers, all, let us know how you are doing!

Upcoming Events:
Wednesday, June 11-20th, HS Regents Exam
Thursday, June 13th, 9:30AM K-4 Dance Performance
Friday, June 14th, 6:30PM K-4 Dance Performance
Wednesday, June 19th, 6:30PM PTA Garden Party
Thursday, June 20th, HS Graduation
Thursday, June 20th, 8th Grade Prom
Friday, June 21st, MS Stepping Up Ceremony
Monday-Tuesday, June 24th & 25th FUNSIZZLE DAYS!
7th-12 grades
Wednesday, June 26th, Last Day of School, 11:45
Dismissal
Helpful Hints and Cool Links
Check out the new link on the Parents page of our website called "Supporting Your Child."
(http://www.renaissancecharter.org/parents.html/support_child.com)
This page includes many helpful documents and resources to support your child both academically and emotionally, from experts in the field and our own staff. Currently, there are several documents (a few linked here) that will help you help your child, by understanding our discipline code, our commitment to an anti-bullying culture, and by understanding what our communication protocols and our philosophy of student counseling.
Make an investment in children, education and the future of our world. Safer, better-educated communities are great for business; they improve the quality of life for everyone. Renaissance's hard-working, high-achieving students strive to make that happen and with your help that goal is closer to being a reality: Please visit our website for more information, and lick on the red DONATE button on the bottom of each page: http://www.renaissancecharter.org/. Thank you!
Sincerely,
The Renaissance Charter School