If anything has stood the test of time in the world of storytelling it is the myths and legends of ancient Greece. For over 3000 years these stories of gods, heroes and monsters have been told and retold, each time attracting a new audience. Plays, poetry, movies and books all use Greek characters to tell the human story. Hundreds of words are part of our daily vocabulary because of their use in myths. It's easy to understand what a Herculean task is or a why a person has a Narcissistic personality if you know the myth behind the phrase.
April 17 (Wednesday)
HSA Open Chat, 8:45 a.m.


April 18 (Thursday)
Parent Pick-Up Group, 2:15 p.m.
Battle of the Books, 6:30 p.m.
April 19 (Friday)
Great Zucchini Party, 3:30 p.m.
April 23 (Tuesday)
Lafayette Open House, 9:00 a.m.
April 25 (Thursday)
HSA Board Meeting, 6:30 p.m.
April 26 (Friday)
Fifth Grade Panoramic Photo, 9:00 a.m.
May 1 (Wednesday)
LSAT Meeting, 7:45 a.m.
May 2 (Thursday)
Parent Pick-Up Group, 2:15 p.m.
May 4 (Saturday)
Lafayette Spring Fair, 11:00 a.m. - 4:00 p.m.
From the HSA
Jenny Murray & Gayle Moseley, co-presidents
Success! You did it! You helped to raise over $90,000 at the auction to support Lafayette! Many of you have asked, "What does the money raised at the auction pay for?" The money raised at the auction goes towards expenses already budgeted for in this current school year. (See current budget). In addition to the $90,000, you also "raised a paddle for science" to the tune of $5,500! This money is earmarked for the Maryland Science Center's Traveling Science Program which will come to Lafayette next school year. All students (K through 5) will benefit from this visiting science program.
Towards the end of each school year, the HSA prepares a budget of anticipated costs for the following school year. Jenny and I recently sat down with the Treasurers and Vice Presidents and put together a draft budget for next school year (2013-2014). We will present the draft budget to the Board this week for discussion and revision. Next, the draft budget will be presented to the entire parent body for review and discussion at the next General Meeting on Thursday, May 9. That meeting also includes the election for new Board and LSAT members. Based on the comments and questions we receive at the meeting and up until the final General Meeting of the year (June 6), we will make adjustments and revisions to the draft budget. The finalized budget will be presented at the June 6 meeting for vote and approval by all HSA members.
We have a great group of volunteers who are running for various HSA board positions for next school year. Please take some time to read their statements and you'll have an opportunity to meet the candidates and ask questions at a "Meet & Greet" one evening at school before the election on May 9. We'll let you know once a date and time have been scheduled.
Thanks again for your generous support at the auction!
- Jenny & Gayle
Student Winners of Spring Fair T-Shirt Design Contest
Congratulations to 5th Grader Maddie Breeden and 4th Grader Maddie Vassalo. The designs of these talented artists have been selected for this year's Spring Fair T-Shirt. Spring Fair is Saturday, May 4 from 11am - 4pm. You can buy Maddie and Maddie's t-shirt at the fair. See you there!
Spring Fair News - Cirque du Lafayette
Just a few weeks to go until the train is on our track, andmoon bounces and slides and other rides cover Lafayette Park. Excitement is building for our Spring Fair on May 4 from 11 am to 4 pm. Check out the new Spring Fair Page on the Web site!
Other things you can do NOW to help support the Fair:
Donate an hour or two to staff an activity. Please contact your room parent or sign up here.
Start gathering books, video games, CDs and DVDs to donate to the sale.
Bake for the bake sale
Donate a salad
Mark your calendar, bring the family, enjoy the Fair!
As in past years, class assignments have been made to help make sure each activity has the volunteer help it needs to run successfully.
Book /CD/DVD Donations Needed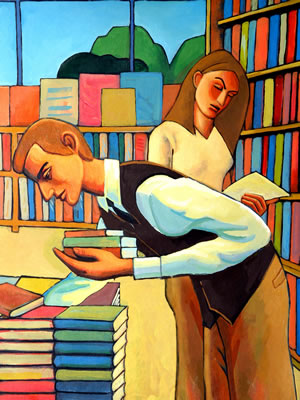 Ready for Spring cleaning? Please drop off your gently used books, CDs, DVDs, and video games in the designated boxes in the Great Hall. Children's books are especially welcome - no textbooks or dated computer books please. Your donation will raise money for Lafayette at the Book Sale at the Spring Fair. If you have any questions or need larger donations picked up, contact Teresa Gionis. Thanks!
From the Art Room
--Laurie McLaughlin, Art Teacher, Grades 1-5
Congratulations to the following 5th graders who have won the DC Federal Junior Duck Stamp Contest for the 2013-14 year and to the entire 5th grade for their spectacular artwork! Winning enties will be posted in the Great Hall beginning this week! This contest, sponsored by the Fisheries and Wildlife Commission, gave us a deeper appreciation for conserving waterfowl habitats and a chance to express ourselves using various art media. Winners and their families are invited to attend an Awards Ceremony on Sunday, May 19, 2013 at the National Wildlife Visitor Center (invitation to come via e-mail.)

Art
First Place: Gabrielle Aladjem, Saige Gootman
Second Place: Kaylin Brandon, Elilta Abera, Zoe Dolge
Third Place: George Caldwell, Paige Evans, Talya Drazen
Honorable Mention: William O'Brien, Caroline Durr, Elena Michael, Caleb Teems, Avery Dunn, Abigail Brickman, Sam Czwartacki, Alexandra Sasha Garcia, Daniela Gram, Callie Saltz, Sam Angevine, Torin O'Brien, Ella Pearlman-Chang, Maren Dunn, Shane Butler, Hanna Grace Scribner

Conservation Message
Best of Show: Katherine Bouker
Second Place: Talya Drazen
Third Place: Thomas Scheller
Honorable Mention: George Caldwell, Daniel Freyman
From the Bears Garden...
Spring is here, and it is time to get back into our garden
! We would like to dig into the season by hosting a "Garden Work Day" on Saturday April 20, from 9 am - 12 pm. Bring your shovel & gloves, and join us for the entire time, or come for whatever amount of time works for you and family.
We will have one more work day before the end of the school year. This day will be for working the garden and helping out at our Bear's Garden table at the Lafayette Farmer's Market on the corner of Broad Branch and Northampton. We hope to sell produce from our garden with all proceeds going towards supporting the Bear's Garden.
Great Zucchini Benefit Show -- this Friday!
Looking for something fun to do this Friday after school? Come and see the Great Zucchini Show! He will performing live in the Lafayette cafeteria right after school! The Great Zucchini is Washington DC's lea
ding entertainer for young children. The kids LOVE his comedy magic show - don't miss it! A light snack will be served before the show. Tickets are $10 at the door (unless you purchased them in advance on the auction website - your name will be on a list), and all proceeds benefit Lafayette. Questions? Contact Jenny Murray .
School Boundary Update
Thank you to the volunteers who helped collect signatures and answer questions for parents outside Lafayette last Wednesday. More than 50 parents signed on to the letter that day. The Working Group, which met last week and continues to closely monitor this issue, still encourages all Lafayette parents to sign the letter urging city officials to maintain the Lafayette, Deal, Wilson Feeder pattern. You can sign on to the letter at www.sites.google.com/site/lafayetteunited.
Coming Soon:
Bike to School Day
Mark your calendars - Wednesday, May 8 is Bike to School Day! Walk to School Day was a great success earlier in the school year, and we'd love to see even more students participate this time around (walkers, scooter-riders, skateboarders, etc. are welcome to participate as well, biking isn't required). More details will be forthcoming, but go ahead and get those bikes tuned up and ready to go!
Councilmember Catania Coming to Lafayette
Thursday, May 23 at 7:00 pm
in the Lafayette cafeteria
Councilmember David Catania will share his vision for education in the city and then open it up to questions from parents. Everyone in the Lafayette community is invited and encouraged to attend. This is a chance to ask about all those things you've been wanting to ask about... make your list of questions, ideas and concerns and plan to be there. If you plan to attend, please RSVP here. This information will help Mr. Catania's office stay in contact with parents after the meeting.
Buy a WLES Shout Out Today!
Have a custom message read to your child during the morning announcements. It is a great way to say "Happy Birthday", "
Good Luck" or just send a fun message to your child at the beginning of the school day. Print and fill out this form, place it and a payment of $15 (checks made out to Lafayette HSA) in the WLES Shout Out box in the Great Hall. Announcements and payment must be received at least seven days prior to the announcement date. Please contact Eden Burgess more information.
Community Notices
Stretch Ropes Needed for Track Team: We are looking for stretch ropes or used karate belts that we can use for the track team. Ideally the stretch rope is about 4 feet long,1 1/2 inches wide, and padded.
Karate belts actually work best. I can pick them up or you can leave them in a box I will place in the Great Hall marked "Stretch Ropes." You can email me at: heidiworley@yahoo.com.
Walking for a Cure
!
For the fourth year in a row my daughter and I are participating in the Avon Walk for Breast Cancer here in DC, May 4 & 5. We will be walking 40 miles in 2 days to raise awareness and to raise money to help fund breast cancer research and treatment here in the DC area. In order to walk, my team needs $3,600 and we'd love to raise even more for the cause! If you would like to donate, you can do so online at
www.avonwalk.org/goto/MargaretQuinn
or by dropping off a check made out to "Avon Walk for Breast Cancer" with Kia Ghamarian in Pre-K. Thank you to all the parents and teachers who have already donated -- the support of the Lafayette community means so much to me.
-- Margaret Quinn (retired Kindergarten Aide)
Thank You Lafayette Sponsors!
These organizations support Lafayette through a generous annual donation- please support them!
Make a Submission
Submissions for next week's issue should be emailed to
TuesdayBulletin@gmail.com
. Submissions are due by

3:15 p.m. on Friday

. Submissions received after this time will be included in the following issue, unless instructed otherwise. Please keep submissions brief. Longer articles may be truncated at the editor's discretion, with a link to the full text.