Financial Statement Facelift
Improving your financial statements for presentation to lenders or equity partners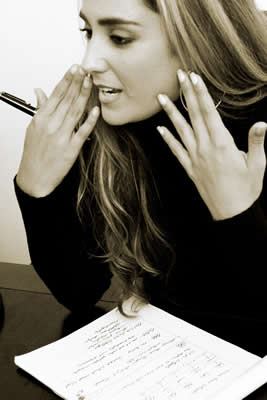 Owners typically have their own understanding of the financial performance of their business, which is not always apparent to outside parties. Many times there are basic and simple changes you can make to your financial statements and projections that will improve evaluation from an outside third party. Let your financial statements "speak for themselves" by improving classification, descriptions and presentation.
Presenter: Kelly Drouillard, Principal, Quivira Capital, LLC
Tuesday, April 26, 2011
8:30 - 10:00 AM
$25
Registration is required to attend!
Email Judy Mathews to register: jmathews@kansaswbc.com
Digital Marketing Classes Returning May 18!
Coming on Wednesday, May 18 - If you're one of the many people who wanted to attend all or part of our last ItSoKC Digital Marketing series, and your schedule wouldn't let you - it's starting up again on May 18, 8:30 - 10:30 am (we've made them 30 minutes longer because YOU asked us to!) Watch your email next week for further information!
SAVE THE DATE!
Work on business growth strategies with regional experts
May 10, 2011
11:30 am - 6:00 pm
Kauffman Foundation
The Women's Business Center partners again in 2011 with the Entrepreneurship Institute. Watch for upcoming topics and presenters in the coming weeks.
Fundamentals in Franchising
Can franchising your business create the success of your dreams?
Are you passionate about what your business model has to offer?
Do you dream of expanding your name and product recognition?
Please join Husch Blackwell and leading franchise industry experts for our Fundamentals in Franchising program and learn the key items you should consider when deciding whether your business can expand through franchising. Our Franchise & Distribution group focuses on the design, implementation, financing and maintenance of franchise and distribution systems.
Thursday, May 26, 2011
8:30 am - 1:45 pm
Braekfast & lunch provided
Husch Blackwell Sanders Conference Room, 10th Floor
4801 Main Street
Kansas City, MO 64112
Program is complimentary, but registration is required. Please RSVP by May 19 to Shana Hoy: rsvp-kc@huschblackwell.com or call 816-983-8809
Springboard's 22nd Venture Forum for High Growth Women-Led Companies
PRIORITY DEADLINE TO APPLY IS MAY 2, 2011
We know how to help investment-ready women-led companies raise capital to scale BIG.
Springboard's Venture Forums are designed to promote and showcase investment-ready, high-growth companies led by women. And after 10 years of presenting over 400 businesses that have raised over $5B in capital, we've figured out the secret to overcoming the hurdles startups face when trying to raise capital: building relationships.

Who Can Apply?
We are looking for companies at all stages and sectors that are seeking institutional investments within the next 12-18 months:
A woman in a key management position w/a significant equity stake
A qualified and profitable market opportunity w/competitive advantage;
A track record of milestone achievement, which may include: grants, beta clients, revenue, partners, etc.
A credible core management team or ability to attract oneis designed to
Download an informational sheet to learn more about the event and application process.
Trendz Market Fashion & Furniture Botique Brings Opportunity to Business Women
TRENDZ has hit the mark with a new boutique concept at Ironhorse Center in Leawood, Kansas. Hot trends and one-of-a-kind finds from over 50 locally owned fashion, jewelry and interior design companies make Trendz a fun and funky place to shop. Trendz is a boutique CO-OP featuring fashion for women, men, and kids of all ages, an array of custom jewelry, handbags, accessories, home décor, and furniture. This is the perfect opportunity for new or existing business owners to grow their business! Come see what the buzz is all about! Visit www.trendzmarket.com for more details.!
NAWBO-KC President Recognized with SBA Award
April 15, 2011 - Kim Deveney
Deveney, the managing partner of American Funding Solutions in Blue Springs, was selected as the 2011 SBA Women in Business Champion. American Funding Solutions provides alternative funding solutions to small businesses nationwide, helping them acquire the capital they need to grow. Deveney has been a NAWBO member for several years and serves as the current President of NAWBO-KC, an organization that represents the interests of all women entrepreneurs in all industries.

According to the SBA, Champions are judged on their dedicated assistance to small business beyond their professional involvement in the field of their award. Winners in each category from the SBA's 10 regions compete for national awards, which will be announced at the National Small Business Week celebration event, May 12-14 in Washington, DC.
Video Surveillance Webinar
Sprint Business Solutions Made Easy
The Sprint Business Solutions Made Easy webinar provides real world examples and information on how to implement Internet-based surveillance tools. In this one hour webinar, you will learn about video surveillance options from a leading industry expert, Leslie McLeod, Vice President of Crime Point Surveillance Solutions.

Many industries utilize video surveillance cameras today to record and/or view real time information.
Regardless of the industry you represent, implementing video surveillance can help deter criminal activity, improve security, enhance team-wide communication, while increasing the safety of employees, customers and assets.
April 26, 2011 - 12 PM Central
April 28, 2011 - 11 AM Central Time
Futurallia Kansas City 2011
After editions in Belgium, Poland, Canada, Qatar, and most recently France, the sixteenth edition of FUTURALLIA 2011 will take place in Kansas City, USA.

Whether you call it business matchmaking, business speed dating, or B2B meetings, FUTURALLIA is a fast-paced and intense business event where, all in all, more than 9,000 B2B meetings will take place!

The concept is simple: It is to gather more than 800 entrepreneurs from more than 30 countries for 2 days of pre-selected and pre-arranged one-on-one business meetings.
May 18-20, 2011
To Register for this unique event visit:
http://www.futuralliakc2011.com/
Leading New Ventures Workshop
Led by Joel Wiggins, CEO, Enterprise Center of Johnson County
You've taken the plunge. You've started a company. Now what? You must lead it. That is a daunting task for anyone. So what do you have to be good at in order to build the success of your company? This workshop primarily focuses on the tasks, not the personality, of the CEO. Specifically, we will consider six key practices you need to effectively lead your new venture.

The seminar will be led by Dr. Joel Wiggins, President & CEO of the Enterprise Center of Johnson County and Executive Manager of the Mid America Angels Investments, LLC. Over the past twelve years he has helped hundreds of early stage companies better communicate their venture opportunities
April 27, 2011
11:00 am - 1:00 pm
Enterprise Center of Johnson County
8527 Bluejacket Street, Lenexa, KS 66214
913-438-2282
Techweek 2011
Discover + Innovate + Connect in Chicago July 22-29
The goal of TechWeek, with 4 days of conference sessions with over 150 speakers, 4 days of an expo hall with over 100 exhibitors, and over 60 independent off-site events, is simple: Chicago is a new, emerging type of technology hub. The city is not out-competing, copying, or ignoring the rest of the technology world; it is focusing on and showcasing a new culture of technologyobjectives.
The Women's Business Center
The Women's Business Center offers mentoring, resources, and consulting to women in the Kansas City Metropolitan area who wish to become an entrepreneur or who are currently operating their own business. Through business consulting, classes, workshops, networking, and peer mentoring the WBC is the key to running a successful business for Kansas City's women.
Find out how the Women's Business Center can help you. Click here to learn more!
2011 Kansas City Job Fairs
Wednesday, May 4, 2011
1:00 - 4:00 pm
Hyatt Regency Crown Center
2345 McGee Street
Kansas City, MO 64108
$325 for company booth
Tuesday, October 11, 2011
1:00 - 4:00 pm
Hyatt Regency Crown Center
2345 McGee Street
Kansas City, MO 64108
$325 for company booth
Attend BOTH job fairs for $550 ($100 savings)
Find out more information about the job fair and how to register your company.
Contact Amie Hankel for questions:
816-595-1297
Join DealBug & Support Women's Employment Network!
DealBug is a deal of the day site much like all the others, with a few exceptions:
DealBug is local. They're located in Overland Park, KS.
DealBug makes a donation to local charities with every purchase.
DealBug provides goods / services from local merchants with deals up to 90% off retail cost.
Each time someone purchases one of the DealBug daily deals, they can select the Women's Employment Network from a list of non-profit organizations and DealBug will make a donation.
To receive daily alerts about the great deals on DealBug, please sign up at www.DealBug.com

If you own a business and would like to be featured on DealBug please send an email to admin@dealbug.com or call 913-660-7342.