Exploring 3D Design with Autodesk

Students Go 3D with Access to Professional Autodesk Design Tools
When it comes to 3D design, professionals around the world turn to Autodesk. From tools like industry-standard AutoCAD to Maya, Revit, and Sketchbook Express, Autodesk offers a full range of integrated software to bring 3D design to life. Together, Science Buddies and Autodesk are working to help students explore science, technology, engineering, and math (STEM) through hands-on, real-world projects and experiments.
In coming months, we will be highlighting Science Buddies Project Ideas in which students are encouraged to integrate 3D design using free Autodesk software and apps. In addition, projects on the Autodesk Digital STEAM Workshop site challenge students to innovate real-world solutions using 3D design.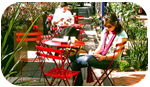 From Parking Space to Parklet: Civil Engineering and City Planning
Transforming a few parking places into a social space provides interesting challenges and opportunities for engineers, designers, and city planners. With software from Autodesk and a fun Digital STEAM Workshop challenge, students can design their own parklets--with a small budget and tight space requirements!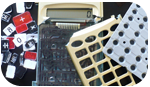 Making something better often means breaking it first--over and over again! Students can learn more about product engineering by trying to improve the durability of a simple handheld device. What does it take to break a calculator? What changes might make it harder to break? A related Autodesk Digital STEAM Workshop challenge has students design a cool, pocket-sized, plastic mobile phone accessory.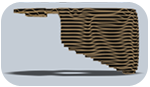 Make Your Own Layered Model to Explore 3D Printing
3D printing is changing how we think about manufacturing and product design. Do you need a small, hard-to-find replacement part or have an idea for a cool new product? A 3D printer approaches printing an object as a series of layers. Learn more about 3D printing and try a cool hands-on activity using Autodesk's 123D Make to create a 3D model built from cardboard layers.
Share Your Autodesk Experience
With Autodesk's educational licensing program, students and teachers can explore 3D design using professional design software, apps, and tools. Do you and your students use Autodesk software? We would love to hear about Autodesk in your classroom, project, or afterschool program! Email us at scibuddy@sciencebuddies.org.