Keep Science Alive All Summer Long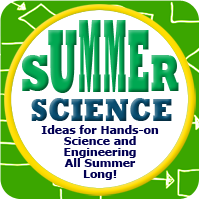 A Super Science-filled Summer Break
For more great science project suggestions, see our 2014 Summer Science Survival Guide. This year's update is full of awesome science experiments and innovative engineering projects hand-picked for summer fun from our library of more than 1,200 science fair Project Ideas.
Do these projects with the kids, or hook them up with the right materials and challenge them to explore, experiment, build, create, and innovate this summer. There are no reports to turn in and no display boards required. Summer science is just for fun!
DIY Maglev Train Exploration

A maglev train hovers above the track rather than rolling on wheels. How does it work? Experiment by making your own maglev train and railway with a great hands-on science kit, available in the Science Buddies Store. This summer science activity is part DIY fun and part hands-on physics!
Science-themed Summer Reading

Science Kids in a Zany Tale of Summer Intrigue
From non-fiction to manga to citizen science guides, there are plenty of book choices to keep science enthusiasm alive with summer reading. For middle readers, the Nick and Tesla series offers fast-paced fun with a focus on science and engineering. The plot may feel a bit far-fetched, but kids will groove on the intrigue and the DIY innovation of the pair of 11-year-olds. Directions for making some of the projects the twins make are included in the book. Take a closer look with our in-depth review of book one.
The "Science" of Making Better Paper Dolls

Turn making paper dolls into a creative science activity with a brand new materials science project. Jointed paper dolls invite lots of imaginative play, but how you approach assembling the dolls has a lot to do with how much play they can withstand.
Share Your Summer Science Projects and Experiments!

Submit photos of projects you and your students do this summer to Science Buddies. You might end up featured in a success story on the
Science Buddies Blog
, in the spotlight at
Facebook
,
Twitter
,
Google+
, or in the newsletter.
Let us know
, in photos, how the summer science went!
Science Buddies is a 501(c)(3) charity that offers science resources to students and teachers
free of charge
thanks to
support from sponsors and donors like:
Copyright © 2014 Science Buddies. All rights reserved.