Big Data and the Life Sciences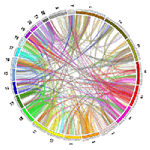 Big Data Brings Big Opportunities for Students in Life Sciences
With data sets growing and growing and growing, developing tools and strategies for managing, using, and analyzing "big data" has become a correspondingly big challenge, one that developers and scientists are racing to solve. In the life sciences, the public availability of large data sets allows students to investigate cutting-edge biotechnology, genetics, and genomics research questions and encourages them to begin tackling questions raised by the continued growth of big data sets.
Learn more about bioinformatics science projects for students and get an inside look at big data in a special Q&A with Melissa Rhoads, a biotechnology strategist at
Lockheed Martin. Melissa will also be talking with students about big data at the
USASEF X-STEM Symposium
on April 24.
Google Science Fair

Think your science project is over? Maybe not. The project you did for your school or local science fair may be a project you can also enter in the 2014 Google Science Fair. Or, start from scratch with a new question you want to explore!
Looking for ideas? Plug what you "love," what you are "good at," and what you "want to" into the
Idea Springboard on the Google Science Fair website for project suggestions, science news, videos, and resources to inspire you and help as you brainstorm a project that turns your interests into platforms for science research and experimentation. You can also try the Science Buddies Topic Selection Wizard to find science, technology, engineering, and math projects that might be perfect for you!
Spotlighted Science Project Kit

Take a
closer look at the Crystal Radio Kit
used with the popular Build a Crystal Radio Science Buddies Project Idea. The kit's high-quality materials pair with an updated scientist-guided procedure, full of how-to photos, for a great hands-on student electronics experience.
Featured Student Science Success Story

For this student, dyeing Easter eggs is both a family tradition and the basis of his winning fourth grade science fair project. Jeffery put the process of using silk ties to dye eggs to the test and ended up with a
fascinating exploration of pH in the dyeing process
.
Encourage Your Students to Share Their Science Project Experience!

We love to highlight stories about student
and
teacher science project and science fair successes --
just like yours
! Have your students submit photos of their projects to Science Buddies. They might end up featured in a success story on the
Science Buddies Blog
, in the spotlight at
Facebook
,
Twitter
,
Google+
, or in the newsletter.
Let us know
, in photos, how the project went!
Science Buddies is a 501(c)(3) charity that offers science resources to students and teachers
free of charge
thanks to
support from sponsors and donors.
Copyright © 2014 Science Buddies. All rights reserved.