Go for the Gold!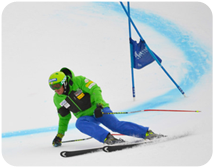 Supplement Student Interest in the Winter Olympics with Gold Medal-worthy Sports Science
The 2014 Olympic Winter Games in Sochi, Russia get underway this week. There will no doubt be amazing feats of athletic skill, strength, endurance, and technique on the slopes, in the rink, and hurtling down winding, icy chutes for luge and bobsled events. With more than a dozen sporting events in seven categories,including skating, skiing, and ice hockey, there will be much to see and lots of science questions to ask and explore as athletes compete for Olympic gold.
See The Science of Winning Olympic Gold for suggestions on ways to connect student interest in the Olympics with hands-on science exploration.
Science Buddies Project Ideas in Sports Science are sponsored by Time Warner Cable.
Featured Classroom Activity

How does something sitting or built on a slope stay in place rather than sliding down? Gravity is part of the answer, but gravity also helps explain how landslides happen. In this hands-on classroom activity, students explore the types of gravity at work on a slope and how different surfaces and materials may change the effect of the slope or the critical point at which an object will begin to slide.
This classroom activity was created thanks to support from Chevron,
sponsor of
Geology
resources at Science Buddies.
Spotlighted Science Project Resource

Identifying the variables in a science project is an important step
before
students ever start working on the steps of the experimental procedure. In order to construct a strong hypothesis, students need to know what the independent variable is and what change they are looking to measure, test, or observe in the dependent variable. The
"Variables in Your Science Fair Project" chart
offers great examples to help students better understand variables.
Fresh Ideas on the Science Buddies Blog

Last year, Mary Barra helped with a hands-on engineering activity at a local school. Building paper boats propelled across the floor by a fan, students and volunteers raced skimmers and tested design modifications they hoped would lead them to a win.

Learn more

about Barra, the challenge of supporting and exciting girls about science and engineering, and hands-on activities you can do with students in school or at home to show them the

engineering design process

in action and to reinforce that engineering is fun.

Football Science Projects that Score Big with Student Fans

Lots of science was on display during last week's Super Bowl showdown between the Seattle Seahawks and the Denver Broncos. The season may be over, but hands-on sports science projects help students uncover the science behind great game play. From indoor testing with miniature footballs and a rubber-band catapult to on-field kicking experiments to an exploration of the level of impact players take during the game and new technologies that may help protect players from head injuries, there are plenty of football science project options to keep the game going strong throughout the off-season.

New Project Ideas and Resources

The following Project Ideas were recently added at Science Buddies:
Featured Family Science Activity

When animals get cold, they change their behavior to try and find ways to stay warm. There are many different strategies animals use to maintain their core body temperature. One thing puppies do is
huddle
. Huddling is cute, but how does it help puppies keep warm?
In this
family science project
(or in the independent science project version), students explore the science behind huddling.
What happens to the flow of heat when animals huddle?
For another science project related to animal behavior and the quest for warmth, see the Point Your Ponies: How Horses Keep Warm in the Wind science Project Idea.
Encourage Your Students to Share Their Science Project Stories!

We love to highlight stories about student
and
teacher science project and science fair successes! Have your students submit photos of their projects to Science Buddies. They might end up featured in a success story on the
Science Buddies Blog
, in the spotlight at
Facebook
,
Twitter
,
Google+
, or in the newsletter.
Let us know
, in photos, how the project went!
Science Buddies is a 501(c)(3) charity that offers science resources to students and teachers
free of charge
thanks to
support from sponsors and donors like:
Image credit: Bode Miller, 2013 U.S. Ski Team training at Coronet Peak, New Zealand; Photographer: Morgan McFie/Coronet Peak