Teachers Grade Science Buddies

We asked teachers in the Science Buddies community to let us know about science events and curriculum in their schools and how Science Buddies is doing. The results are in!
Find out what we learned
from you and other educators about our role in supporting you and your students--and about your view of the importance of hands-on science.
This project was made possible by support from the Medtronic Foundation.
Spotlighted Teacher Resource

Whether you are a seasoned science fair coordinator or are preparing to run your very first fair, this
free guide
is full of helpful information to get you started and help keep you on track, from start to science fair night.
What do you need to do two months before the fair? One month before? The day of? After the fair? We have answers!
Don't Miss These Hot "Standards" Topics and Resources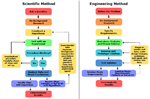 Share with Parents

As students begin bringing home science fair and classroom science project assignments, you may find yourself wondering "how much is too much" when it comes to parent involvement in the process.
It is a good question!
We have a
handy chart
that helps outline appropriate levels of parent involvement.
Congratulations to These Lucky Teachers!

The following teachers were recently selected as random winners of our quarterly drawings and received
free project display boards for their classes
, thanks to Elmer's:
Kimberly Larkins (Orlando, FL), Pam Rolfe (Kaysville, UT), and

Telisha Gilbert (Birmingham, AL)
.
Update Your Science Buddies Profile

Take a few seconds to
log in
and update your profile so that we know what grade you teach--or what grade your students are in. By knowing if you are a teacher, a homeschool educator, a parent, or another adult interested in science education, we can better tailor our materials so they are most useful for you. Plus, updating helps ensure you know about special promotions we run for different groups in our community.
Updating your profile takes only a few seconds. Log in now!
Encourage Your Students to Share Their Science Project Stories!

We write stories about student
and
teacher science project and science fair successes --
just like yours
! Have your students submit photos of their projects to Science Buddies. They might end up featured in a success story on the
Science Buddies Blog
or in the spotlight at
Facebook
,
Twitter
,
Google+
, or in the newsletter.
Let us know
, in photos, how the project went!
Science Buddies is a 501(c)(3) charity that offers science resources to students and teachers
free of charge
thanks to
support from sponsors and donors like: