One of the real joys of the holiday season is the opportunity to say thank you for your business this past year. We enjoy taking care of your family and treating them as we treat our own.
Wishing you peace, love and joy this Christmas season,
Dr. Philip Hornseth, Dr. Erin Curless and Dental Team
December Teeth Whitening Special
Teeth Whitening Give someone or yourself the gift of a whiter, brighter smile with a teeth whitening gift certificate at the holiday rate of $240 (regularly $318). Now through December 20th certificates are available for $240 call us at 920.731.1550 or stop by our office to pick up your gift certificates. Make it even easier, order over the phone with credit card and we will mail the certificates to your home. Certificate can be redeemed by appointment anytime in 2013.
Healthy White or Kid's Sonicare We hope that you and that special someone will love the Sonicare toothbrush as much as we do. Both brushes are in stock at our office for a great price! Healthy White available for $71 and Sonicare for Kids $56 (a fun way to get kids to brush). We love passing our professional savings onto you!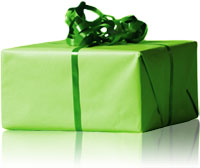 Gift Certficate Do you have a child or parent who is avoiding the dentist, because they don't want to spend the money? Give them a gift certicate and we will credit their account for the certficate amount.
Pilocarpine Lollipops for Dry Mouth Have Arrived...
Patients with severe dry mouth have a new prescription product to take home from the office. We learned about this product at our last continuing education class. These lollipops contain pilocarpine that increase saliva production. The lollipop is placed in the mouth for 20-30 seconds repeat in 2 hours if needed. They come in mint flavor at $8.00 each. They are getting rave reviews from our patients, who have tried them!
Email Confirmation
We want to make confirming appointments easy for you and your family. If you would like any appointments confirmed by email, forward us your email contact information to hornsethcurless@new.rr.com.
Tooth Fairy News...
What Happens When a Child Loses a Tooth in the Jamaica...
"At night, after my tooth falls out, the Rolling Calf comes rattling chains to take me and my tooth away. I put my tooth in a tin can and shake it hard. The noise keeps the Rolling Calf away."
Congratulations to Amanda, Amy's daughter, who graduates from FVTC with a criminal justice degree in a few weeks.
Welcome back, Ashleigh! She is back from maternity leave and will be working her regular hygiene schedule on Monday, Tuesday, Thursday.
Meet Our Dental Assistant, Robin
Family: Husband-Bob
Children: Kyle and Lauren-twins 13
Last Vacation: Arizona and the Grand Canyon
Next Vacation: Mexico for some sunshine
Hobbies: running, reading, going to her children's sporting events
Favorite Food: candy corn