Publisher/Editorial Director:
Contributing Photographers:
Heather Stover
Robert Gouine
Darold Kohout
Kim Engel
Ed Gardner
Lynn Kohout
Doug Oehler
Joe Streng

Account Executive:
Lynnette Kohout

Account Assistant:
Joni Bennig


Rancho Cordova, Ca. 95742
1-888-FORD-100
Celebrating
Our 45th
Anniversary
1969 - 2014
Thank You!
Thanks to
Hooters Restaurants
for their support of our Vintage Friday's events!

Rancho Cordova
Sacramento
Natomas
Fresno
Bakersfield
Honolulu
Thank You!
- QUESTIONS -

- CONCERNS -

- CONTACTS -

Customer Service
Parts Order Questions
Rod Shows.com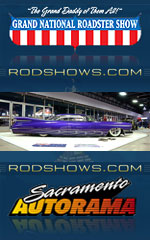 Grand National Roadster Show
January 23-25, 2015
Sacramento Autorama
February 14-16, 2015
--NEW Days--
Now Saturday - Monday
The West Coast's premier hot rod, bike & motorsports tour!
Come and join the two Oldest and Longest Running Indoor Car Shows in the World.
The Association of California Car Clubs (ACCC)
is a volunteer organization with regional representatives who represent the interests of individual members and member clubs across the state.

The ACCC consists of thousands of automobile hobbyists throughout the state who are interested in California laws and policies regarding collector automobiles.


This Custom Ford is
FOR SALE!

Near Sunrise Blvd and Coloma Road



The Official Custom Art Frame Shop of

Vintage Fridays


5343 Sunrise Blvd

Fair Oaks, Ca. 95628

916-966-8766
Barris Kustom
Industries
Thanks For Your Support!



Click
Above to see what
George Barris has been up to and shop Barris.com



Sacramento Vintage
is an authorized
Barris Kustoms
Dealer!


We have 3 Barris memorabilia sections:


CLICK
on the Batmobile


New drivers need to


Start Smart.
Enroll your young driver in a Start Smart program today.
It's all about passion.
We have grown to be the global leader for collector car and boat insurance, but we're still just a family business built on a love for the hobby. Our passion drives us to keep improving our product and to give our clients the best service imaginable.
We protect over 700,000 vehicles, 10,000 boats and 25,000 motorcycles worth a total of $19 billion.
People trust us with their most prized possessions because we get it.
It's all about memories and dreams: The '69 Camaro you wanted since you were a kid. The Chris Craft boat you inherited from your granddad. Even that vintage Triumph motorcycle you used to impress your future wife.
We protect the physical connections to the best moments in your life.
141 River's Edge Drive #200

Traverse City, Mi.

49684-1303


Phone: 877-922-9701

THUNDERBOLTS
Capitol Auto Club
Official Host Club
-Vintage Friday's-
CLICK above to read more about the 'BOLTS'
Butch Gardner
1946-2012
Stop by the
Rancho Cordova

location - Just down the street from Sacramento Vintage Ford!

Rancho Cordova Store Manager: Mitch Harrison
2838 Sunrise Blvd

Rancho Cordova, Ca.

95742

916-858-8666

Founded by Bruce Cohn in 1984, B.R. Cohn Winery is located in the heart of Sonoma Valley, offers a full line of ultra-premium wines, extra virgin olive oils, handcrafted vinegars and gourmet food products.
B.R. Cohn Winery
15000 Sonoma Highway
Glen Ellen, CA 95442
(707) 938-4064

Open Daily:
10:00am to 5:00pm
Vintage Air is owned and operated by experienced street rodders who have been involved in the sport for over thirty years.
They offer you the most comprehensive line of high performance air conditioning components available.
Every Vintage Air product incorporates the very latest technology available and offers you the greatest efficiency and reliability available.
Vintage Air's very own Jack Chisenhall and Rick Love headed the Tour to this year's Father's Day classic. The Tour began with a visit to the Alamo. Then it was northwest to Pomona.
Vintage Air, Inc.
18865 Goll St San Antonio, TX 78266Toll Free: 1-800-862-6658
At P.F. Chang's we are committed to providing you with an exceptional dining experience every time you walk through our doors. Each dish on our menu is prepared to order using the freshest and highest quality ingredients.
Majestic 11 foot tall horses grace the entrance to many of the restaurants. The horse symbolizes the original Forbidden City in China, which was built for China's first emperor Qin Shi Huangdi.
At P.F. Chang's you are surrounded by a unique environment combining influences of Chinese and American cultures. A panoramic, hand-painted mural depicting 12th century China, is visible from the main dining room and commands attention as the restaurant's centerpiece, while several terra-cotta warriors stand guard.
P.F. Chang's
(Darold and Lynn highly recommend the Chang's Chicken Lettuce Wraps to start your dining experience!
)
Rod Shows.com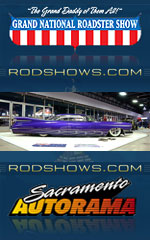 Grand National Roadster Show
January 23-25, 2015
Sacramento Autorama
February 14-16, 2015
--NEW Days--
Now Saturday - Monday
The West Coast's premier hot rod, bike & motorsports tour!
Come and join the two Oldest and Longest Running Indoor Car Shows in the World.
Sacramento Vintage
is the proud sponsor
of the Sacramento Autorama
Backroad Gold


RU Faster Than A RedNeck?


Garage Mahal
Shark Fights
Optima Ultimate Street
Car Invitational
HOT ROD Television
CLICK on any show
for information
Very
cool embossed metal signs from



Ruckus Rods!



CLICK

above if you can't wait!
Dennis over at Ruckus Rods has been one of our Make-A-Wish supporters for many years now!
He has some very cool signs at GREAT SALE prices right now!
Click the SALE to view.

Aged tin signs complete with bullet holes


Light switch plates

Click any image to view

Classic Performance Products
378 E Orangethorpe Ave.
Placentia CA 92870
Order Line Toll Free 800-522-5004
Tech/Order Line 714-522-2000
Classic Shop Talk
Tech Articles
Instructions
Videos
Classic Performace Products
A Valued Vintage
Friday's Sponsor!
California Highway Patrol
The California Highway Patrol
-Valley Division-
A Vintage Fridays Sponsor & Supporter


Nothing Comes Close To
A Cobra

North American Headquarters:

Cobra Electronics Corporation
6500 West Cortland Street
Chicago, IL 60707

[email protected]
1-773-889-8870


Sacramento Vintage Ford Shop Tour
by Craig Pike over at
My Ride Is Me.com
'The first thing I noticed'.......CLICK above to read the article
Photos by:
Music...It's deep in our roots.

We live it,
breathe it and make it kick!


In 1973, KICKER's Livin' Loud legacy began as a two-man operation, hand-building professional-speaker systems in a narrow one-car garage. With very few resources and an intense love for music, company founder and current President Steve Irby invented the mobile-stereo enclosure market in his northern Oklahoma community, when he developed the Original KICKER.


Show Off YOUR System!



PEPSI COLA


Fender Donated The Bare Guitar!




Gene Winfield Painted
It To Match WILD CAD!



Mike Clines Striped It in 12k White Gold with Green Accents To Match WILD CAD


Best Buy in Roseville, California donated the Fender Amp!





W

e gave it all away for Make-A-Wish
last season!


Watch out for this little
guy in our parking lot area.
Very friendly but hasn't learned he may get squished by a car.
Past Time Signs is one of the largest metal sign manufactures in the world. We are a Southern California company specializing in the manufacturing and selling of metal signs, clocks, thermometers, light boxes and canvas prints.

We hand make our products in the United States using the highest quality materials and the most durable manufacturing procedures. The process bakes the image into a powder coating for a durable and long lasting finish. Just like the craftsmanship of the past, our products are durable and made to stand the test of time!
Esquire IMAX

1211 K Street

Sacramento , CA 95814 916-443-4629


T
he image and sound quality of An IMAX 3D Experience® with proprietary IMAX DMR® (Digital Re-mastering) technology. The crystal-clear images coupled with IMAX's customized theatre geometry and powerful digital audio create a unique environment that will make audiences feel as if they are in the movie.
YOUR Commercial Ad Could Be Here!


Contact
[email protected]

Our little
Vintage Advantage e-Newsletter is distributed monthly to over 46,000 gearhead Subscribers!

1576 Silica Ave Sacramento
Call us today:
(916) 922 1300
Blueline Rental
9656 Jackson Road
Sacramento
Cardboard Standups!


Rodding USA Issue
Number 7 with the
California Kid
on the cover!
Nice 13 page full color article on the California Kid and Jakes Coupe.
We were honored to be able to share these two iconic cars with you a while back.
CLICK
above to view our little
California Kid
history page.
With the very best in hot rod and custom photography, writing, and history, The Rodder's Journal is unmatched amongst automotive publications.

In each issue you will find a carefully crafted blend of traditional hot rods, classic customs, early drag racing, the best newly built cars, and the rich personalities behind one of the world's most unique and passionate pursuits.
Sierra Pacific Home & Comfort"The Guys in the Big Red Trucks"
YOUR Commercial Ad Here!


Contact
[email protected]

Our little
Vintage Advantage e-Newsletter is distributed monthly to over 46,000 gearhead Subscribers!

A special
THANKS
to every company you see listed in our e-news magazine. They all support, in one way or another, our Make-A-Wish efforts and events.
These are the folks that help to make it all happen!
Tell 'em thanks!

O'Reilly Auto Parts
With over 4000 O'Reilly Auto Parts stores in 42 states,
your O'Reilly Auto Parts store is never far from home!
Better Parts...Better Prices, Everyday!
DEUCE OF SPADES
an "Award winning motion picture"
Faith Grainger, the creative force behind the award winning cult phenomenon DEUCE OF SPADES" may be over at Sacramento Vintage Ford with her 1932 Ford mid-September for a special screening of her movie while she is touring Northern California.
This special screening at Sacramento Vintage
is still in the final planning stages so stay tuned!
Darold was just going over the details with
Faith yesterday.
THE PLOT

"Do you believe in second chances?"

When a hotrod girl finds a mysterious letter dating back to the fifties hidden in her roadster, she is left with nothing but questions... Who is Johnny Callaway? She sets out to find the answers and retrace her deuce's troubled past. But will uncovering the truth make a difference and can a broken man ever get a second chance at a happiness long forgotten?
Fast hotrods, cool cats, gravity defying swing dancing and rockin' retro music all serve as a colorful backdrop to
this heartfelt, inspiring story. Discover an underground scene where counter culture is in, old school is cool and nostalgia forever reigns.
Genre: Period Drama
Runtime: 128 min
Rated PG13
Remember- still in planning at Vintage....stay tuned!
GOODGUYS HOTROD WEEK


-FREE LUNCH-


AT SACRAMENTO VINTAGE

The Goodguys 2014 Fred Zimmerman Memorial
HOT ROD WEEK
Visits Sacramento Vintage Ford
Monday August 18, 2014
Sacramento Vintage Ford was the second stop of the tour coming over from Pleasanton, Ca.
Our 'famous' Hot Dog lunch was served


Now in its 17th consecutive year, Hot Rod Week features four jam packed days of guided driving tours to shops and places of interest in the San Francisco Bay Area and other close by regions in Northern California! Hot Rod Week serves as a fun activity for locals as well as out of town visitors attending the annual West Coast Nationals in Pleasanton.
Everybody was welcome to come along!
Lunch was provided by one of the host stops each day.
Highlights this year include stops at well-known shops like
Sacramento Vintage Ford
, Moal Coachworks, Dominator Inc., Specialty Sales and many other other hot spots!
We'll also tour the Budweiser Brewery, the Jelly Belly candy factory, Fisherman's Wharf in San Francisco and cross the most famous Bridge in the world - the Golden Gate!
You also had a tour and a great lunch at Goodguys World Headquarters in Pleasanton!
Tour group starts arriving!
Tour group from New Zealand
Gary Meadors (Goodguys) looking for his free hot dog!
The Vintage Theater sponsored by Kicker Audio was packed!
Gary headed off to Rare Parts, the next stop on the tour.
Is that Bo with
Old School Pickers
relaxing up on the grass in the shade? I have to admit, I joined him for a bit after the event. Weather was perfect that day with just a slight breeze!
'LIKE'
us on Facebook!
-Sacramento Vintage Ford-
&
-Vintage Fridays-


ACCC - Butch Gardner
'Save Our Cars' Show Held August 9, 2014
At Sacramento Vintage Ford
2484 Mercantile Drive, Rancho Cordova, Ca. 95742
Held Saturday August 9, 2014


How could you go wrong?
A great car show in a great location and an ACCC Membership!
Steve Berg with the Capital City Cruisers Car Club heading up the DJ booth and playing some great tunes.
Rex Roden (Left-ACCC) and Ed Gardner (Right-Thunderbolts Capitol Auto Club) present an award during the show.
Dick and Beverly Bertolucci brought out their gorgeous Camero for the show. The Butch Gardner Save Our Cars Car Shows is presented by
Bertolucci Body & Fender Shop
.
Darold with Beverly and Dick Betolucci
(photo courtesy Sharon Gardner)
3rd Tuesday Jazz Band
started the morning off!
The Retronauts Surf Band performed the second set.
Left to right: Mike, Rob, Jerry and Terry
REPRESENTING COLLECTOR VEHICLE HOBBYISTS
IN CALIFORNIA SINCE 1972

The Association of California Car Clubs (ACCC) is a volunteer organization with regional representatives who represent the interests of individual members and member clubs across the state. The ACCC consists of thousands of automobile hobbyists throughout the state who are interested in California laws and policies regarding collector automobiles.


Hobby clubs and individuals joining the ACCC contribute to the protection of the hobby and are kept informed of the latest issues affecting our clubs.


These representatives form the Board of Directors, serve without pay and are elected from the pool of active auto enthusiasts in this state
Officer Riggin with a California Highway Patrol
vintage cruiser. Look for it and Officer Riggin at
upcoming Vintage Fridays shows!
The
KICKER
Amphitheater K3 Bluetooth Home Audio System is just one of the cool prizes from Kicker Audio
you could win this season at Vintage Fridays.
The Amphitheater is made for iPod, iPhone and iPad.
Thank You Kicker!
Music...It's deep in our roots.
We live it, breathe it and make it kick!
In 1973, KICKER's Livin' Loud legacy began as a two-man operation, hand-building professional-speaker systems in a narrow one-car garage. With very few resources and an intense love for music, company founder and current President Steve Irby invented the mobile-stereo enclosure market in his northern Oklahoma community, when he developed the Original KICKER.
It was the first full frequency-range speaker box designed specifically for cars and trucks. From that historic moment, delivering concert-like audio quality across a wide volume range with renowned bass and accurate sound has always been the KICKER way.
KICKER graces the Stillwater, Okla., skyline and has stayed true to the values from which the company was built. KICKER products are designed and shipped from a 280,000-square-foot facility that houses nearly 200 energetic individuals who constantly push the limits of audio-design technology and performance.
KICKER products are currently sold by approximately 1,200 authorized dealers in the United States, and export sales are managed through a network of distributors serving over 2,000 dealers in approximately 50 countries.
Take a look around the Sacramento Vintage Showroom
-CLICK ABOVE-


CLASSIC PERFORMANCE PRODUCTS
A leader in creating computer designed disc Brake, Power Steering and Suspension parts.

CLASSIC PERFORMANCE PRODUCTS

378 E Orangethorpe Ave.
Placentia CA 92870
Orders: 800-522-5004
Tech Line: 714-522-2000
Thank You Classic Performance Products
for your continued support of our
Make-A-Wish Efforts!
(Roseville location shown)


At Johnny Garlic's our goal is to provide phenomenal cuisine
developed by Guy Fieri coupled with all star service.
With great pride we take every opportunity to provide each and every Guest with a World-Class experience.
Monday - Thursday: 11:am - 10:pm
Friday & Saturday: 11:am - 11:pm
Sunday: 11:30 am - 10:pm
Happy Hours - Roseville & Sacramento

Monday-Friday: 2:30 pm - 6:30 pm & 9: pm - Close
Saturday: 11:am - 5:pm & 9:pm-Close
Sunday: 11:30 am - 5: pm & 9:pm - Close
Now serving our new handmade "Kraft Kocktails" featuring
premium liquors and house-made fresh berry purees.
Johnny Garlic's Roseville
10505 Fairway Drive
Roseville, CA 95678
(916) 789-2000
Johnny Garlic's Sacramento
2243 Arden Way
Sacramento, CA 95825
(916) 927-8399
We will gladly accommodate large parties for every need.
Johnny Garlic's offers catering, delivery, a To-Go menu
and offers curbside service.
NEW ALL STEEL 1932 5-WINDOW COUPE
AT SACRAMENTO VINTAGE FORD
Image courtesy Ford Media
The brand new, all steel, 1932 Ford 5-window Coupe from United Pacific Industries is now on display at Sacramento Vintage Ford along with their flathead powered
old school chassis.
Black EDP Coated to Keep Your New Steel Rust Free
Stock Height
Includes Hardwood Inner Structure
Includes Both Doors with Door Latches
Deck Lid Hinged as Trunk
Firewall and Dash Sold Seperately
MSRP $ 20,999.00
Click Here to See the 1932 Ford 5-Window Brochure
Eighty years of rust and neglect has been tough on the original5-window coupes.
Starting your project with a new steel body from United Pacific Industries is the best way to make your dream hot rod a reality. We've created precision tooling that accurately produces every panel exactly as original. Throughout the process of manufacturing the new 1932 Five Window Body, we had many decisions to make regarding tooling design, modern enhancements, and material specifications. Our philosophy from the beginning was to make it just the way it was! In fact, there are only two options:
1)
Original Open Insert Roof, or a Steel Filled Roof
2)
With Cowl Vent, or Without
Every part and panel for this body are also available!
Established in 1987, the Pick-n-Pull chain of self-service auto parts stores is one of the largest recyclers of end-of-life vehicles in the industry. You bring your tools, pull the parts you need and SAVE lots of money! Their 48 U.S. and 3 Canadian locations offer a huge a selection of used OEM (original equipment manufacturer) parts for cars, vans and light trucks - all makes and models, foreign and domestic - all at incredibly low prices.

Pick-n-Pull is proud of the fact that they recycle more than 350,000 vehicles and service more than 5 million self-service customers each year.

Pick-n-Pull is a subsidiary of Schnitzer Steel Industries, Inc., a global leader in the metals recycling industry that has been in business for over a century. Although Pick-n-Pull and Schnitzer have worked together since 1989, Pick-n-Pull became a fully owned subsidiary of Schnitzer in 2003 as part of its Auto Parts Business unit.
Being part of a Fortune 1000 company has enabled them to grow stronger and introduce cost efficiencies into their system that have allowed them to bring environmental and cost benefits to their customers. At the same time, the Pick-n-Pull stores have retained the regional and local focus that has made them popular with their customers.
CLICK to find a Pick-n-Pull Near You AND check inventory!
You can use the classic Pick-n-Pull Tracker to check inventory across all of our stores.
CASH PRIZE WINNER!
As a bonus, we gave away $300. in cash prizes after the Make-A-Wish raffles at the Vintage Fridays show!
One of the lucky winners above along with Tara, Roya and Bridget with Hooter's Restaurant, Rancho Cordova.....and Darold.
We raffled off over $5000. in prizes at our July
show to benefit Make-A-Wish!
ANOTHER '32 COMING TO SACRAMENTO VINTAGE IN SEPTEMBER
We will have Martin Lunquist's 1932 Ford Coupe on display starting in mid-September for you to enjoy. Martin and friends are out of Stockholm, Sweden and started their cross country trip on the East Coast, now down in checking out happenings in the Los Angeles area.
Look for Martin's 1932 at the Grand National Roadster Show in January 2015 and at the Sacramento Autorama in February 2015.
Martin's 1932 Coupe at the Goodguys 28th
West Coast Nationals presented by FLOWMASTER in Pleasanton last week.
Above left to right: Darold Kohout (Sacramento Vintage), John Buck and Tom Thibodeaux (Grand National Roadster Show & Sacramento Autorama), Roy Brizio (Brizio Street Rods and Ed Pink (Ed Pink Racing Engines).

Mikael Björk and Martin Lundqvist
CLICK for a few photos at the West Coast Nationals
Mikael stopped by the store with his 1929 Model A Pickup
during the Goodguys Hot Rod Week.
1951 GM BUICK LE SABRE CONCEPT

Photos courtesy GM Media Archive- Article courtesy Kurt Ernst
Legendary automotive designer Harley Earl had a compulsion to outdo his rivals. In 1938, his Buick Y-Job, often considered to be the first true concept car, set the tone for automotive design in the immediate prewar years. Following the conclusion of the Second World War, the Y-Job, now seven years old, began to feel dated to Earl; his response was the 1951 GM Le Sabre concept car that innovated everything from style through construction through the implementation of technology in the automobile.


From the beginning, the Le Sabre was conceived as Harley Earl's personal automobile, and Earl held a (generally accurate) belief that if he liked something, the American public would also like it.

Influenced by the dawn of the jet age, and more specifically by the North American Aviation F-86 Sabre fighter, Earl envisioned a car that would blend aircraft styling and functionality with more traditional automotive design. In other words, it wasn't enough for the concept to look like a jet; because Earl had every intention of using the Le Sabre as his personal automobile, it had to function well as an automobile, too. Befitting the designer's flamboyant nature, it also needed to be equipped with the latest gadgetry, perhaps prompting other designers to ponder why they hadn't thought of the idea first.

Read the complete article over at Hemmings Daily:

Total Cost Involved Engineering Inc. is a US Manufacturing Company that has produced complete chassis plus front and rear suspension for classic cars since 1974 in Ontario, California.


The vehicle applications that they engineer chassis and suspensions for: Ford and Chevy Hot Rod, Street Rod, Classic Trucks and Muscle Car.
Looking for Ford or Chevy Total Cost Involved parts?
Give Mike at call over at
FIREROCK GRILL
The Sheepherder Inn is now THE FIREROCK GRILL

Back in 1913 The Citrus Inn opened in this very building on Folsom Boulevard. Citrus was sold in front of the building to everyone that passed by on busy Folsom Boulevard.

Folsom Boulevard was a main thoroughfare for the gold rush in the mid 1800s. Many immigrants and forty-niners were in search of some of the gold that James W Marshall and John Sutter found in the American River. The railroads that are still visible across the street today were the same railroads that were constructed in the late 1800s.

Rumor has it that over the years The Citrus Inn became many different businesses, including The Edwards Hotel, and at one point, a brothel. Everyone came to the building to eat good food and to have a good time. There was drinking and dancing 'til late at night.

Later, the building became known as Sheepherder Inn. It was a place for Basque sheepherders to come and rest upstairs in the Inn and enjoy a hearty meal downstairs, which probably consisted of meats, fish, lamb stews, legumes, cheeses and Basque cider.
THE NEW FIRE ROCK GRILL

The new Fire Rock Grill features a New American menu that includes tastes from Latin America, the Mediterranean and Italy.
Firerock Grill
11275 Folsom Blvd.
Rancho Cordova, CA 95742
Phone: (916) 638-4584

Crossroads: Folsom Blvd. and Sunrise Blvd. Next to the Marriott Hotel.
Just down the street from Sacramento Vintage Ford.....
Friday August 29th Entertainment by:
The Jay Paulus Society Band
Fire Rock Grill in Rancho Cordova is hosting their first
Get Together on Saturday, August 30, 2014
from 10AM-4PM.
It's FREE!
This is a casual Get Together that is open to all vehicles and will be held on the large parking area just to the left of the Fire Rock Grill.
Then enjoy great food, drinks and live Jazz Music Saturday August 30 from 6:30pm - 9:30pm on the patio.
Entertainment Saturday by The West End Trio
The Vintage Theater prsented by KICKER AUDIO during the events at Vintage Ford. Folks were able to relax near the BBQ with just over 16 tables in 'sort of' air conditioned comfort and enjoy the show on our 15' screen!
DO NOT TOUCH show cards are FREE with any order upon request or stop by the store. Clubs......drop us a request at [email protected] for your club event and how many you need.
Pepsi Beverages Company
Sacramento, California
Thank You Pepsi Beverages Company, Sacramento,
for your support of our Make-A-Wish efforts.
AUTOMETER INSTRUMENTS
O'REILLY AUTO PARTS VINTAGE FRIDAYS
2014
We are very pleased to announce that the
Title Sponsor

of our 2014 Vintage Friday's Car Show Season is

O'Reilly Auto Parts.
O'Reilly Automotive, Inc. officially started in the auto parts business in Springfield, Missouri, in November of 1957. However, its historical background in the automotive business, as well as the family's quest for opportunity and advancement, may be traced back to a much earlier time.

CLICK
on the store photo to read the article....
O'Reilly currently operates in 42 states, with a total of 4,000 stores and 24 distribution centers, thus ranking it in the top two auto parts distributors in the United States.
Sacramento Vintage Ford would like to thank
O'Reilly Auto Parts for their continued support of our
Make-A-Wish
efforts.

THE 2014 VINTAGE FRIDAYS SHIRTS ARE HERE!

These are Gildan Ultra 100% preshrunk cotton shirts with the small Vintage Fridays logo on the left chest, O'Reilly Auto Parts on the sleeves and large Vintage Fridays logo on the back. Black T-Shirts are available in sizes Medium, Large, X-Large, 2x and 3X.
Double-needle stiching throughout



CLICK above to view
Two of our Vintage Fridays 'sort of official' photographers. Robert and Heather.


WANT TO BE ON OVERHAULIN' ?
Know someone who needs their automotive nightmare transformed into the ride of their dreams?

The hit TV series Overhaulin' is back for another season of incredible four-wheeled transformations as world famous designer/builder Chip Foose and his A-Team turn deserving car owners' trash into treasure.
Know someone who is badly in need of an overhaul?
Do they have an amazing story that deserves the attention of Chip Foose and the A-Team?

If you do, we want to hear from you -- because you just might be the next 'mark' on Overhaulin'. To tell us the amazing story and get the chance to have someone
special's ride Foose-ified, go to www.overhaulin.tv
and fill out the application!
ACME TRADING COMPANY
Acme Diecast is pleased to announce the second release in the series of six models dedicated to the special WT color series that Shelby offered in 1968. This is Shelby's 1968 GT350 finished in a brilliant yellow that was designated WT6066.
In 1968 only, Shelby had six rare paint codes designated as "WT" colors, and Carroll only made 159 cars in total using these six colors. Check out the web site for a more detailed history on these "WT" cars and this production will be made up of 1968 Shelby GT500 KRs and GT350s.
Production quantities could be as low as 750 as we might run two colors at the same time. They will be released over the course of production from our entire Shelby line up. So other Shelbys will be interspersed between the release of this series.
Estimated production is 996 pieces, and the ETA is late June/ early July.
Use

coupon code 'hotrodford'

at checkout for 10% off
your purchase at Acme Diecast!

Shooting Krysten with the
Maddox Pulse Jet Lakester

Randy Johnson, the producer of Randy Grubb's Garage, photographed model Krysten Barker to illustrate his upcoming magazine story about Rocket Man Bob Maddox and his outrageous jet-powered race car.

The Pulse Jet Lakester is a '50s-style racer modeled on a drop tank from a WWII-vintage P-38 fighter and is powered by a pulse jet engine with over 800 pounds of thrust. Essentially, the engine is the same as the infamous V-1 Buzz Bomb that the Germans attacked England with in WWII. The car's beautiful polished aluminum body was hand-formed by Randy Grubb, creator of Jay Leno's Tank Car, the Decoliner, and the Decopods.

Hazel-eyed retro pinup Krysten gave a high-octane performance just perfect for the nostalgic race car with the monstrous exhaust. The setting: Gold Hill in Southern Oregon's Rogue Valley. Krysten's hair, makeup, and styling is by Marissa Forman.

Pick up a copy of Car Kulture Deluxe #67, on sale November 4, to read Johnson's story, The Rocket Man Takes Off, and to see more pictures of Maddox's Pulse Jet Lakester and other unique jet-powered vehicles like the Coffin Car, Jet Electra Bicycle, Jet Skateboard, and his work-in-progress, the Pulse Jet Land Speed Drag Bike.
CLICK on the photo for the video
Greg Shilin's 60's style chopped coupe by Pagano Rod & Custom in progress. Greg's project features a
Total Cost Involved Model A chassis and is currently on display in our showroom.


AMERICAN TRUCK & TRAILER BODY
Pride and Quality in all We Produce
American Truck and Trailer Body Company both manufactures and represents the highest quality products and brands in our industry. At our state of the art facility, we are able to maintain product quality from start to finish.
ASE certified mechanics, AWS certified welders, master fabricators, on-site engineering, on-site parts and service, full service paint facility, plus over a century of combined truck equipment experience separates us from others in our industry.
American Truck and Trailer Body Co. is proud to be working with many of today's most successful and trusted utilities and businesses. They have chosen AT&TB to provide them with the equipment and support to help them succeed and we're proud to be on their team.
American Truck & Trailer Body Co. Inc.
Main Office
100 W. Valpico Road Building D
Tracy, CA 95376
Tel: (209) 836-8985
American Truck and Fire Apparatus
285 Industrial Way
Woodland, CA 95776
Tel: (530) 661-0101
Visit the extensive photo-catalog of


American Truck & Trailer Body

recent projects

in their equipment pages and to contact them to discuss your project with their experienced sales department.
117 Years of Excellence
Lincoln Electric's tradition of innovative solutions, technological leadership and commitment to customers, employees, and shareholders stems from the vision of its founder, John C. Lincoln and his brother, James F. Lincoln.
Lincoln Electric's commitment to providing the most innovative, cost-effective, quality welding and cutting solutions is one that has guided our company for more than 100 years. This, coupled with our technological leadership and worldwide manufacturing and distribution resources, enables us to provide competent and reliable solutions for each of our customers.
Lincoln Electric was founded in 1895 and is headquartered in Cleveland, Ohio. With more than 40 manufacturing locations, including operations and joint ventures in 20 countries and a worldwide network of distributors and sales offices covering more than 160 countries, Lincoln Electric has a global work force of more than 10,000.
OPTIMA BATTERIES
A special Thank You for Optima's continued support
of our Make-A-Wish efforts!
MORE DINERS, DRIVE-INS AND DIVES

New York Times bestselling author Guy Fieri, host of the hugely popular Food Network show Diners, Drive-ins and Dives, revvs up his engine for an entertaining tour of sixty more of the best local restaurants across America that have been featured in his very favorite episodes.


Bursting with his iconic personality, Diners, Drive-ins & Dives: Another Drop-Top Culinary Cruise follows his hot-rod trips around the country, mapping out the best places you've never heard of. Wherever he goes, Guy showcases the amazing personalities, the fascinating stories, and most important, the outrageously good food provided by these American treasures.


Guy, once again, has generously donated copies of his new book for our Make-A-Wish events in 2014.


And yes, they are all autographed by Guy Fieri!

CLICK on the Food Network sign to check out

Guy's Dot Kom page! DVD's, show info, recipes, restaurants and more.


Check you local listings for show times to view

Diners, Drive-Ins and Dives
VIDEOS: Trade Shows & Events - Street Rod & Hot Rod

Classic Truck - Ford & Chevy Muscle Car

Product Testing


CLICK
above to view
LORDS OF THE CAR HOARDS
Every year finding unrestored classic American cars is becoming a thing of the past. But there's a secret treasure trove of automotive relics that still exists: Car Hoards -- the last frontier of the American Classic Car. Now, WWE superstar Chuck Palumbo and hot rod guru, Rick Dore are out to rebuild legendary cars and help car hoarders thin out their stockpiles of classic cars in
LORDS OF THE CAR HOARDS.
Each episode of LORDS OF THE CAR HOARDS features Palumbo and Dore helping car hoarders by offering them a deal: pick one dream car from their overcrowded car collection to rebuild while covering the costs of the remake by parting with and selling other cars and car parts from their massive hoard. Every hoard is a surprise, a treasure hunt, and Palumbo and Dore don't always know what they're getting into. The pressure is on and they don't always get along, but together they have a passion for cars that touches these hoarders' lives, changing them forever. grace the covers and pages of hot rod magazines, including Rod & Custom, Rodder's Journal and Custom Rodder.
On Discovery - Mondays 10/9 Central
Your Sacramento Area Ford Dealer for
New and Used Cars
At Elk Grove Ford, we believe you should be as hassle free during the car shopping process as possible.
Because we take pride in serving our customers to the fullest, we have established a web site that will not only help you find the right new Ford or used car in the Sacramento area that you are looking for, like the all-new Edge, Escape, Fiesta, Fusion, F-150 and Focus, but also help you with financing, car repair and service and locating the correct car parts. If you can't find what you are looking for, be sure to use our
CarFinder
for assistance locating the perfect Ford vehicle for you. With the CarFinder, we will let you know when the vehicle arrives that matches your search.
At Elk Grove Ford, we are willing to answer every and all questions you might have during the car finding process. We are conveniently located near Elk Grove, Folsom and Roseville at 9645 Auto Center Drive, Sacramento, California.
The entire staff at Elk Grove Ford looks forward to serving you!
Elk Grove Ford
9645 Auto Center DriveElk Grove, CA. 95757
Sales: 888-450-8331



Service & Parts:

916-478-7000
'LIKE'
us on Facebook!
Hot Rod Phenomenon:
How United Pacific Resurrected The Deuce Coupe
Courtesy David Chick / Rod Authority
"If this was the way Henry Ford did it back then, then that is how we were going to do it now". -David Odegard, Project Manager, United Pacific.
The Ford Model 18- it goes without saying that this car was one of the most creative endeavors of a Big Three company, not to mention a legend in its own right. It was the first car to ever offer an affordable V8 engine to the masses, offering speeds not seen in the majority of commonplace production cars, and arguably exists today as the pioneering and iconic specimen of hot rodding.
Meanwhile, a California-based company, United Pacific, had made a name for itself making 18-wheeler components with a strict limit for error and high regard for polished detail, as well as a host of restoration parts for classic hot rod and muscle car applications. That all changed in 2009, when the company took on a project that would change the future of the '32 Ford forever.
Background Of An Icon
In the years leading up to the Model 18, Ford Motor Company was entering a state of despair. The once-successful Model T was entering its nineteenth year in production in 1927. Old Henry Ford, now in his sixties, was stubborn and intractable when it came to producing new designs. Yet, even he couldn't deny the writing on the wall as Chevrolet began to outsell Ford.
After the Model A proved somewhat mild in terms of success, Ford gathered his best and brightest in 1929 to create a new bestseller. What resulted was the V8-powered Model 18, based on its four-cylinder Model B cousin. The car sold incredibly well, thanks to its immaculate design and 75 mph top speed- but the mystique of the '32 Ford would only grow in the years to come, as hot rodders the world over began to fall in love with the car.
A Tale Of Two Factories
In an interesting twist of happenstance, both United Pacific and Ford Motor Company shared more than just the passion for Deuce Coupes. The two companies are neighbors across time, thanks to a factory that Ford had run from 1930 (Model 18s were built there) to 1956, while United Pacific established its headquarters in the 1980s just a few miles away.
CLICK
on Rod Authority to read the complete article.
"We know when we make the die for a part, that there
is no contour that isn't accurate; we've already
tested it all," said Odegard.
Ford Motor Company was so pleased with United Pacific's recreated Deuce Coupe that it hosted a completed replica inside its booth at the 2013 SEMA Show.
This coupe is currently on display at Sacramento Vintage.
Come on over and check it out!
Goodguys promotes and produces 20 annual events in 13 states and publishes the monthly Goodguys Goodtimes Gazette from the association's Pleasanton, California headquarters. More info? Visit www.good-guys.com.
FAQs For Classic Vehicle And Street Rod Owners
1: How often should I change my oil?
Quite simply - it depends. This certainly isn't the ideal answer, but it is the most honest one. Temperature plays a major role in the frequency of necessary oil change intervals. Every 20°F increase in oil temperature beyond 220°F shortens the life of the oil by 50%. This means cars that run very high oil temps will have much shorter oil life than cars that have moderate oil temperatures.
Read On....
Designed Specifically For Hot Rods & Classic Vehicles
Well suited for a variety of hot rods, muscle cars and vintage vehicles. This oil is an excellent choice for big block muscle cars, blown street rods and engines with original seals. Features storage protection additives that guard against rust and corrosion during winter storage.
Good for flat tappet, overhead and roller cam engines. No ZDDP or additives required. Viscosity typical of 15W-50. Formerly referred to as HR1.
The Importance of ZDDP
ZDDP is the critical anti-wear additive in motor oils.
Here
Lake Speed, Jr
., Certified Lubrication Specialist at Driven Racing Oil™, explains how the proper balance of detergents and zinc are the key to protecting engines.
CLICK
to view the video.
'LIKE'
us on Facebook!
The KEY and TOKEN a WISH recipient is given to unlock the very special room that grants their WISH.
Our Vintage Friday's Events support the Make-A-Wish Foundation of Northeastern California and
Northern Nevada.
Lynn and Darold Kohout (L) and Heather Stover (Sacramento Vintage Ford) present Kerry Cregan (Make-A-Wish Northeastern California & Northern Nevada), our check for $8843.86. A heartfelt 'Thank You' to our car show participants, spectators, sponsors and supporters for their support with our 14th season of Vintage Friday's, 2012.
COBRA ELECTRONICS
Cobra Electronics Corporation
is a leading designer of mobile communications products in the United States, Canada, Europe and around the world. After 50 years of innovation, the company continues to grow by boldly entering into new product categories.
Today the company's products include:
Mobile navigation devicesTwo-way radiosRadar/laser detectorsCitizens band radiosMarine electronicsPower inverters
Cobra products are available in nearly 40,000 storefronts in North America and in a growing number of retailers throughout the world.
We would also like to thank Cobra Electronics for their support of our Make-A-Wish efforts.
Creating instrumentation for classic cars, boats and other vehicles that maintians the style of the vehicle while offering state-of-the-art technology is the company's goal, and a team of graphic designers, computer-aided design drawers and operators, and engineers makes it happen.
Classic Instruments now is offering "The Finishing Touch" for your 1956 Ford F-100. The package is an updated, complete replacement to the original gauges. The electronic cluster features speedometer, tachometer, fuel (75-10 ohms), water temp, oil pressure and volt gauges.
Creekside Town Center

1180 Galleria Blvd.

AARON S. HAGAR'S
RAT RUNNERS GARAGE
"All About The Art of Resurrecting and Preserving Old Metal"
The Rat Runners Garage Crew:

Robey O'Day, Tony Brown, Nick Phillips, Kevin Brown,

Ronald Goralski and Aaron Hagar.

Aaron Hagar owns Rat Runners Garage in Lake Tahoe, Calif. The accomplished singer, actor, builder and business owner designs and builds custom hot rods and motorcycles. He is also the lead vocalist of the band,
FightClub
.
Michaela and Aaron Hagar in Red Voodoo
The Hagar's 'RED VOODOO' GMC is:


A few shots over at the Aaron S. Hagar RAT RUNNERS GARAGE Open House, S. Lake Tahoe.


SAVE THIS DATE TOO!

65th Annual O'Reilly Sacramento Autorama
Saturday, February 14 - Monday February 16, 2015

Cal Expo Fairgrounds - Sacramento
1600 Exposition Blvd., Sacramento, CA 95815
Rod Shows is working towards a spectacular
65th Anniversary Show in 2015



A great photo from Facebook, but a very sad week for
a lot of folks.


The following courtesy Autoweek:
Click on the image below to read the article.
The announcing/timing-slip trailer sits in the water at the Bonneville Salt Flats
(Photo by Southern California Timing Association)
After heavy rainfall last week, Bonneville Salt Flats course will not dry in time for the event


We were all set to head out to the Bonneville Salt Flats to bring you coverage of the high-speed action and car-freak Mecca that is Speed Week. Unfortunately, heavy rain last week resulted in the entire course being inundated with as much as a couple of feet of water, and the event organizers with the Southern California Timing Association determined that the salt would not dry in time for any racing during the scheduled week of August 9-15.
The official announcement from the SCTA reads:
"The SCTA Board is currently on the salt, and has determined that the standing water will not dry in time for us to hold our annual Speed Week event.
The Board is also discussing the possibility of extending our next event -World Finals (Sep 30 - Oct 3) into a full week of racing as a sort of delayed Speed Week. We Thank You all for your patience and understanding. We look forward to seeing you at our next event."
CLICK above to read on over at AUTOWEEK.
SURF CITY GARAGE PRODUCTS

So where did Surf City Garage detailing products
come from?
Well, to keep the cars looking great, we tried every car care product around, but I just wasn't satisfied with the quality or performance. So we developed our own complete line of Enthusiast Grade® detailing products -- recognized around the world as the best anyone can buy. Our guarantee: if these aren't the best products you've ever used, give me a call and I'll personally buy them back - is unmatched in the industry.
That's why, every day, more and more enthusiasts are switching to Surf City Garage Enthusiast Grade® - because nothing else even comes close.
Tim Miller, Car Enthusiast & Founder, Surf City Garage
Stop by Sacramento Vintage or CLICK below to see what we have from Surf City Garage.
John D'Agostino's 'SOPHIA' 1939 Cadillac
by Oz Kustoms is back from it's tour over in Sweden and Germany and is back on display in our showroom!
The preferred Car Care Products of Vintage Fridays:
The 2014 Vintage Fridays BBQ is being brought to you by
Surf City Garage and our supporting sponsors Pepsi Beverages Sacramento, Costco Wholesale,
Rancho Cordova and Frito-Lay.
Surf City Garage (Huntington Beach, California)
continues to be a very welcome supporter and sponsor
of our Make-A-Wish efforts.
CLICK page to view


Mike Gardner's
1951 Lincoln Custom 'RUBY'
Courtesy Hot Rod Deluxe - Photo by Wes Allison
117 Years of Excellence
Lincoln Electric's tradition of innovative solutions, technological leadership and commitment to customers, employees, and shareholders stems from the vision of its founder, John C. Lincoln and his brother, James F. Lincoln.
Lincoln Electric's commitment to providing the most innovative, cost-effective, quality welding and cutting solutions is one that has guided our company for more than 100 years. This, coupled with our technological leadership and worldwide manufacturing and distribution resources, enables us to provide competent and reliable solutions for each of our customers.
Lincoln Electric was founded in 1895 and is headquartered in Cleveland, Ohio. With more than 40 manufacturing locations, including operations and joint ventures in 20 countries and a worldwide network of distributors and sales offices covering more than 160 countries, Lincoln Electric has a global work force of more than 10,000.
OPTIMA BATTERIES
A special Thank You for Optima's continued support
of our Make-A-Wish efforts!
Certified Auto Repair isn't a shop name, a chain of stores or even a franchise. Certified Auto Repair embodies a standard of quality held by a nationwide network of the most respected auto repair facilities in the industry. Our members are asked to join based on reputation, integrity, qualifications and expertise. Certified Auto Repair members will not only take care of all your vehicle needs, but do it with professionalism and a level of customer satisfaction second to none.

Click above to find a mechanic in your area.


CLICK above to check out their page,
photos and events.
Hosts Alex and Bob with show engineer, Mike.
Whether you own and/or are interested in the hobby and history of restoring or personalizing a classic, custom, hot rod or muscle car, we've got you covered. We talk about kool cars, events, trends and California vehicle laws that affect our hobby. Our goal is to inform and share experiences of our guests with our listeners and help maintain a continued interest for the next generation of car collectors.
Founded by Butch Gardner in 2001, CRUISIN' GARAGE has been on KAHI Radio broadcasting to Placer, El Dorado and Nevada Counties, and as far away as Yuba City, Gridley, Sacramento, Dixon and Woodland!
The show streams live online at
www.kahi.com
.
Lambs wool car dusters are in stock! They are what we use on 'Voodoo Priest' and the other fine finish cars.
CLICK above to order yours....
When your car or truck needs a bit more than a dusting.....give Kelley a call!
Award Winning Show Detailing
Color Sanding & Buffing - Show Circuit Detailing
Mobile & Shop Services
Serving the West Coast since 1987
Kelley Hunter
925-525-9056 - 360-260-4486
CALIFORNIA AUTO MUSEUM

TOBY KEITH'S
I LOVE THIS BAR & GRILL
Leave it to country music legend Toby Keith to create a restaurant that offers great food and the best live music in Oklahoma City. Named after Toby's hit single "I Love This Bar," this exciting venue offers a real down-home experience.
Open for lunch 11am daily. Come as you are.
They'd love to have you anytime!
No reservations, but seated upon order of arrival.
Toby Keith's
I Love This Bar & Grill
Order from our 85 foot guitar shaped bar, or strike up a conversation with one of our beautiful Whiskey Girls - some of the hottest waitresses and bartenders in the business.
Folsom Country Bar
440 Palladio Parkway
Folsom, California 95630916-984-8629 Located in the PALLADIO at Broadstone
THE SACRAMENTO VINTAGE FORD
F100 PARTS CATALOG!
408 page, full color catalog of 1948-1966 Ford Pickup
parts and accessories
Not on our catalog list? CLICK on the image to order.
What Other Ford Parts Do We Have For You?
1909-27 Model T
1928-31 Model A & AA
1932-48 Ford Passenger
1932-47 Pickup
1948-66Pickup
1949-56 Ford Passenger
1967-79 Ford Pickup
Plus Parts for your:
Hot Rod, Street Rod, Custom,
Suede & Rat.
Cool stuff for your shop, office and garage!
www.VINTAGEFORD.com
VINTAGE FORD BRAKE DRUMS
The Sacramento Vintage Ford drums fit 1940-48 Front or Rear (except 1948 pickup) with a 3-1/4 inch center.
THE WIRING SHOP at SACRAMENTO VINTAGE
We have a WIRING SHOP page up on our web site.
Like the look of Old Skool cloth wrapped wire and related components? Want to build you own harness?
Cloth wrapped and PVC color coded wire
in 14ga, 12ga and 10ga by the roll or by the foot.
2ga cotton wrapped battery cable by the foot.
Terminals: Rings, Flags, Forks and Bullet
Battery Cable & Battery Terminals
Wire tys and clamps Hot Rod Harness Kits
Books - Manuals - Charts Bulbs 6-Volt / 12-Volt
Non-Ford Tail Lamps Cloth Wrapped Spark Plug Cable
Plug Terminals Voltage Reducers Non-Ford Headlamps
Loom Material Heat Shrink Tubing
Fuse Blocks and more!
CLICK on any image to check it out.
SACRAMENTO METROPOLITAN FIRE DEPARTMENT - COMPANY 65
One Sunday, at the store, Sac Metro Fire was next door doing a ladder truck training exercise. Darold thought the noise was was the yard maintence folks, but nope, it was the Fire Department. After a brief discussion, when they came down off the roof, that the neighbors building was NOT on fire......
...Darold invited them inside for a quick tour.
AMERICAN RESTORATION
AMERICAN RESTORATION on the History Channel features Rick Dale and his crew of loose screws at Rick´s Restorations in Las Vegas, Nevada, as they take rusty, beat-up items and restore them to their original glory.
Whether it´s a giant gas pump from the 1940s or a Hopalong Cassidy bicycle from the 1950s, every restoration is a high-stakes business project where worthless rust is transformed into a valuable collectible. However, these restorations aren´t easy. Every project presents unique challenges for Rick and his team.
When it comes to restoration, Rick Dale is the Pawn Stars go-to guy. AMERICAN RESTORATION follows Rick's work as owner of Las Vegas-based Rick's Restorations, a family business that finds, restores and up-cycles cool objects ranging from Cadillacs to Coke Machines.
Rick's very nice Ford F-1 Pickup can be spotted on various episodes of American Restoration.
Did we mention Rick's pickup is:
1112 S Commerce Street
Las Vegas, Nevada 89102
QUICK QUACK CAR WASH
Quick Quack is a growing chain of exterior-only, soft cloth car washes in California, Texas & Colorado.
Fully automated and computerized, the high-quality carwashing system is a soft-cloth, exterior-only conveyor wash. Customers stay in their vehicles while being automatically guided through the glass enclosed tunnel where the vehicle is soaked, soaped, washed, polished, rinsed with spot-free water and blown dry all in a matter of minutes. Quick Quack Car Wash also takes pride in being environmentally friendly by conserving water and using environmentally friendly shampoos that are biodegradable and non-corrosive. Additional information is available online at
www.DontDriveDirty.com.
CLICK on any image.
Rock Chip Repairs can be done on site and do not
require an appointment.
It's fast...
Windshield & rock chip repair in under 20 minutes.
It saves you money...
If the damage spreads, replacing your windshield could
cost you hundreds of dollars.
It's safe...
Repairs restore the structural integrity of your windshield.
CLICK above for the details


COKER TIRES
Since 1958, Coker
Tire Company has supplied collector vehicle enthusiasts with tires and wheels for many applications.

With such brands as Firestone, Michelin, U.S. Royal and BFGoodrich, the product line at Coker Tire is filled with high quality bias ply and radial tires. Coker Tire ships worldwide and attends more than 40 events a year.

Coker Classic radial wide whitewalls, introduced in 1995, are the first modern radial construction wide whitewalls. DOT and ECE (European Union) approved, with an all-season tread design and backed by our life of the tread warranty.


CLICK on ANY FILMSTRIP
to see what you may have
missed in previous editions of the
Vintage Advantage..........
Sacramento Theatrical Lighting is a family-owned business in continuous operation since 1947. Now operating out of a 65,000 sq. ft. building, STL is a full-service theatrical equipment company. They offer a full line of theatrical lighting equipment and accessories, moving lights, dimming and control, stage curtains and expendables.
The Rental Department can set you up with everything you need for your backyard party or a professional theatrical production. If you are looking for a full service contractor to handle all of your event needs, their Production Department has all of the answers you need.
STL also has a Special Projects Division that specializes in design and installation of large and small theatrical systems, design and install of theatrical drapery, rigging inspections and other specialty projects. They employ a full in-house Tech Service Department.
SACRAMENTO THEATRICAL LIGHTING
950 Richards Blvd
Sacramento, Ca. 95811
916-447-3258
Thank You! SACRAMENTO THEATRICAL LIGHTING for
your assistance with setting up our warehouse for the California Highway Patrol
CHiPs For Kids toy distribution event and for our
Vintage Theater by Kicker Audio!
Sierra Pacific Home and Comfort, Inc. is a locally owned and operated company whose corporate headquarters are located in Rancho Cordova, California. Our company was founded in 1984 and is now the area's largest full-service, home energy improvement provider. We currently operate four divisions and employ well-trained experts who are skilled at energy efficiency upgrades for home and office.
We are uniquely qualified to assist our clients to understand and implement a variety of improvements that will reduce their energy consumption and cut or even eliminate their monthly electric bills. We have built an impressive client list of over 24,000 who have benefited from improving energy efficiency in their homes.
800-551-3040
916-638-0543
24 Hours a Day, 7 Days a Week
Sierra Pacific Home and Comfort

2550 Mercantile Drive, Suite D
Rancho Cordova, CA 95742
800-551-3040
TAKE-A-KID TO A CAR SHOW
There have been countless studies done to prove it, but virtually everyone knows that spending quality time with a kid is the greatest gift you can give them. And sharing your appreciation for collector cars is a great way to nurture their interest in a hobby that you can enjoy together for many years to come.
Through the SEMA Take a Kid to a Car Show coloring book app, kids of all ages will be able to customize and personalize each car.
We encourage users to visit www.takeakidtoacarshow.com to discover additional fun and exciting resources.
(CLICK above)
In 1965 the first T.G.I. Friday's restaurant opened in New York City at the corner of First Avenue and 63rd Street and quickly became the meeting place for single adults, with $1 million in revenues its first year.
"T.G.I. Friday's® is known for serving authentic American food and exciting drinks. We also understand that our restaurants are more than just a place to eat. They are places where communities form, gather and engage."

"So, we take our commitment to community seriously. Our Team Members have cultivated strong local relationships and take great pride in their engagement with guests and their participation in the communities that they live and work in."
ROSEVILLE, CALIFORNIA
1168 GALLERIA BLVD.
ROSEVILLE, CA 95678
(916)-781-8443
ELK GROVE, CALIFORNIA
7101 LAGUNA BLVD
ELK GROVE, CA 95758
(916)-478-9010
FLOWMASTER MUFFLER
Flowmaster's product line includes exhaust products for Performance Street, Muscle Cars, Trucks, Street Rods, RV's, Motorhomes, and all types of race applications. With over 400 different muffler models, 370+ exhaust systems and numerous exhaust accessories available, Flowmaster offers you the choice of sound to fit your preference from "wild to mild" and your specific vehicle needs.
The first choice for generations of American hot rodders. A winner at the drags, dry lakes, shows and circle tracks.
And now available again. With new linkage and fuel delivery parts. And Stromberg clothing & collectibles too. Just the same. Better than ever.
Old Crow Speed Shop belly-tank Streamliner.
Six-time World Land Speed Record Holder.
Powered by Genuine Stromberg 97 Carburetor
BOBBY JACKSON GOLF CLASSIC
On
Monday, September 8th, 2014
, Elmasian Marketing will host the 5th Annual Bobby Jackson Golf Classic at the Timber Creek Golf Course to help support the Bobby Jackson Charities.
We anticipate 144 golfers to participate and partner in this event, so please join us in supporting Bobby Jackson Charities.
CLICK
above for all the details.
Timber Creek Golf Course
7050 Del Webb Blvd
Roseville, CA 95747
Greg Elmasian (above) and Darold with one of the raffle prizes you could win at the Bobby Jackson Golf Classic Monday September 8, 2014 at the Timber Creek Golf
Course in Roseville.
A LITTLE BIT 'ABOUT US'
Darold, Lynn and our little Manager in training, Mike....
Day One...1969. Yes, Darold 'HAD' hair back in the day.
A little bit about our history in an article written by
Bill Sessa for HotRod & Restoration Magazine.
CLICK on the photo to read the article
'Storage Wars' Barry Spinoff 'Barry'd Treasure'
"Storage Wars" favorite Barry Weiss will take the lead with his very own show, "Barry'd Treasure."
The limited series will feature Weiss, now retired from the storage auction game, as he embarks on a cross-country journey unearthing some of the nation's rarest and most fascinating collectibles.
We have another sneak peek or two!
This time it's a 1968 Riviera build, in progress, over at Oz Welch's Shop (Oz's Kustoms) in Oroville for John D'Agostino.
Look for it at the Grand National Roadster Show and the Sacramento Autorama in early 2015.
(Photos courtesy Oz and John).
OK...... while we are still over at Oz's Kustoms.... here are a of couple shots of one of Oz's personal projects.
(Photos courtesy Oz Welch)
Oz is also working on his 1941 Oldsmobile with...... a 1941 Buick front end. Top chop in progress.
Chop is not for the faint of heart!
Oz Kustoms
is known for their precision metal work, custom paint, and a master of breathtaking designs.
CLICK
on any photo to visit the Oz's Kustom site.
Oz plans a on making this 1941 Olds a driver!
Unloading Hetfield's 'VOODOO PRIEST'


Hot Rod Haulers & Appraisals For All Your
Transportation and Evaluation needs.


Pick up and Delivery within 72 hours


Serving the West Coast Exclusively

35 Years Experience with Collector Cars, Licensed and Insured, One Car at a Time, Personalized Service.

Soft Tie Downs, No Chains.
To Schedule a pick up or get a mileage rate call:
(530) 906-3820
[email protected]
Loading up John D'Agostino's
'SOPHIA'
The Edelbrock Family Foundation was formed with the purpose of bringing together like-minded organizations that share a passion for providing education and training for America's youth. We hope to foster a new generation of automotive industry leaders, entrepreneurs, innovators, enthusiasts and more.
Over the last 75 years, the Edelbrock family has proven itself as a leader and pioneer within the automotive aftermarket industry.

From the day Vic Edelbrock Sr. went over 121 miles per hour, 3 weeks before Pearl Harbor, to the Sprint Cup Series cars that race every Sunday with Edelbrock manifolds, the Edelbrocks have a legacy of going fast.

FAITH GRAINGER'S AWARD WINNING MOVIE
Available at Sacramento Vintage Ford

Andy and Sue Brizio's 1932 roadster that WAS on display in our showroom.....sadly it went back home. Andy missed his roadster....go figure. Thanks Andy!
(Photoshop magic by Heather)


DID YOU SIGN UP FOR OUR NEWSLETTERS?
Sign up a friend for our email newsletters!
CLICK Above
When you join our e-mail list, you can also
'fine tune'
what information you would like to receive from Sacramento Vintage Ford......from the type of car(s) you
have.... to 'Garage Sale' bargins.....Catalogs .....and more!
(We do not sell or rent our valued customers e-mail addresses)
You can also forward this newsletter to a friend using the box at the lower left corner of this newsletter.
CLICK above to view newsletters you may have missed!
Cruisin' around the Sacramento Vintage parking lot in the 'Sacramento Vintage Equipped' Grand National
'Speed 33' Roadster, owned by John Buck.
That's It For This Edition!
Thank You!
Please drive safe, have fun and enjoy your ride!